Kalispell, Mont.—July 27
Take one glance at the Area VIII CCIJ2*-L team horses, and it's safe to say their riders will be the first ones in the barn tomorrow morning before the final horse inspection at the Adequan North American Youth Championships.
All four are glistening gray, and it's given the team riders plenty of time to get to know each other better this weekend.
"We all bond over bathing a 4 a.m.," said Cierra Daratony, who is riding her family's homebred Rio de Janeiro.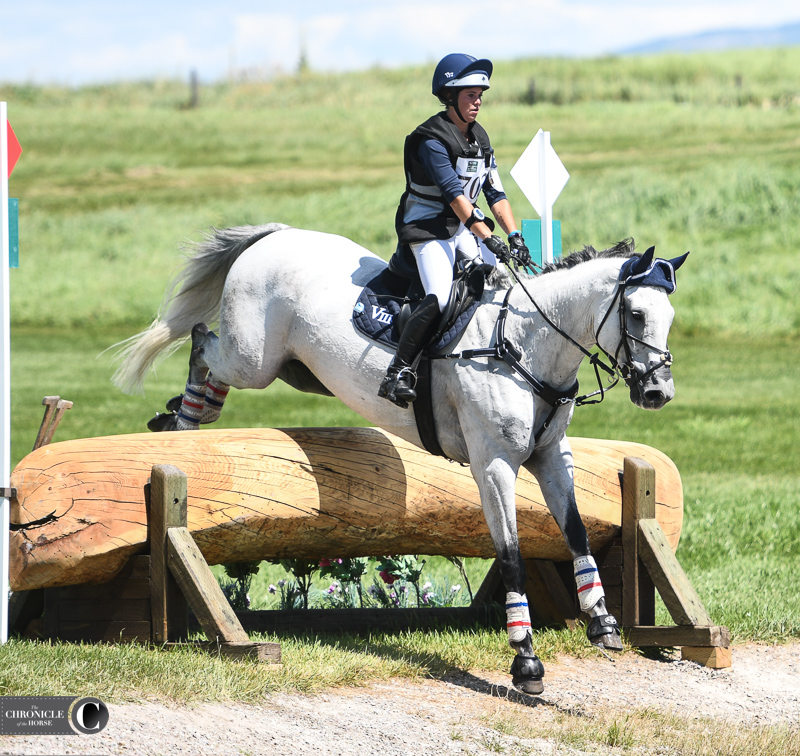 "I've just always had a gray horse, and my hands are pretty much just dyed purple!" said Gracie Elliott, who rode Ballylanders Finn McCool. "The way it worked together [with all of us having white horses] is just too funny. How often does that happen? I don't even know what time we're going to be up tomorrow to get them ready for the jog, but it's going to be early!"
When the leading Area VI team had two riders eliminated on today's cross-country, the team from Area VIII, which also includes Elizabeth Henry (Charlotte La Bouff) and Tate Northrop (Fine With Me), jumped into the lead with three riders finishing double-clear.
Henry is currently in individual silver position. "She came out super game," she said. "She was a little bit spunky today. My aunt [and godmother Laurie Tragesser] passed away this year, so on my FLAIR Strip I wrote, 'Go get em' Mamma,' because that's what my cousins told me to do for her. I think she was watching over me, and it really helped me knowing that I had my team support to help me through the course. She was perfect. I couldn't have asked for anything more."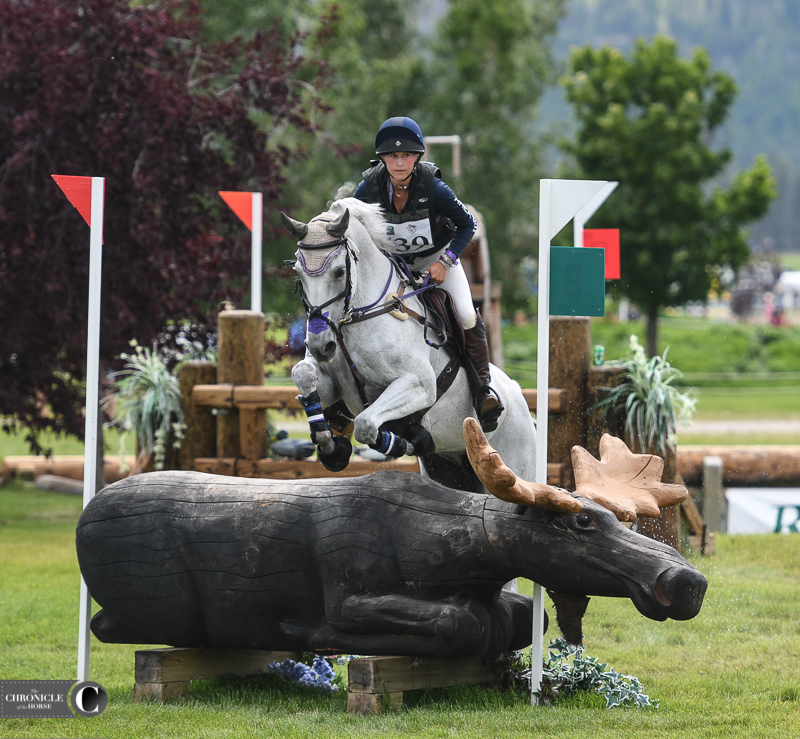 Daratony, whose family runs Cobblestone Horse Trials in Dexter, Michigan, was first out.
"He's always super chill before cross-country and conserves his energy by sleeping in the startbox," she said of the 10-year-old Holsteiner-Thoroughbred gelding (River Dancer—Vanilla Ice). "He was super. Everything was super, super confident, and I couldn't have asked for more."
Daratony never expected to be riding "Rio," but she's glad to have him. "He was born at our farm in 2009," she said. "My mom [Darlyn Daratony] started him and took him through novice. My horse ended up being lame at one of our young rider camps, so I ended up sitting on Rio, which I never expected. I was maybe 4'8″, and he was 17.1 hands. Ever since then it's been a great partnership. He's totally game to do anything.
"Growing up at Cobblestone, since I was a baby, I got my first horse when I was 2," she continued. "My sisters competed at Young Riders 15 years ago, so they would always set me up on their horses and walk me around and teach me. Every day I was jumping the cross-country jumps on my own feet, and I thought, 'Oh, one day I'll do this on a horse.' It's just been living a dream."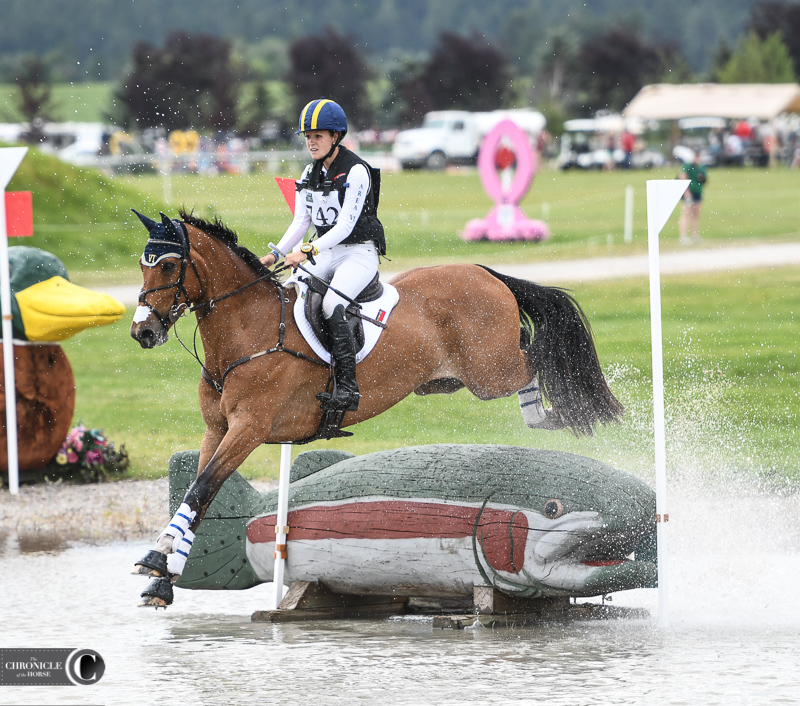 Charlotte Babbitt and 2 A.M. cruised around the CCIJ2*-L course to maintain their overnight lead, but their Area VI team ran into some bad luck when Meg Pellegrini missed a fence on course with RF Eloquence and was eliminated.
Savannah Gwin parted ways from Glock Pullman, but both were fine. Taylor McFall and High Times completed with a double-clear, but with teams counting three of four scores, they were knocked out of the running.
"My team had some issues in the beginning, so that was a bit hard for me," said Babbitt. "Meg Pellegrini missed a jump, unfortunately, so that was a bummer, and one of my other teammates Savannah Gwin had a fall, and that was hard to hear. Once she was up it was easier to get back to your own thing, but it's tough to hear those issues. There was actually a hold on course right before I left the box. I had to go back to the warm-up, and that shakes your confidence and your focus. Luckily, I found it in myself to find that focus."
Babbitt admitted the team experience is different since she prefers to do things on her own at competitions.
"I was trying hard to let everyone help me, which is hard because I like to get in my zone for cross-country," she said. "That was nice getting ready. He was pretty wild, but he settles in really well if I keep my own nerves down. I was able to get my mind back on it, and he left the box and was ready to go. He settled right in."
"Abe," a 7-year-old Dutch Warmblood gelding (Sheraton—Regina K, Ahorn), is more adjustable and looking for the flags as he's matured, according to Babbitt.
"Being a young horse, that's something he's lacked in the past; he doesn't follow my eyes, but now he really does. That's a really cool feeling to have," she said.
Watch Babbitt and 2 A.M.'s cross-country round via USEF Network.

Like Henry, Babbitt also had someone on her mind as she headed out on course today.
"Being here in Montana is the most amazing experience," she said. "It's literally the best event all year. This whole weekend I have been riding for Don Trotter [a much-loved volunteer who died after an illness in June]. He was one of my biggest mentors, and losing him was really, really hard, so I went out on course today wanting to ride for him, and I really felt like I would've done him proud."
In the CCIY3*-S, dressage leader William Kidwell, of Area III, maintained his lead with a double-clear round with Michelle Donlick's 14-year-old Oldenburg-Thoroughbred (Sempatico—Avalo's Rhapsody) gelding Tremolo.
"It was a good, gallopy track, but my horse especially went out pretty quick, and we found those forward distances, so around 5AB we still had the time," he said. "It got a little tricky, but that gave me an idea for how the rest of the course might ride. I just tried to be really efficient throughout the whole thing, just giving him a forward, powerful ride through."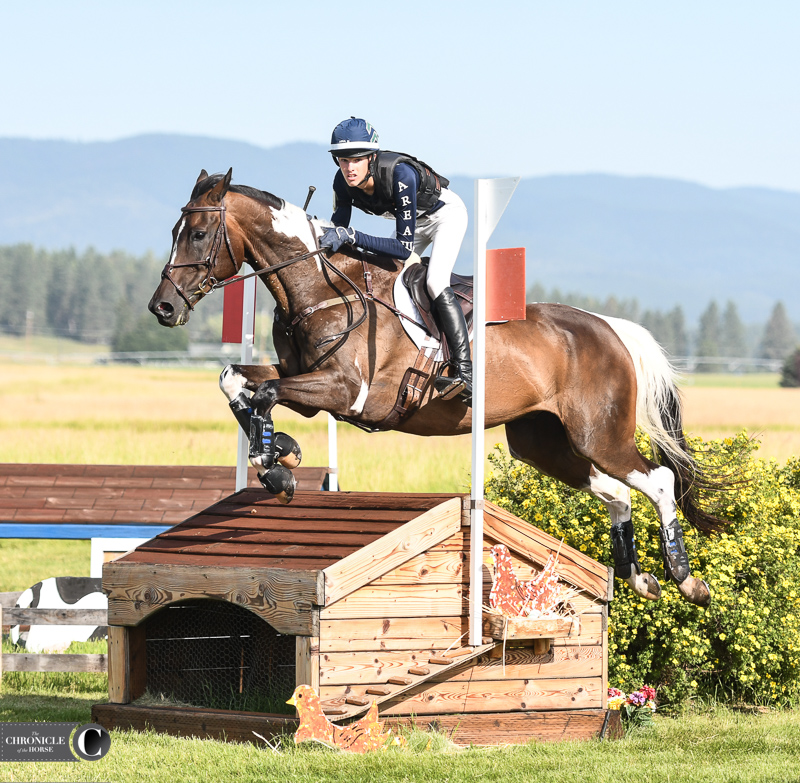 The Area I/II team maintained their gold medal position in the team competition on 94.4 points.
While Sami Crandell picked up a stop with Fernhill Chaos, and Megan Loughnane and Linford had some time, twin sisters Maddie Lichten (Yarrow) and Katie Lichten (Sapphire Blue B) put in double-clear rounds for individual silver and bronze medal position, respectively.
"I was really proud of my horse," said Maddie. "He was really fabulous out there. He's super forgiving of everything. It was definitely hard, but he was awesome. I couldn't have asked for more from him. Last year I got eliminated at the last water, and I was pretty nervous about that, so I tried to be really confident and really forward throughout the course."
"He's not the fastest horse across the ground, so I really have to be efficient through the turns and keep him coming through the combinations," said Katie. "He's a bit spooky, but I was happy with him. He was really focusing and wasn't spooking down at the jumps like he does sometimes."
Watch William Kidwell and Tremolo's cross-country round via USEF Network.
 
For more of the Chronicle's coverage, click here.
For full results, click here.