Ocala, Fla.—Feb. 28
When Marilyn Little decided to step back into show jumping, she didn't do it half-heartedly.
The double gold medalist in three-day eventing from the 2015 Pan American Games (Toronto) took a few years stepping back from show jumping, but she's back in a big way this 2016 winter season, scoring her second win in as many days at the Live Oak International CSI-W with a victory in the $100,000 Longines FEI World Cup Qualifier. The day before, she'd won the $35,000 Live Oak 1.50-meter class.
Both wins were aboard Corona 93, a big gray mare who has been proving herself with Little this winter and is a big part of her re-entry into the show jumping world. The 12-year-old Hosteiner mare has jumped at the grand prix level with a number of riders, including Alex Duffy of Ireland, Luca Marziani of Italy, and Lauren Tisbo of the United States. U.S.-based Venezuelan rider Angel Karolyi jumped her in a few classes in 2015 for Little, whose Raylyn Farms bought her in February 2015. Little first showed the mare in January.
You can read more about Little's re-emergence in grand prix show jumping in the Ringside Chat the Chronicle did with her: "Marilyn Little Explains Two Ribbons In Two Top Sports In 24 Hours."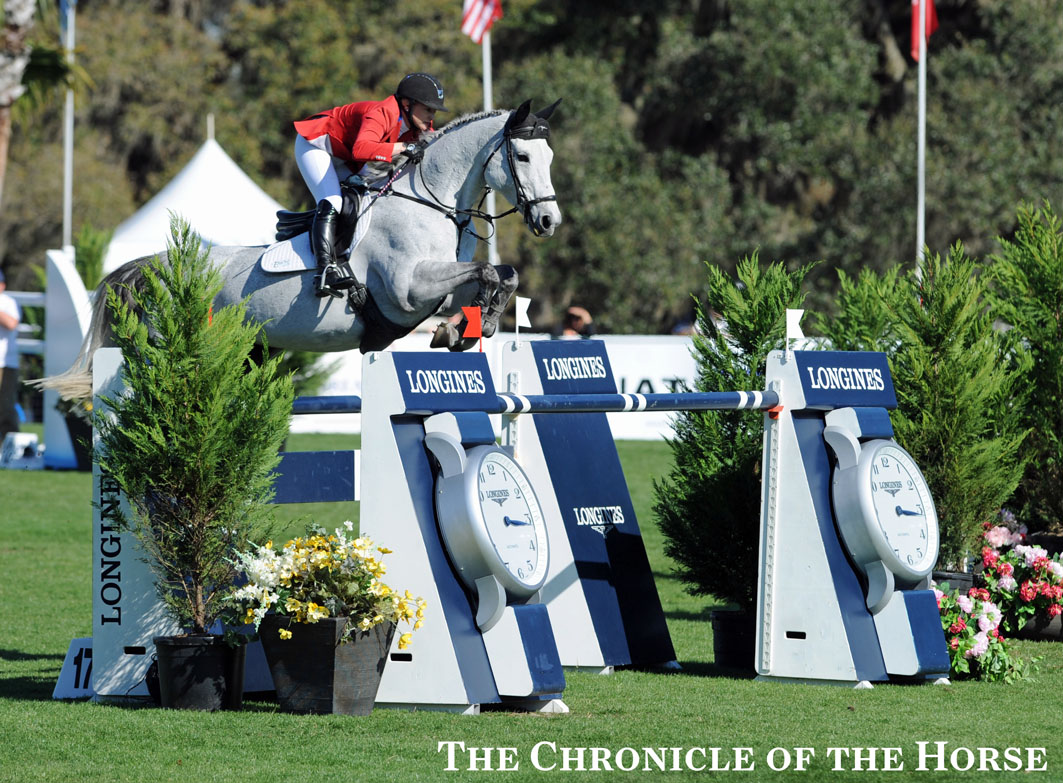 Little and Corona 93 jumped to the top of the World Cup qualifier at the Live Oak International, the $100,000 Longines FEI CSI-W. Photo by Ann Glavan
"There were some special show jumpers in the barn that were ready to be out there playing the game," Little says of her comeback. "There are quite a lot of young ones that I bred that are coming up. They are also knocking at the door ready to step into that arena, so the timing just seemed right. It seemed like the natural thing to do. "
Little is one of the few riders in the world right now currently competing at the CSI**** level in both show jumping and eventing. Riding at that international level in one discipline alone keeps most top riders plenty busy, but Little manages to do it, and do it well, in two separate sports.
"I do believe that one sport actually benefits the other; I believe that eventing makes me sharper," Little said. "There are things that I believe I do better now than I did before I evented, and I wouldn't trade those things for anything."
This year's Longines FEI World Cup Final at the end of March in Sweden is not in striking distance for Little, as she has only just started collecting qualifying points, but she said she'd be very interested in making a go of it in 2017.
"I hope that we'll find a balance. I think that there is certainly a way to play both sports at a very high level if you have the team behind you that's helping you play that game," Little said.
Finishing second in Sunday's CSI-W*** class was Chloe Reid, a particularly meaningful accomplishment for the young rider as her uncle, Chester Weber, hosts the entire show at his Live Oak plantation in Ocala, Fla.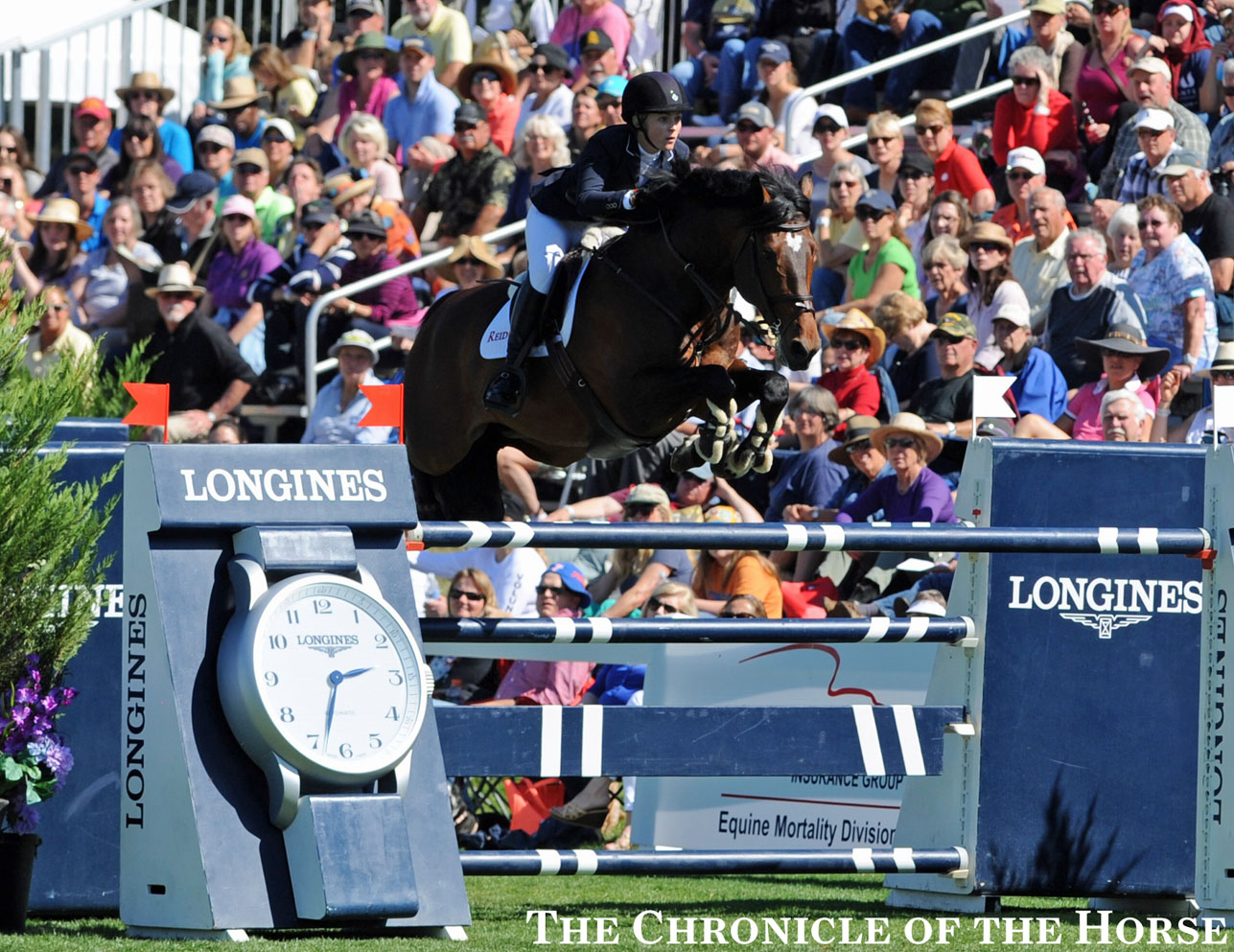 Chloe Reid took second aboard Codarco. Photo by Ann Glavan
"I couldn't ask for better placings at a better venue right now. To do this and sit up here with my uncle and my mom is incredible," Reid said. (Her mother and ucle were at the press conference with her.) "It's kind of just a dream come true today, and everything that has been happening this week."
Third in the CSI-W*** was Katie Dinan, up on her new mount Dougie Douglas. Both horse and rider are plenty experienced in their own right, but they proved how strong their new partnership is with the third and final double clear effort of the day (and all while finishing up her final semester at Harvard!).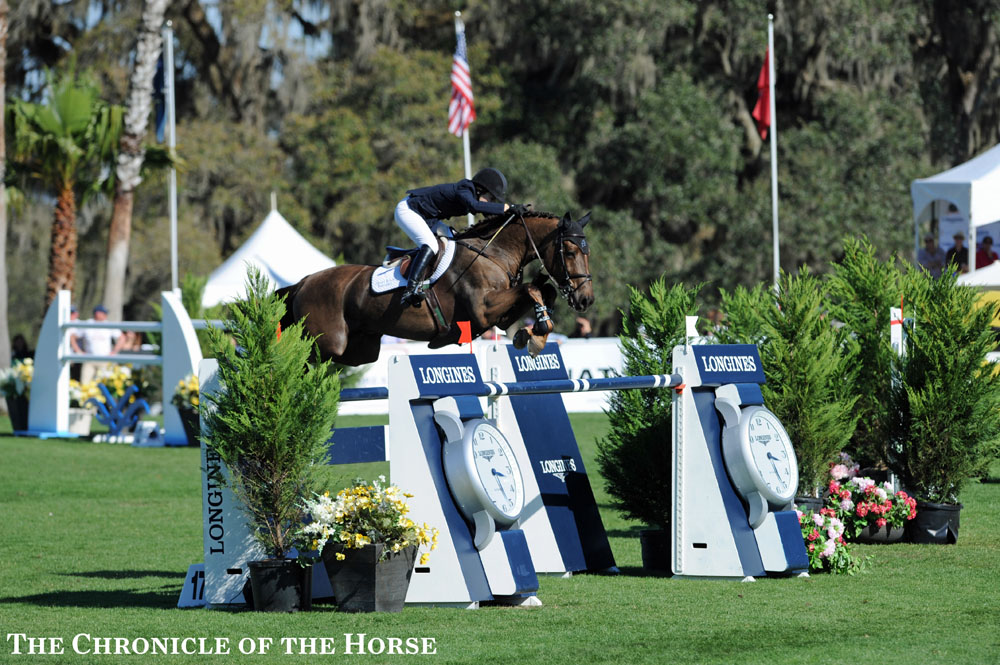 Katie Dinan's new partnership with Dougie Douglas is going well, as they took third in Live Oak's $100,000 Longines FEI World Cup Qualifier. Photo by Ann Glavan
"I'm set to graduate in May, which is exciting. I'm going to be riding full-time post graduation," Dinan said. "I'm really looking forward to that and trying to take my riding further and focus on that full-time." Want to know more about Dougie Douglas? Go Behind The Stall Door with him!
See full results from the $100,000 Longines FEI Live Oak World Cup Qualifier.
Make sure to read in-depth coverage of the Live Oak International in the March 21 issue of The Chronicle of the Horse!