When Katie Dinan purchased Dougie Douglas in November, the 11-year-old Irish Sport Horse gelding made headlines as he was a horse that had caught many an eye in 2015. Formerly campaigned by English rider Holly Gillott in Nations Cup and grand prix appearances at Gijon (Spain), Lummen (Belgium), St. Gallen (Switzerland), Rome and Odense (Denmark), Dougie Douglas jumped clean rounds around the world.
Dinan bought the gelding at the Goresbridge Supreme Sale of Show Jumpers auction (Ireland) without ever having sat on the gelding, but she sent him to her Staysail Farm in Wellington (Fla.) to gear up to show him at the Winter Equestrian Festival. The partnership looks off to a brilliant start as Dinan and "Dougie" claimed blue in the $50,000 WEF 6 Grand Prix on Feb. 21 after less than a month of show experience together.
The entire team at Staysail is still getting to know "Dougie," but so far the reviews are very positive for the liver chestnut (Ard VDL Douglas—Neills Girl, High Roller). Groom Cormac Kenny, an Irish native himself, took the Chronicle behind the stall door to get to know the newest addition to Dinan's string and learn how he's adjusted to life in the States:
He's kind of bashful. Dougie isn't the macho type. He's gentle and treads lightly; he must briefly evaluate you and deem you as "safe" before he grants you his attention. His eye is kind, and like any new kid, he's still getting to know everyone, but he's in the process of coming out of his shell.

"Sometimes he's just a small bit shy," Kenny said. "He just needs to take a minute to figure out who you are and make sure that you are going to be nice to him. He's very sweet and very quiet. He's not spooky. He's becoming more and more friendly."

Dougie has a kind, gentle expression.
While sensitive with people, it didn't take him long to become "one of the guys" among his equine brothers. From Ireland, Dougie shipped straight to Dinan's Staysail Farm in Wellington, Fla., and quickly established his role alongside Dinan's other top mounts Nougat du Vallet ("Nugget" or "NuNu") and Amaretto D'Arco ("Darco").

"He settled in so easily," Kenny said. "It was like he was part of the yard straight away."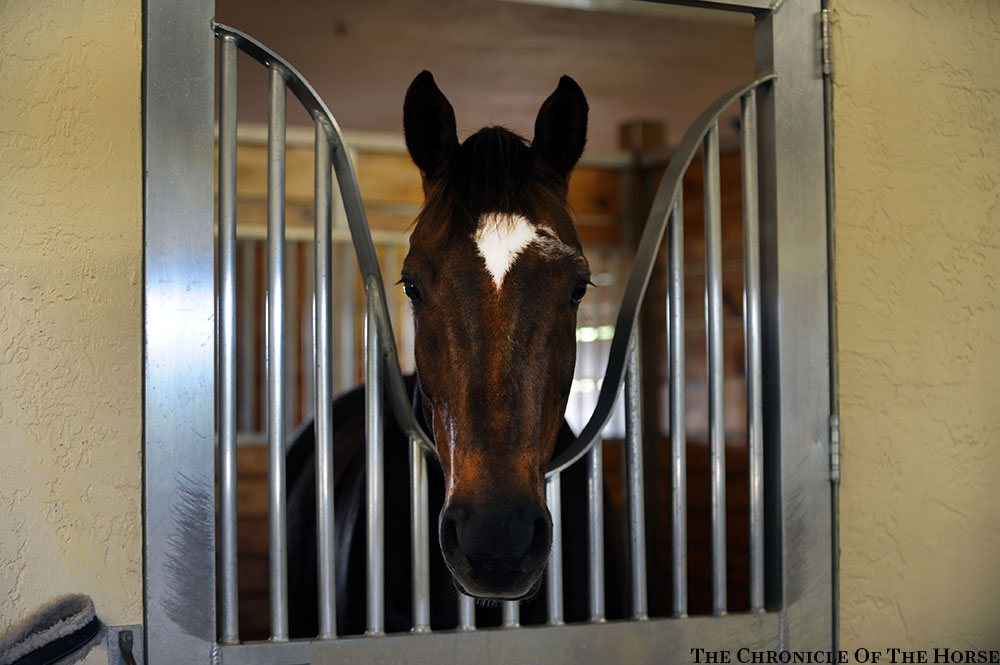 Just another "one of the guys" at Staysail.
He likes a little spice in his drink.

"When he first got here, he didn't seem to like the water, and he wouldn't drink it," Kenny said. "We had to put apple juice in it to help him drink it, but now he's fine."

When he's in the paddock, do not disturb.

"He likes the paddock—actually, loves the paddock," Kenny said. "On the first day he came, I couldn't get him out of there. He wouldn't let me catch him. Every time, he would walk off and eat grass. He didn't want to come in and was out there for like four hours. It was getting really hot outside, and he still wouldn't come in!"

He's adjusting to being pampered.

Kenny is a dutiful groom and went above and beyond to prepare Dinan's horses for their Behind the Stall Door photo shoots. Hooves were polished; muzzles and bridle paths were clipped; manes were gelled; tails were shined; baby oil was even rubbed on their muzzles for some extra sheen. Dougie stood patiently for it all, but he was slightly unsure of the clippers as they neared his ears—he doesn't like those touched much. That will take getting used to, as will using some of the amenities on property, like the treadmill and the spa.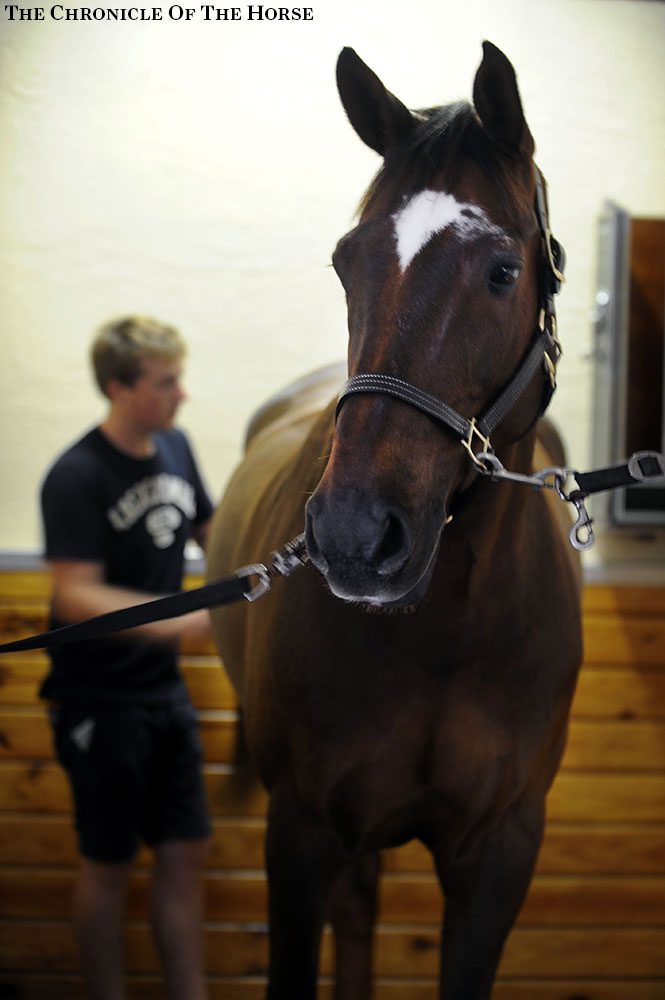 Dougie relaxes in his grooming stall.
His alter ego: chunky pony.

Dinan did not get to ride Dougie until after he arrived in Wellington, and Kenny was present for the duo's maiden voyage. He said the two get along well and that Dinan has taken a clear liking to her new partner. He said Dinan one time compared the gelding to an equine half his size.

"Katie said he feels like a very forward, stocky pony," Kenny said.

Consider that a compliment.
He likes to eat.

Dougie's ears immediately perk forward at the sight of the ever-present carrot bag at Staysail (a lesson learned from his treat-hungry stablemate Nougat du Vallet). His shoulders are narrow, but Kenny points out that his girth is robust.

"He loves his food, as you can see," he said. "He's a blocky chap!"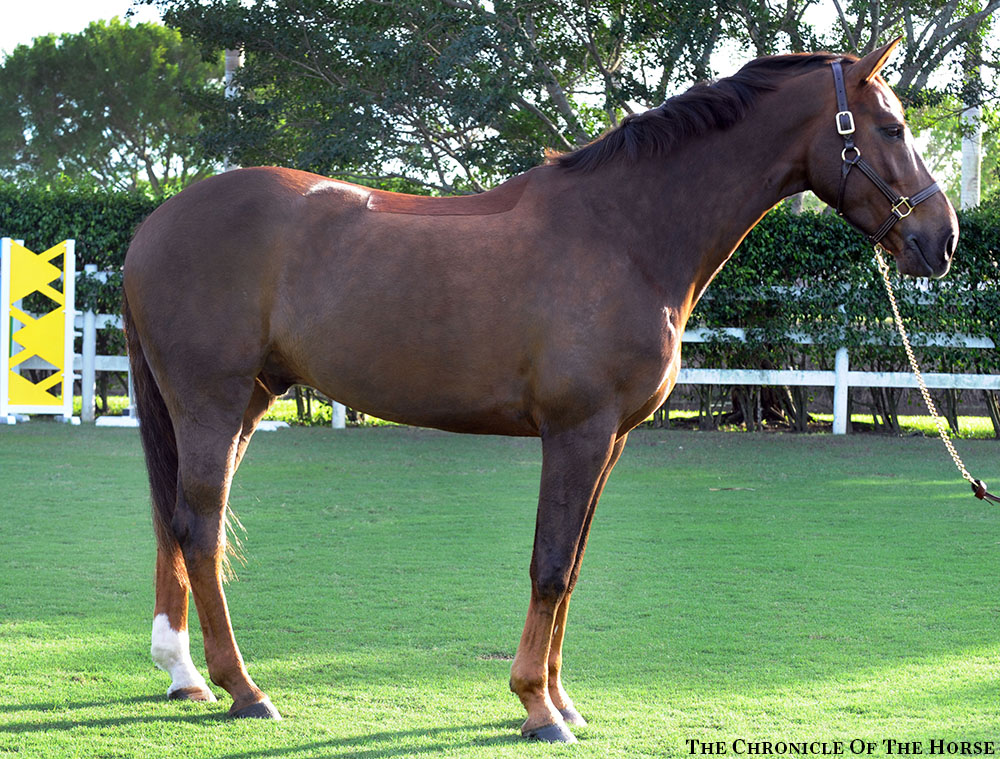 Dougie: a very elegant "blocky chap"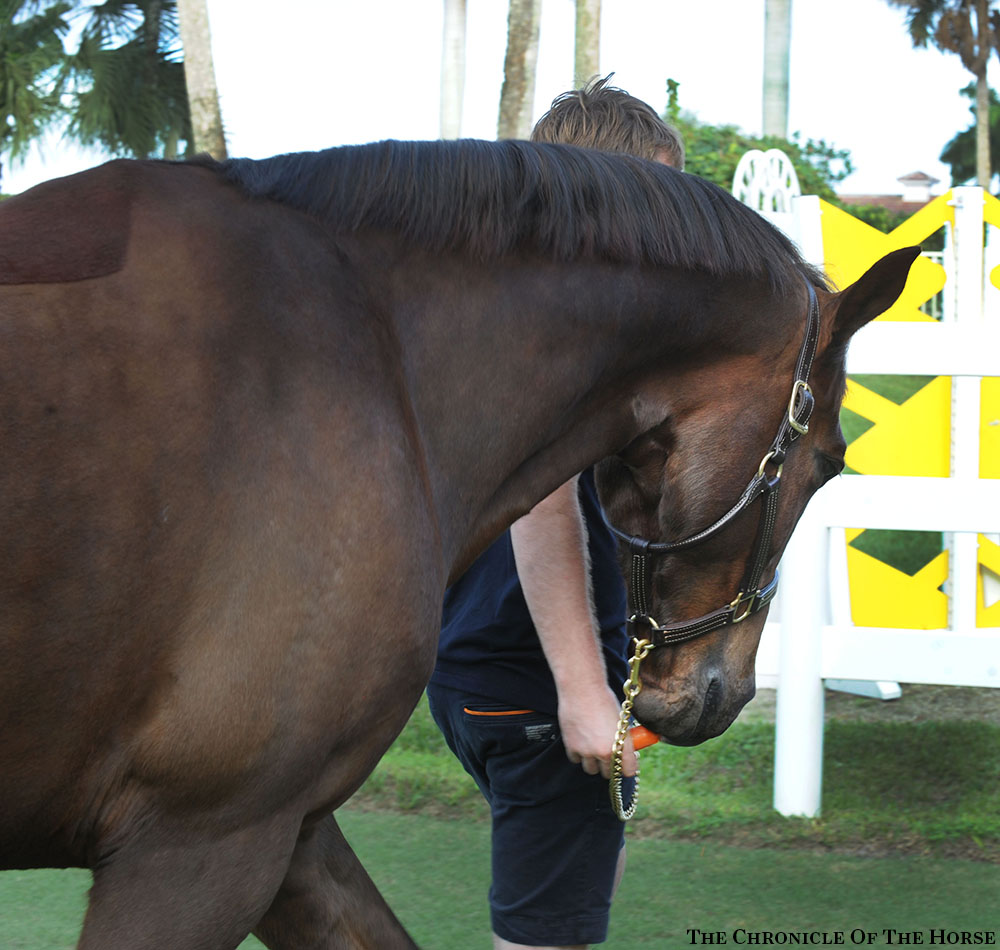 Dougie is already well accustomed to the regular distribution of carrots.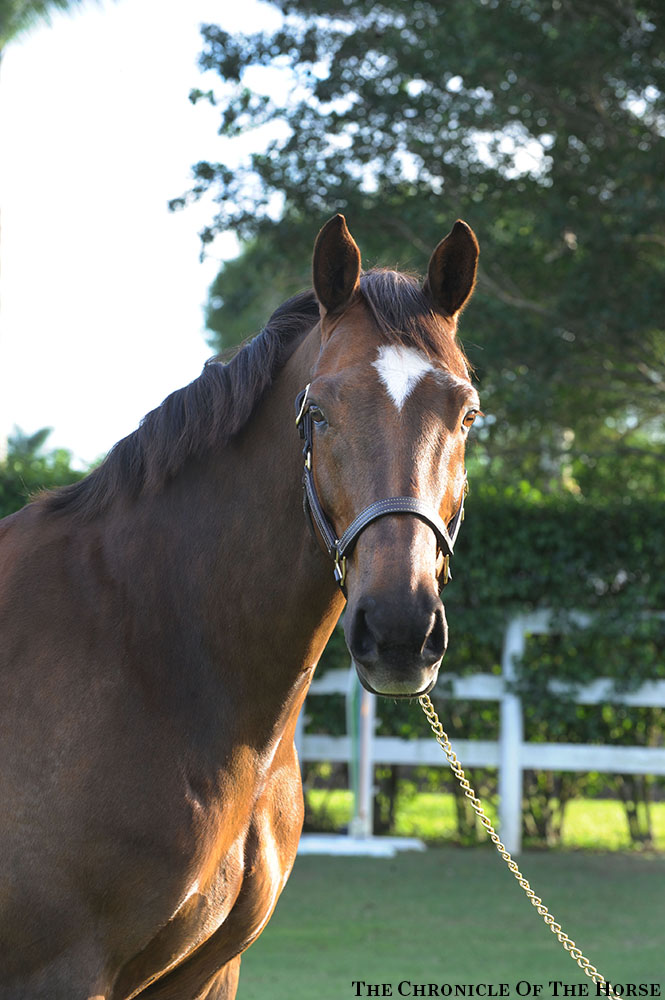 Dougie.