There aren't many riders who can jump an advanced cross-country course one day, then pilot another horse around a 1.50-meter grand prix the next. And, to top it all off, place in the top 10 of both classes.
These days, Marilyn Little is best known as a top eventer—last year she won the individual gold medal at the Pan American Games in Toronto on RF Scandalous, and she's also made headlines with her four-star partner RF Demeter.
With all of her success, it's easy to forget Little only picked up eventing in 2010 after coming from the show jumping world.
With horses such as Comtess Du Lys and Blue Curacao, Little jumped some of the biggest five-star grand prixs in the United States and around the world, including representing the United States in Nations Cups. But because of her recent focus on her string of eventers, it's been since five years since she jumped consistently at that level.
Little last jumped in a Fédération Equestre Internationale grand prix in 2013, but this weekend, her name popped up on the start list of the $216,000 Ariat Grand Prix CSI**** at the Winter Equestrian Festival in Wellington, Fla., with Raylyn Farms' 12-year-old Hanoverian mare Corona 93 (Cordalme Z—Lotte, Lenz XX).
Little jumped one of five clear first rounds to advance to the jump-off with top riders Eric Lamaze, Nick Skelton, Margie Goldstein-Engle and Georgina Bloomberg. Lamaze won the class on Check Picobello Z, and Little ended up third.
The timing of the class was perfect as Little also brought Team Demeter LLC's RF Demeter, a 14-year-old Oldenburg mare (Rubin Royal—Patricia, Kanudos XX) to ride in the $75,000 Asheville Regional Airport Wellington Eventing Showcase, where she placed seventh.
We caught up with Little to talk about her amazing weekend and about her "homecoming" in the international ring.
Chronicle: Congratulations on a fantastic weekend! Tell me about the class.
Marilyn Little: "It was very big—some very tall verticals. The triple combination rode incredibly scopey. That played to her benefit because she is such a scopey horse. I haven't jumped a four-star grand prix in some years now, so right now everything looks a little on the large side to me. I walked it and I thought, "Wow, this is a very big track!" But that is what you expect when you show up for a four-star.
I can count on two hands the number of classes I've jumped on her now, and every class I'm learning more about her and our partnership is getting stronger. I came down to Wellington this week knowing that we may make some mistakes because the partnership wasn't totally formed, but I knew that I would come away from this week really knowing what I had. That was the goal.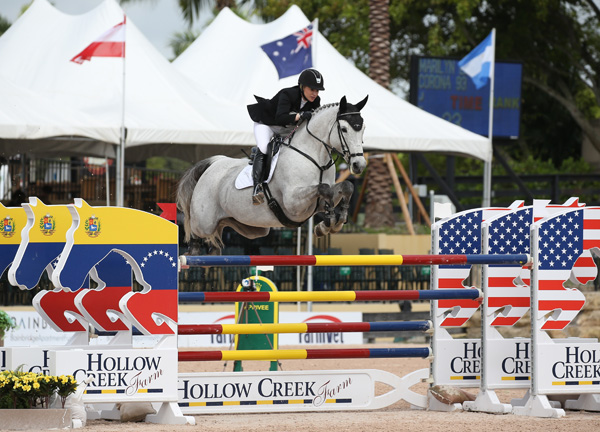 Marilyn Little on Corona 93, jumping in a grand prix at WEF. Photo by SportFot
I'm coming away with a horse I trust. I trust her scope, I trust her heart, and I'm really excited about what's to come this season and the rest of the year."
Tell me about Corona 93.
She had been in a lot of different programs, and she was a horse that needed to take a step back and gain confidence and have some time. Last year Angel Karolyi rode her, but she was in the program of Andrea King at my mother's [Lynne Little].
She just spent some time doing the 1.40-meter classes and 1.45s and came back slowly. [Corona 93 had jumped with several riders in her career, including with Jasmine Chen, a member of the Chinese Taipei team, Alex Duffy of Ireland, Luca Marziani of Italy and U.S. rider Lauren Tisbo.]
After a very rough fall [season] for me eventing, I started riding her when she was down in Ocala. She came back to the stable in December. I showed her [at HITS Ocala (Fla.) and jumped in the $50,000 Tuffrider/Equine Couture Grand Prix on Jan. 24 and the $50,000 Equioxx Grand Prix on Jan. 31] and got to know her in the ring, and took her down to Wellington for the weekend.
She's an experienced horse and very, very scopey. She's had mileage all over the world. Sometimes with a horse that's been in different stables, you find they have to feel comfortable in their situation, and you have to make them feel like they're No. 1 again. She is very much No. 1 in my show jumping stable, and she knows it!
I think she's very happy and I'm really enjoying riding her. I think she's a very reliable horse in the ring and to have the opportunity to ride a horse that's had the experience she's had and has the scope and talent she has is a real privilege for me."
What's she like in the barn?
She's a sassy, strong character. She has a very big personality. She is very sweet in her own way, but she gives a lot of threatening looks. If you didn't know her, she'd make you real nervous! When you're riding her, her ears are always forward, and she's a really peaceful horse, but in the stall, she wants you to know it's her space, and she's allowing you to be in her bedroom.
What's the plan for her this season?
Next week is the CSIO week in Ocala, so we'll do that. Then we'll do the CSI*** at Live Oak [Fla.,] then hopefully back down to Wellington.
There are classes that I would love to get into, but given the fact that I haven't been show jumping in world ranking classes for some time, I'm literally nowhere on the computer list! That is a little bit of a problem, and that will be a factor for me. I'll have to count on getting wild card invitations to some of the grand prixs, and that will sort of dictate her schedule.
With such a successful group of eventers, why did you want to jump back in to the high level show jumping this year?
It is who I am, and it is where I've come from. It always has been a big part of me. There are a lot of great event riders, and everybody brings something different to the table. Show jumping is what has made me the event rider that I am. It's what makes me unique. Everybody has something about them that gives them their own edge, and this is where my edge comes from. It's what keeps me sharp, it's what keeps me in the game.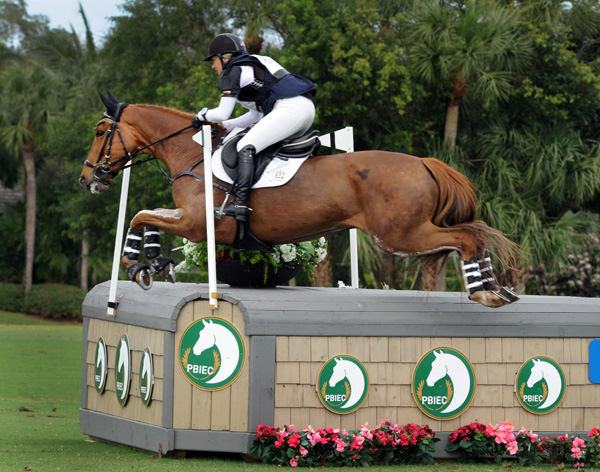 Marilyn Little on RF Demeter in the $75,000 Asheville Regional Airport Wellington Eventing Showcase. Photo by Catie Staszak
The tools that I use regularly in show jumping I use on cross-country, and now I think a lot of the tools that I've learned cross-country I bring into the show jumping ring. It's a wonderful opportunity, an exciting opportunity and certainly a unique one, and I hope to make the most of it, and I hope it benefits my horses and my program.
I suppose it was important for me to get back there to remember that I still can do that. I also really enjoyed it. It was a very special weekend for me. I loved being back out there with my friends and in a ring that I spent a lot of time in and playing a game that I know very well. It was a little bit like a homecoming."
What other jumpers do you have in your barn?
There's a jumper named Clearwater owned by Karen O'Connor who's coming nine this year. He is a very special jumper, also with very big scope. He's been being quietly developed, and now he's ready to step into the international ring. I'm very excited about him. He's the right age.
I have a mare named Venus [that Kent Farrington campaigned in CSI*****s in 2012. Angel Karolyi won the $100,000 Sullivan GMC Truck Grand Prix with her at Ocala in 2015] who's been a partner of mine for quite a while. I've done quite a lot with her, and I know her very well. She's a great producer of results. She'll be a speed horse and a horse to count on for some of the 1.45 and 1.50 ranking classes. She's a real winner.
We have 28 horses in Ocala all together. I sold some of my eventers, and I'm only going to keep a few.
How was your time at the Wellington Eventing Showcase?
Demi was wonderful. She really put in a great performance in her first outing of the year. She's 14 now, so she really knows her job.
Cross-country, she gave me an incredible ride. She was quick and not at all rusty, even though she hasn't gone cross-country since last October. She had one school in Ocala. She came out there ready to do her job and was cool and relaxed and answered all the questions.
I had an absolute blast. It's such a special thing to be able to ride on that field. It's perfect footing. I think the horses really enjoyed that footing. The venue is very electric, and it's fun to ride in front of that crowd. It was a real opportunity for the riders to practice being in that atmosphere, especially for the horses that you're looking towards venues like Rolex or Rio.