Lexington, Ky.—April 23
When Tamie Smith went out to dinner with her student Alex Ahearn in 2015, she didn't realize that night would change her life.
Ahearn had an exciting black horse, Mai Baum, who she'd bought as a 4-year-old and competed through the three-star level. But she was headed to college, so  "Lexus" would need a new rider.
"In her own thought process and reflecting on what she wanted to do with herself, she took me to dinner, and said, 'I want you to have the ride on Lexus; you need an amazing horse.' I'm getting chills thinking about it," Smith said. "Every time I remember that night—it changed my career actually. It's been a really amazing journey with that family, and Lexus, it's a little bit of a fairy tale. It's pretty phenomenal. It took me some time to have a partnership with him—he was very much Alex's horse—but I feel like he's a hand in a glove now. We're such good friends and kind of think alike."
The pair have been prolific winners at the three- and four-star level over the past four years. They won the Fair Hill CCI4*-L in 2015,  helped the U.S. to team gold at the Pan American Games (Peru) in 2019, and won countless CCI4*-S and advanced horse trials on the West Coast along their way.
Today, Lexus cantered down centerline with Smith in his five-star debut at the Land Rover Kentucky Three-Day Event, scoring a 21.8 to sit just .1 behind overnight leaders Marilyn Little and RF Scandalous. Behind Little, who set a U.S. record five-star dressage score on Thursday, Smith's is the second best Kentucky dressage score recorded in the past decade of competition, according to Equiratings statistics.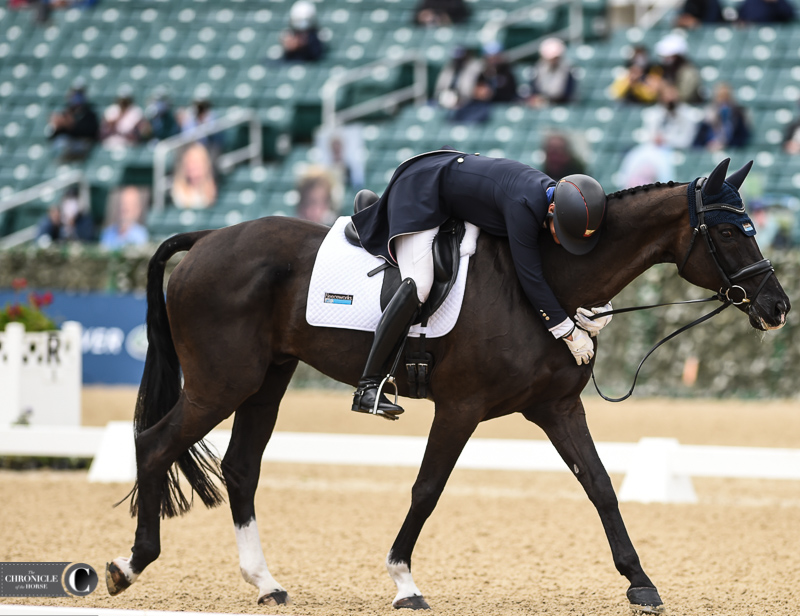 While Lexus had a few excitable moments in the warm-up, Smith was able to contain his enthusiasm in the Rolex Stadium.
"That was definitely his best performance," she said. "He's such a showman. He was actually really nervous; it was kind of cute. Normally he doesn't really get nervous. He kind of just kept blowing his nose, and he wasn't eating today. I think he knew it was a big day. He went in and was absolutely stunning. I almost cried. It was so nice to have him there and have such a good performance.
Watch Smith's test via USEF Network.
It's been a long journey to get Lexus to his first five-star. The 15-year-old German Sport Horse gelding (Loredano—Ramira, Rike), who's still owned by Ahearn, along with Ellen Ahearn and Eric Markell, has had a few bumps in the road.
Injuries, the Pan Ams, targeting the rescheduled Tokyo Olympic Games in 2020 and then COVID-19 meant he had a long wait.
"It was a choice we had made. We had high hopes for him going to [the Rio Olympics in 2016]," she said. "He's a very extravagant mover. We chose to not do a five-star until now. I don't know if I would do that again just because when you have a horse of a lifetime like that horse—he's phenomenal and amazing, and we almost just saved him. But we wanted to have a chance to do an Olympic Games, and that happened to be five years later now because of COVID. Here we are, and we're ready, so I'm really excited."
Smith, who's leading the CCI4*-S on EnVogue and is in third on Danito, is impressed by the caliber of horses and riders this weekend and is looking forward to tackling Derek di Grazia's cross-country course tomorrow.
"You always want to be in a competitive field and Kentucky can sometimes be not as competitive, but obviously it's a stacked field, and it's really exciting. I think tomorrow is going to be very exciting for everyone," she said. "It is very much a course that suits him; he's a big galloping type horse, he's also quick and naturally fast and rideable, so I feel very prepared.
"When I first walked it, a couple combinations I was quite worried about, but they look very rideable now. I feel like I have a really good plan. I feel really ready. I'm going to walk it again in the morning, [I'm] late in the go so I'll get to watch quite a bit."
"You can see where the sport's going," she continued. "You've got to have a really bold, brave, big-stepped, big gallop horse, but a very rideable horse. There's a lot of combinations on two strides—very quick thinking. … I think if it was a different course designer, I would be more nervous about a couple combinations, but I really trust Derek and what his thought process is."
Cross-country starts tomorrow for the CCI5*-L at 8:30 a.m., followed by the CCI4*-S at 1:45 p.m.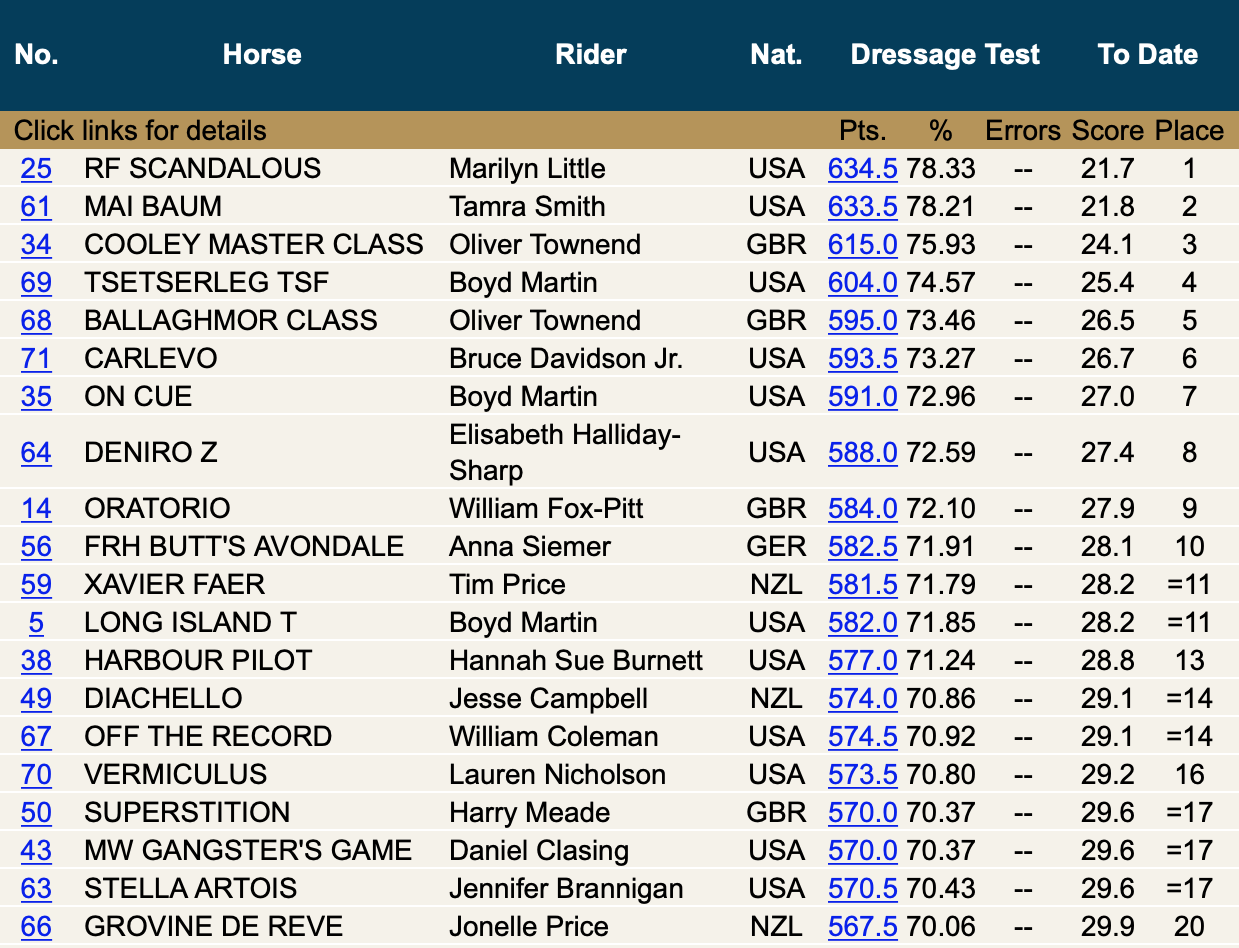 For full scores, click here.
The Chronicle of the Horse will be on-site all week for the Land Rover Kentucky Three-Day Event bringing you reports from each round of competition, beautiful photos and stories from the competitors. Follow along with all of our coverage here, and be sure to read our May 17 Kentucky Results issue for more in-depth coverage and analysis of the event.
2021 Land Rover Kentucky CCI5*-L Friday Dressage
Lindsay Berreth / Apr 23, 2021 7:13 pm