Lexington, Ky.—April 22
Heading down to the dressage warm-up this afternoon, RF Scandalous couldn't help but glance out to the Land Rover Kentucky CCI5*-L cross-country course, but Marilyn Little gently reminded her they still had a job to do.
"Kitty" is a consummate professional, and she put on her dancing shoes to score 21.7, the best dressage score in more than 650 rides at Kentucky since 2009. EquiRatings confirmed it was the best five-star dressage score for a U.S. rider in its records.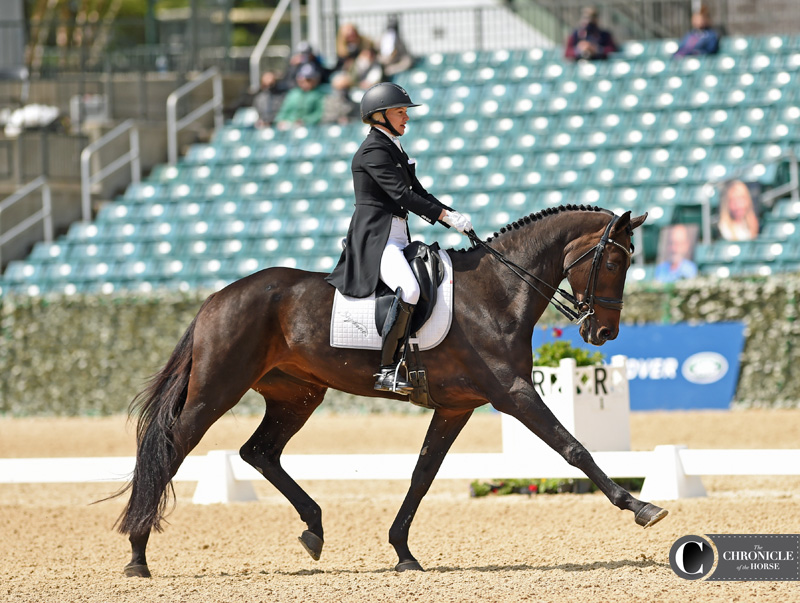 "She came up here and looked out on cross-country and had a sense of Saturday! And I thought, 'Whoa, you're premature!' " Little said. "Before, there would have a been a time where I would have thought, 'Oh my gosh, we could have an explosion,' as you can with five-star horses when they get this fit, but she just said, 'I'm ready; let's do it,' and I was able to push enough. The score could have been a little bit better, but I think, given the five-star fitness where we are now, it was fantastic. I'm so proud of her."
Little, who is not often beat on the flat at competitions, said she knows there are competitive pairs coming tomorrow, but she was happy to have a little potential breathing room come Saturday.
"There's some great movers and some great riders with a ton of experience, so it's going to be a great competition," she said. "I'm happy to have gone today to get it out of the way, even though it's always great to be in that last group. But it is what it is, and we'll get to go earlier on Saturday to have a little better footing, so we'll take it."
Little is coming off a tough 2020, where she had a few blips on cross-country in competition, but she and Kitty, a 16-year-old Oldenburg mare (Carry Gold—Richardia, Lario), have had a strong lead-up to Kentucky with wins at the Red Hills International CCI4*-S (Florida) and the Stable View CCI4*-S (South Carolina). While she hopes she'll get a chance to represent the United States at the Tokyo Olympic Games this summer, she is focusing on this weekend first.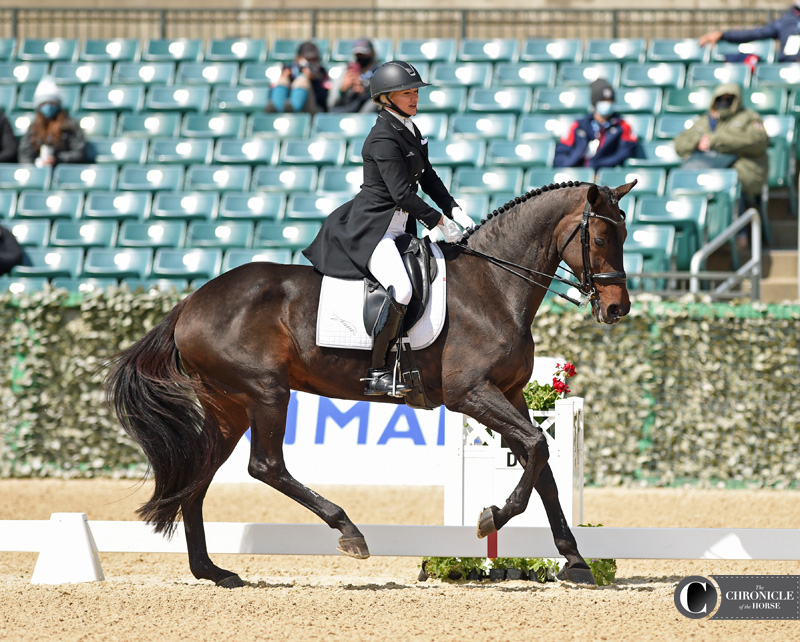 "The ways sports and horses go, it just didn't work out. Last year was a really tough year for me," she said. "We rebounded, and our partnership is better than ever. I think we just worry about this weekend and try to have the best weekend we can. There's a lot of great horses and riders on the list. We'll see where the chips fall."
Little expressed her gratitude for being able to compete this year.
Watch Little's test via USEF Network.
"I'm always thrilled to come to Kentucky, but this year we're so blessed," she said. "It's a different year without the crowds and the fans. I know that they love this weekend, too, and it's such a wonderful thing for the equestrian community for everybody to be a part of together.
"It's an individual sport, but the moments when you're here, everybody's pulling for everybody, especially at a time like this—we needed that. I know there's so many people at home and on the screens and watching everywhere. Keep cheering, we can hear you, and we're all really lucky to be able to play the game still."
Great Britain's Oliver Townend came to Kentucky this year with two strong irons in the fire. He landed in second place today with 2018 and 2019 Kentucky winner Cooley Master Class (24.1) and will ride his 2017 Land Rover Burghley Horse Trials (England) winner Ballaghmor Class tomorrow.
Fellow countryman William Fox-Pitt is making his return to Kentucky after six years with Oratorio, and they slotted into third place (27.9).
"Of course we miss the crowd, especially in America because the crowd is always so enthusiastic and very knowledgeable," Townend said. "But at the same time, it's still very much Kentucky—it's riding down the chute into that arena. In eventing, there's no arena in my mind like that. That's why we keep coming back. We're huge fans of the place, and all credit for it to be on. We wanted to support it and be here."
The British riders and the other British-based foreign riders in Kentucky this weekend have contended with strict COVID-19 lockdowns and an EHV-1 scare this spring, leading to a late start to competitions.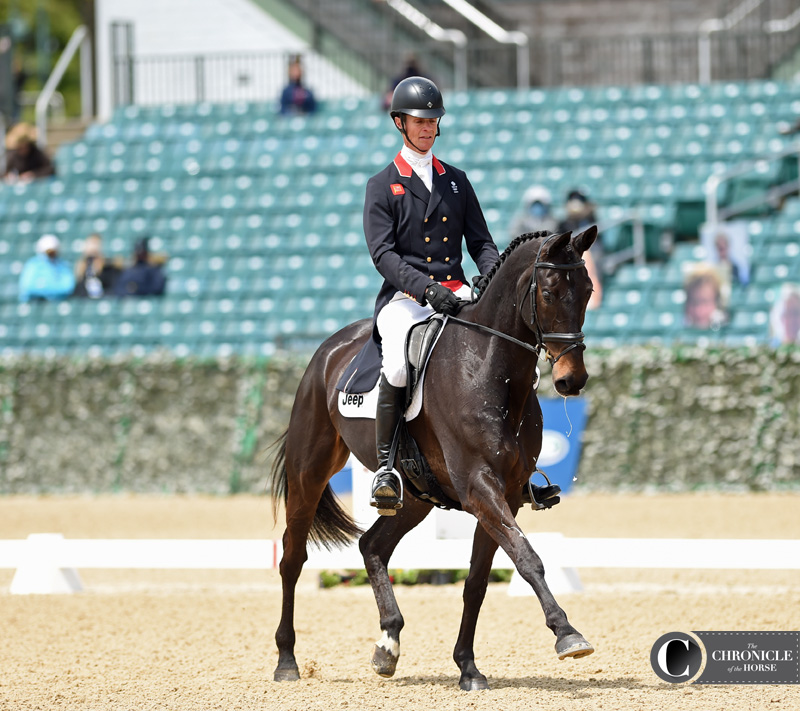 "It's been probably difficult mentally more than anything else because it's been start-stop; are we, aren't we? Kentucky's off, that's disappointing, Badminton's off, that's disappointing," Townend said. "It kind of takes the wind out of your sails a little bit, and because this is obviously what we work our entire lives for, but then when it's back on, the wind went back into the sails, and then the next minute was, how the hell are we going to pay for it? But we're here. We can't afford the flight home unless it goes well! It's very special to be here."
Townend was happy with his test on the 16-year-old Irish Sport Horse gelding (Ramiro B—The Swallow, Master Imp).
"That's the best test he's done at Kentucky," he said. "He felt very relaxed in there. He's probably one that misses the crowd a little bit because he is a very laid-back character, and he does well with a bit of atmosphere. You don't really worry about him blowing up; you worry about keeping him going in the dressage."
Dressage continues tomorrow with the CCI4*-S at 7:45 a.m., followed by the CCI5*-L at 12:15 p.m.
For full results, click here.
The Chronicle of the Horse will be on-site all week for the Land Rover Kentucky Three-Day Event bringing you reports from each round of competition, beautiful photos and stories from the competitors. Follow along with all of our coverage here, and be sure to read our May 17 Kentucky Results issue for more in-depth coverage and analysis of the event.
2021 Land Rover Kentucky Thursday Dressage
Lindsay Berreth / Apr 22, 2021 6:29 pm