Hello everyone,
What an incredible honor to be here as Team USA picked up another medal, this time in team jumping with just three riders on the squad on Day 2! I've been lucky enough to see the team climb up on the podium once or twice before, but this time it felt especially hard fought, with Cortes 'C' out with a minor injury. While our competitive show jumpers are always aiming for gold, bless them, I don't think anyone on the show grounds wasn't thrilled for the French when they won gold, as their fortune was plagued by injury, illness and bad luck.
One of the coolest things about being here is interviewing the riders right after their rounds. If you're really lucky, the competitors will pause to watch with you as a teammate or friend rides in the ring, occasionally giving an impromptu riding lesson or riding the course alongside their colleagues. Meredith Michaels-Beerbaum was especially expressive as Daniel Deusser was on course, riding ever fence along with him, gritting her teeth and finally exhaling after he landed.
Ben Maher calmly answered our questions with half an eye on the horse he bred, raised and competed at the Olympics, Tripple X III, correctly pointing out the only place on course he might have a problem a full minute before he did.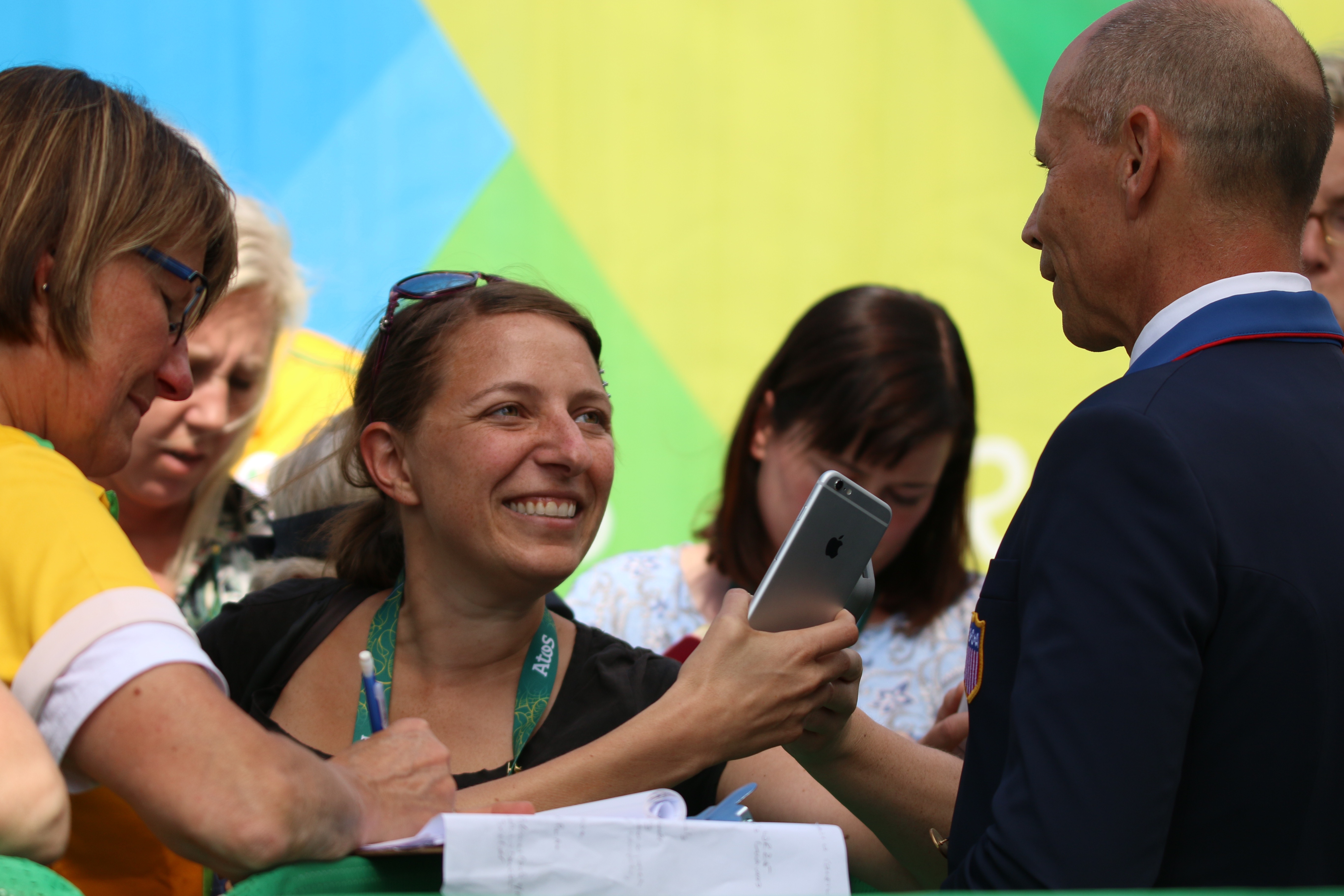 Interviewing happy riders after they compete is one of the best parts of the job. Photo by Jane Thompson
Watching the riders on the kiss-and-cry is just as entertaining. The Canadians grab one another tightly over ever fence, lean way back when things get hairy and leap into the air in a victory after a clear.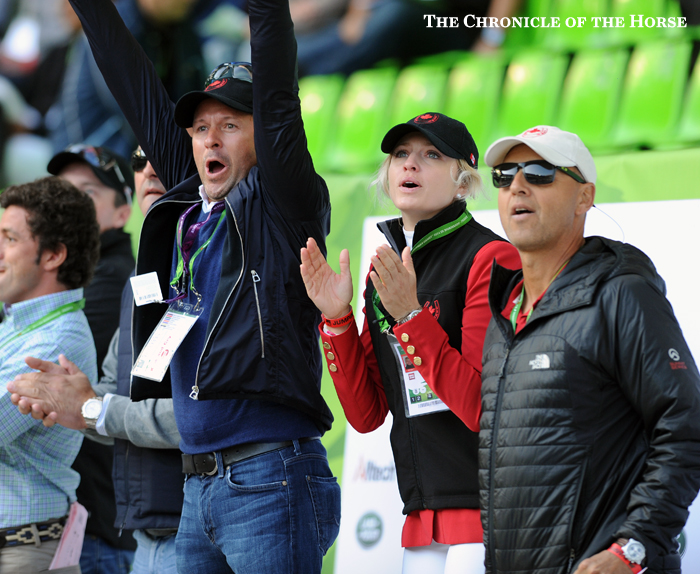 OK, this photo of Eric Lamaze showing his appreciation for Yann Candele's clear round is from the 2014 Alltech World Equestrian Games, but you get the idea. Photo by Mollie Bailey
The Brazilians are notoriously excitable, and clean trips are followed by a giant dancing group hug (yes, Chef d'Equipe George Morris joins in). But when the Dutch go in the ring I never bother pointing a camera at the tribune where the support team watches. Yes, the fans—impossible to miss in their trademark traffic cone orange—cheer wildly after a great round, but the supremely professional coaches and teammates nod and clap one another on the shoulder, as if to say, "Of course we were clean. We're always clean."
That's not to say they're unemotional. Dutch show jumper Jeroen Dubbeldam was beside himself after he and Zenith picked up a heartbreaking time fault during an individual show jumping round that would deny the pair an Olympic title to add to their current European and World Championship ones. Jeroen is losing the ride on that horse after the Olympics, as that horse is owned by Show Jumping Fund For the Netherlands, and goes up for auction soon.
Jeroen's widely respected across the equestrian world—especially among equestrian media—as a commensurate horseman who prioritizes riding for the flag and spending time with his family over circling the world jumping for big money. It felt exploitive and sickening to stick a voice recorder under the chin of such a man and ask him, essentially, to talk about losing the ride on his horse of a lifetime a few minutes after he was less than a second over the time allowed.
But that's the job. And he knew his, wiping away tears and managing a few words. I had plenty of interviews with other disappointed riders, but none had me choking up in the same way.
There's plenty of national pride in the press area, but people cheer for personal favorites too. While I felt gutted for our squad that we didn't have an American on the podium on individual day, I cheered along with everyone else when Nick Skelton won individual gold.
The man's been winning medals for longer than most of the journalists have been alive, and he finally got his individual win after plenty of setbacks for him and Big Star. Adult riders take note: the man is 58, and used a stepladder to climb aboard Big Star for the awards ceremony. If that's not inspiration for the rest of us who aren't exactly winning Olympic medals in our 20s and 30s, I don't know what is.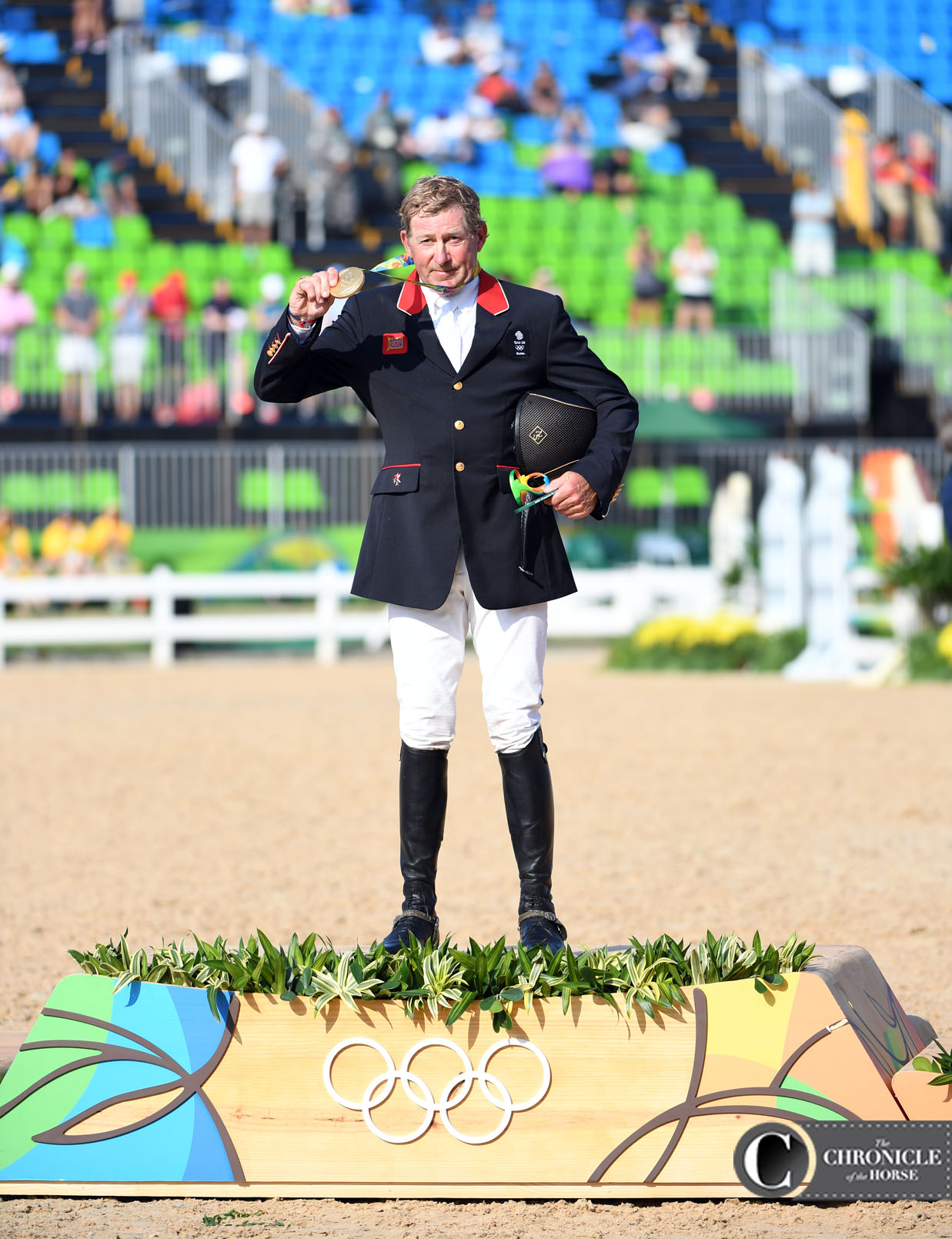 Nick Skelton won Olympic individual gold at 58, so no more excuses for the rest of us. Photo by Lindsay Berreth
Now we're heading back to the home, with a hard drive full of photos and loads of great memories. It's been an amazing two and a half weeks, but there have been a few some trying moments, of course. Last Friday, just after the U.S. dressage team won bronze and U.S. Pony Championships were in full swing, Lindsay and I had a win/lose situation when we managed to crash the website with all the traffic we were sending to coth.com.
It's a wonderful problem to have, but one that prompted multiple controlled-panic phone calls and emails to our tech and web teams. Having gotten used to conjuring up dramatic headlines, I titled the emails: "Emergency: U.S. Wins Olympic Bronze And Chronicle's Website Is Down."
Some of the rough moments are comic even at the time, like one particularly long day culminating in my realizing that the commissary on campus had ran out of corkscrews. (I know, I know, what kind of a print journalist am I not to travel my own?) Imagine the humiliation when I managed to break the one I borrowed from Eventing Nation's incomparable Jenni Autry, who couldn't have been sweeter about it.
By the time I found a lovely Australian photographer with her own wine key I gave her a long and heartfelt hug, then proceeded to start on the bottle sans glass on the way back to our dorm to work on another story for the magazine.
There's been so many fun moments too, especially meeting amazing members of our equestrian community from all over the world, like the one-and-only Pedro Cebulka who had with him our Untacked magazine with the cover story I'd written about him earlier this year. Or Russian dressage rider Inessa Merkulova, who told me about reading 50 Shades of Grey to her horse Mister X before rides, then gave me a hug and a kiss in exchange for a pin.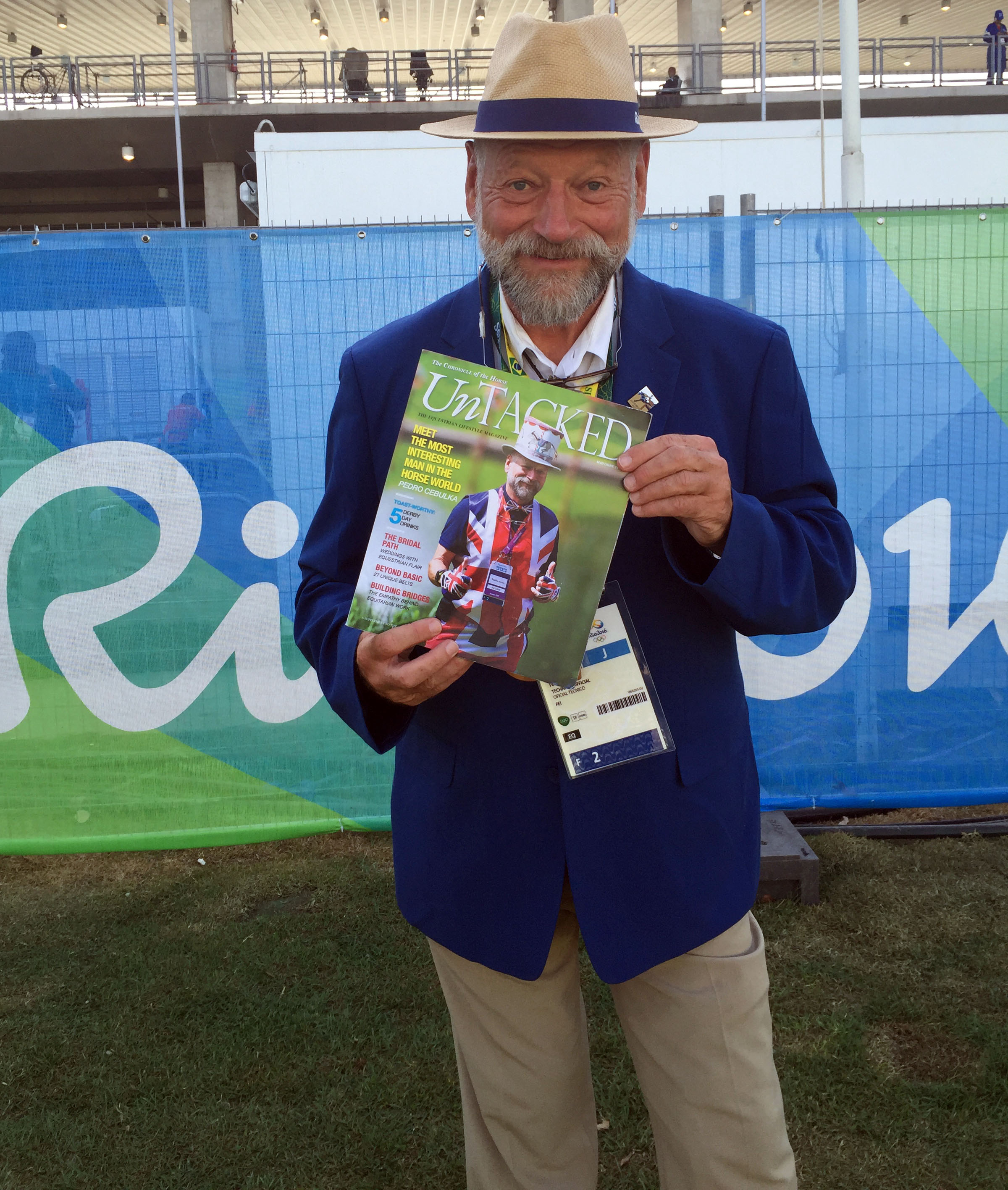 Of course Pedro Cebulka, ringmaster of the universe, brought his Untacked magazine to Rio to show off. Photo by Mollie Bailey.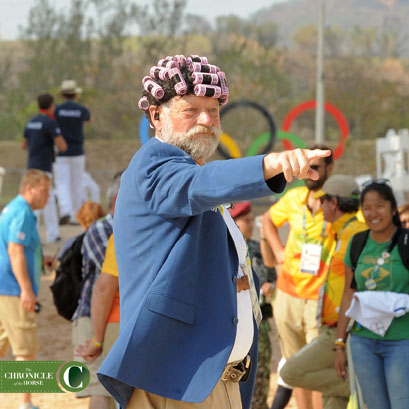 Pedro in action. Photo by Mollie Bailey.
Things ended on a great note. I'd befriended the front desk crew at our dorm complex early in our trip, as they kindly endured—if not successfully resolved—our many requests to have a door handle fixed and hot water repaired. But they were supremely helpful in other ways, recommending bus routes, ordering take-out, and surreptitiously livening up my Portuguese vocabulary by teaching me some amusing—if unprintable—phrases when their boss wasn't in the room.
At the recommendation of a Brazilian friend, I'd stashed a fancy bottle of scotch in my suitcase in case I needed to seriously grease any palms to get things done. Happily that wasn't remotely necessary, (pins did the trick!) and the staff was elated to be gifted the liquor at the end of the two weeks, insisting on a group photo.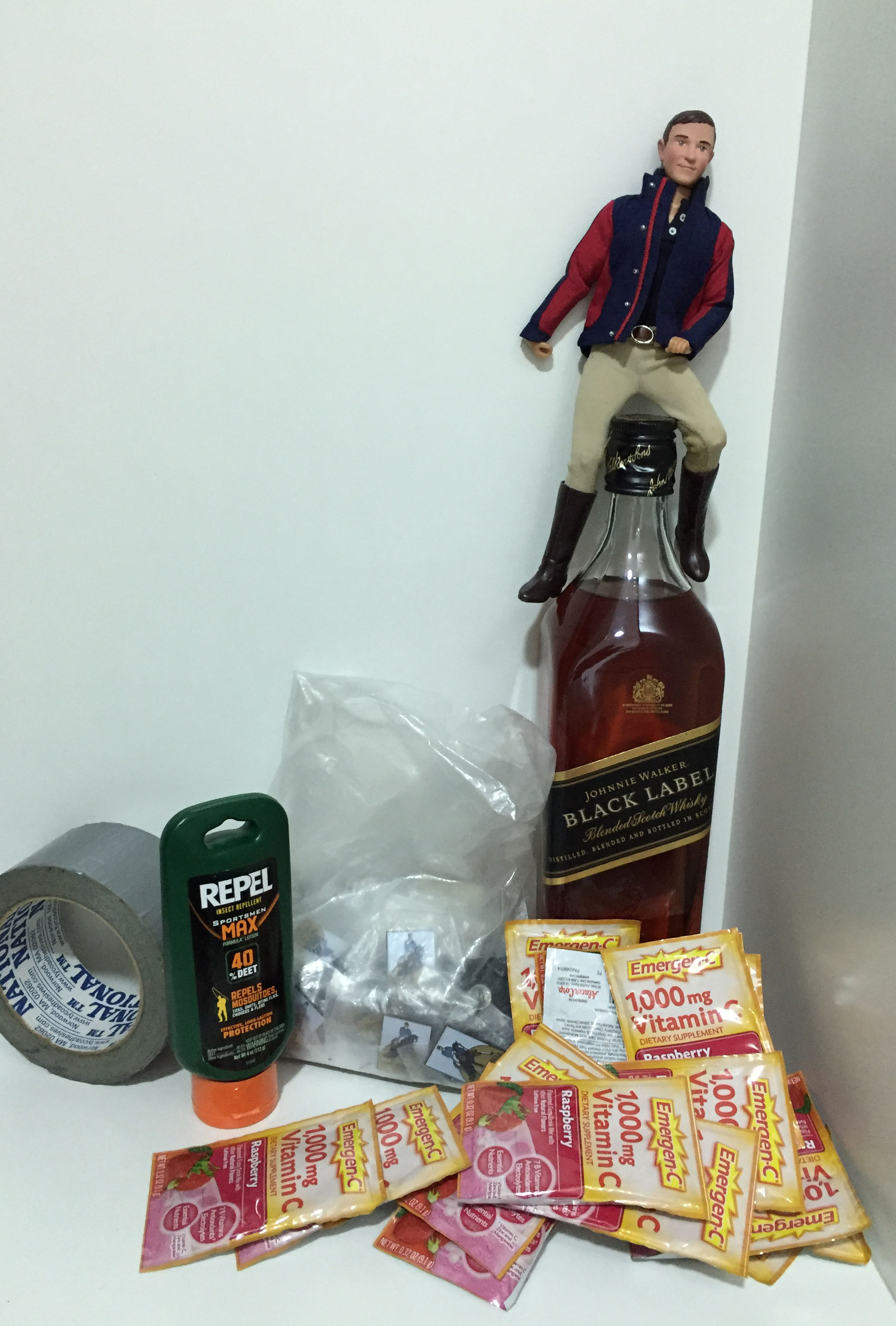 Proper packing prevents poor performance. Photo by Mollie Bailey.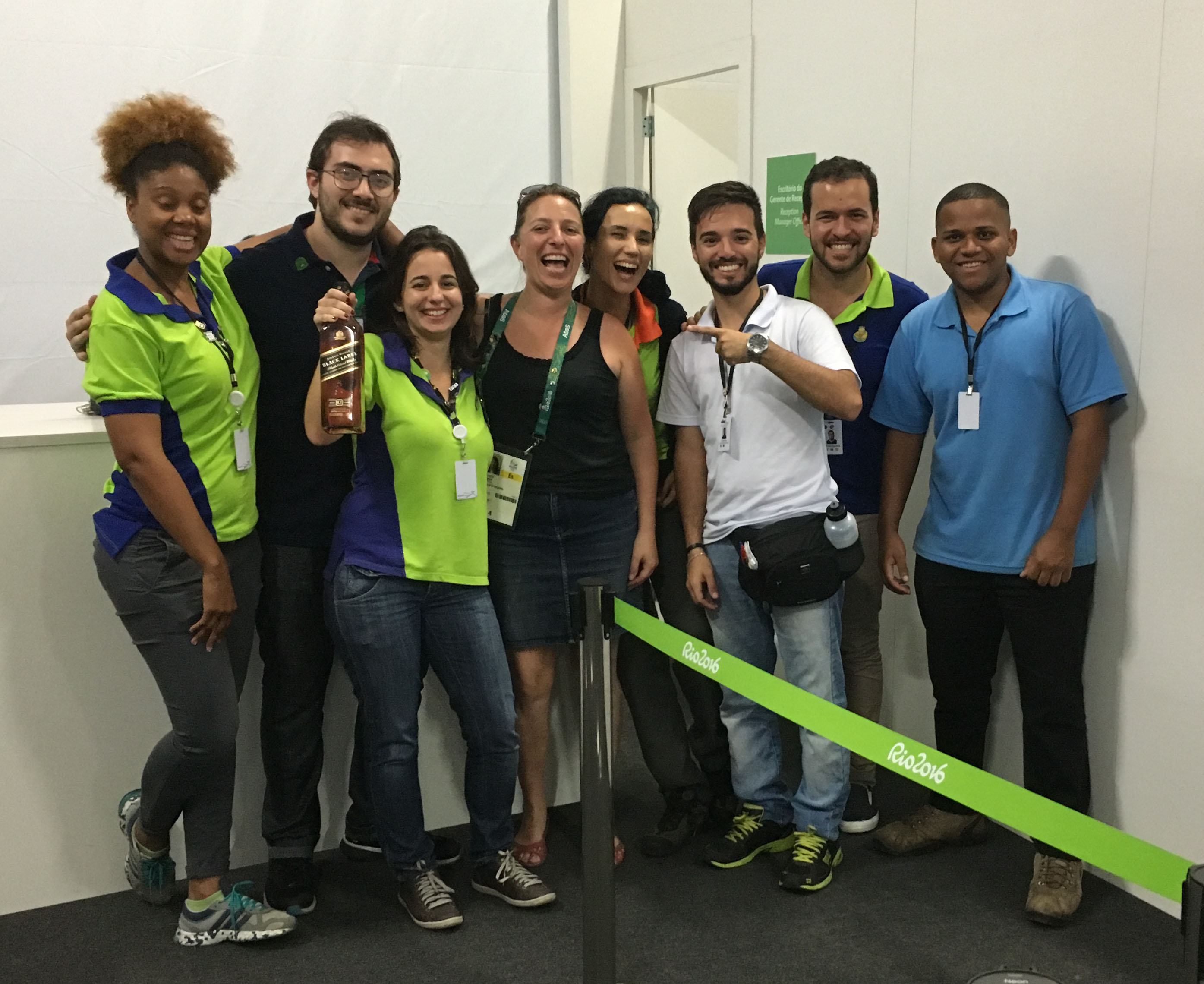 Tipping the hotel staff has never been more fun than it was in Rio. Photo by Mollie Bailey
It was an incredible treat to be a part of the Olympic experience. While my heart may want a rest from the emotional work-out, I'm already looking forward to Tokyo.
Tchau,
Mollie "Bolt" Bailey
Read Mollie's previous Rio blogs here and here.
Mollie Bailey and Lindsay Berreth are on the ground in Rio de Janeiro for the Chronicle and will be reporting with all the news, fantastic photos and behind-the-scenes details, all posted on www.coth.com. Your go-to page for all things Olympic is http://www.chronofhorse.com/2016-Olympics.
We'll have live blogs of competition sessions, Twitter updates, blogs, photo galleries, stories about each day's competition and so much more. Don't miss a thing—we'll have everything you need to know. Also make sure to follow along on the Chronicle's social media outlets: Facebook, Twitter, Instagram and Snapchat (@chronofhorse).