Rio de Janeiro – Aug. 12

By halfway through the afternoon of today's Grand Prix Special, the medals were all but decided—all but bronze that is.
The dominant German team had a stranglehold on gold, and the British, anchored by superteam Valegro and Charlotte Dujardin, seemed a shoo-in for silver. But bronze was a tight race between the Netherlands and the team from the United States.
The competition started out rough for the Dutch when Adelinde Cornelissen retired Parzival mid-test in what was to be his last championship performance on the first day of the Grand Prix. She later explained he was suffering from a bad reaction to a bug bite and didn't feel right. With three riders on talented but relatively inexperienced mounts and no drop score, the team had an uphill battle.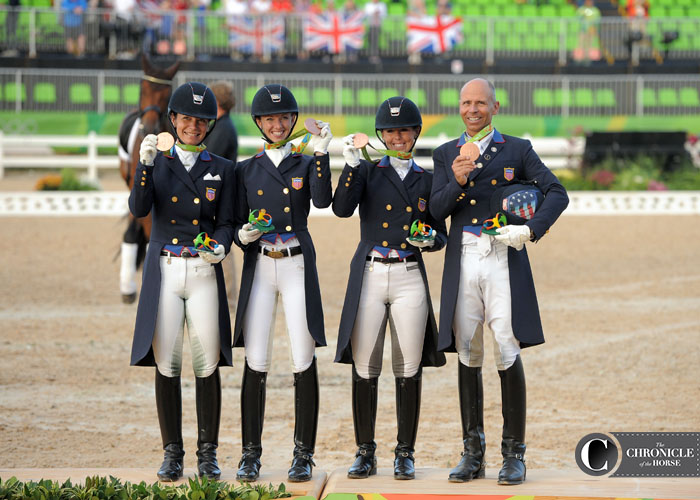 The U.S. team won bronze. Photo by Lindsay Berreth.
The United States took a narrow lead after two days of Grand Prix competition, holding onto bronze-medal position by an unclipped whisker, setting today up for a serious battle at the National Equestrian Center.
Due to the Olympic draw process, the team in orange all performed before lunch, and none had a stellar day. Diederick van Silfhout (Arlando) did best, finishing 11th on a 76.09 percent, but fellow riders Hans Peter Minderhoud (Johnson) and Edward Gal (Voice) contributed scores that would leave them on an average mark of 74.99 percent, and an overall 75.51 percent.
On the U.S. side, team stalwart Peters had a disappointing test when Legolas 92 lost his balance in the trot half-pass and broke to canter, then had a little delayed reaction into the first piaffe out of walk. Before his test, the team pulled out their calculators and figured what score Peters needed to stay ahead of the Dutch.
"I knew after that fumble in the half-pass that one more mistake in the flying changes, and we'd be below our required average, which was a 74.198 percent to be ahead of the Dutch," he said. "We knew exactly going in what score I had to get, and I'm super happy it worked out. It was close!"
As the team veteran he is, Peters kept his cool, and Legolas stayed calm.
"It's not the first time," Peters said. "I was able to tell myself, 'I've ridden in these conditions. I've ridden in those situations when we had to deliver for the team.' I've been waiting for this for 20 years, since 1996. There have been a few individual successes—a World Cup title, an Aachen [Germany] win—but this team medal [means] just as much to me. I'm super happy with Legolas. We delivered for the team; that was my goal, and that's what we did."
Laura Graves has been inching towards the 80 percent mark this year with Verdades, and today she finally reached it, just when her team needed her most.
"The elusive 80 percent! We've captured it. It exists," she said with a smile. "I knew it was going well! You just always hope that your reflections match up with the judges'. So I was happy to see that first of all, my teammates were happy. I had no idea going in what I needed for a score. [Graves was back at Verdades' stall getting ready while Peters was riding.] To see my teammates so happy and to have a personal best of a score I've been reaching for is just icing on our cake today."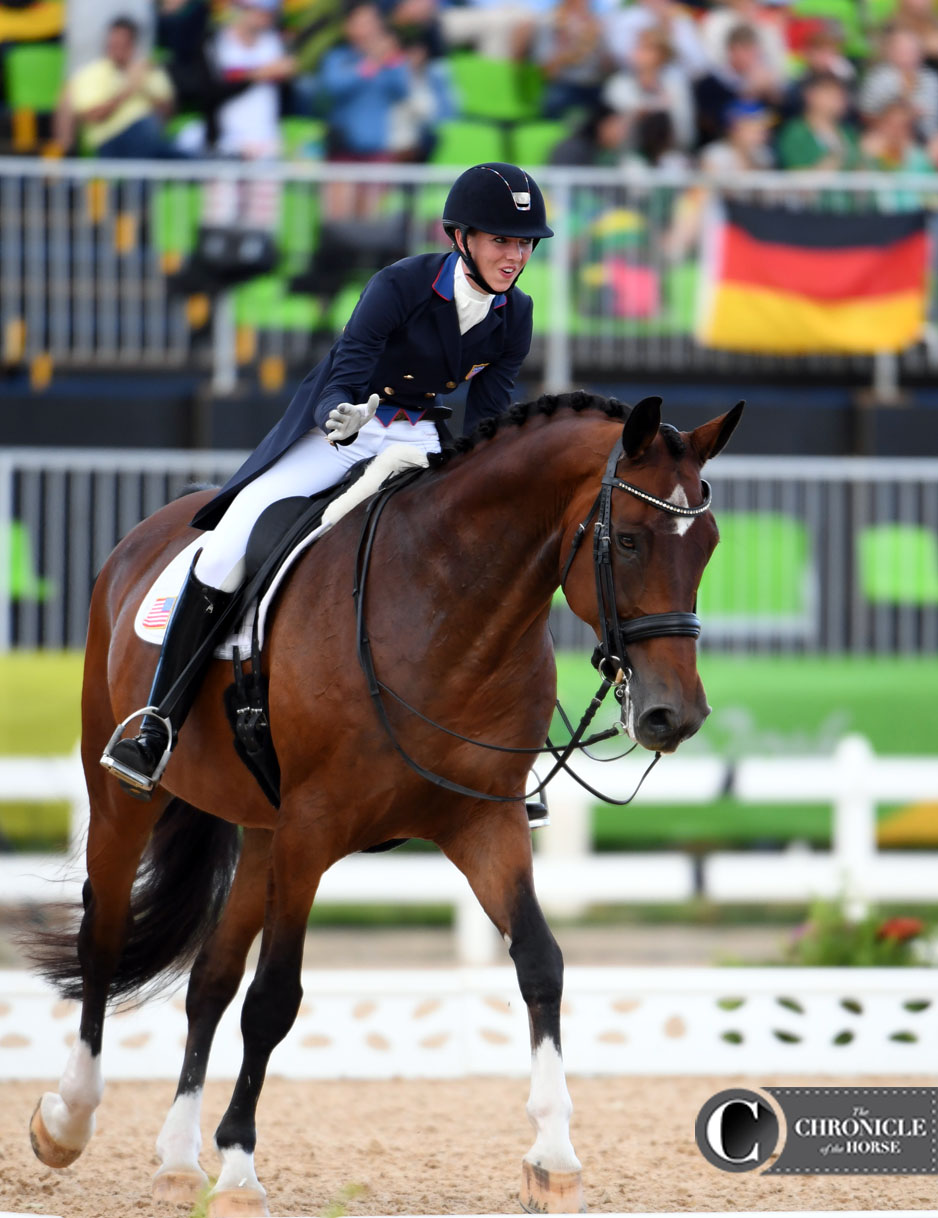 Laura Graves and Verdades. Photo by Lindsay Berreth.
Graves said "Diddy" gets pretty fired up in the warm-up ring and loves going in the stadium.
"I can kind of trust that. I have a good idea before I enter how the test is going to ride. It just rode fantastic," she said. "He is [trying to rise to the occasion] big-time. He knows when we pull his wraps what he's about to do in here. That's something that's changed in him in the past year and that I've had to learn to adjust and not panic when he feels that way. I have to say, 'OK, he knows what he's about to do.' He really likes it, and then he's totally calm on the way out."
Kasey Perry-Glass and Dublet scored a 73.23 percent, which just barely made them the team drop score behind Allison Brock and Rosevelt (73.82%).
It was a bit lower than Perry-Glass expected. "My plan was just to give him one more good experience and also thinking about the team. I really wanted to do this for the team. Sometimes it's just not your day," she said.
"I'm very excited and just thrilled to be in this position, especially with this group of people. Overjoyed," said Brock.
It's been since 2004 in Athens that the United States had stood a team on the podium at the Olympic Games, and Chef d'Equipe Robert Dover, who was on that bronze medal-winning team with FBW Kennedy, was thrilled with the outcome.
"We had so much help to make this happen," he said. "Truly it takes a village. And we accomplished what we came here to do.
"It's been a long road. I was saying before, 3 1/2 years ago I was quoted as saying that among other things, if I had to drag the entire country kicking and screaming to the medal podiums I would do that. Fortunately it didn't have to occur that way," he added.
Peters, Brock and Graves have qualified for the freestyle, which will be held on Aug. 15.
Mollie Bailey and Lindsay Berreth are on the ground in Rio de Janeiro for the Chronicle and will be reporting with all the news, fantastic photos and behind-the-scenes details, all posted on www.coth.com. Your go-to page for all things Olympic is http://www.chronofhorse.com/2016-Olympics.
We'll have live blogs of competition sessions, Twitter updates, blogs, photo galleries, stories about each day's competition and so much more. Don't miss a thing—we'll have everything you need to know. Also make sure to follow along on the Chronicle's social media outlets: Facebook, Twitter, Instagram and Snapchat (@chronofhorse).