Harrisburg, Pa.—Oct. 15
Last year Ansgar Holtgers Jr. earned a team gold medal at the Neue Schule/USEF Team Jumper Championship Prix Des States National Championship with Zone 4, so he came back to Harrisburg this week determined to grab another one. And he did, but this year as a solo act, winning the Neue Schule/USEF Junior Jumper individual championship Saturday with great rides on Chaploon.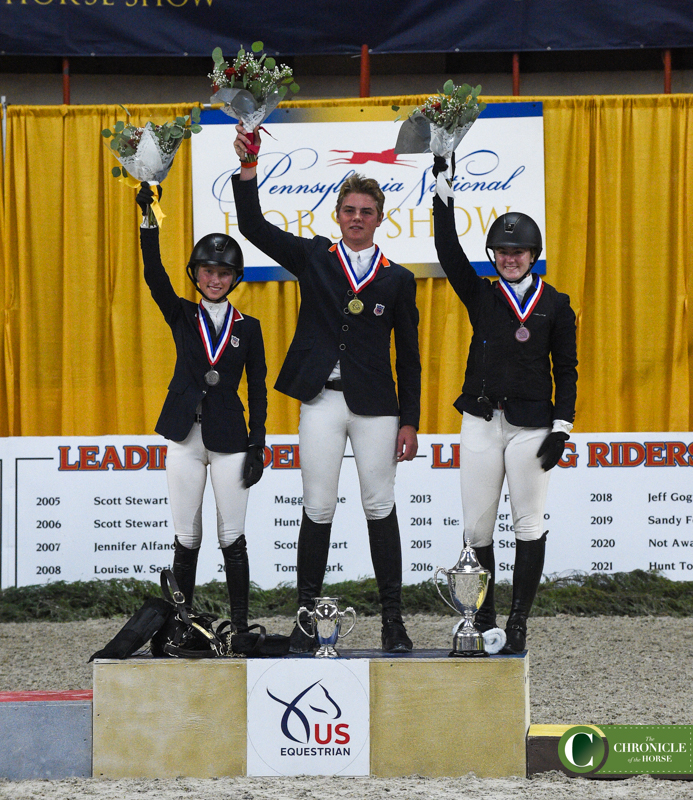 "The emotions were very high, and I obviously wanted to win gold," said Holtgers, 17 of Wellington, Florida, who got help from Rene Tebbel. "I was so happy with my horse."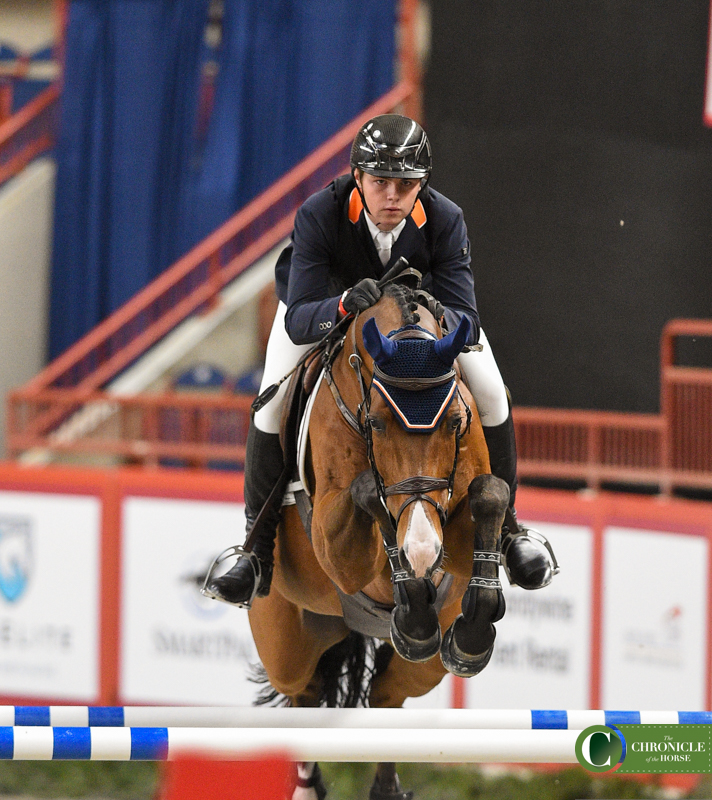 Holtgers was the only rider of 36 to keep all the fences up all week. Holtgers slid into the gold medal position after Virginia Bonnie and Heldorado, ranked slightly ahead of him thanks to a faster speed round, dropped one rail in the final class of the championship to take bronze. Tessa Downey, Houston, put in a brilliant clear Saturday on Isabelle to move up sixth place to add an individual silver to the Zone 7 team gold she earned Friday night.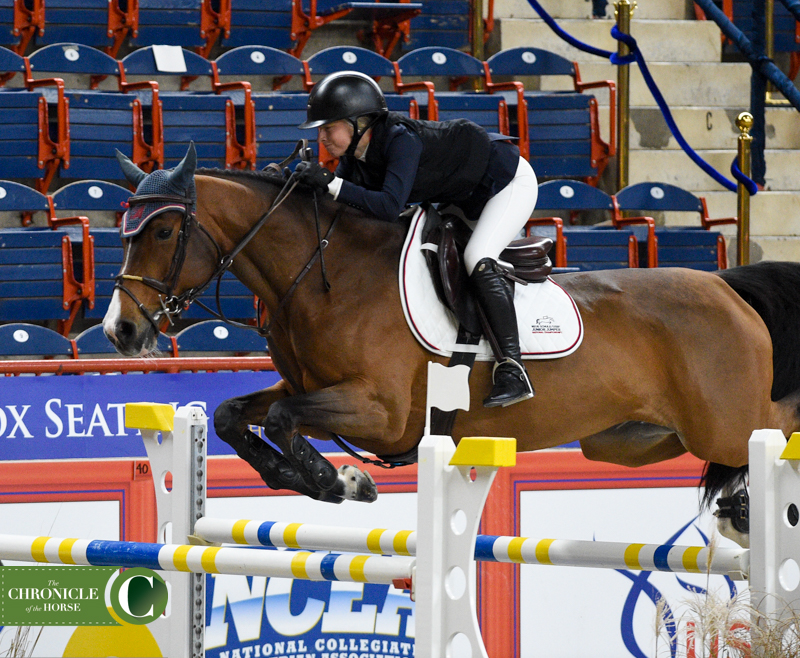 The Alan Wade-designed course saw only five out of 23 pairs go clear.
"I thought it was a really great course," said 18-year-old Bonnie. "It tested all the skills we strive for—rideability, forward, back. It was really well designed."
Holtgers, 17, first rode Chaploon, a 12-year-old Oldenburg gelding (Chacco Blue—Wisira) in May of this year. They started their partnership showing at the World Equestrian Center—Ocala (Florida), and spent a month in Europe this summer.
"I think it's a big, big help to be able to ride [in Europe]," he said. "You get to show against the best juniors and young riders in the world. It's also great to meet new people, to see different courses, different jumps, different rings and different lifestyles, which I think is really important.
"[Chaploon] came from Paul Schockemöhle Stables in Germany," he continued. "We flew out there to try him, and I think ever since I sat on him, I was in love with him. He comes back easy, he has a huge step, and he's ultra-careful. He's just a lot of fun, and I can't think of a better way to start our partnership off than to win this."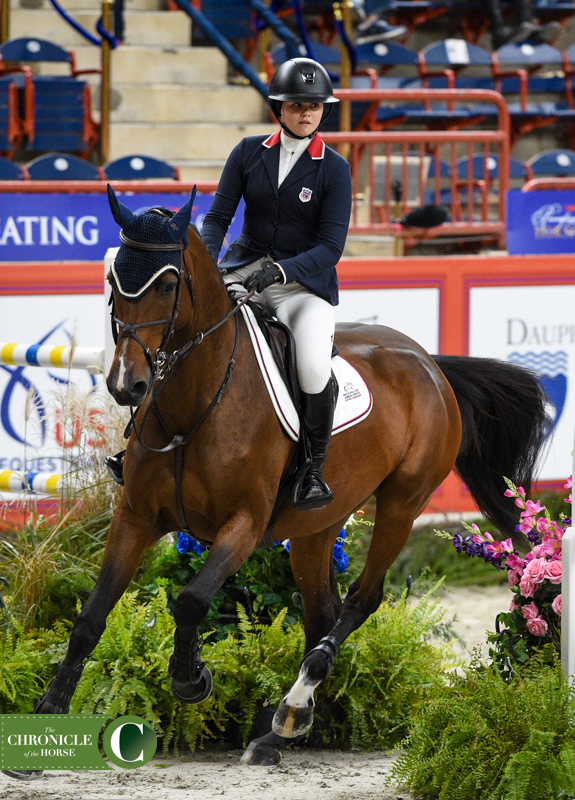 Downey, 16, paired up with Isabelle during the Winter Equestrian Festival (Florida) of this year. This summer they competed at Gotham North FEI Youth Championships (Michigan), placing seventh in the junior individual final.
"She's an incredible animal," said Downey. "Ken and Emily Smith, as well as Peter Pletcher and Jef Lauwers, are the ones that teamed us up together."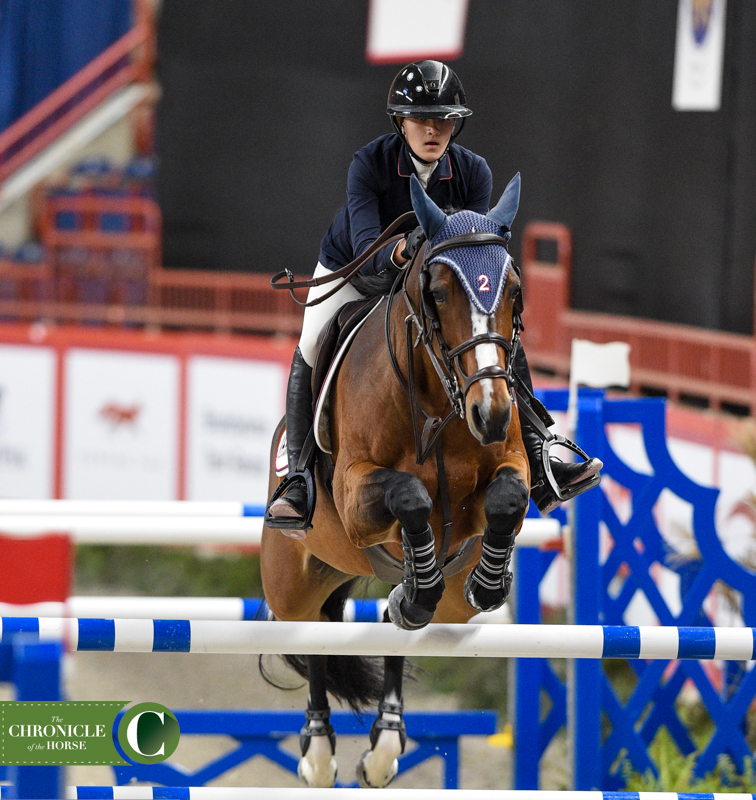 Bonnie first tried Heldorado in 2021 when she was competing on the FEI Junior Nations Cup Final team at the Kronenberg CSIOJ (the Netherlands) alongside Holtgers, where they won team gold.
"That was my first time ever competing in Europe or on a [youth] Nations Cup final team," said Bonnie. "That experience of going and having to be relied on and relying on your teammates on such a big international stage is a major point of growth and an important step for young riders."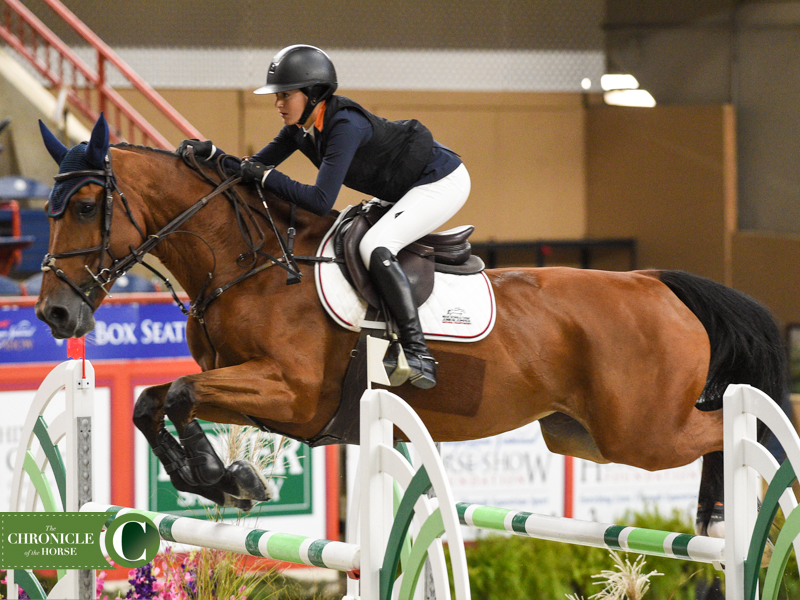 Find results here. Want more Pennsylvania National? The Chronicle will be on the scene through grand prix night bringing you photos and stories. Plus see more analysis from the Pennsylvania National in the Nov. 7 issue of The Chronicle of the Horse magazine.