Harrisburg, Pa.—Oct. 14
Last year, Carlee McCutcheon was part of a Zone 7 team that narrowly lost the gold medal to Zone 4 in the Neue Schule/USEF Junior Jumper National Championships Prix des States. This year, the 16-year-old was a member of a whole new team of Texans ready to reclaim gold—which they did, finishing on a total score of 8 faults between two rounds.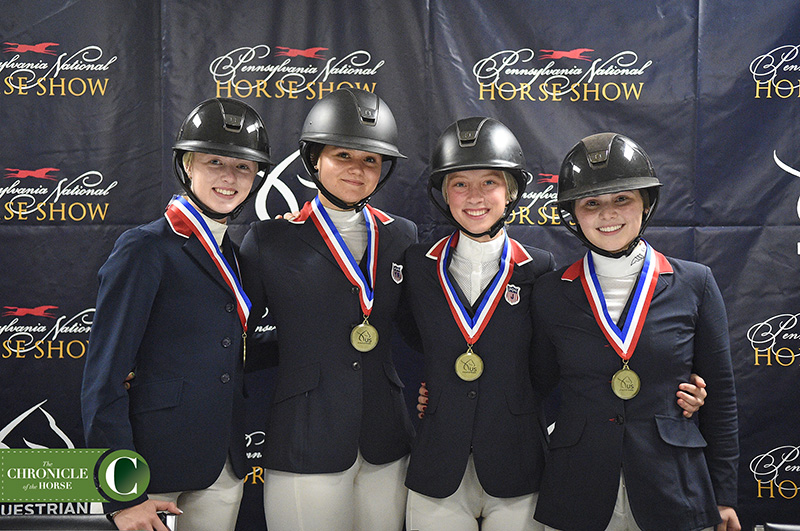 The team consisted of McCutcheon of Aubrey, Texas, and MTM Unexpected; Lola Head, 17, of Houston, and Adelita; Sofia Cady, 16, of Austin, Texas, and Deleyn; and was anchored by Tessa Downey, 17, of Houston, aboard Isabelle.
"To be on a team with these girls means so much," said McCutcheon. "Zone 7 was team silver last year, so it just felt so good to capture gold this year, especially with this team."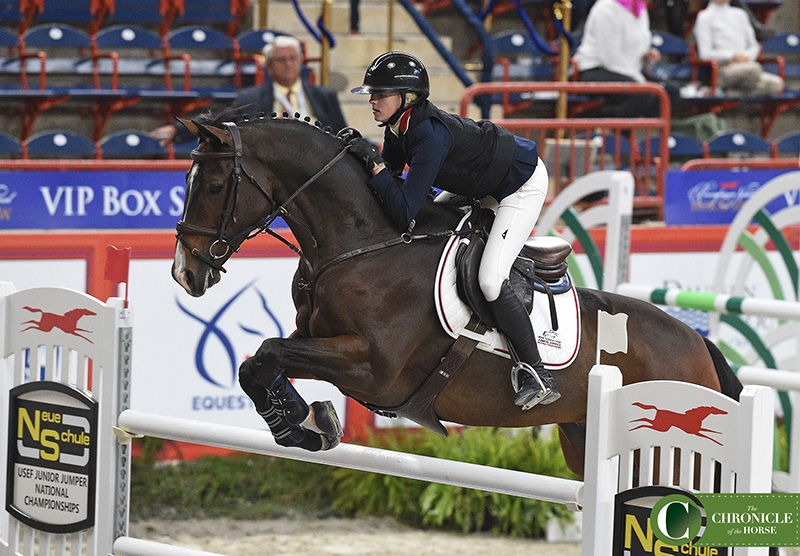 Rails came all over the course, which the riders contested twice tonight.
"I think it's wonderful that we get someone like [course designer] Alan Wade to come here and do this," said Zone 7 Chef d'Equipe Martien van der Hoeven.
"I think every horse, every rider got better as it went," he added. "That's the sign of a good course designer."
All of the Zone 7 team members had matching scores of one clear and one 4-fault round. The four beat out Zone 10 and Zone 2, who were tied for second on a score of 12 total faults, but Zone 10's slightly quicker time relegated Zone 2 to bronze.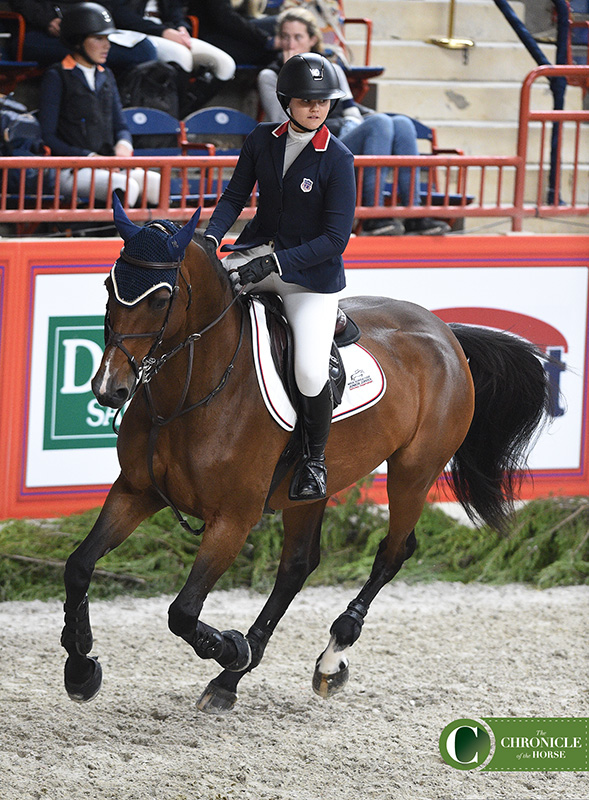 "I think the course had a really nice variety of questions," said Cady. "Shortening, lengthening, getting across the spreads. That's sort of what got me, but I think it was a challenging course that weeded out a bunch of really good riders. Also, for those of us doing Sunday's [Dover/USEF Medal Final], I think it was nice preparation to get in there and see how [the ring] rides with the lengthening and shortening."
Zone 7 riders each credited their teammates' talent and determination for their success.
"Prix des States was a big goal of mine this year," Head said. "I was so nervous coming here, but I've known these girls my whole life, so that made it a lot better."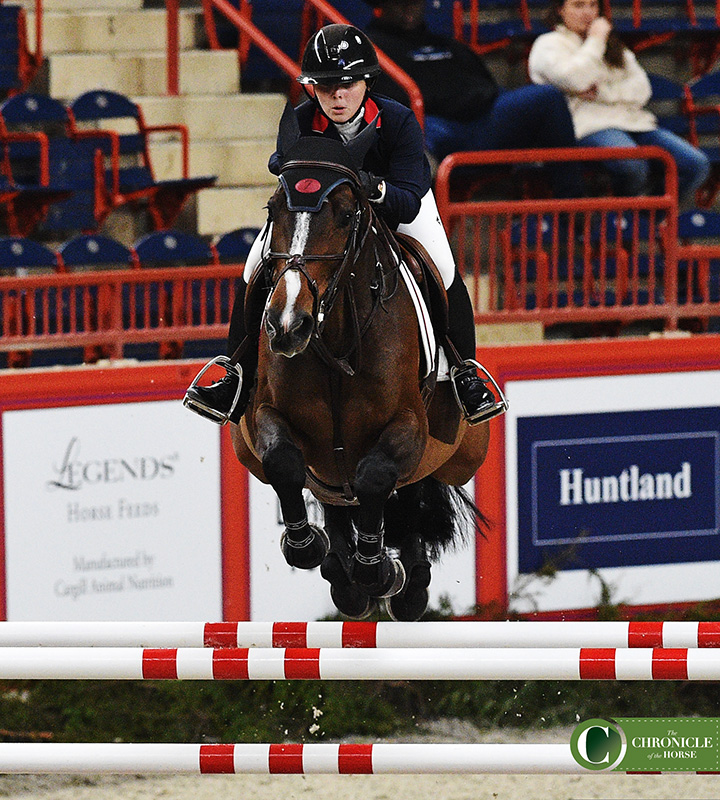 The Zone 7 riders admitted they had some big shoes to fill—and were happy to try.
"I've been coming to Harrisburg since I was showing small ponies, and I've always watched riders like Brian [Moggre] come in and just sweep Prix des States for Zone 7," Downey said. "He's always been so great, so I've made it a goal of mine to come and compete here in this division. I'm happy to have achieved it."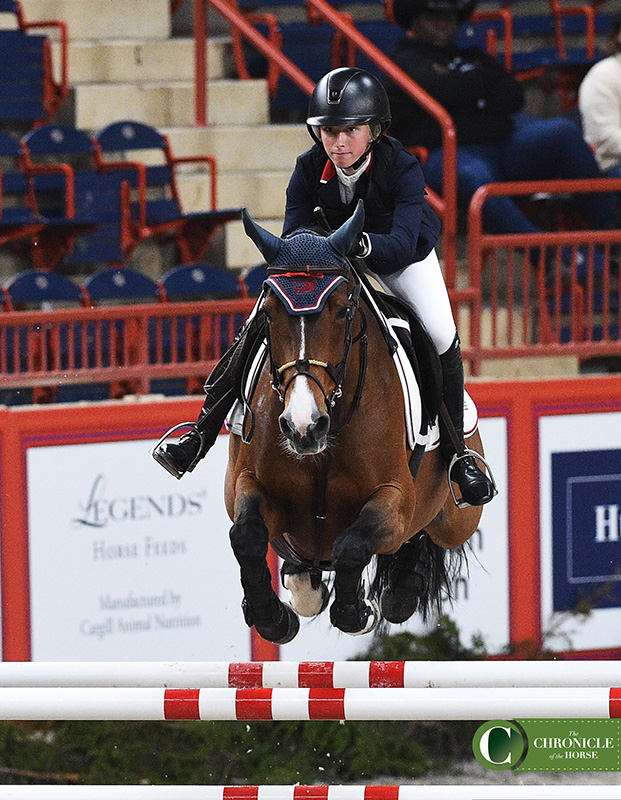 The four teammates will compete against one another tomorrow in the final individual phase of the Neue Schule/USEF Junior Jumper National Championships in the hopes of medaling a second time this week.
Full results and individual standings follow.
Find results here. Want more Pennsylvania National? The Chronicle will be on the scene through grand prix night bringing you photos and stories. Plus see more analysis from the Pennsylvania National in the Nov. 7 issue of The Chronicle of the Horse magazine.