Rio de Janeiro—Aug. 7
No one could catch William Fox-Pitt in this morning's eventing dressage competition, but French rider Thiabaut Vallette helped boost his nation into the lead.
He and Qing du Briot scored a 41.0 to slot into individual fourth in the standings, allowing France to occupy three spots in the top 10 and the overall lead. Germany currently sits second and Great Britain's in third.
Thiabaut Vallette and Qing du Briot. Photo by Lindsay Berreth.
They were expected to score well and didn't disappoint, despite the mercury rising to near 90 degrees and the wind picking up.
"For the horse the atmosphere wasn't very different from other venues anywhere, so that's good," Vallette said. "The heat can affect the horses so the relaxing time for the horses isn't the same as normal. You have to get them fresh but not too fresh so they're ready to compete."
An ecstatic Jonty Evans scored near his personal best mark aboard Cooley Rorkes Drift (41.8). He was smiling from the minute he cantered down centerline, and showed off a solid test. His Irish team currently sits fourth, and he stood sixth individually at the lunch break.
"[The Irish teammates have] been talking amongst ourselves, saying all we need to do is do what we normally do, and what we normally do will be good enough," said Evans, 44. "But the butterflies do kick in a little bit, and doing what you normally do is quite a challenge. But he couldn't have done any more today. I'm thrilled to bits with him."
Jonty Evans and Cooley Rorkes Drift. Photo by Lindsay Berreth.
Evans donned a gold clover pin for good luck, made for him by his stepfather, jeweler Arthur Griffiths, on the inside of his jacket to avoid any violation of International Olympic Committee rules.
An emotional Pippa Funnell scored the third-highest mark of the morning, logging 43.9 points to slot into ninth for Team Great Britain. Funnell's longtime owner Carol Toliver, who owns her Olympic mount Billy The Biz, died after the final British trial for the Olympic Games at just 56.
"I had a bad fall [earlier in the season] and [her top horse Sandman 7] wasn't right to come and I thought my Olympic dreams were dashed," she said. "Suddenly this little gray horse I had as a backup was on the list and I was excited.
"I'm really thrilled with him because he was a bit of a village idiot outside," she continued. "He was squeaking a bit, feeling really fresh, but I'm really pleased with how he coped in the arena. There are little bits that I can take away and be frustrated, because I didn't really nail the last changes, just the odd bits that needed polishing here and there."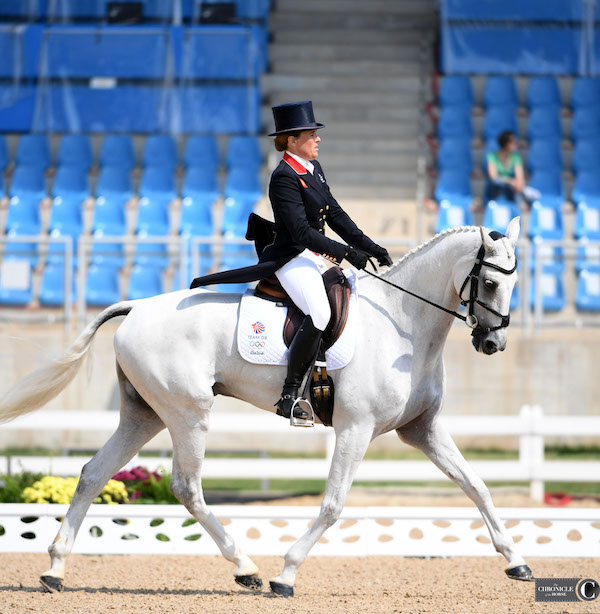 Pippa Funnell and Billy The Biz. Photo by Lindsay Berreth.
The third U.S. rider on the squad, Lauren Kieffer, was disappointed with her mark of 47.3 aboard Veronica, which didn't help boost Team USA above their seventh-placed spot.
"She was really good," said Kieffer. "Her trot work was really nice, I thought some of her strongest trot work. Her walk tends to be her more difficult gait and she was actually quite good through that. I was quite happy with the canter. I think she missed the one change, but I think she got quite punished with her score."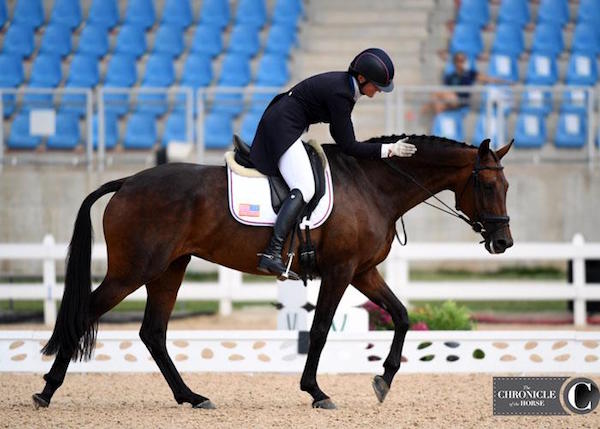 Lauren Kieffer and Veronica. Photo by Lindsay Berreth.
Phillip Dutton will round out the U.S. contingent this afternoon.
Check out individual and team standings here, and preview the cross-country track here.
Mollie Bailey and Lindsay Berreth are on the ground in Rio de Janeiro for the Chronicle and will be reporting with all the news, fantastic photos and behind-the-scenes details all posted on www.coth.com. Your go-to page for all things Olympic is http://www.chronofhorse.com/2016-Olympics
We'll have live blogs of competition sessions, Twitter updates, blogs, photo galleries, stories about each day's competition and so much more. Don't miss a thing—we'll have everything you need to know. Also make sure to follow along on the Chronicle's social media outlets: Facebook, Twitter, Instagram and Snapchat (@chronofhorse).