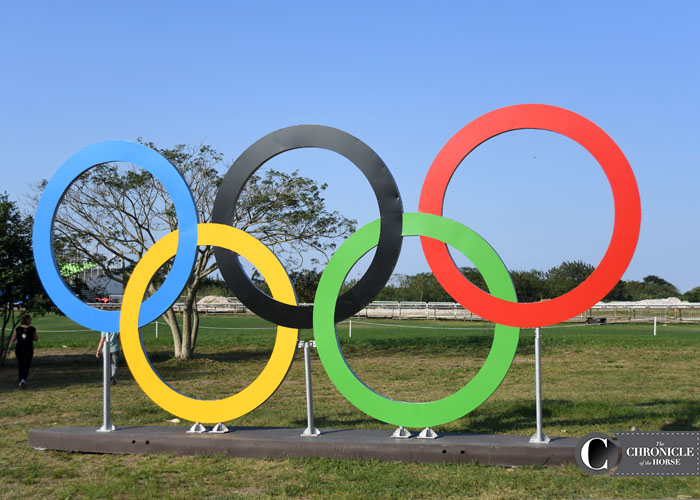 Photo by Lindsay Berreth.
The Olympic Games are underway and the eventers are looking forward to tackling Pierre Michelet's cross-country course on Monday.
The French course designer has put together a testing course that could shake up the leaderboard.
While not the hilliest course, there is a good uphill pull at the beginning of the course, then quite a few twists and turns before another uphill gallop near the last third of the course.
The course is 5,840 meters with an optimum time of 10 minutes and 15 seconds. Thirty-three jumps and 44 jumping efforts will test horses and riders until the end. A quick and nippy horse will thrive as the time could be a deciding factor.
"Some combinations are very technical and difficult," said Michelet. "There are a lot of options where you are losing time, but that are still four-star level. It's a bit tricky, the long routes. The track is a bit narrow so you have to turn, and to slow down to jump the long routes."
There are three water jumps on course, one of which riders will jump through twice, and four fences feature frangible devices—17a, 17b, 22 and 24. Jumps can be up to 1.20 meters high, because the course is built to four-star specifications.
Michelet and his team have spent three years making improvements to the track, which was first built for the Pan American Games in 2007. He's added two water jumps and improved the footing by adding pipes for automatic watering and spiking the ground to add a layer of sand and more turf.
Here's what some riders had to say after their first course walks:
• "We've walked it twice so far," said Jessica Phoenix of Canada. "It is extremely technical. Not like a four-star in height, but definitely a four-star in technicality. I think it will be really well suited to A Little Romance, she's like a little sportscar. [You have to be careful from] every spot, from leaving the startbox to getting to the finish flags."
• "It's tough. It's very tricky," said Boyd Martin. "This course wouldn't suit him [Blackfoot Mystery] much. I'm really going to have to ride well to get him around clear and fast. There's a lot of angles and corners and narrows. One thing I do have up my sleeve is that he has tremendous speed and endurance. I think I can afford to take my time in some of the tricky fences and really get him to look at it and press him in the galloping lines. I'm quietly confident."
• "It's technical from the beginning to the end," said Sandra Auffarth, who will head out first for her German team. "That's a new thing for me. For me maybe it's easier to see a few horses, but for me the cross-country is clear. I know what to do, I know what to do, he has enough experience to do that. So maybe it's an advantage for me to go early."
• "The course is really tough. I think a lot of the riders didn't expect it to be quite as tough as it's going to be," said Sam Griffiths of Australia. "There are questions all the way around the course right from the start to the end. The terrain makes it difficult. You need an experienced, good-jumping hose, which I'm on. But you're going to have to bring your A game out there to go well."
•"We thought coming here that clear cross-country rounds would be a big part of the competition, and that's definitely turned out to be true with what the course looks like," said Clark Montgomery. "I've walked it twice so far. It was very scary the first time, a little better the second time, and I hope it continues to go that way. The terrain is a bit twisty, and some of the angles to the fences. I think what he's asking you to do is go as fast as you can to make time, and I think by doing that you're going to make a mistake. You have to be very accurate with your distances and your lines to not have a run out. That's usually when you make those mistakes."
• "Normally the cross-country at the Olympic games is a bit easier because of the more low level of the qualified nations, but yeah, I'm not sure," said Germany's Michael Jung. "This is my second Olympic Games. I think it's a tough course. It think before [we came we thought] it was a bit less, but the course designer is a very intelligent person with a lot of experience, I think he knows what he does."
• "I can be comfortable in this arena but on my 9-year-old four-star first timer I'm very nervous about that cross-country course," said Chris Burton of Australia. "It's a tough track. Pierre Michelet has built an excellent course. A very testing four-star, and I think it's so good to see at the Olympic Games again. It would be nice to have some more experience. He's been a good cross-country horse up to date, and I have a good team behind me so we'll do our best."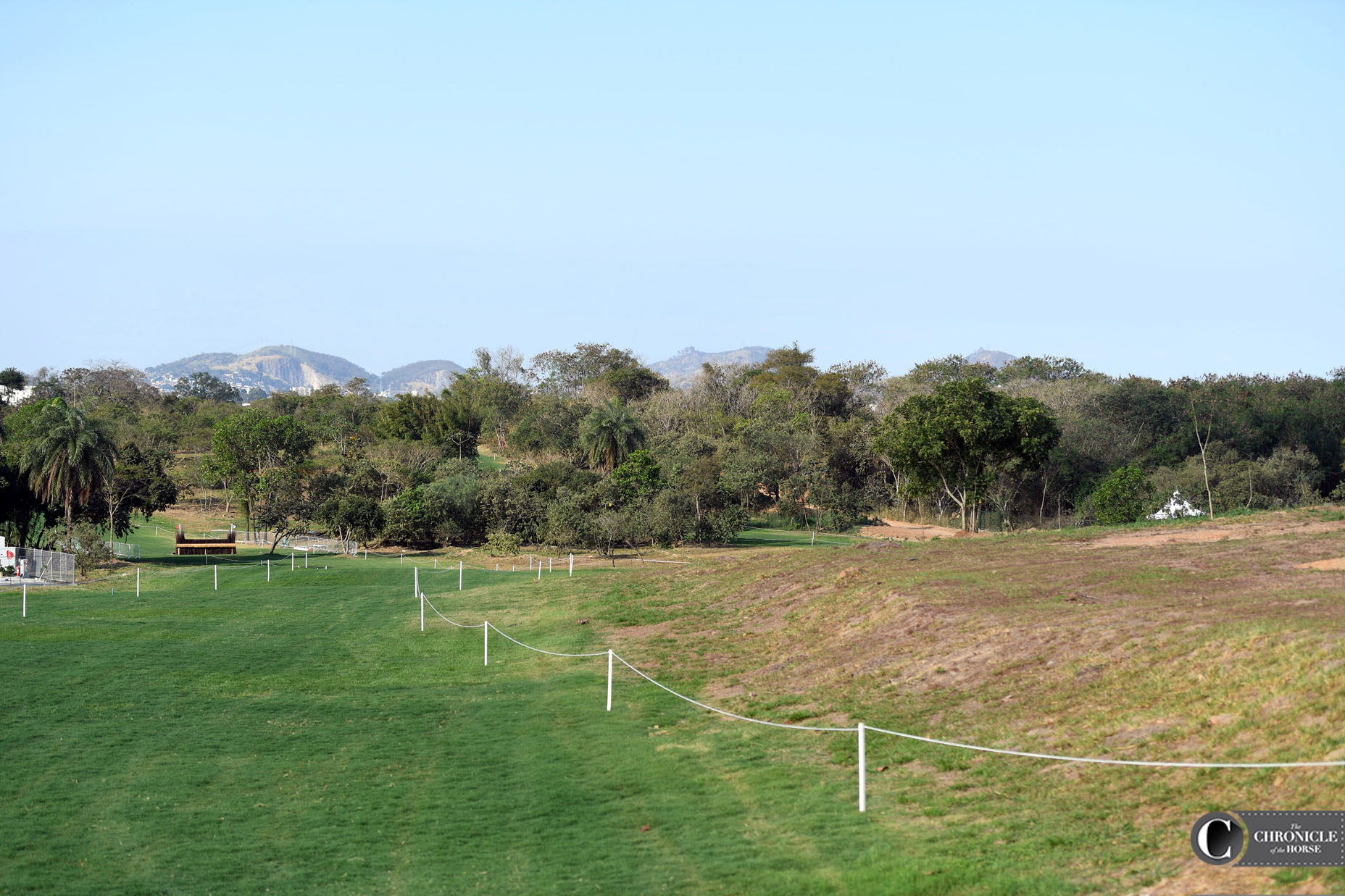 The turf has been carefully managed at Deodoro. Photo by Lindsay Berreth.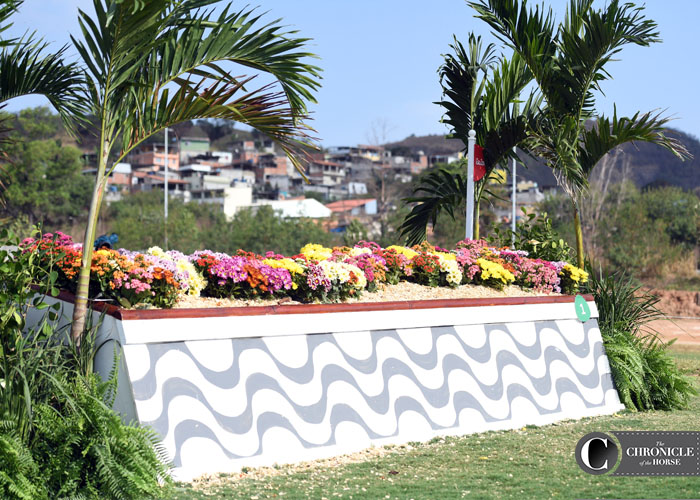 The local neighborhood is visible near the first jump. Photo by Lindsay Berreth.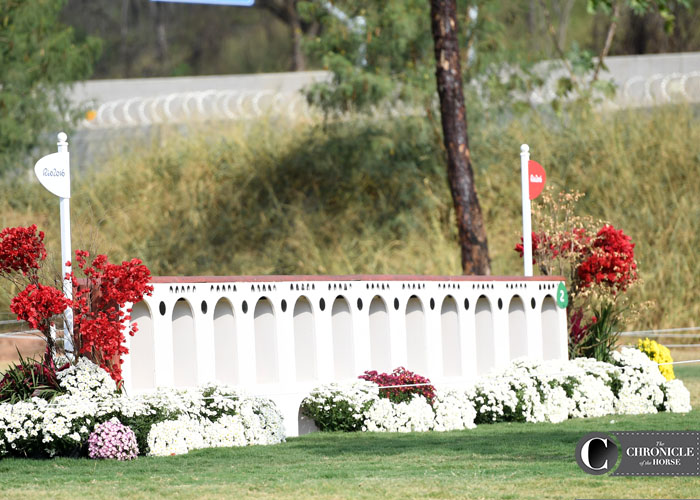 Fence 2 represents the Arcos da Lapas, an aquaduct built in the 18th century to bring fresh water to the city. Photo by Lindsay Berreth.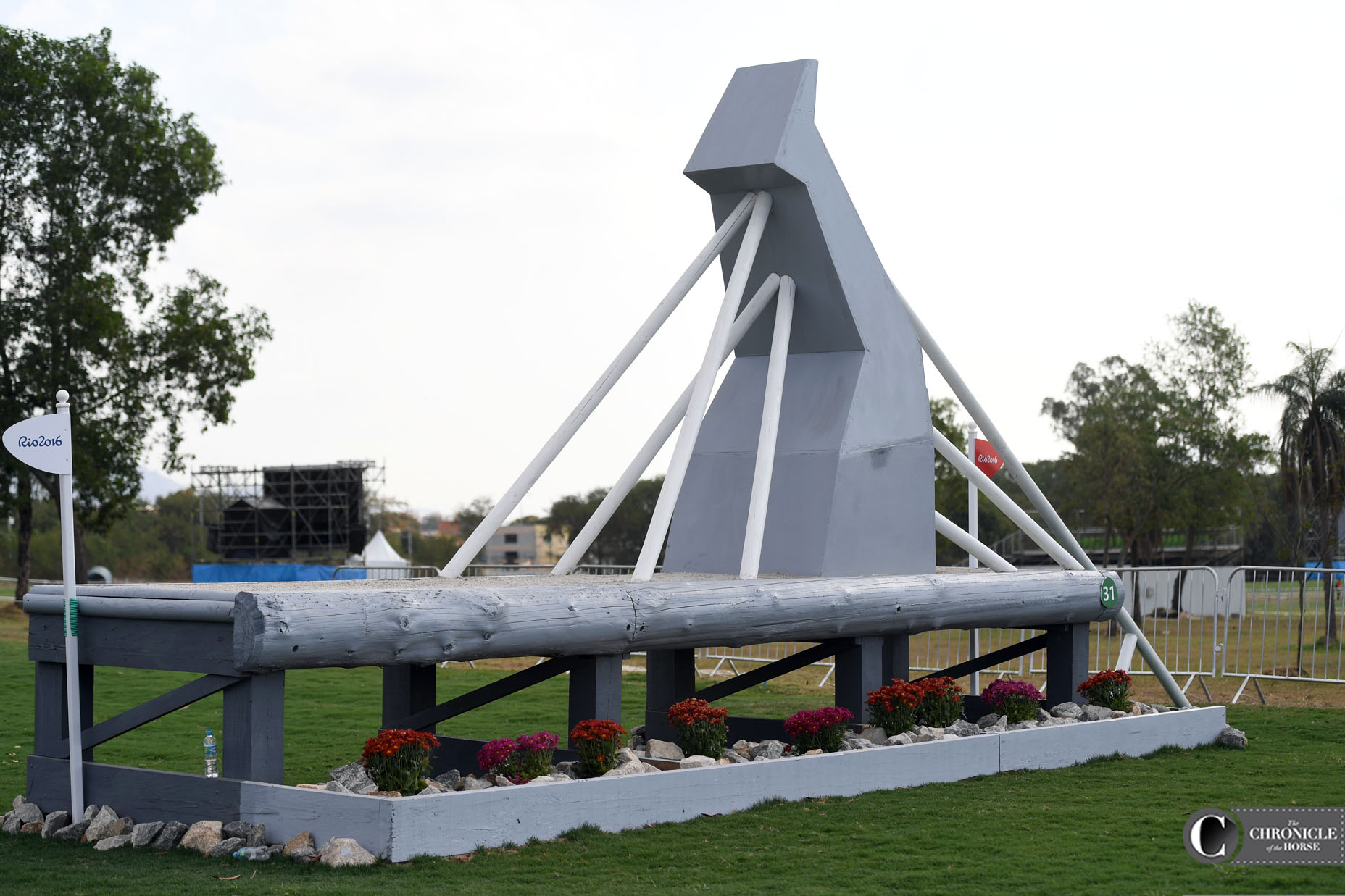 Fence 31 represents the Knowledge Bridge, which has a distinctive shape of pylon that resembles a woman's leg. Photo by Lindsay Berreth.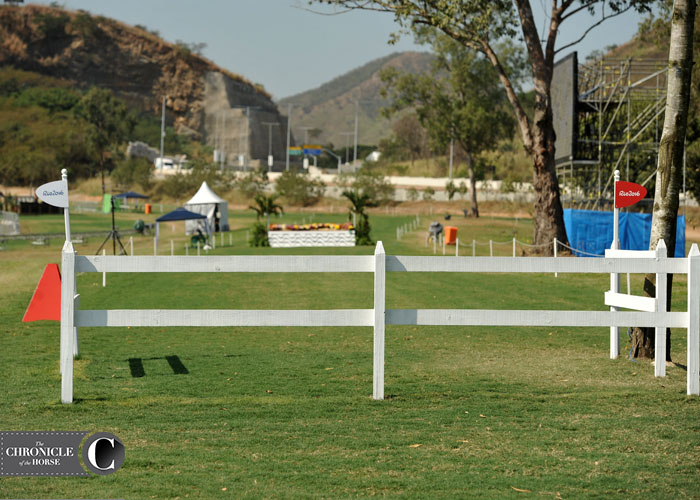 The startbox. Photo by Lindsay Berreth.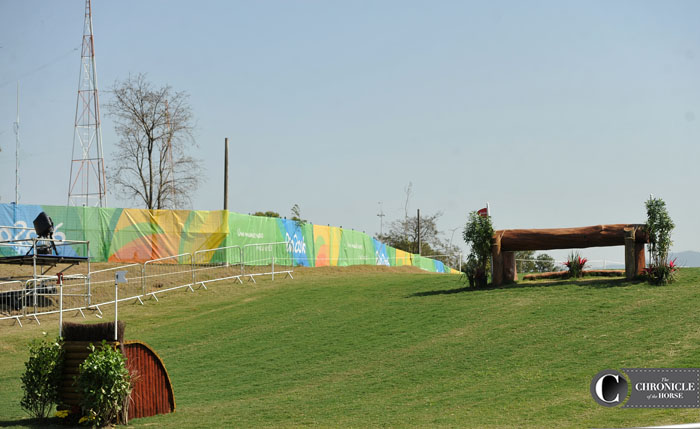 Fences 19 and 20a will require a bold and accurate ride to get to 20b, another skinny chevron. Photo by Lindsay Berreth.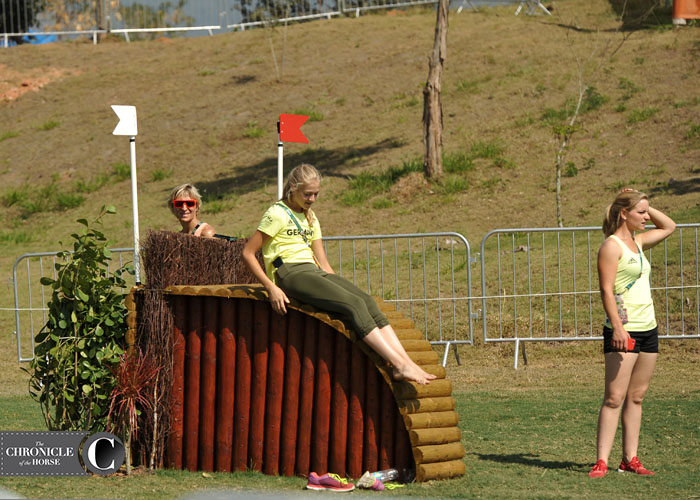 The German team demonstrates how skinny 20b is. Photo by Lindsay Berreth.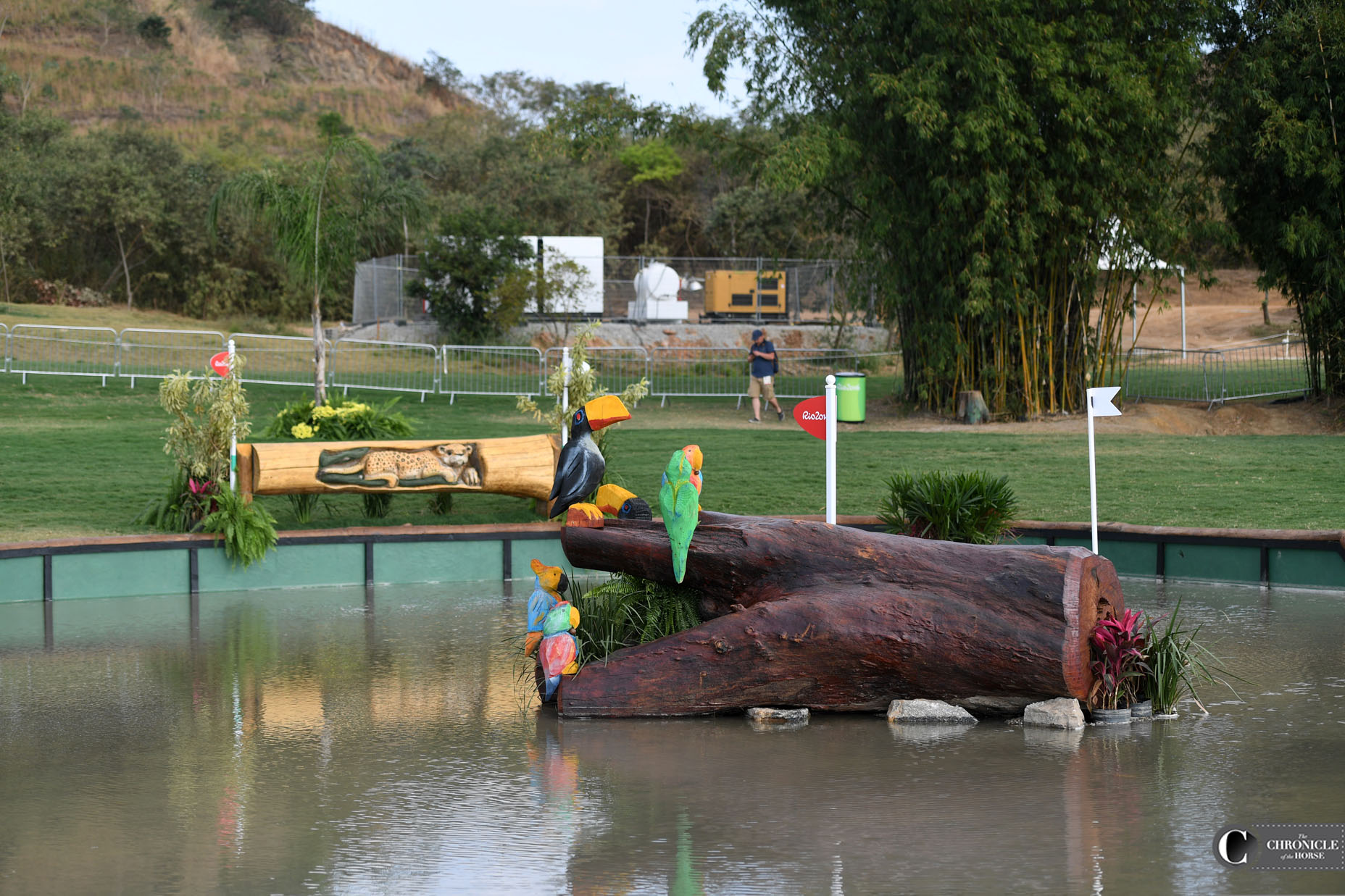 The first water jump at 4 features a table (out of frame to the left), three strides to a log drop, three strides to a log in the water. Photo by Lindsay Berreth.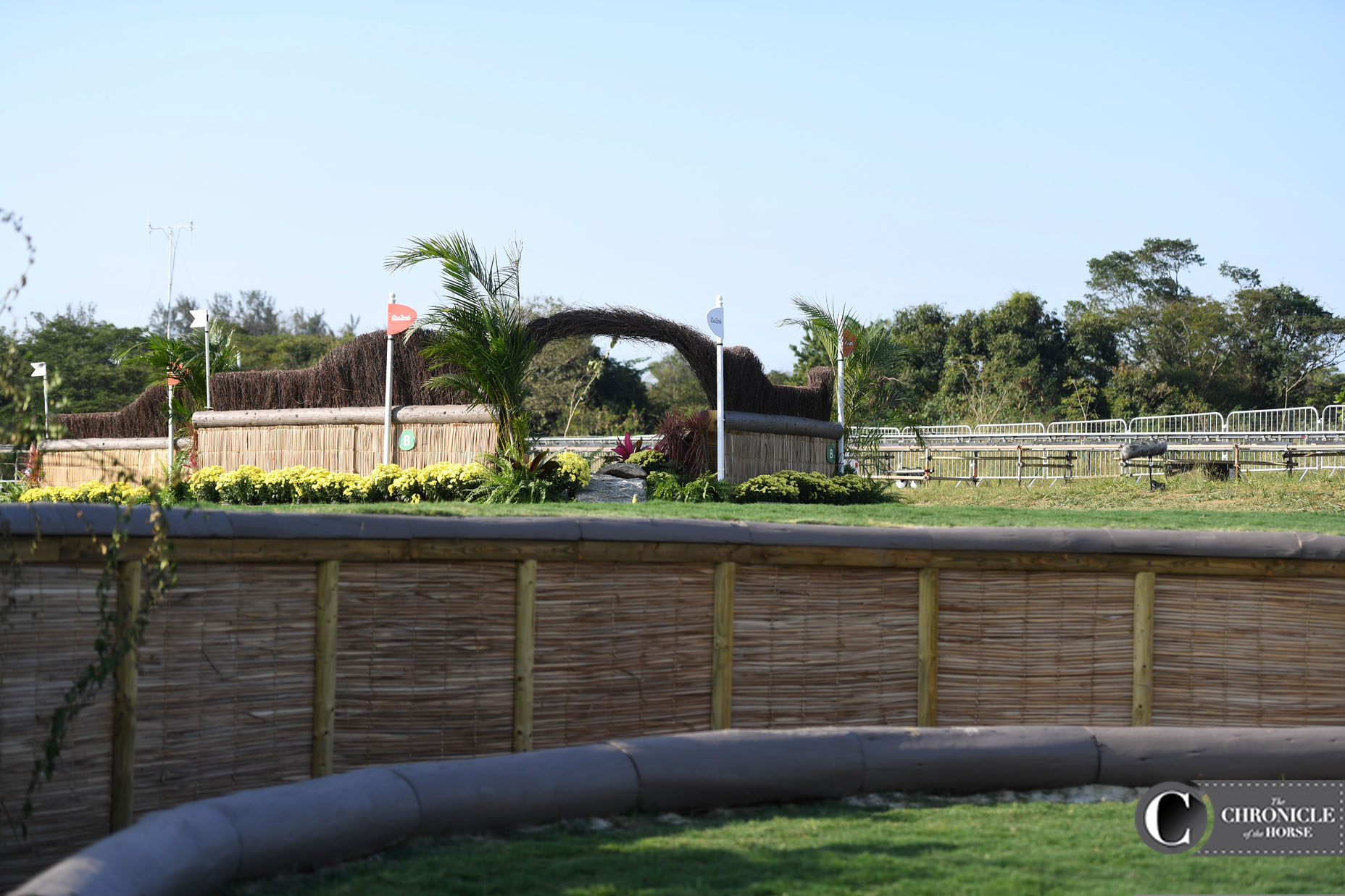 Angles feature heavily on the course. This is fence 11abc. Photo by Lindsay Berreth.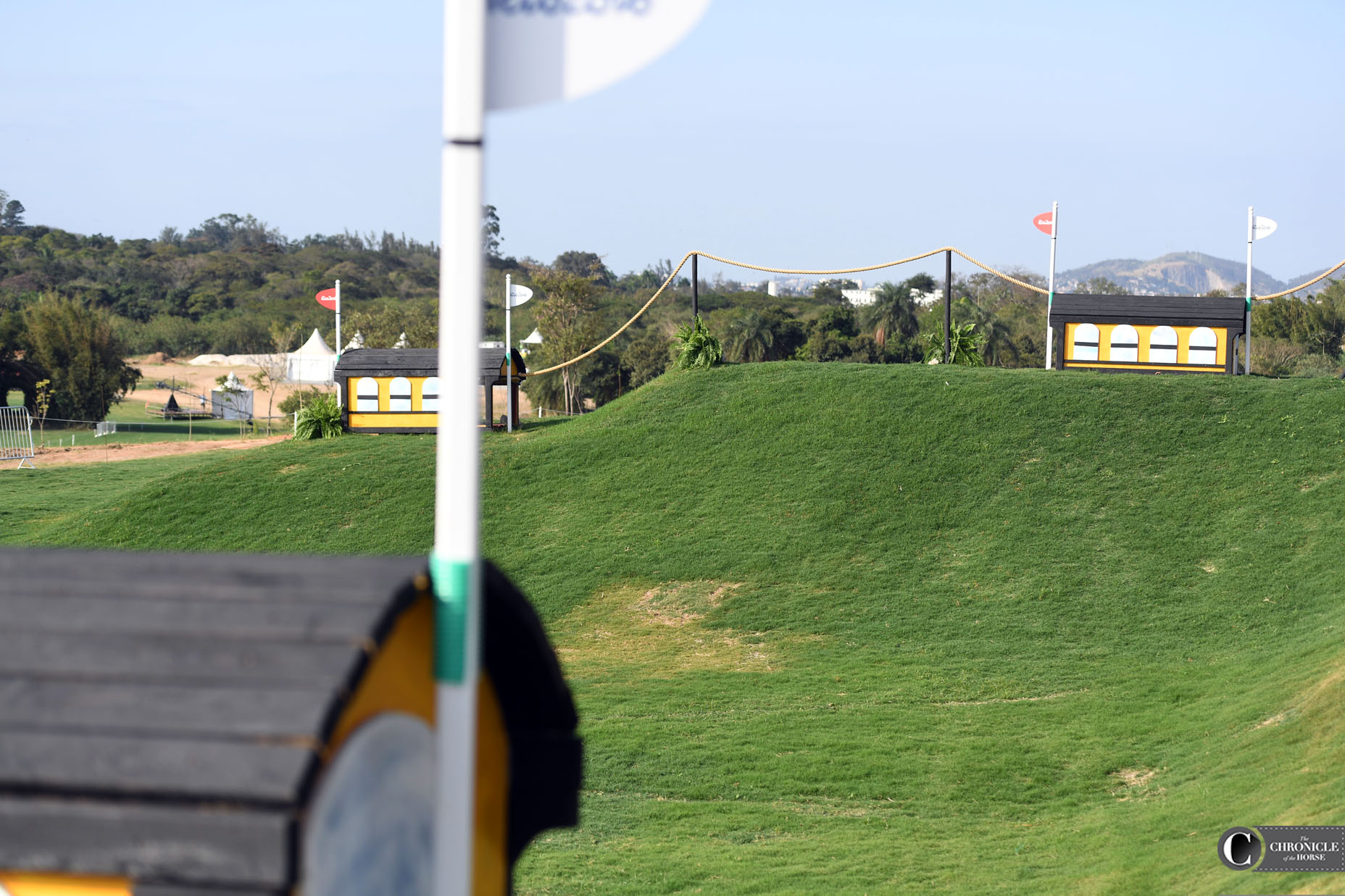 Fence 8ab, a sunken road. Photo by Lindsay Berreth.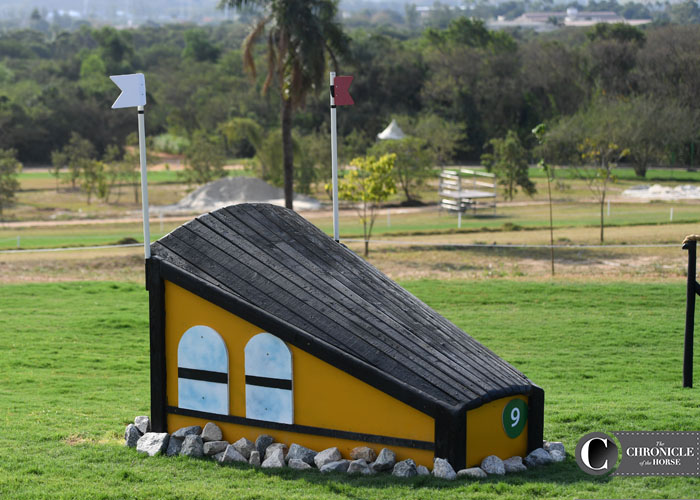 Fence 9 will require accurate riding after coming out of the sunken road. Photo by Lindsay Berreth.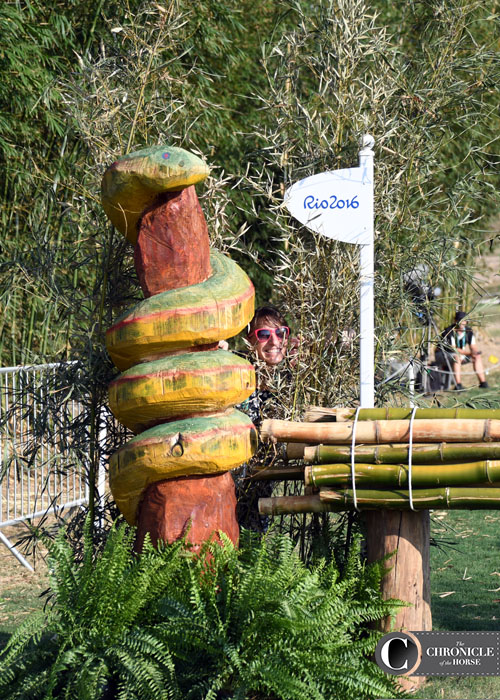 Fence 26 is beautifully decorated. Can you spot the Chronicle reporter? Photo by Lindsay Berreth.