Rio de Janeiro—Aug. 6
William Fox-Pitt has been on the hunt for an individual Olympic medal since he began eventing 33 years ago, but life has thrown some obstacles in his way.
After sustaining a serious head injury in a fall last year at the Le Lion CCI** World Championships for Young Horses (France), he wasn't sure he'd ever ride again, let alone be heading to his fifth Olympic Games.
But after a remarkable recovery, he's made it, and he's leading after the first day of dressage on Chilli Morning at the Rio Olympics.
Fox-Pitt and "Chilli" cantered into the ring right after Chris Burton, who rode the impressive Santano II into first with a score of 37.6, barely giving the Australian rider a chance to celebrate when he snuck ahead on 37.0.
"This feeling is what I was hoping for, of course it's what I was dreaming of," he said. "He's good on the flat. He's worked brilliantly with [dressage coach] Tracie Robinson to build up to being here. He's capable of a very good test. He did a good test [at the 2014 Alltech FEI World Equestrian Games (France)], he did a good test in Malmo [at the 2013 European Championships], he's done lots of good tests, I just didn't want to let him down."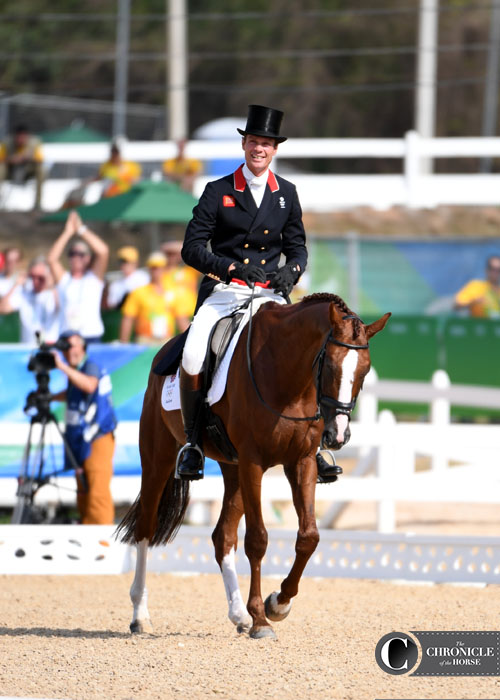 William Fox-Pitt and Chilli Morning. Photo by Lindsay Berreth.
Fox-Pitt's relief at finishing his test and joy to be back on the international stage was written all over his face as he finished his final halt and gave the 16-year-old stallion a pat.
"Today he felt lovely and calm and on the job. Of course there are lots of horses to come, so what will be will be, but it's a good start anyway, and I hope I don't let him down.
"We've got our work cut out—decent course. It will be the biggest Olympic Games course I've walked, and I've seen a few," he said of Pierre Michelet's track. "It's got a few questions. Chilli is more than ready, but I hope I can do him justice and that I'm on form."
Fox-Pitt's had a remarkable recovery after spending three weeks in the hospital, part of it in an induced coma. He was back to riding in December after falling in October.
"For me the Games have come round with perfect timing. I'm very lucky to be here," he said. "In November I thought, August is months away, I've got loads of time, and I'm going to be in Rio, because Chilli's a good horse, but then you suddenly realize it's around the corner, and it's there. I'm just ready in time. I've been very lucky in my rehab and had a lot of help from the UK Lottery Sport Funding for my physical and mental fitness that's got me back on track. I'm very lucky and very happy to be here."
When asked if he thought twice about wearing his usual top hat instead of a helmet, he said he likes the tradition of it.
"No, I've always worn a top hat in the dressage. I've been eventing for 33 years, and that is important to me," he said. "It's part of the dress. Of course I will wear a crash hat when they force us to, which sadly they will one day."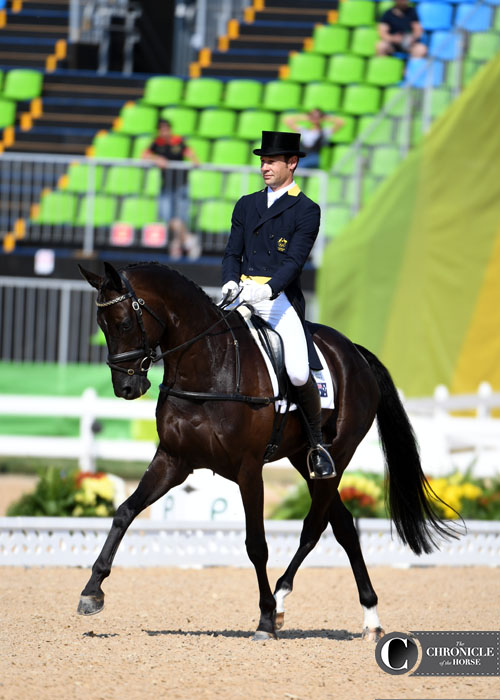 Chris Burton and Santano II. Photo by Lindsay Berreth.
Burton was thrilled with Santano's test. The gelding looked like he belonged in the pure dressage ring with lofty, expressive gaits.
"I was pleased. He makes my job really easy that lovely horse," he said. "He's super. I was nervous as I rode down to the warm up, and I thought, come on, if ever you get a chance to enjoy yourself it's on this horse at this arena, at the Olympics. Let's have fun.
"There can be things better, but there always can be, this is dressage," he said. "Look, the cat's out of the bag now. The horse doesn't have a good walk. We've done a lot to work on it, but sadly today we went lateral, and the judges marked it accordingly, and that's fine. As long as they recognize that the trot is for the high marks."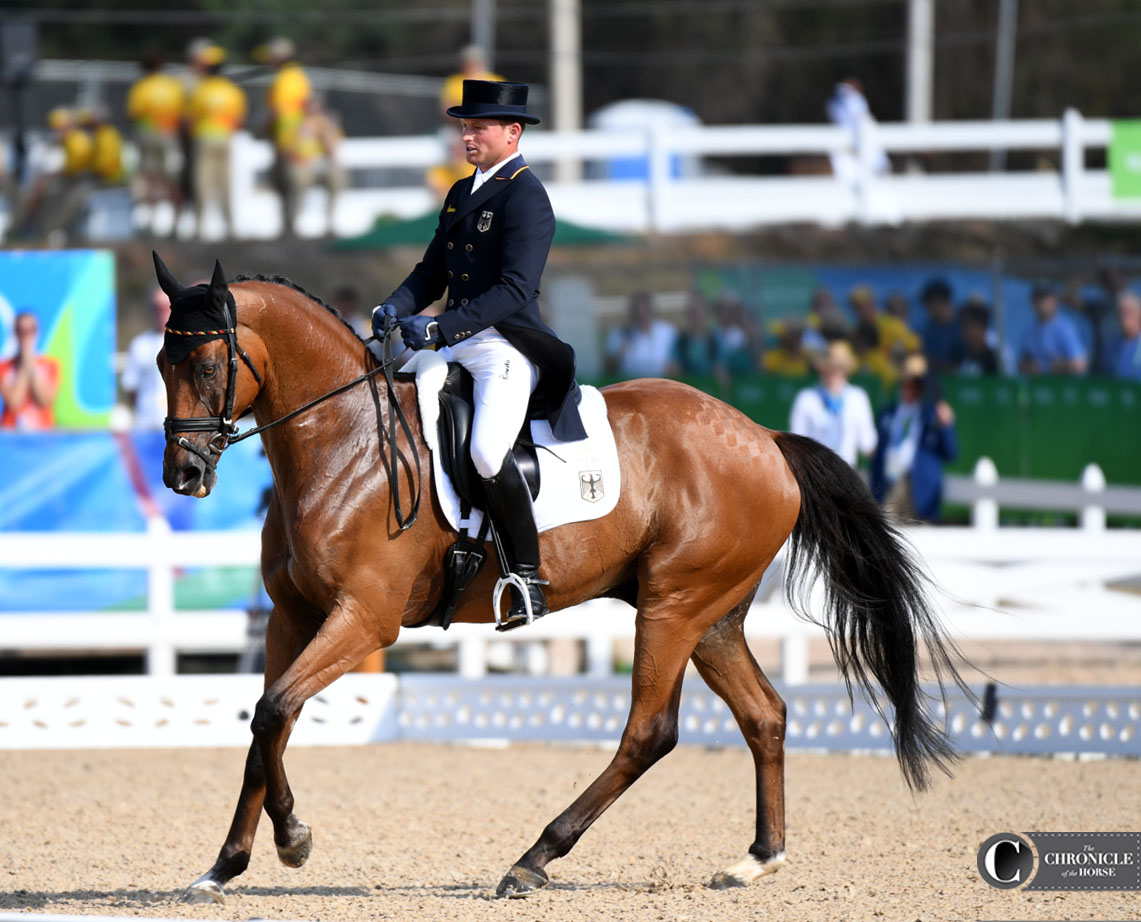 Michael Jung and Sam FBW. Photo by Lindsay Berreth.
Reigning Olympic champions Michael Jung and Sam FBW were favored to lead today, but a few bobbles gave them a score of 40.9 for third place. The German team is in the lead after two riders from each team completed their tests today.
"I was very happy, he was very good to ride," he said. "I had a very good feeling— stupid mistake in the canter [when they missed a flying change.] Just a little bit of a misunderstanding. It wasn't because he was nervous or looking to something. It was just asking instead of flying change or not. It was just a communication error."
Clark Montgomery and Loughan Glen. Photo by Lindsay Berreth.
Team USA's Clark Montgomery didn't have the test he wanted on Loughan Glen, scoring a 46.6 for tenth place currently. Boyd Martin and Blackfoot Mystery are now in 17th place.
Montgomery and "Glen" normally score in the 30s.
"I really have no idea what happened, he warmed up beautifully, he hasn't been out of the 30s since I don't know when," he said. "It's horses, and it's sports. It felt good to me until he tried to walk [after the left half pass.] And then he wouldn't click back in. A couple mistakes but you can always make it back up, but he stayed in that frame of mind, and wouldn't come out of it.
"I'm excited to be representing my country for sure," he added. "This is usually this horse's time to shine in the dressage, and he was a little disappointing. He started out really well, and I don't know what really happened. He sucked behind my leg as we say, wanting to walk or stop. I squeezed every point I could out of him, and it's time to focus on the cross-country now."
The U.S. team is currently in seventh place.
Catch up on this morning's action here, with lots more photos.
Full results can be found here.
Mollie Bailey and Lindsay Berreth are on the ground in Rio de Janeiro for the Chronicle and will be reporting with all the news, fantastic photos and behind-the-scenes details all posted on www.coth.com. Your go-to page for all things Olympic is http://www.chronofhorse.com/2016-Olympics.
We'll have live blogs of competition sessions, Twitter updates, photo galleries, stories about each day's competition and so much more. Don't miss a thing—we'll have everything you need to know. Also make sure to follow along on the Chronicle's social media outlets: Facebook, Twitter, and Instagram.