Wellington, Fla.—March 31
McLain Ward isn't one to show much emotion when piloting a horse around course. So when he throws a fist in the air after clearing the final fence of a jump-off, something extraordinary had to have happened.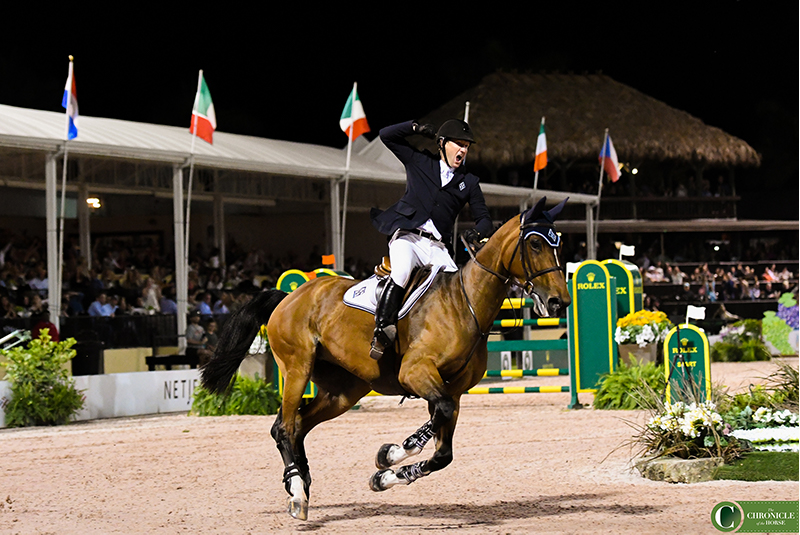 Ward's gallop down the final line of the $500,000 Rolex Grand Prix, held at the Winter Equestrian Festival, received exuberant energy from the crowd. And when he crossed the timers as last in the order, overtaking the lead from Kent Farrington and Gazelle,  Ward was met by a roar that summed up the highlight of the night: HH Azur is back.
"Really excited for Azur, all of her owners," said Ward. "It's been a long road back since she was injured last summer. Obviously one of the best horses in the world, and her not being fit and healthy for the [2018 FEI World Equestrian Games (North Carolina)] was a huge disappointment to everybody involved with her. A real testament to Tim Ober our vet, Mikey Boyland and Lee McKeever and his team. [They] really brought this mare back to the top sport."
Following her injury at CHIO Aachen (Germany) in July 2018, Azur, a 13-year-old Belgian Warmblood mare, made her return to international competition during the CP Palm Beach Masters, held Jan. 30- Feb. 2, at Deeridge Farms in Wellington. Ward rode her to 16th place in the $208,200 Longines FEI Palm Beach World Cup qualifier after a four-fault opening round. And a few weeks later they returned to Deeridge for the Longines FEI Jumping Nations Cup USA, where they jumped to four faults in each round.
The $391,000 Douglas Elliman Grand Prix, held March 9 at WEF, was their second grand prix of 2019, and they ended the night with an unlucky rail.
"In coming back this winter we've had a little bit of a four fault-itis," said Ward.  "I thought she jumped really great in the five-star a few weeks ago here and [had] a funny rail down. And then I made a mistake in the [AIG $1 Million Grand Prix at HITS Coachella (California)] so it was nice to put it together. I think she's been in good form, but finally, I put it together; didn't make a mistake. Great for everybody involved."
Ward's barometer for the jump-off was second-placed Farrington and the 13-year-old Belgian Warmblood mare Gazelle, who, as second-to-last in the order, set the time to beat at 37.87 seconds.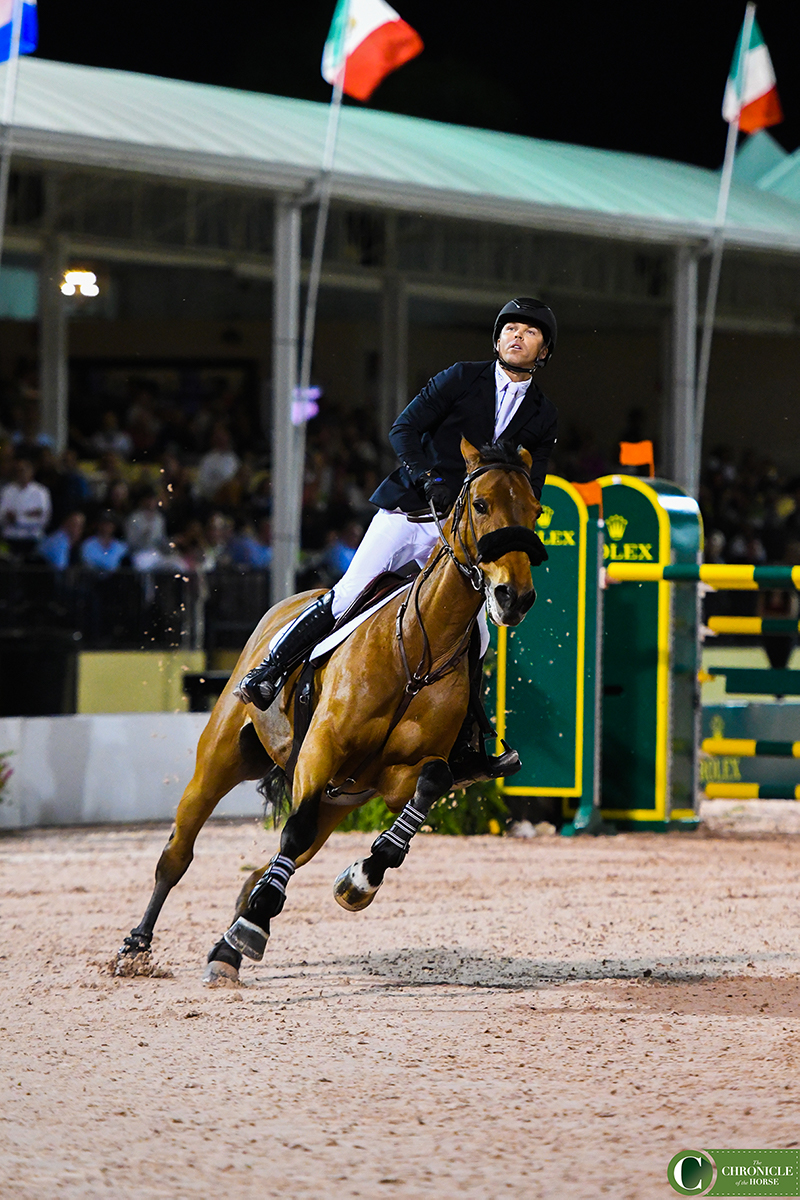 "Like McLain said, we're great competitors, and we're friends," said Farrington. "I know if he's coming at the end of a class that it's going to take everything usually to win. He's on one of his best horses and one of the best horses in the world, so I tried to go as fast as I could go without being completely reckless."
Farrington used the winter circuit at WEF to give his young and up-and-coming string the opportunity to gain mileage.
"My plan [at WEF], with my more experienced horses, was not to show them very much," he said. "I think Gazelle's total classes jumped is six, so I really tried to gear her up here just for the summer in Europe. And the same with Creedance, who is my other experienced horse. So, I tried to have a light schedule with them that can peak them for a big event but not use them too heavy during the winter."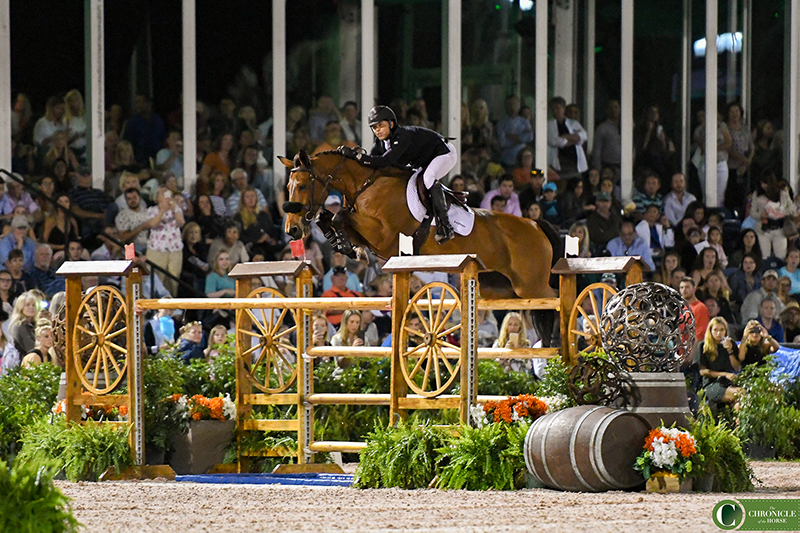 Of the original 40 combinations, eight earned a spot in the jump-off. Lucy Deslauriers, the youngest rider in the class at 19, rode Hester to finish third. They crossed the jump-off timers in 39.25 seconds.
"Unquestionably one of the top, if not the top moment [of my career]," said Deslauriers. "I think not only as prestigious as this class is but to be sitting next to these two, for sure."
In Wednesday's $10,000 1.45-meter class at WEF, Deslauriers took a fall off the 14-year-old Belgian Warmblood gelding. Ward, who works with Deslauriers on occasion, joked that it was all part of the plan leading up to the grand prix.
"At the beginning of the week, I was definitely a little out of practice, mentally and definitely without being in the ring for a few weeks," said Deslauriers, who currently studies at the University of Pennsylvania. "I really tried to just regroup. I came back and jumped [Thursday's $134,000 Equinimity WEF Challenge Cup Round 12], and the horse felt great, and I knew it was really just up to me to just stay out of his way coming into tonight. So, I just really tried to stick to the plan, do everything I could, and I knew he'd be right there with me, and he absolutely was."
Deslauriers is trained by her father Mario Deslauriers, and Ward steps in to give guidance when needed.
"[Mario] does an amazing job with her; I just keep the peace," said Ward. "She's amazing. Super intelligent, smart rider, great sympathy with the horses. Her mother [Lisa Deslauriers] was a brilliant rider, had a great sympathy with the horses. They jump for [Lucy];they try for her, and Mario has been incredibly invested in her career and done a brilliant job from the day that she was on ponies and all the way through the jumpers. I'm another influence, proud to be, and kind of keep her head straight. She's doing a really difficult thing right now with very difficult school obligations and then trying to compete at this level. I hope to support and be a small part of her success and very proud to see her do so well."
---