Tomorrow the show jumping portion of the FEI World Equestrian Games kicks off, and the U.S. team of McLain Ward (Clinta), Devin Ryan (Eddie Blue), Adrienne Sternlicht (Cristalline) and Laura Kraut (Zeremonie) is ready to go. We caught up with WEG veteran Ward after a team training session about his decision to show Clinta rather than HH Azur, and his plans to help get Team USA on the podium.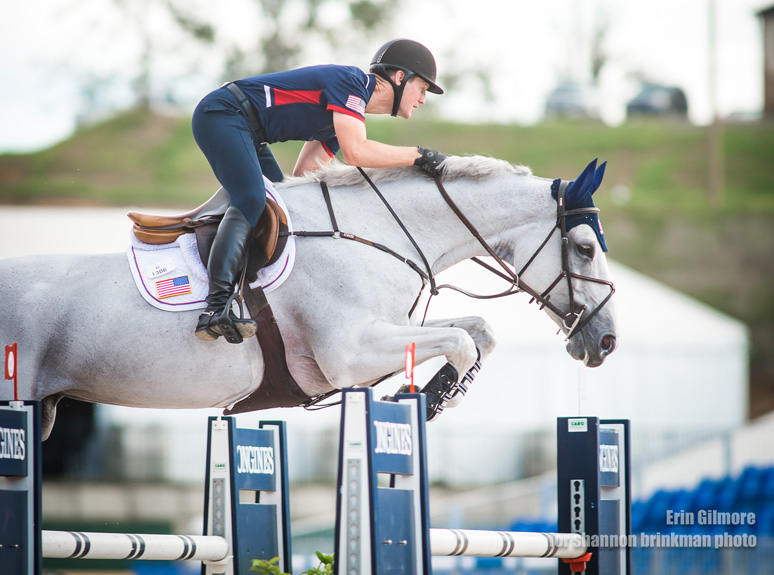 Chronicle: Talk about the decision to take Clinta to Tryon rather than HH Azur.

McLain Ward: Obviously at the beginning of the year we didn't have Clinta. [Ward spent seven months trying to acquire Clinta, and he finally purchased the horse with Sagamore Farms and Susie Heller in March.]
Throughout the entire year our plan was Azur. Unfortunately she did get hurt at [the Aachen CSIO] in the grand prix. It's not a major injury, but she tore a muscle in her side. We got her home from Aachen, treated it, and hoped it would be in good enough form if we were patient for a few weeks, but it wasn't going to come around fast enough to be in form for this. With the Harrisons and François [Mathy, who owns a stake in Azur along with the Harrisons' Double H Farm] and everyone involved we kind of made the decision to shut her down for the year and let it heal 100 percent, with no doubt.
For myself it's obviously great to have the depth that I have. Even though it wasn't the original plan, obviously Clinta's come along very strong this summer and done some really spectacular things. The timing is earlier than I anticipated having her at this level. But I do feel that she's ready. She's jumped a number of very big grand prix classes in difficult venues [winning feature classes at the Longines Masters of New York, Dinard CSI***** (France) and Devon (Pennsylvania) among others]. We're going to go one day at a time and do our best.
When did you make the official decision to take Clinta?
Official decision was about 10 days ago, but we did make a concerted effort to get Azur ready and in form. This is a deceptive injury; you don't see it very obviously, like any torn muscle. You know, you tear a muscle in your ribcage or your back, and you can walk around, but you try to do any sort of performance-type activity [and you're in pain]. It was obvious we didn't have enough time.
Do you think this venue will suit her?
I think any venue suits her, to be honest. For as careful as she is—which is pretty extreme—she's very brave. She's not had to go this many days in a row with this type of stress level—that's what she hasn't been tested on.
There are always a few unknowns, but at this point, maybe because of my experience and my team's experience around me, I actually feel like those unknowns aren't always a hindrance. They kind of keep you sharp. We're just going to keep doing what we do. We've got a great team here; we have some very good horses. We need things to break a little bit our way. I for one am ready to get going; I'm done sitting around.
How did she feel in the training session this morning?
She was great this morning. All the horses looked well. That's no real barometer of anything unless something's terrible. Tomorrow things will start to shake up a little bit.
What's your plan for tomorrow?
Personally I always say in speed legs, top 10 is acceptable, but I think to be in the hunt for an individual medal you have to be thinking top five. People don't mess up so much anymore; the level is just too high. I think the team has to be sitting in the top three tomorrow to really be in the hunt.
For full results from the FEI World Equestrian Games, click here.
For everything you need to know, including broadcast schedules, click here.
For all WEG coverage, click here.
We'll be onsite for the full two weeks of WEG to bring you all the news you need to know plus gorgeous photos and insight into the competition. Be sure to check out the Oct. 8 issue of the Chronicle for detailed analysis.