Wellington, Fla.—Feb. 3
"No one wants to see 15, 20 clear rounds in a grand prix or qualifier," course designer Alan Wade said in the press conference that followed the $208,200 Longines FEI Palm Beach World Cup Qualifier. He referenced Friday's $71,200 Suncast Palm Beach Masters qualifier, which saw 21 of the 51 starts go clear in the opening round.
While the feat was a testament to the level of talent at the CP Palm Beach Masters, held at Deeridge Farms in Wellington, Florida, Wade knew he would have to raise the standard for Sunday's featured test.
The best of the best fell victim to the 14 obstacles on course, and it would be the fairly inexperienced Carlchen W, who won Friday's qualifier under the United States' Alex Granato, who rose to the challenge.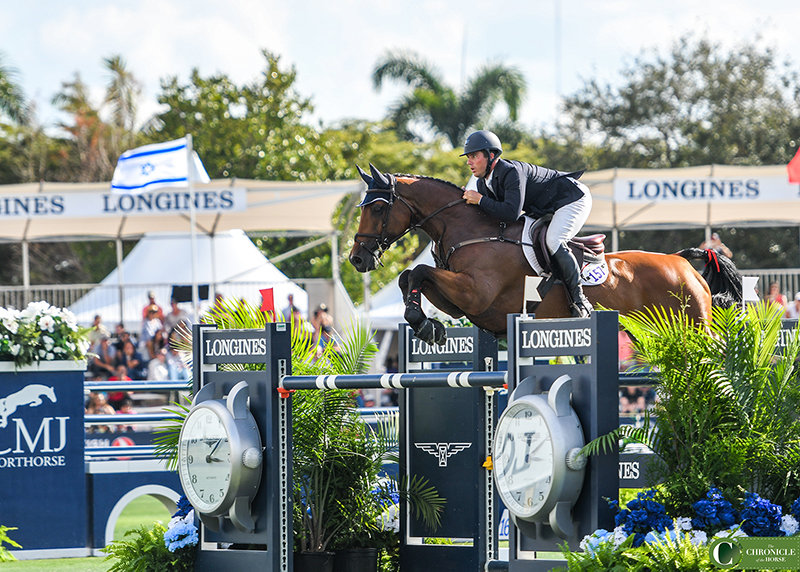 "I have a naturally fast horse, so both classes I got to play that to my advantage and try to just let him run at his pace and stay focused on my track and my turns," said Granato, who has been developing the 11-year-old Mecklenburg gelding (Chacco-Blue—Celline-W, Continue) for the past six years. "I think I got a bit lucky here and there with a rub on each jump-off, but the horse is very fresh. I've been kind of gearing this part of the season towards this week and I think he came out really fresh and strong and ready for it."
As one of nine combinations to return to the jump-off, Granato's plan was simple. His coaches, Laura Kraut and Nick Skelton, whom he began working with only a week ago, encouraged him to stick to the same plan from Friday's qualifier: "Keep a good pace, be tight on his turns, and let them chase him."
"He has always been a hot horse," said Granato. "Originally, when the Tredennicks and I got him as a sale prospect, we brought him along for a few years and then they were gracious enough to let me partner with him, so we did hold on to him longer and produce him. I think it's obviously coming to our advantage that we've had him that long."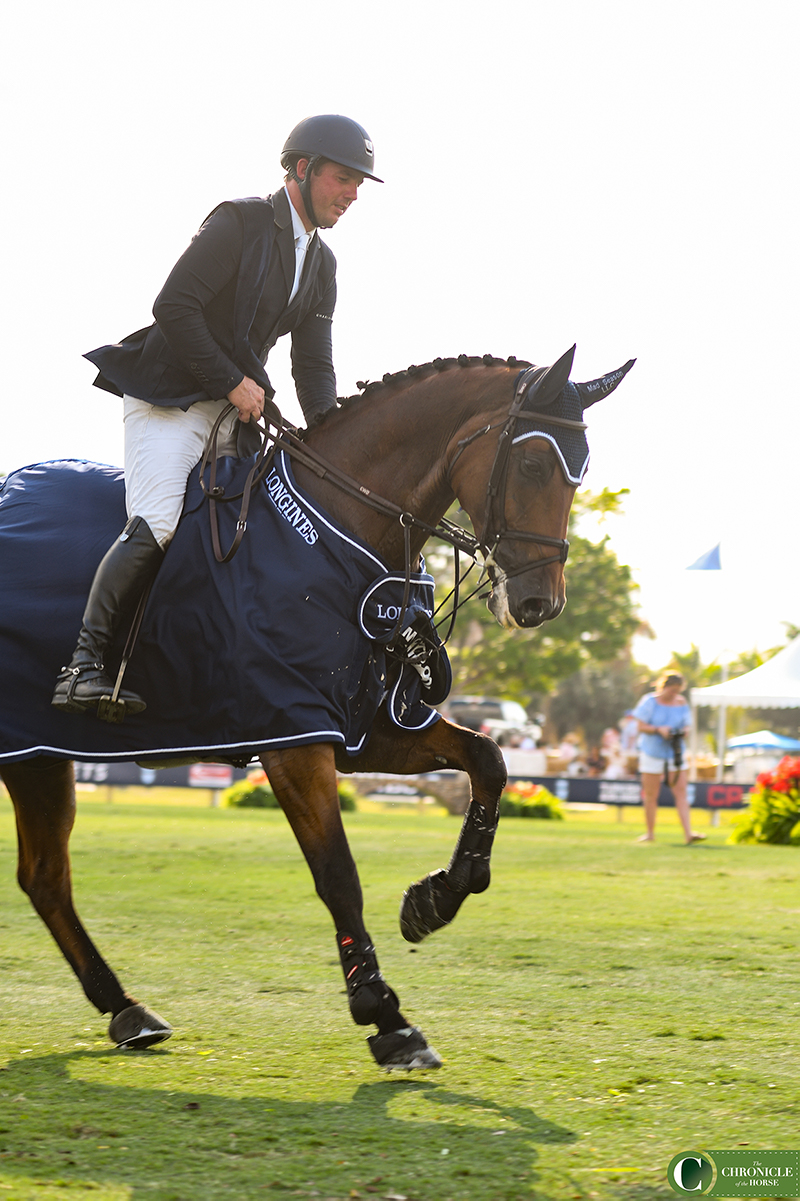 Last April, Granato and Carlchen were called upon to compete at the Longines FEI Jumping Nations Cup of Mexico (Coapexan), which saw the horse jump double-clear rounds and the United States finish second. They then went to Barcelona, Spain, in October and rode to 0 faults in the Longines FEI Jumping Nations Cup Final Challenge Cup, helping the United States to a team second. Before committing to the idea of competing at this year's World Cup Final in Gothenburg, Sweden, Granato will see how the points pan out.
"Starting last year, [the World Cup Final] was kind of a big goal of mine," he said. "Then when Barcelona came up I stepped out of doing a few qualifiers, so I'm a bit behind. I'm going to take a look at the points and if I'm in contention I'll look to go into [the March 7-10, Longines FEI Live Oak World Cup Qualifier (Ocala, Florida)] for a few more points. I'd love to go, but I'm focusing on later in the summer, hopefully gearing towards trying to be on the team [for the Pan American Games in Lima, Peru].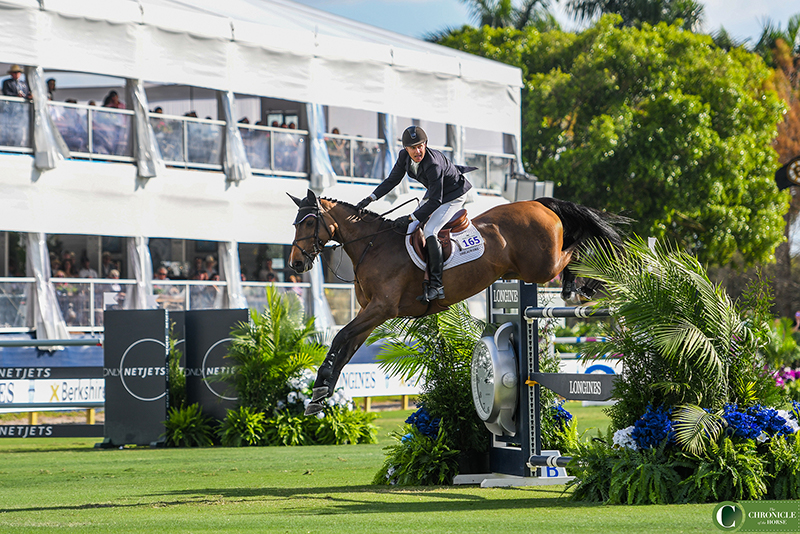 Canada's Mario Deslauriers and the 10-year-old Holsteiner mare Bardolina 2 (Clarimo—Villimey, Landos) posted the trailing time of 43.48 seconds to finish second. Deslauriers has been bringing the horse along since May 2017. The pair attended the 2018 World Equestrian Games in Mill Spring, North Carolina, and they were on the winning team at the Longines FEI Nations Cup Jumping Final in Barcelona, Spain.
"Now she's at a point where she has to learn to go a little faster," Deslauriers said.  "She has got a very big stride so maybe it's a little more complicated to maneuver but she's learning to turn better. But today, and even on Friday, we tried to go a little faster to give her that experience. Half a second today, probably seven [strides] home would've done it, but I was happy with the way she handled herself and she jumped."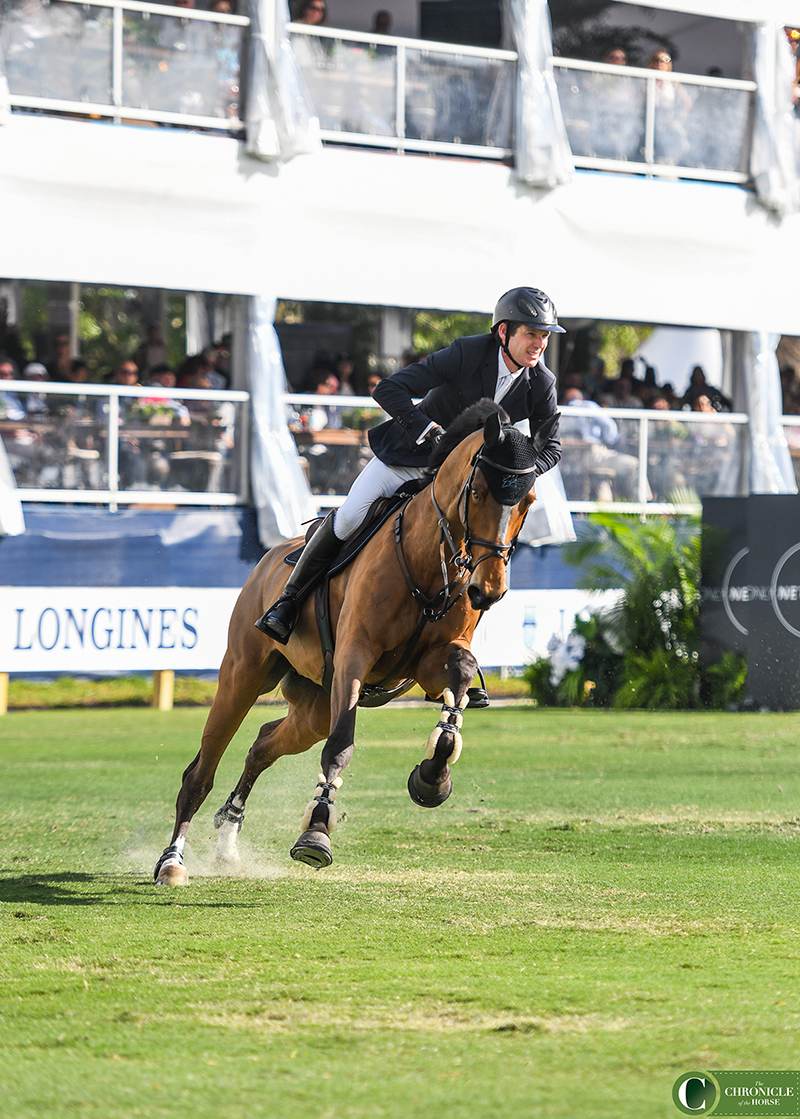 Switzerland's Beat Mändli saw the Masters as the perfect time to bring the 11-year-old Dutch Warmblood mare Dsarie (Veron—Tinette, Ahorn) back into competition. An injury sidelined her from sport for the past six months.
"I'm really happy with my horse," said Mändli, who crossed the timers in 44.16 seconds to take third. "She had a bit [of] time off; she had an injury on her hoof. Luckily no soft tissue, it was just a question of waiting long enough and I'm really happy with today, the way she performed. It was her first time out again and I saw Alex going and I thought, 'Probably no chance because it was really fast'. I just tried to give her a good round."
Click here to see coverage from the Jan. 31- Feb. 3, Longines Palm Beach Masters CSI4*-W.