Editor's note: This story has been updated to include results from the Grade III individual medal competition.
Roxanne Trunnell won individual bronze during the 2018 Tryon World Equestrian Games, but the international buzz around the paraequestrian started building in earnest in 2020, when she earned three consecutive scores above 80 percent to boost her to the No. 1 spot in the para-dressage world rankings. Then, this year, she and her partner Dolton set about making—and breaking—world-record high scores in para-dressage, topping their own best over and over.
By the time they reached Tokyo, all eyes were on them, and expectations were intense: Could this rider and horse be the pair to win gold for the United States?
On Aug. 27, while most of her country was sound asleep, Trunnell answered that question with a resounding yes.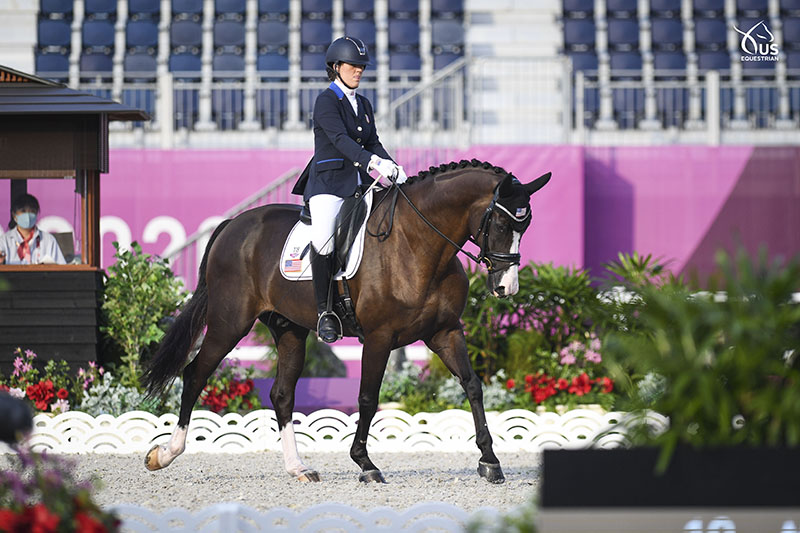 With Dolton, Karin Flint and Flintwoode Farms LLC's 9-year-old Hanoverian gelding (Danone I—Lady, Londonderry), she scored 81.46 percent to send her to the top of the field and earn an individual gold medal in the Grade I FEI Individual test. It was the first Paralympic gold medal for her and the first for her country since 1996, when Vicki Sweigart took home gold in the inaugural Paralympic dressage competition.
"It felt like he was really with me and a really good boy," Trunnell said after their test.
Being on Tokyo's Paralympic stage has been a new experience for the relatively young horse, she said, but he's been enjoying all the attention he has been getting there.
"I didn't know what he would do" in the ring, she said. "It surprised me how calm he's been."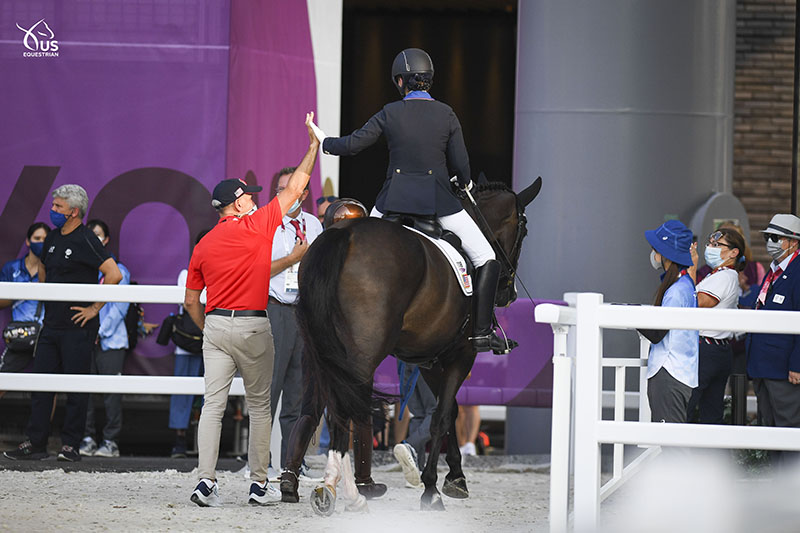 While their No. 1 position across all para-dressage grades in the Fédération Equestre Internationale world rankings—a spot they've held since February 2020—and their recent performances in the U.S.—Trunnell twice broke the para-dressage freestyle world record this year, mostly recently earning a jaw-dropping 89.52 percent at the Perrigo Tryon Summer Dressage CPEDI3* (North Carolina)—predicted this Paralympic result, her scores all came in the United States rather than in Europe, head-to-head against riders in the longtime hotbed of para-dressage. At Baji Koen on Friday, she proved she was the real deal.
"I don't really think about pressure, that's just all noise to me," she said. "It's just me and Dolton doing our own thing."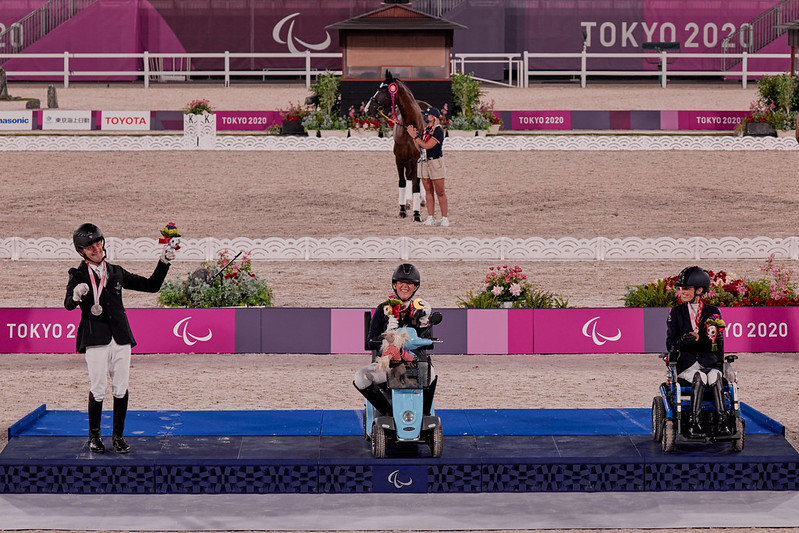 Behind Trunnell and Dolton, Latvia's Rihards Snikus and King Of The Dance (80.17%) took silver, and Italy's Sara Morganti and Royal Delight (76.96%) took bronze.
The top eight riders from each grade's individual competition move on to the freestyle. The other Grade I riders to qualify are Jens Lasse Dokkan and Aladdin of Norway (75.92%), Laurentia Tan and Banestro of Singapore (73.96%), Katja Karjalainen and Dr. Doolittle of Finland (71.89%), Julia Sciancalepore and Heinrich IV (70.57%), and Vladislav Pronskiy and Silva Le Andro (70.42%).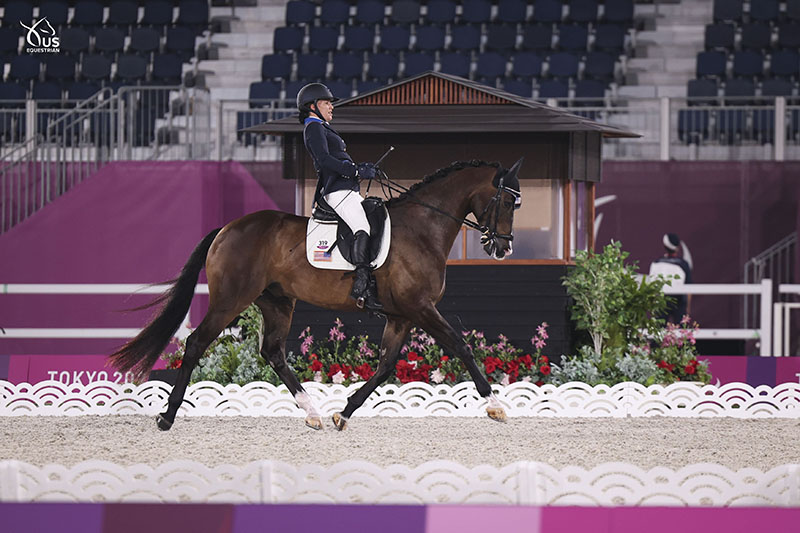 In Grade III, the final U.S. rider to go was Rebecca Hart and El Corona Texel, owned by Rowan O'Riley. The pair had a break into canter during the medium trot, a mistake that dropped them to 11th place on a score of 69.85%.
"I was very, very happy with the warm-up and how he felt going in … I felt a little tension creeping in through the ride," she said. "But overall, I love my horse, I love everyone who has helped get me here; I'm obviously disappointed in the score."
Looking ahead to the team competition that takes place Saturday and Sunday, "We're going to stick with the same game plan and just kind of carry on," she said. "We're going to add a little more power to keep him in front of me and engaged, but besides that, to keep the same thought process."
Denmark's Tobias Thorning Jorgensen took gold aboard Jolene Hill, owned by Signe and Thomas Kirk Kristiansen and Line Thorning Jorgensen, on a score of 78.97%. Great Britain's Natasha Baker with Keystone Dawn Chorus earned silver (76.26%) and Rixt van der Horst of the Netherlands finished in bronze with Findsley (75.76%).
Other Grade III riders advancing to the freestyle competition are Ann Cathrin Lubbe and La Costa Majlund of Norway (72.97%), Chiara Zenati and Swing Royal of France (71.05%), Barbara Minneci and Stuart of Belgium (70.85%), Caroline Cecilie Nielsen and Davidoff 188 of Denmark (70.26%) and Emma Booth and Zidane of Australia (70.05%)
See full results of the Grade I and Grade III individual medals round here.
The FEI Team Test to Music will begin Saturday with Grade II riders at 4 a.m. Eastern time, followed by Grade I at 5:15 a.m. and Grade III at 6:50 a.m. and can be watched live on NBC's Paralympic livestream. Grades IV and V will compete in the team test on Sunday beginning at 5 a.m. with the team medals presentation to follow.
The final competition concludes Monday with the freestyle for all grades. Individual medals will be awarded in that competition as well.
You can see full Paralympic results from Grade I here.