Mill Spring, N.C. – June 20
Roxanne Trunnell proved why she is the top-ranked para-dressage rider in the world this weekend by breaking her own record-high test score—twice—during the Perrigo Tryon Summer Dressage CPEDI3*, the final observation event for the U.S. Paralympic Team.
Trunnell and Dolton, a 9-year-old Hanoverian gelding (Danone I—Lady, Londonderry) owned by Karin Flint and Flintwoode Farms LLC, had just shattered their own previously held world record score by earning an 84.70 percent in Saturday night's team test for Grade I, but blew the competition—and the ground jury—away with their freestyle performance Sunday morning. Scoring 89.52 percent, Trunnell and Dolton claimed the weekend's championship title as well as a new world-record score. Sydney Collier and All In One, the 12-year-old Hanoverian gelding (Abanos—Dauphina, Dauphin) owned by Going for Gold LLC and Katie Robicheaux, gave strong performances of their own, scoring 74.14 percent to claim second in the Grade I freestyle competition. In third, Deborah Stanitski and her own Skovlunds De Nice, a 15-year-old Danish Warmblood mare (De Noir 3—Miss Kiki, Diamond), collected a score of 65.84 percent.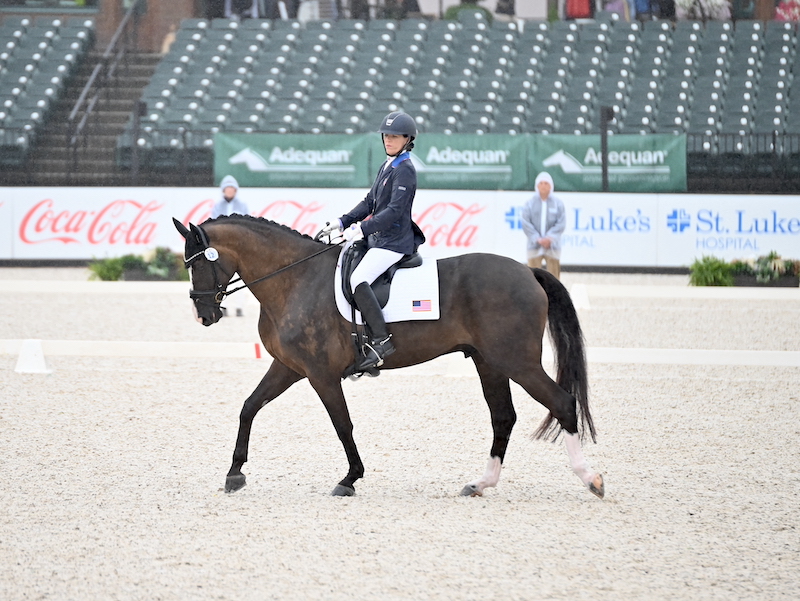 "He kept getting better and better every day!" Trunnell said. "It feels really good [to have earned two world records in a row]. His [Dolton's] mom is really happy with him!"
Coming into Tryon Stadium Sunday morning with a personal best in her pocket, Trunnell said that she prepared by "just keeping it calm, and hanging out with [my dog] Yoda in my tack room. We've been working really hard on his freestyle. I felt pretty good about it!"
Chef d'équipe Michel Assouline was overcome by the performances produced by the Adequan U.S. Para-Dressage Team and shed tears after Trunnell's stunning performance in the rain.
"I think we have a horse-and-rider combination that is taking us to a different timeline… a Twilight Zone is the phrase [I keep coming to]! She's leading the team into other dimensions where we haven't been before. And the world is watching us. It's an absolutely wonderful feeling," he said. "She beat the London 2012 record now, which is absolutely fabulous."
Watch Roxanne Trunnell and Dolton's record-setting freestyle. Videos courtesy of Tryon Resort: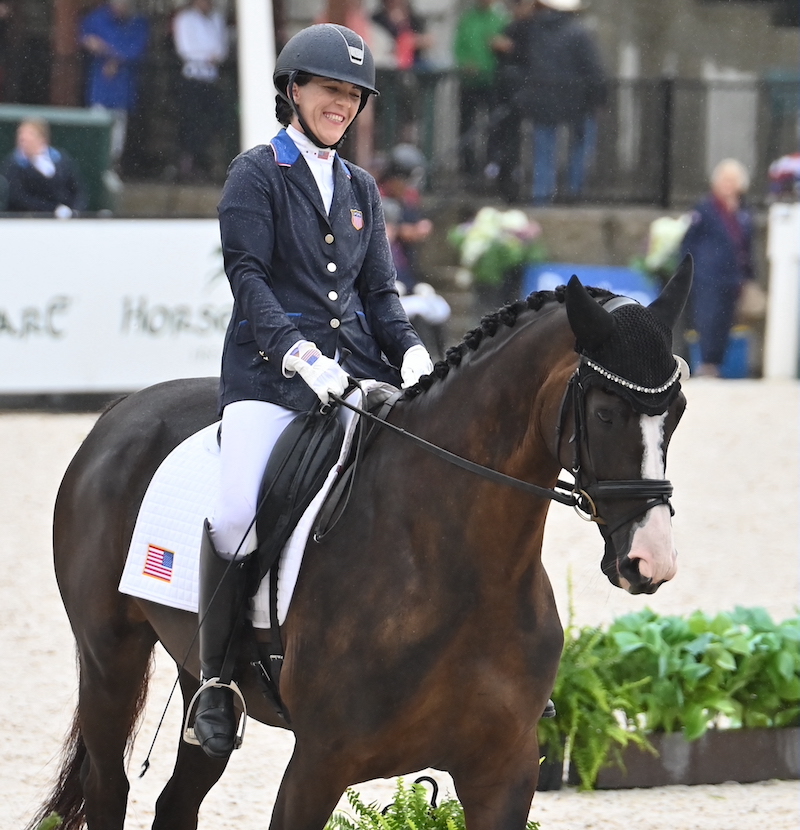 Four riders had been named to the team for the weekend's competition: Trunnell and Dolton; Collier and All in One; Rebecca Hart and El Corona Texel, owned by Rowan O'Riley (Grade III); and Kate Shoemaker and Solitaer 40, owned by Kate, Craig and Deena Shoemaker (Grade IV).
A team for the Tokyo Paralympic Games will be named by July 5. Four horse-and-rider combinations plus two alternates will be selected to travel to Germany for training camp in advance of the Paralympics, which will take place Aug. 24-Sept. 5.
Assouline was thrilled with their performances as a whole, noting that each rider's plans to build their performances throughout the weekend were executed smoothly and to good results.
"I was proud of our other riders, including Rebecca Hart and 'Tex,' Kate Shoemaker and Solitaer 40 with their great tests, and Sydney Collier and All in One, who brought consistent scores once again," Assouline said. "The U.S. is looking fantastic now, and we are here because of gracious horse owners with wonderful horses, sponsors like Perrigo and Adequan, and solid coaching. As we head to the selection process for Tokyo, there will be lots of elements to put into consideration. We are excited for the U.S. team as we prepare to head to the Paralympics."
Shoemaker and Solitaer 40, a 14-year-old Hanoverian stallion (Sandro Hit—Dynastie, De Niro), improved all weekend as the sole Grade IV competitor, producing a 77.37 percent in their freestyle performance to earn reserve champion in CPEDI3* competition.
"I feel so, so proud of my horse. We were riding a brand new freestyle with brand new music. It was our first time going through it, and we hit our markers. That comes down to Soli being so rideable for me today, and the music also just felt so good. It made it easy to ride to, and I loved it!" she said.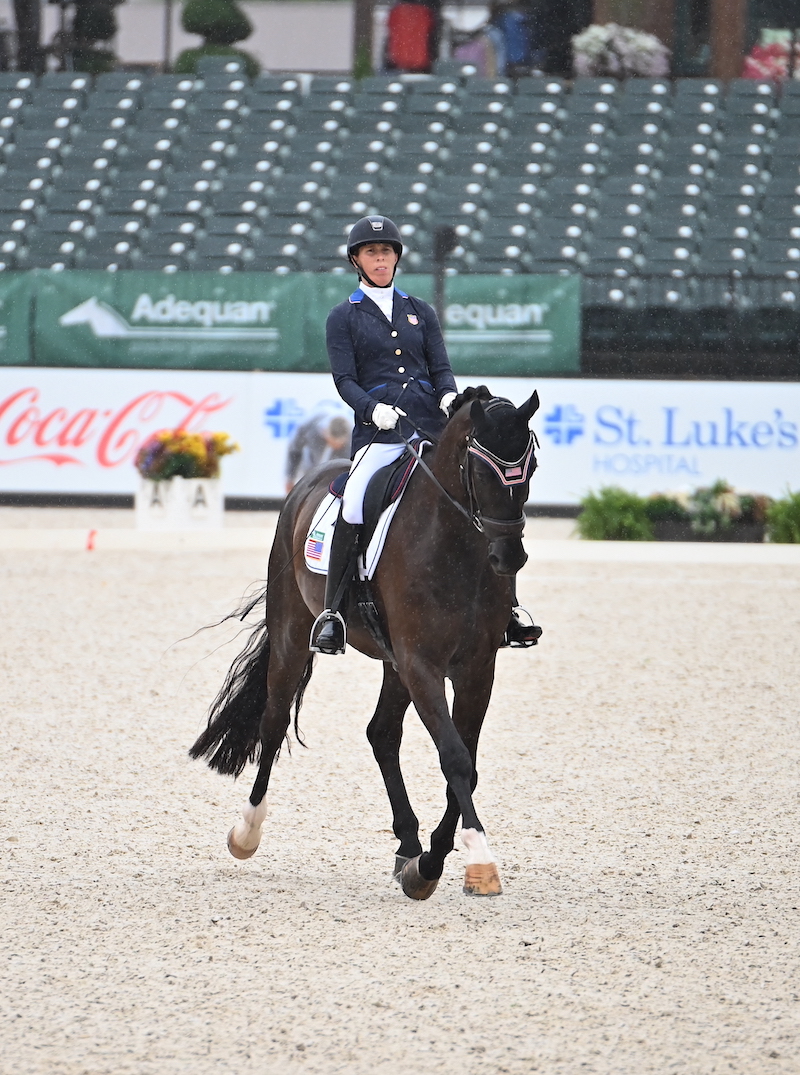 "There were a lot of people and a lot of work that went into getting here this weekend. It may look like one partnership in the arena, but of course, we all know there are trainers, grooms and countless people that are behind us," she continued. "I'm just so appreciative, especially to Perrigo, Adequan and Tryon who made this show possible. We have to wait for the team to be announced because, of course, the selectors need to make the best decision for the team going forward into Tokyo. We really hope that we're what they're looking for so that we have the opportunity to show what we can do in the Paralympics.
"Regardless who gets into Tokyo for our USA team, it is by far the strongest … team we've ever had," Shoemaker said. "The medal chances are very real. I am super excited for the United States."
Hart collected her third win of the week in Grade III competition, topping the day aboard El Corona Texel, a 12-year-old Dutch Warmblood gelding (Wynton—Urieta Texel, Goodtimes) on a score of 76.93 percent. In second, Charlotte Merle-Smith and her own Guata, a 10-year-old Dutch Warmblood mare (Vivaldi—Zuata, Haarlem), earned a 72.31 percent, while Ignacio Trevino Fuerte of Mexico rode to third place and a score of 62.82 percent with Delegada X, a 19-year-old PRE mare (Airoso XXVI—Lusitana,  Farruco XIII) owned by Beatrice de Lavalette.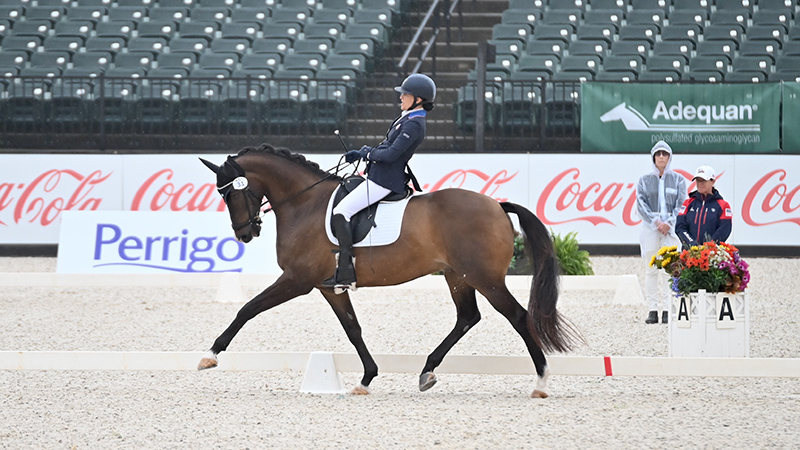 On Sunday, Hart used a new freestyle test choreographed by Marlene Whitaker. Despite it being the debut of this new test, she and her mount performed to a top score. "We actually hit all of our marks the way I wanted to, so that was nice!" Hart said.
Fortune 500, Hart's second mount, did not compete in the freestyle portion of competition. Hart wanted to show El Corona Texel not only because he is a more familiar mount, but because "he's just so much fun," she said. She was happy to be able to carry their energy from the warm-up ring through the tunnel and into the arena. "That was a really nice feeling to have him with me in the ring and have him listen. When I challenged him a little bit, he rose to the occasion."
Hart emphasized her gratitude for the officials, volunteers and staff who are assisting with this weekend's competition: "It's so special to have a venue that can kind of replicate the situations we will have in Tokyo and all the people that are doing long days in the rain and the heat make this so special."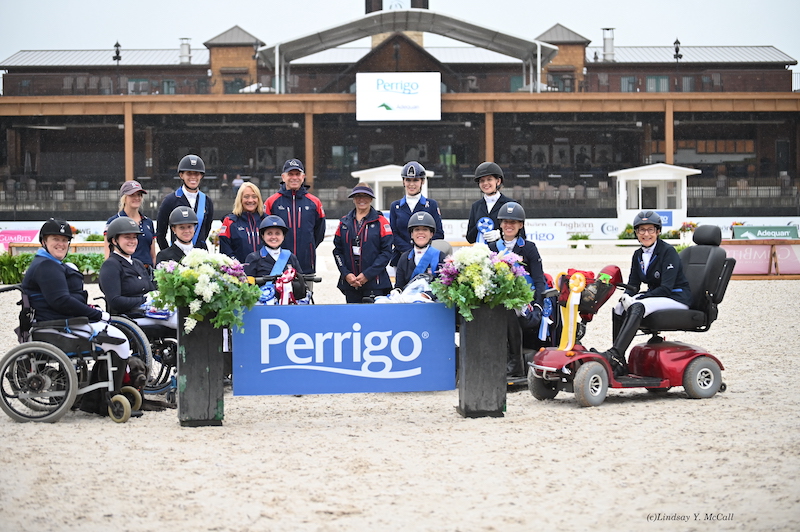 Although she consistently finished second to Trunnell in the Grade I competition, Collier earned some of the weekend's best overall scores on All In One, earning a 71.25 on her team test and improving on that to score 74.14 in the freestyle.
"I was so happy with my tests this weekend. We took everything we've been working on at home and made it happen in the show ring. I have really developed so much of the feel this year, all thanks to Katie Robicheaux. I am thankful for the opportunity to show off that feeling in the show ring. Our results also come to show that all of the hard work I have been doing with my nutritionists, my sports psychologist, my workouts, and rides have been worth it," she said. "I am grateful to have been a part of this U.S. team. I am also thankful to my sponsor Georgina Bloomberg for All in One and for everyone that helps myself and the other riders in and out of the ring."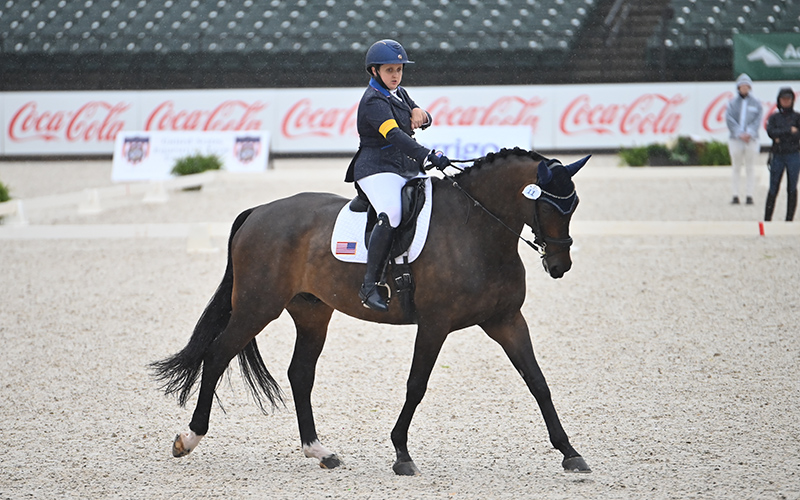 In Grade V, Cynthia Screnci and Sir Chipoli, the 14-year-old Dutch Warmblood gelding (Sir Donnerhall—Vivalucienne TKS, Carabas) co-owned by Chris Von Martels and Select Equine International, earned the third win of the weekend, building from their winning team test score of 69.22 to earn a 73.24 percent in their freestyle test. Cayla van der Walt of Russia claimed reserve with a freestyle score of 70.89 on Daturo II, the 15-year-old  Andalusian gelding (Mirlito XI—Datura, Pestillo) owned in partnership with Christine Heathman.
"This has been a fabulous weekend for us," Screnci said. "We have increased our scores every day. This horse is a dream, and we were meant to be together."
In Grade II, Beatrice de Lavalette also took her third win of the weekend, building on her team test score of 71.41 to earn a 73.84 in the freestyle with Clarc, a 14-year-old Dutch Warmblood gelding (Dreamcatcher—Miss Sinclair) owned by Elizabeth and Nicolas de Lavalette. Laurietta Oakleaf and Comte Du Baccara C, a 14-year-old Dutch Warmblood gelding (Johnson TN—Baccara, H Ulrich) Oakleaf co-owns with Tammi Nowicki, earned a 66.27 percent and second place.
"I am very happy with my rides," de Lavalette said. "My new partnership is going well with Clarc, and there are a lot of strengths. I really enjoy his temperament, and he is an old soul and super sweet."
View full Perrigo Tryon Summer Dressage CPEDI3* and para-dressage team observation Event results 
here.
 Full replays of all tests can be watched
here
.