Mill Spring, N.C.—Sept. 2
The first champions were crowned today at the Nutrena USEA American Eventing Championships, and we caught up with a few winners and dressage and cross-country leaders.
Ruth Bley and Rodrigue du Granit – Preliminary Rider Champions
Ruth Bley and Rodrigue du Granit. Photo by Kimberly Loushin.
Ruth Bley made one of the longest treks to get to the AEC, traveling from Castro Valley, Calif., with Rodrigue du Granit to contest the preliminary amateur division, and she made the trip worth it by leading from start to finish (27.6).
"We got here early because we wanted to give the horses time to get used to the heat and humidity. I think he adjusted really well. I figured out how much warm up he needed, and he put down a really good test. I think it was his best test ever," she said. "He's a fat little brown pony, so he has to puff up. Puffing up is work, and he doesn't like to work hard. He was really, really good."
Bley was concerned about running on grass, so she made sure to compete Rodrigue du Granit, an 11-year-old Selle Français gelding (Robin II Z—Delight Gree, Digne Espoir) at the Colorado Horse Park CCI* this spring, and she competed at Full Gallop Farm (S.C.) right before the AEC.
"Cross-country made me nervous because we don't run on grass all the time. Then when it rained, I was like, 'Oh, I don't know, should I try to go for it?' The first part of the course was very turny, and the tables were really big," she said. "I forget how good of a jumper he is, and he handles stuff like that really well. I wasn't quite as forward as I would have liked to have been in the first part, and I got a little behind the clock, but out on the course where it was gallop-y, we kind of hit our stride, and coming home it was just the best ride ever. He was on fire."
Bley, 57, said the AEC was a goal this year, and she was thrilled to take home the win.
"You have to have a bucket list! The stars kind of all aligned. He's ready, and it was sort of a perfect storm," she said.
Bley also won the Professional's Choice master training amateur division aboard Spartacus D'L'Herbage.
Maya Black and Mowgli – Preliminary Horse Champions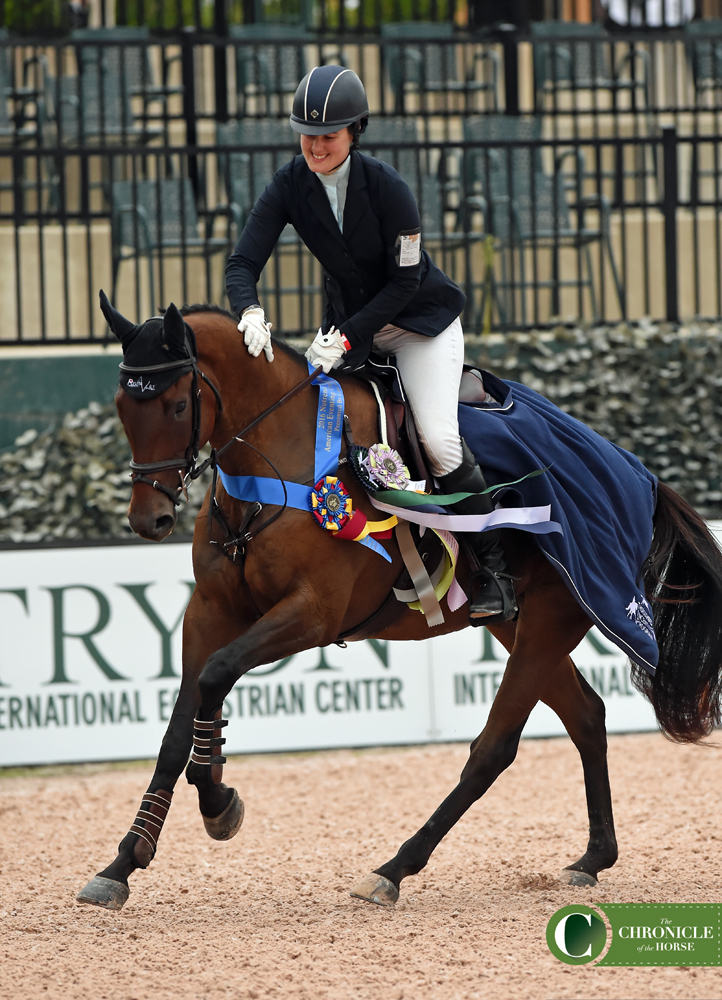 Maya Black and Mowgli. Photo by Kimberly Loushin.
Maya Black and Mowgli were the first champions crowned this morning, moving up from third after cross-country with a clear show jumping round in the preliminary horse division to finish on their dressage score of 29.2.
Overnight leaders Boyd Martin and Barry had a rail down to finish with the reserve championship.
Black has brought Mowgli, a 6-year-old off-the-track Thoroughbred (Our New Recruit—Night Siren), along from the start.
"I've kind of taken it easier with him this summer. He really hasn't done much since this spring," she said. "Coming in to the weekend, I felt maybe a little behind the eight ball as far as preparation, but we just took it one step at a time. Coming to this facility, I wasn't really sure. I've never been here. It's amazing, oh my gosh! I was just really happy with how he handled it. He seemed like he settled over the course of a few days. It's really quite a wonderful venue."
The atmosphere at Tryon had Mowgli walking with his head in the air the first day, but he's since settled in, and he put in a polished show jumping round in the big stadium ring.
"I was happy with him. Yeah, every phase could have improvement, but overall he's a 6-year-old, and he's still pretty green," said Black. "I felt like he's never been in anything like this before, so to just go in and jump around. It could have been more polished, but I was happy with him."
Courtney Cooper and Tender Bravissimo – Training Horse Champions
As a professional who makes her living selling horses, Courtney Cooper doesn't often hang on to horses for long, but she thinks she's found a special one in Tender Bravissimo.
They moved up from second after dressage in the training horse division to win on a score of 22.5. Lynn Symansky and SpectraVET Cohiba were reserve champions.
"I put together a group of owners, and the goal is to get to Rolex with him. He has a lot of talent, and a lot of people would have said to move him up and do some preliminaries, but talking to Boyd and Silva [Martin] and Richard [Pickens], this horse has a lot of talent, and so we've kept training," she said. "He's still green, and I have high hopes for him. I adore him as an individual. He's very sweet and very different than my advanced horse [Who's A Star], who's kind of a grumbly old man."
The gelding is a bit green and spooky, so Cooper has kept him at training level since he was imported earlier this year after show jumping in Ireland.
"I couldn't have asked him to do anything differently. He tried really hard, and he's a very sweet horse. I was super pleased with that," she said of her dressage test.
"But he is green, and he is spooky, and he's a bit cheeky, so I didn't know how he would deal with the whole cross-country course starting off in the derby field. I've been riding with Boyd for cross-country, and he had some very specific instructions for me in my warm up and going out on course. It was nice that I was able to execute that."
Tender Bravissimo impressed in show jumping this morning too to seal the win.
"Today I walked the show jumping course, and I was hoping that he wouldn't take too much notice of the atmosphere. He hasn't done a lot. This year he did some show jumping in Ireland before he came here but not a whole lot," said Cooper. "He went in there and acted like an old pro. He was perfect all week."
Allison Springer and Arthur – advanced dressage leaders
The advanced division is stacked this year with several top combinations using the AEC as preparation for a fall three-day.
Springer hasn't had Arthur out since the Rolex Kentucky CCI**** in May because she broke her back in a fall from another horse at the Jersey Fresh CCI*** (N.J.). In fact, she just cross-country schooled Arthur for the first time last week.
Kurt Martin kept her horses going for her while she was on the mend.
Allison Springer and Arthur. Photo by Carla Duran for Shannon Brinkman Photography.
"This is a big comeback week for me. I'm just new in the past month of getting up to speed," she said. "I'm working really hard on getting myself fit and healthy and riding well. I've just been having a lot of fun here. I feel really blessed with the horses that I have, and the way they're going, and it was just fun to ride and be back and feel strong and healthy again."
A notorious spook, Arthur kept his cool in the dressage ring this morning to score a 25.3. Ryan Wood and Powell have given the pair no breathing room, scoring a 25.4 for second place.
Springer was first in the ring this morning and was longing Arthur in the dark before getting her young horses prepared for show jumping, but he thrived on the electric atmosphere.
"He loves it. He's such a cheeky horse, and he just went in and nailed it," she said. "The test today, he's just so happy to be at a show and doing something again. He's had a ton of visitors to his stall, and he just felt super this morning. I was a bit late getting to the warm-up ring, but he was focused and ready to do his job. When Arthur's good, he's so good, and it was just a fluid, nice test."
Springer hadn't walked the cross-country course when we checked in with her, but she admitted the first part of the course in the derby field would be a challenge for Arthur because of the busy atmosphere with lots of jumps.
"This sort of derby-type event is difficult to go quick when we have to go past things and turn tight, and you don't have long gallops to really make up time," said Springer, Upperville, Va. "He's a good horse; he knows his job, and we have a super partnership, so it really feels so good in my heart to be back competing and feeling well and doing it with my old partner."
Tidbits:
–Marilyn Little had some of the fastest rounds of the day on cross-country in the Merial open intermediate division, and she's sitting first on RF Scandalous (22.7) and third on RF Overdressed (30.1).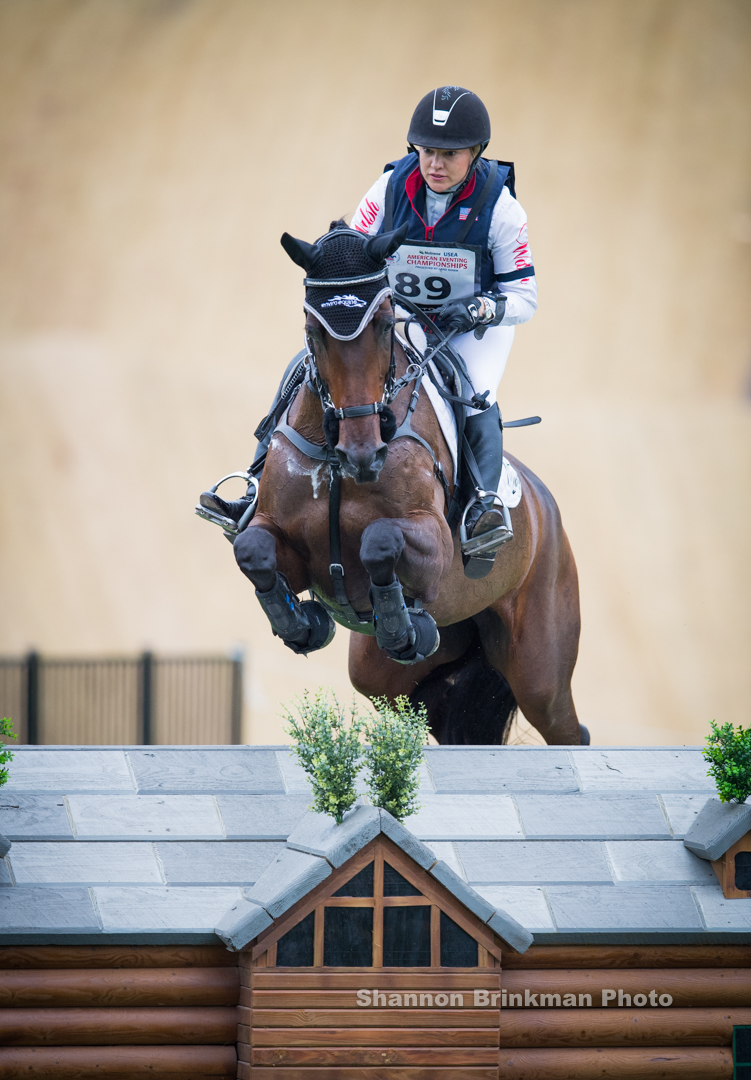 Marilyn Little and RF Scandalous. Photo by Shannon Brinkman Photography. 
– Anna Kristen Paysinger led the training amateur division from start to finish on Lusitana, winning on a score of 25.0.
-Riding Bayani Slade, Ashley Phillips topped the novice horse division on 25.3 penalties.
–Doug Payne and Mr. Mitchell earned first in the Broadstone beginner novice horse division (28.3).