Syracuse, N.Y.—May 4
Coaches Heather Richardson and Lisa Moosmueller-Terry were both working at Virginia Intermont College when it closed in 2014. The riding program found a new home at nearby Emory & Henry College (Virginia), and so did Richards and Moosmueller-Terry.
"I think [this win is] extra special because we have rebuilt the program," Moosmueller-Terry said. "To come out here and be the best of 400 plus teams is a huge deal. The kids have been amazing and supportive of each other."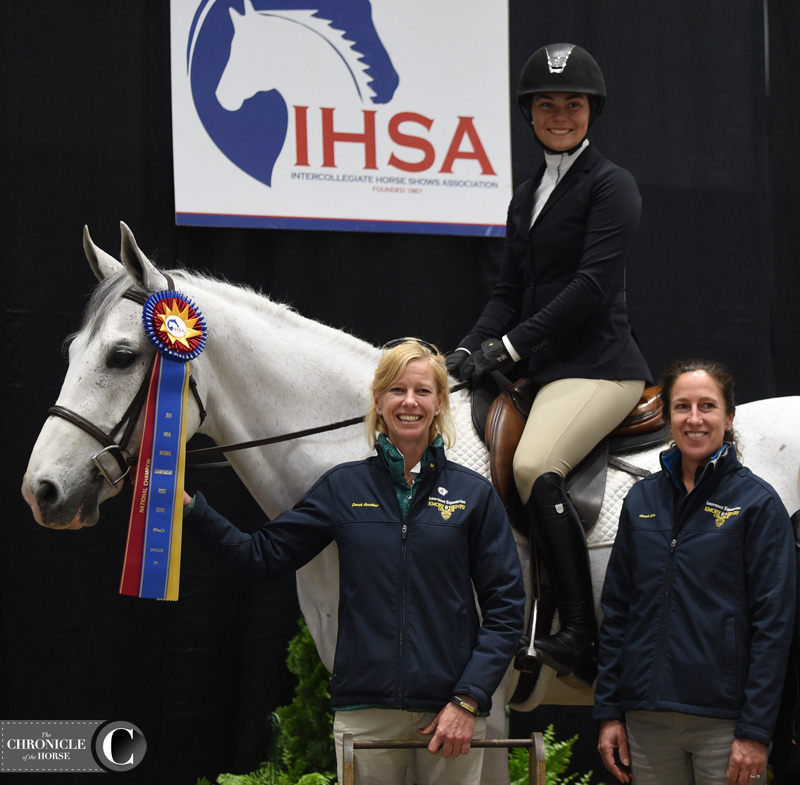 Junior Bobbie Adsit clinched the final points for her team by winning the Collegiate Cup open hunter seat equitation championship, but the rest of the team's points were earned more quietly. They topped defending reserve champions the Savannah College of Art and Design (Georgia) by placing consistently at all levels.
"We knew we were strong," Richardson said. "There was a lot of freshman this year, but all the hard stuff happens at the beginning of the year. The last couple of weeks have been low-key.  We tell them to keep it natural and normal, no rigid edges. This is almost a taste of what it's gonna feel like when they're professionals. A student is going to go into an important class, and they're gonna have to feel that stress. That was really the only thing we were worried about because they're inexperienced in an atmosphere like this, but they handled it well."
It Takes A Village
Adam Edgar isn't one to cry after a round, but the final work off for the USEF/Cacchione Cup championship was an exception.
"I could not stop bawling my eyes out," said Edgar, 19, Leesburg, Virginia. "Just, all the hard work that went into this. I came here with a goal, and I wasn't going to let anything upset that. I'm so grateful for my school and the opportunities we get; not everyone gets them, and we're so lucky. I want to thank everyone who makes this possible. My coaches, our physical trainer, my friends; they stay on me for everything. I'm lucky to have that support system."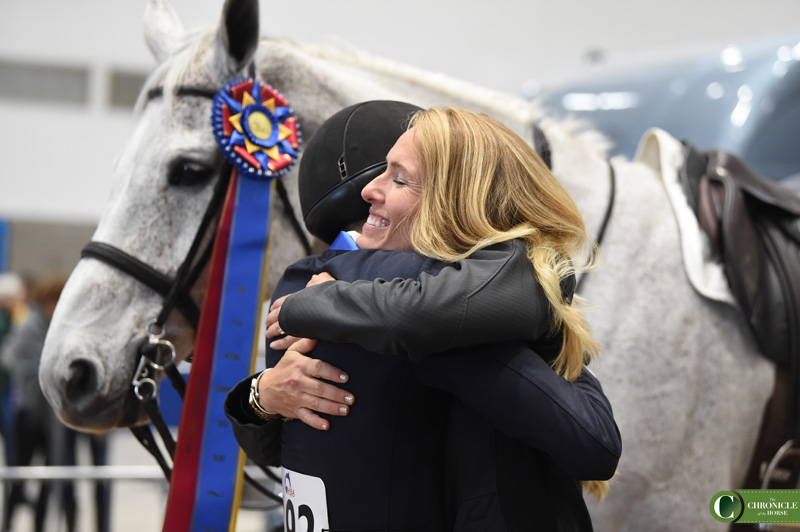 Edgar is the second Cacchione Cup champion from the Savannah College of Art and Design (Georgia) following Kels Bonham, who won in 2012. He claimed the title on the heels of a disappointing fifth placing in the Collegiate Cup open over fences championship (he won the individual open over fences championship).
 "It feels surreal," said head coach Ashley Henry. "There was no doubt in my mind that he was capable but it always comes down to the horses. Team open over fences felt like a baseball bat to the knee, so for him to have that feeling then turn around and in literally two minutes get on another horse, walk the course, come up with a game plan and execute it was incredible."
Claudia Freeman, from the Rochester Institute of Technology (New York) finished second in the USEF/Cacchione Cup rankings, and Michael Andrade from Centenary University (New Jersey) took third. 
End Of An Era
Saturday's competition paused to honor Harry Hurd of Alfred University (New York), Sue Webb of Missouri State University, Cynthia "Cindy" Ford of Skidmore College (New York) and Sally Batton of Dartmouth College (New Hampshire), who are all stepping away from their coaching positions in the IHSA.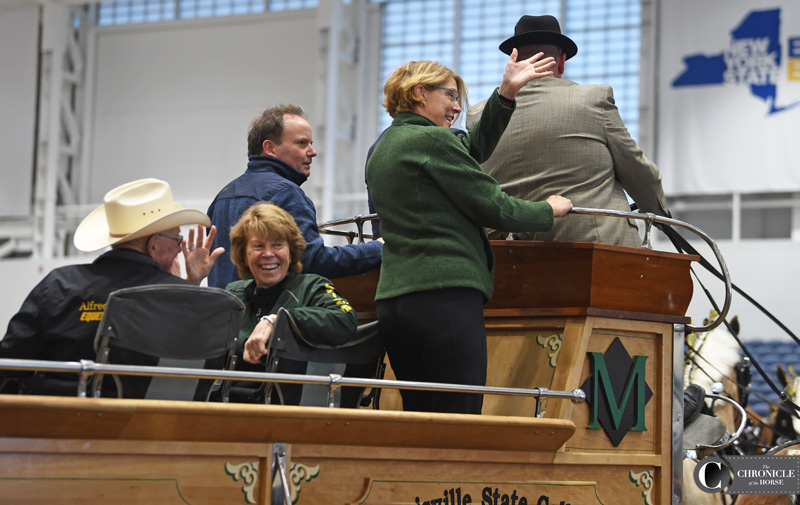 Ford, head coach of Skidmore's 2018 Collegiate Cup champion team, has been Skidmore's riding director for nearly 30 years. She took over coaching the team in the 1990-1991 season, and led them to victory at Nationals that year. Ford went on to coach Skidmore to seven more national team championships, including the 2018 title.
"According to her fellow coaches in Zone 2, Cindy has single-handedly raised the bar for collegiate riding across the country and through her many years of consistency has become a role model," wrote Carrie Wirth of EQ Media. "Cindy has set the standard all will try to uphold."
Batton, the head coach and director of riding at Dartmouth College, has also been coaching for almost 30 years. She guided Dartmouth College to five Ivy League titles and multiple IHSA Nationals appearances. She served on the IHSA Board of Directors from 1984-2017 and served as an IHSA National Steward from 2001-2017.
In 2013 Batton was awarded the IHSA Lifetime Achievement Award, and she is President and Founder of the Athletic Equestrian League.
Catch up on day 1 and day 2 of IHSA Nationals, and subscribe to The Chronicle for a full story in the May 20 issue.