Syracuse, N.Y.—May 3
Delaware Valley University (Pennsylvania) freshman Haley Ferguson rode into the New York State Fairground Expo Center arena with a little something extra on her lapel—a small black, pink and white sticker that read "Mighty Madeline." The decoration is in honor of Madeline Davis, an IHSA rider from Ohio University who is battling cancer after being diagnosed with a brain tumor earlier this year.
"It brought me luck!" said Ferguson, 18, after she won the Collegiate Cup walk/trot/canter championship. "One of our teammates is really good friends with [Madeline]. We're just trying to send her lots of support. We have cards, stickers, and we took pictures with signs to let her know even though she can't be here she's still in our thoughts."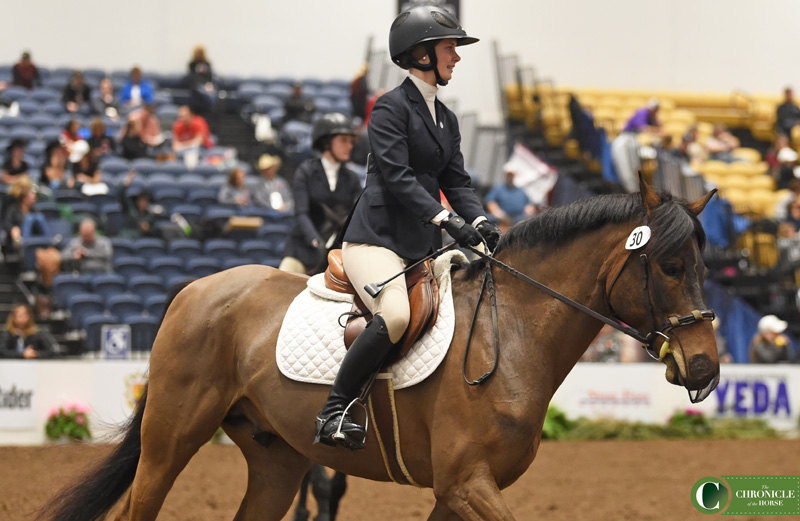 IHSA Nationals is the largest competition Ferguson has been to in her riding career. The Bel Air, Maryland, native grew up riding western on her Paint horse, Buttons. She switched to English because her friends were starting to jump, then rode in the Interscholastic Equestrian Association during high school and wanted to continue competing in college. Buttons stuck by her during the switch and is also living at Delaware Valley University, where she is a beloved part of the lesson program.
"I haven't wrapped my head around it," Ferguson said. "It means a lot that [my coaches] were confident enough to choose me, and I lived up to their expectations. I just took a lot of deep breaths and focused on the horses. I gave them lots of pats to keep my mind off the pressure."
Ferguson wasn't the only Delaware Valley rider earning her first tricolor. Her teammate Juliette Hopkins won the Collegiate Cup walk/trot title.
"I did gymnastics growing up and didn't start riding until last June, so this is all new to me," said Hopkins, a 19-year-old freshman from Doylestown, Pennsylvania. "I always wanted to ride as a kid, but I chose gymnastics. I knew I couldn't do gymnastics in college, so I knew I really wanted to start riding. I like the adrenaline rush when you get something new."
Give And Take
Even though Caitlin Doocy won a pair of custom tall boots from LM boots as one of her prizes for the Collegiate Cup intermediate over fences championship, she might not keep them.
"My mom was joking that she wants my boots," said Doocy, a senior from St. Lawrence University (New York). "She's been riding all her life, and she just picked it back up. She stopped when she had kids, but she bought a horse this past summer, and she's been showing like crazy. This is kind of like my retirement from riding once I get a job, so she's been my groom all my life, and now I'll be her groom!"
Doocy, 21, Colchester, Connecticut, has been riding since she was young and was drawn to the competitive atmosphere at St. Lawrence University. She'll graduate with a degree in psychology and economics.
"It means everything to win," Doocy said. "I did this for the team. It's an amazing opportunity to even be here, and we're so grateful."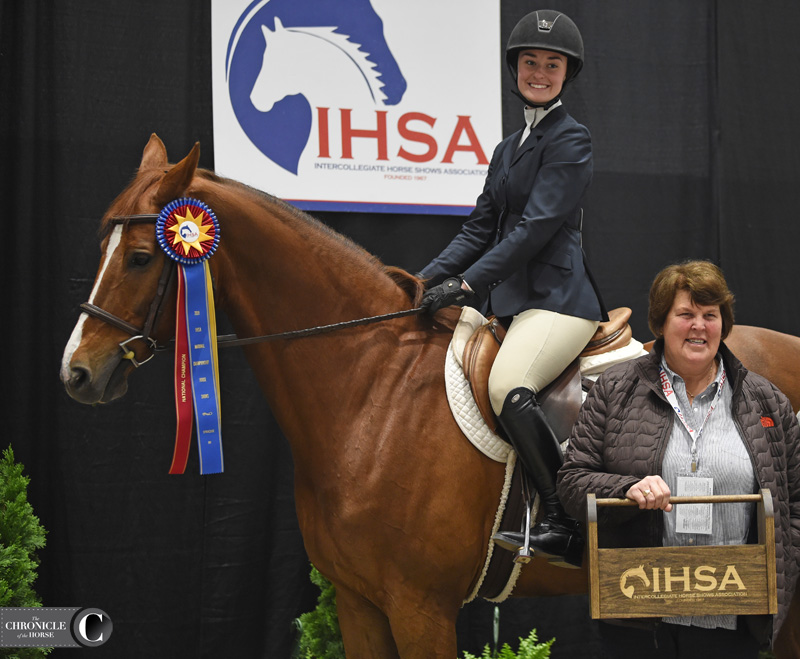 Solo Ride
The team aspect of IHSA gives riders a chance to bond and compete as a group, but every year there are also competitors who are the sole qualifiers from their school. Maddison Marnin, from Sonoma State University (California), made the trip to Nationals without the comfort of her team. She placed third in the individual walk/trot championship.
"I grew up riding 4-H," Marnin said. "I had a Quarter Horse back home in Omaha, Nebraska, doing basically backyard riding. Then I moved to San Diego for my dad's job and enrolled at Sonoma State. I'm just learning hunt seat and really enjoying it."
IHSA is a club sport at Sonoma State University with about eight competing members. They train out of Petaluma Hill Stables in Santa Rosa, California, with coach Carrie Hover. Marnin found temporary teammates in the other Nationals riders from Zone 8, and her parents made the long trip across the country to watch her ride.
"I admit, it's hard to be here without a team," she said. "I did the parade [of teams] by myself, I was like 'I'm just gonna do it! Be Sonoma proud!' I was happy to get first or 10th; just to be here was great."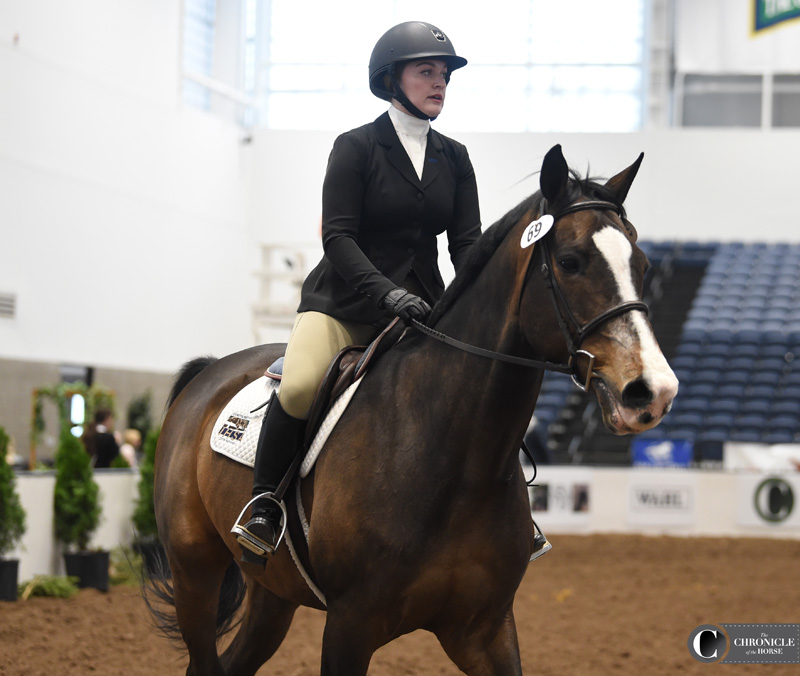 Cacchione Contenders 
Adam Edgar of the Savannah College of Art and Design (Georgia), Michael Andrade of Centenary College (New Jersey), Claudia Freeman of the Rochester Institute of Technology (New York) and Kelsi Okun of Stanford University (California) were the top four after the flat and fences rounds of the USEF/Cacchione Cup. They'll test tomorrow morning as the second class of the day.
Friday Results: 
Collegiate Cup Intermediate Equitation Over Fences – Caitlin Doocy, St. Lawrence University
Individual Walk/Trot Equitation – Cherise Madrid, Goucher College
Collegiate Cup Walk/Trot Equitation – Juliette Hopkins, Delaware Valley University
Collegiate Cup Walk/Trot/Canter Equitation – Haley Ferguson, Delaware Valley University
Top 3 Team Standings: 
Emory & Henry College – 34
Savannah College of Art and Design – 30
Delaware Valley University- 29
Read more from Day 1 of IHSA National Championships and check back here for results from the final day.