Syracuse, N.Y.—May 2
Alexandra "Lexie" Ferris forfeited her place in the individual novice flat competition at the Intercollegiate Horse Show Association Zone 1 Finals to allow a rival competitor a chance at Nationals. Ferris, a sophomore from the University of Massachusetts at Amherst, developed a competitive friendship with Elizabeth "Libby" Sams, a sophomore from Mount Holyoke College (Massachusetts) over the past two years. They frequently placed closely in the novice ranks, so when Sams missed the cut off for Zones this year, Ferris took action.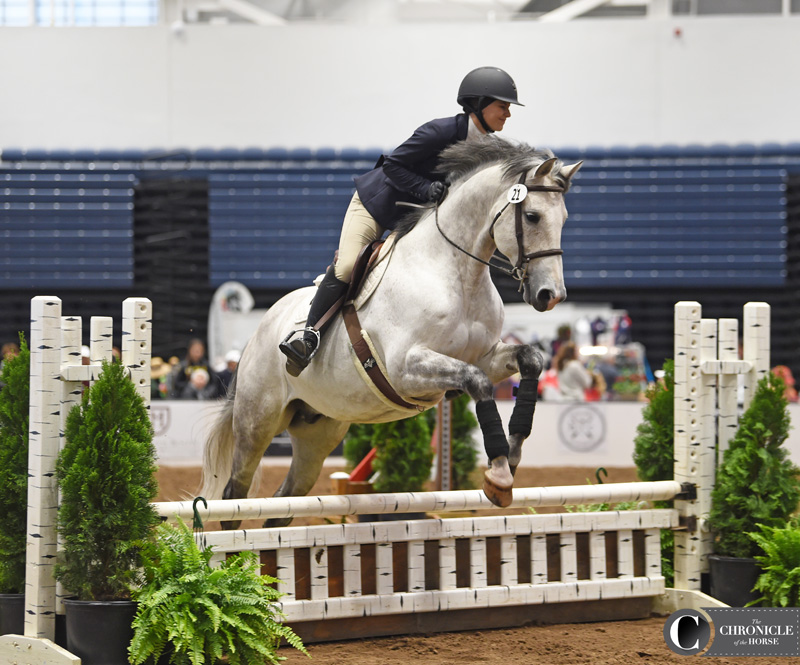 "I qualified for novice flat and over fences [to compete at Zones]," Ferris, 20, Ipswich, Massachusetts, said. "Libby was second in flat, then we found out the judge made a mistake. I was second, and Libby was third. For the past two years we've always been very equal, and I know how hard she works. She's such a sweet person; she deserved to go to Zones as much as I did, and I felt it was unfair for her to work that hard and all of the sudden find out she's not going, so I decided to give her my spot."
Ferris told coach Dani Corkill that she wanted to give Sams her spot in the individual novice flat class at the Zone 1 Finals. Corkill passed the message up the chain of command, and suddenly Sans had another chance to qualify for Nationals.
"We've become really good friends in the past month; we're actually really close now considering Holyoke is kind of like our rival," Ferris said. "We're actually gonna have dinner next week. She supported me all through Zones; she's so sweet and supportive even though we're on different teams. I would love to stay and watch her, but I have a final I need to study for."
Ferris is studying veterinary medicine at Amherst with a concentration in equine science and plans to double major in veterinary technology. She competed in individual novice equitation over fences and placed outside of the top 10, but she's not disappointed.
"I just feel like winning is not that important," Ferris said, shrugging. "I came here, and I'm really proud of what I did. I was like, 14th, but I came and put down the best trip I could. That's all that matters to me, just doing the best you can. If the judge liked it, they liked it; if you messed up, you messed up; it happens."
Post-Grad Plans
Individual intermediate equitation on the flat champion Roman Mezger has a soft spot for quirky horses, like Topaz, who he met on his tour of Otterbein University (Ohio).
"I saw Topaz getting lunged," Mezger, 21, said. "He was like this wild little chestnut, and I said 'That's the one I want to ride!' "
Mezger, Denver, Colorado, channeled that enthusiasm for unconventional mounts and specialized in riding young horses. He graduated this year and accepted a position at Spy Coast Farm in Lexington, Kentucky—one of the most prominent sport horse breeding and training operations in the United States.  
"I just have a passion for it," Mezger said. "I actually just bought a young horse, and I'm excited that he gets to go somewhere he'll get a good education as well." 
From High Jump To High Point
Mikayla Westlake was originally recruited to Otterbein University as a high jump athlete on the women's track team, but once she spent some time on the IHSA team she committed to riding. That commitment paid off when she topped the Collegiate Cup novice equitation on the flat championship.
"I've never done A-rated shows, just schooling shows," said Westlake, a junior from Saint Clairsville, Ohio. "But the trainers [at Otterbein] believed in me and pushed me, that helped me a lot. It means a whole lot to win for the team, it's the best feeling ever."

Thursday Results:

Individual:
Individual Open Equitation Over Fences – Adam Edgar, Savannah College of Art and Design
Individual Intermediate Equitation Over Fences – Sarah Hearn, Mount Holyoke College
Individual Novice Equitation Over Fences – Emilie Frede, University of Southern California
Individual Intermediate Equitation on the Flat – Roman Mezger, Otterbein University
Individual Novice Equitation on the Flat – Molly Krause, Skidmore College
Individual Walk-Trot-Canter Equitation on the Flat – Helen Schertz, Clemson University
Individual Open Equitation on the Flat– Michael Andrade, Centenary University
Team: 
Collegiate Cup Novice Equitation Over Fences – Kendall Woellmer, West Texas A&M University
Collegiate Cup Novice Equitation on the Flat – Mikayla Westlake, Otterbein University
Collegiate Cup Intermediate Equitation on the Flat–  Madelyn Keck, Savannah College of Art and Design
Check back with The Chronicle of the Horse later for more from IHSA National Championships!