When Alexis Martin landed from the last jump of yesterday's low amateur-owner, 18-35, stake at the Washington International Horse Show (D.C.), she immediately broke into a huge smile that stayed on her face until long after she got out of the gate. There was no entourage of barnmates to whoop and holler at her great trip, a round that would eventually score an 86 and the blue ribbon in the class, just a small smattering of applause from her trainer, Andrea Duffy, Andrea's husband Dick and her twin sister, Alyssia.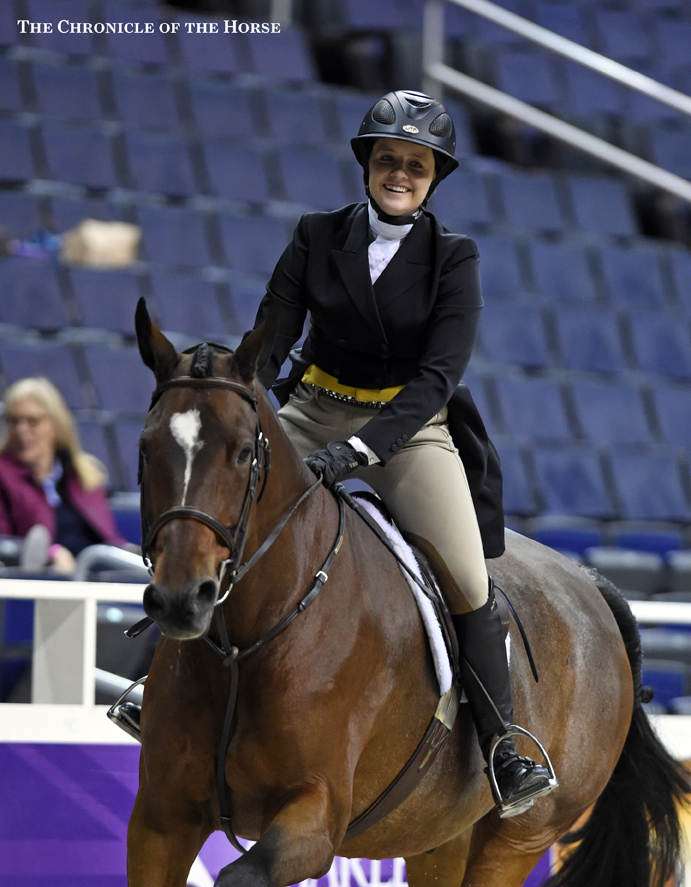 Alexis started patting Budweis'czar halfway through her closing circle and didn't stop until she left the ring. She later told me her nerves had been so bad she'd been physically ill after her fantastic handy round earlier that day, and she cried after she heard her score from her second round. Those two ribbons boosted her to the reserve title in the division.
You can forgive Alexis for being extra emotional about a trip to Washington. Everyone's worked hard to get here all year, but she and Budweis'czar have an extra bond. It's the same bond that Alyssia has with Tommy, the horse she rode to tenth in the same class.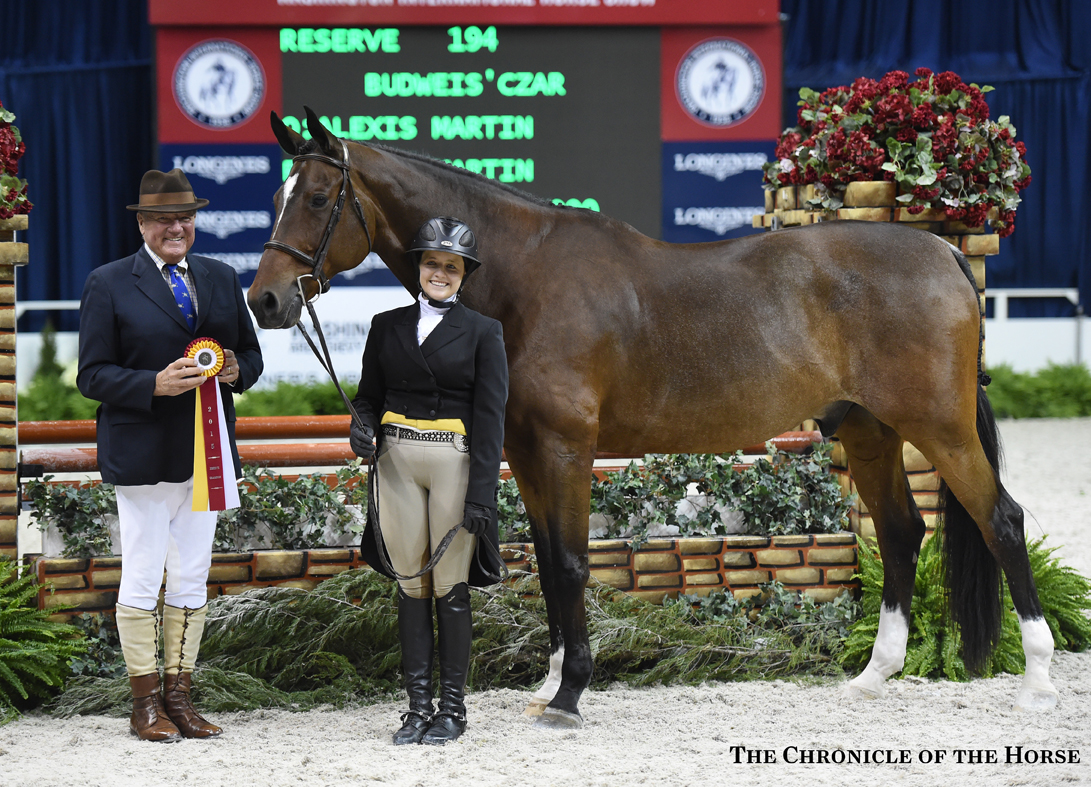 Coming Together Through Tragedy
If you pull up Budweis'czar's record on the U.S. Equestrian Federation website, you can see that he's entered Washington three times before, once with Alexis and twice with Lawson Mayfield. Mayfield rode him here in 2008 in the junior hunters, finishing eighth in the handy. The next year his record shows that he was nominated for the competition, but doesn't list any results.
That's because a few weeks before Washington in 2009, which was to be the last show of her junior career, Mayfield contracted an aggressive form of bacterial meningitis and died.
Andrea describes Mayfield as a trainer's dream: a vibrant, hard-working rider just as happy to do barn chores as head to Devon (Pa.) with one of her five fancy show horses. And on weekends with no horse shows she'd offer to help the riders in Live Oak Hounds (Fla.) with their much more modest mounts. Even though she was 18, she treated Alexis and Alyssia, five years her junior, as equals, and they idolized her in return.
Lawson's parents, Emory and Cathy Mayfield, were devastated, as was Andrea, who'd taken her from the leadline to indoors. While the adults grappled with shock, Alexis and Alyssia coped the only way they knew how: by going to the barn and taking care of the horses.
The 13-year-olds kept up with barn chores and kept Lawson's horses in work while the adults figured out to do with her five mounts. After a few months Alexis started bonding with "Bud," and meanwhile Alyssia and Tommy clicked.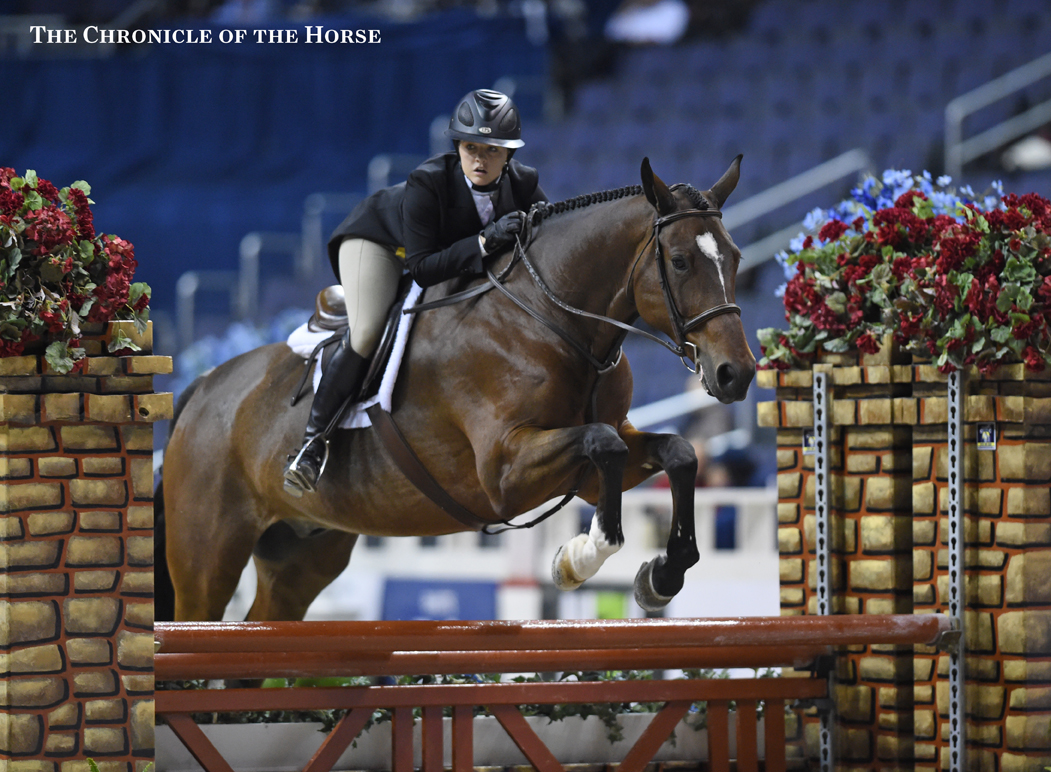 Alexis and Alyssia know they're blessed to have parents who encouraged their equestrian passion, but they drew the line at writing the kind of checks demanded by two top hunters. But when Cathy saw how the two young women bonded with Bud and Tommy she worked with the Martin family so that Alyssia and Alexis could keep the ride on those two horses. Then last May, when the twins graduated high school, they came to the barn to find graduation presents hanging from Bud and Tommy's stalls.
"Alexis thought it was a gift card for a halter," recalled Alyssia. "When we opened the envelope there were the bills of sale, and we both burst into tears. Poor Ms. Mayfield started crying too."
Even though she gifted the horses to Alyssia and Alexis a year ago, Cathy stays very involved with the horses—her granddaughter is taking lessons with Andrea—and with both young women. A family obligation kept Cathy at home in Tallahassee, but she watched Bud and Tommy on the live feed, cell phone in hand to text throughout the show. She on the phone with Andrea before Alexis even made it out of the ring after the stake round.
In turn Alexis and Alyssia remember Lawson through the horses, and they channel her energy before heading into the ring for a class.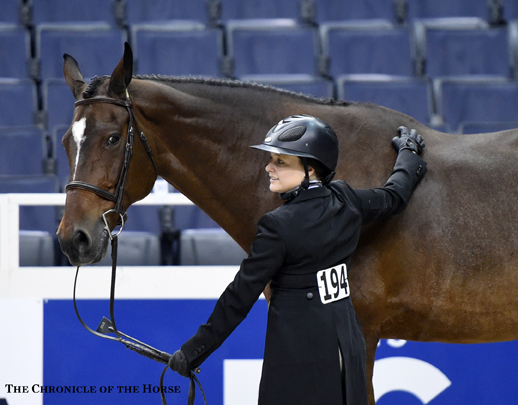 Exceeding Expectations
Alexis talked about how Bud helped transform her from a nervous rider barely comfortable at the 2'6″ to a tough one who started showing in the juniors before her bolder sister stepped up to the division. She came to Washington just ecstatic to have qualified. The chance at a tricolor never crossed her mind.
Even when I expressed regret that she didn't earn the highest stake score of the two low amateur-owner divisions, which would have mean an extra ribbon, she just shrugged, her grin never wavering. She'd been on Cloud 9 since her handy round.
"I wasn't expecting too much," she said. "I was thinking I don't care if I get a ribbon in the next class—I'm just really proud of how we did. I was shocked when we won. It's the highest score I've ever gotten."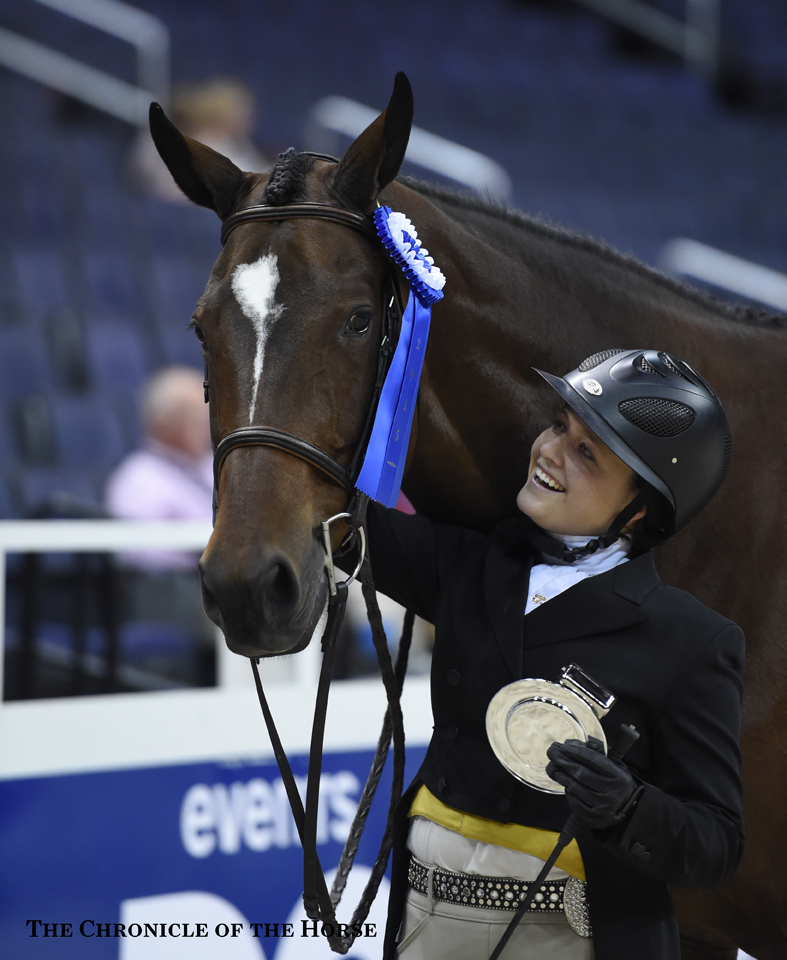 When I talked to Andrea for the story I wrote last year, she stressed to me how much the twins have in common with Lawson. While I didn't meet Lawson, it's easy to see how hard working, positive and appreciative the Martins are. The girls support each other despite competing against each other, though Alexis joked that she has to work at cheering on her sister when she's jogging behind. They take care of their own horses—though Andrea and Dick filled in on wrapping duties so they could chat with me after their show.
Sitting on tack trunks on the street in Downtown D.C., Alexis and Alyssia regale me with goofy stories about their horses' bond to one other, recalling how they celebrated both geldings' birthdays—they turned 15 within weeks of each other this spring—with giant buckets of treats. Alyssia was planning to make them a cake as well, but Alexis put a stop to that, ("Last time she tried to cook it didn't go so well," she quipped.) Alyssia was giddy to show me Tommy's sheet, newly embroidered in pink, the color Lawson chose for him.
In a world when many riders have grown numb to the excitement of heading from one fancy horse show to another, it's refreshing to meet young women still so truly in love with their horses. There were plenty of other competitors with successful trips to Washington, but none who appreciated being there more.
Read a touching story about Lawson Mayfield and her family's generosity in the wake of tragedy.
Catch up with the more from the Washington International Horse Show here.