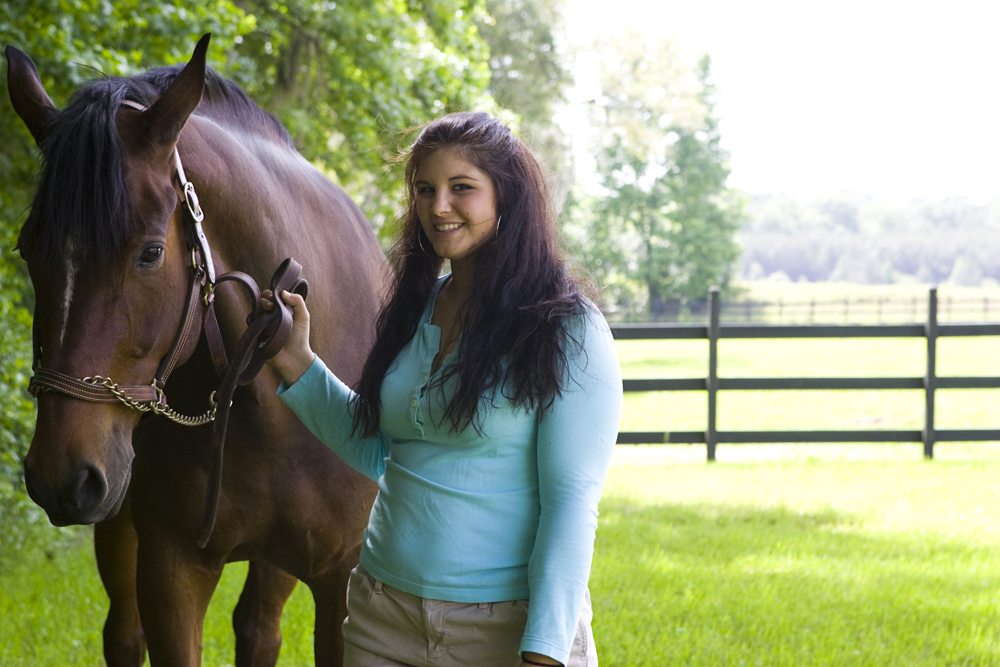 Lawson Mayfield was just as happy to hop on a modest
foxhunter that needed a tune-up as she was to ride
her own elite show hunter Budweis'czar.
Jenny Mayfield Blackstone Photo
If you just watched the show ring, it would be easy to assume that Lawson Mayfield had an insulated and privileged junior career on the show circuit. She owned a string of talented horses that ribboned at shows like Devon (Pa.), Pennsylvania National and Washington International (D.C.). But she was no fair-weather rider.
She eschewed made, easy horses in favor of green or quirky rides, even when she stepped up a division. And that string of horses didn't come with a matching string of grooms: She was the one washing legs and unbraiding at the end of the day.
"She had the ability to do it differently, but she wanted to do it herself," said her longtime trainer Andrea Duffy.
At shows she came early and stayed until the lights were turned off, schooling and caring for her own mounts and helping around the barn. At home she rode young horses, held horses for the farrier, and encouraged younger riders, especially Alexis and Alyssia Martin. Mayfield developed a passion for foxhunting, and whenever she was in town during the Live Oak Hounds (Fla.) season, she'd sleep over at Duffy's and rise before her trainer to catch and bathe the field hunters that doubled as school horses.
"There was one that pulled like a freight train—no way I could hunt her!" said Duffy, who runs Grey Cedar Farm in Monticello, Fla. "I let other people try, and even a big man I lent her to was dying. But [Mayfield] would go around on her with a big smile on her face. She'd go catch her in the paddock and come cantering up with her in a halter.
"The ladies in the hunt were so impressed they would all ask her to come help with their horses," she continued. "She was just as excited to go show someone's foxhunter as one of her fancy junior hunters. It was crazy—if she had a weekend off, she'd rather be at a schooling show on a horse who couldn't do lead changes than anywhere else. There wasn't enough time in the day for her to ride crappy horses with a big grin on her face."
Mayfield was the kind of young rider trainers dream of having in their barn: one with talent and family support to get to the top, overshadowed by a love of horses and generosity of spirit. And when tragedy struck five years ago, her friends and family carried on that same tradition in her memory.
A True Mentor
Mayfield's mother, Cathy, grew up riding casually, and she and husband Emory encouraged their daughter when she showed interest in horses. But Duffy inspired her passion for the sport. She gave Lawson her first leadline lesson and trained her through the junior jumpers at Devon.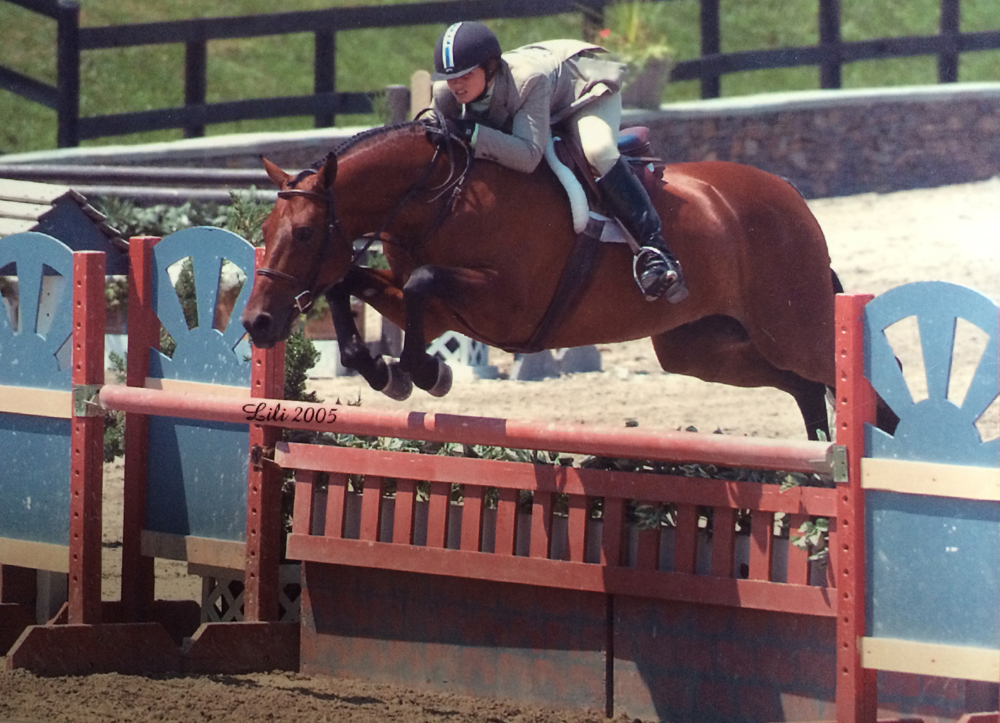 Lawson Mayfield was a consistent winner in the
junior hunter divisions. Here she's riding her Oliver,
who was notoriously quirky.
Photo by Lili Weik
"She spoiled me," said Duffy, laughing. "She would rather have a challenge than anything else. Nothing scared her. When she started riding she'd always want to do something more advanced. I'd tell her she could as soon as she accomplished a goal. And by the next lesson she'd have it done, and we'd move up."
Riding was something Lawson did with her mother. Cathy never missed a horse show, and she knew every quirk about her daughters' horses.
At first Duffy trained privately for Mayfield, then she took on a few other clients, Alyssia and Alexis among them. Duffy had babysat the twin sisters from 6 months old and convinced their neurologist father that riding would be a safe and rewarding pursuit.
In Lawson they found a mentor and older sister. She constantly encouraged the reticent twins to be bold in the tack and gave them tips during hacks. She brought them to Halloween parties and to lunch with her friends. She taught them how to tack up and offered an ear when social situations got tough.
"I just loved watching her ride; she was so perfect," said Alyssia. "She was my inspiration for everything."
After graduating from high school, Lawson deferred entrance to University of Central Florida for a semester to focus on her last trip to indoors as a junior.
But one day in September of 2009, everything changed.
Coping With Tragedy
Lawson returned from a trip visiting her half-sister in Germany late on a Sunday night, ready to squeeze in a few days of riding before Capital Challenge (Md.). The next day she went to the barn and rode five horses with Duffy.
She'd passed on her last charge, unusual for Lawson, because she felt exhausted and had a worsening headache. She joined her mother for a pedicure despite not feeling well, eager to catch up after two weeks away. But when she got home she went straight to bed. Lawson suffered the occasional migraine when overtired, so neither Lawson nor Cathy thought anything of it.
But when Cathy went to check on her a little while later, it was clear this wasn't routine. She rushed her daughter to the hospital, where she was admitted around 8:30 p.m. After being administered a spinal tap, Lawson was diagnosed with a form of bacterial meningitis, and the doctors began treating her aggressively.
"I was shocked. I thought, 'OK, she's sick, but she's tough, and she's in such good shape,' " recalled Cathy, Tallahassee, Fla. "The doctors try to prepare you for the worst, but you don't expect the worst, especially in someone so young."
Though she was being treated correctly for her specific disease, pneumococcal meningitis, her condition worsened. Her sister arrived from Germany just in time to say goodbye before the doctors took the 18-year-old off life support.
Lawson's last act was a selfless one. When she went to get her drivers' license, she and her mother had a long conversation about her final wishes in case of an accident, and Lawson decided to donate her organs.
"The donor can contact you if they want," said Cathy. "We do know that her heart went to a young mother with young children."
Alyssia was home recovering from swine flu when her father called her into the room to break the news. She and her sister were stunned. Amidst shock and depression, the 13-year-olds coped the only way they knew how.
"Another one of our friends, Brittany Blasko, picked us up from the house and took us to the barn," recalled Alyssia. "We all started crying immediately, but we knew what we had to do. It was just so sad."
While Duffy struggled to get her bearings, Lawson's friends stepped up to help out. Without being asked they took over mucking the barn, feeding the horses, turning them out, and exercising them. Meanwhile, there was the matter of the horses Lawson left behind. Duffy sent a few to be tried half-heartedly, but nothing worked out, and she found it emotionally wrenching to try to rehome the animals.
Duffy decided to send several of Lawson's horses to Gretchen Anderson's Apple Knoll Farm in New Boston, N.H., to lighten the load and see if anything would work out there. Most importantly, Duffy knew Anderson would understand Lawson's quirkiest and most beloved mount, Oliver, as she'd originally sold her that horse.
A Special Case
Anderson had made a business of reforming other people's leftovers, and her daughter, Hayley, was used to getting whatever was leftover from that.
Gretchen imported Oliver as a young project, knowing he was fancy and talented but with challenges that bumped him down into her price range. He proved even harder than she anticipated. Hayley, who was 7 at the time, remembers her mother riding him for hours, trying to get through to the tough charge.
He would do something naughty, and hopefully whoever was dealing with him at the time would laugh rather than get frustrated. Luckily Hayley and Lawson shared that instinct, shrugging it off when he'd demonstrate his inexplicable fear of water, jump the first fence on course then kick out, or spook at a fence after clearing it perfectly 100 times.
When he first came back to Apple Knoll, Gretchen rode him for five months. And when he and Hayley connected, she still waffled, as she didn't want her daughter getting attached to a spectacular show horse that would break her heart when he was sold.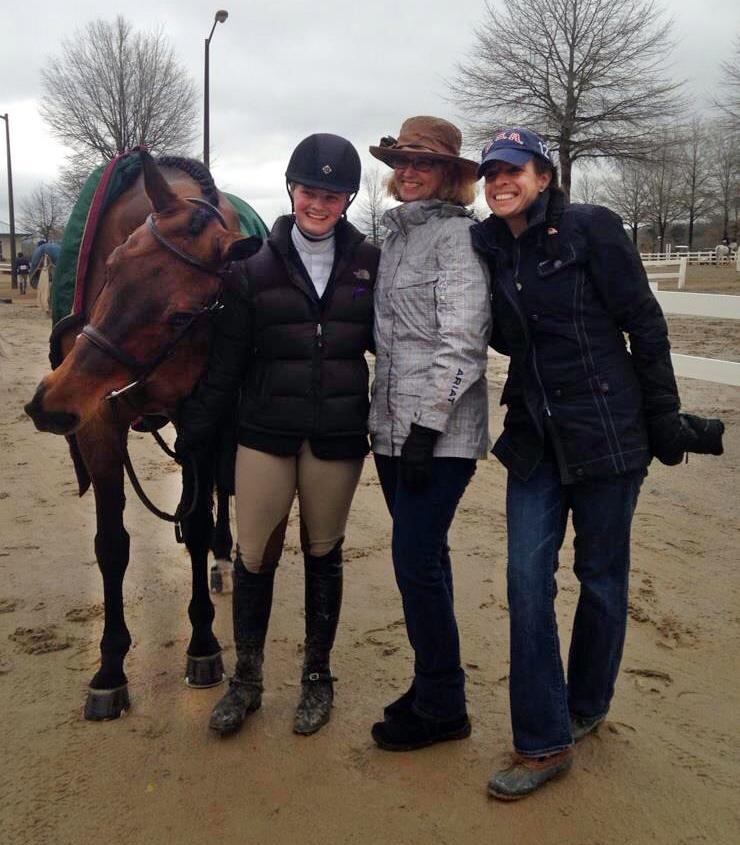 Oliver could be challenging, but Hayley
Anderson (left) understood him, just as his
late former rider Lawson Mayfield did. Here
Cathy Mayfield (center) and Andrea Duffy
visit with the pair.
But Cathy encouraged her to give Hayley a leg up, and they made a winning combination. They stepped up to the juniors, and soon their emails to Cathy had win photos attached.
"I called Cathy and told her to stop paying board," recalled Gretchen. "It wasn't fair, as Oliver was benefitting my daughter so much."
Though Hayley never met Lawson, she felt a strong connection to her through their mutual love of Oliver. She'd frequently stay late at the barn, feeling Lawson's presence as she spent time with Oliver.
Toward the end of 2012, Hayley checked Oliver's U.S. Equestrian Federation points and noticed that he would've ranked fourth if he were registered in their zone. Gretchen mentioned this as a point of pride to Cathy, and the next week when she opened the mailbox there was an envelope from Cathy with Oliver's bill of sale, complete with Hayley's name written across the top.
Gretchen and Hayley were floored.
"I knew I wanted him where he was beautifully taken care of," said Cathy. "There was no way at his age, with his idiosyncrasies, he could have found a better fit. Whenever Lawson was on him, I'd see this twinkle and grin, and she'd just say, 'Oh, here he goes,' and Hayley was the same way. It's exactly what I'd hoped for. They loved him to begin with and loved him still."
Back At Home
Meanwhile, as some of Lawson's horses went on trial, Alyssia and Alexis started to keep fit the ones still at home. The girls had been riding ponies, but soon they were riding her solid campaigners like Blue Martini and Tommy. Duffy was shocked when Alexis, always a timid rider, started connecting with one of Lawson's junior hunters, Budweis'czar.
"I was obsessed with him since Day 1," Alexis said. Meanwhile Alyssia paired up with Tommy, who helped her graduate to the junior ring as well.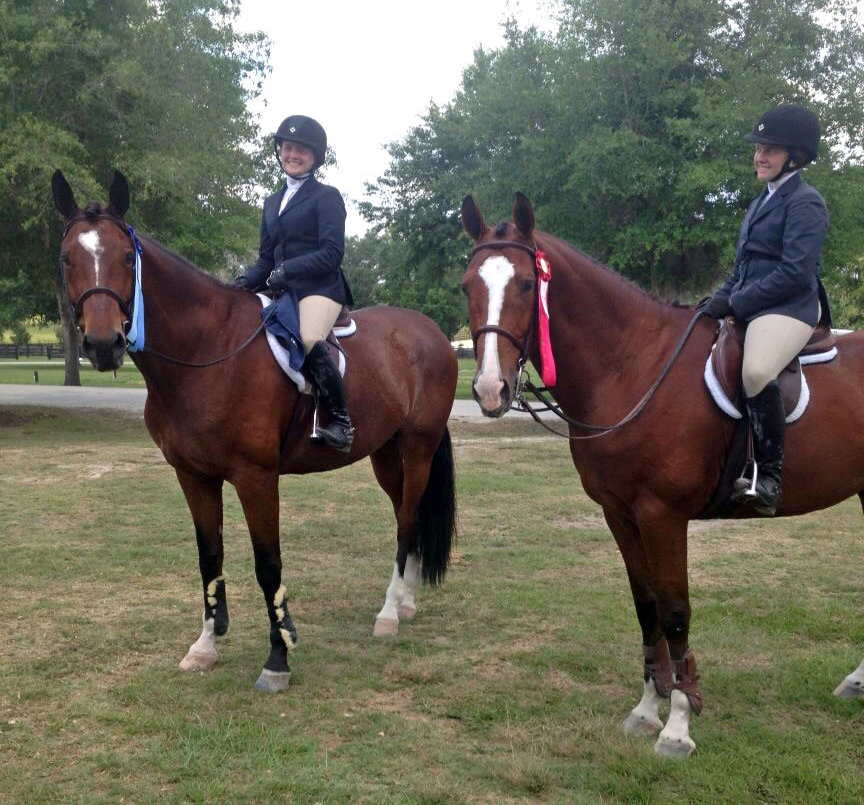 Whenever Alexis (left) and Alyssia Martin ride
Budweis'czar and Tommy, they remember Lawson
Mayfield and appreciate her mother Cathy's
generosity.
While Alyssia and Alexis' father came around to his daughters' passion, he drew the line at writing the kind of checks that accompany two top show hunters. But when Cathy saw the connection between the Martins and Tommy and "Bud," she worked with the family so the girls could keep the ride.
"Certainly those two could have been sold, but once those girls started riding them and I saw the connection going on, the decision was made," recalled Cathy.
"I had to think about what Lawson would have wanted and how pleased she would have been with what was happening. I don't think I could have lived with myself if I'd taken those horses away from those girls, knowing that they were so good to them and that the horses were so good for them."
She formalized that this May, just after Alexis and Alyssia celebrated their high school graduation. Duffy called Alyssia to come to the barn to get a graduation gift, and when she arrived Alexis hopped off her mount, and they headed into the stable. Tommy and Bud's stalls were decorated with ribbons in the girls' high school colors, envelopes and wrapped presents.
"Alexis thought it was a gift card for a halter," recalled Alyssa. "When we opened the envelope there were the bills of sale, and we both burst into tears. Poor Ms. Mayfield started crying too."
The boxes had nameplates with the horses' names, and Duffy told them the horses would always have a stall at the barn.
Bringing Together A Community
The first time Hayley stepped up to the junior hunters on Oliver, she had quite a support squad. She traveled to Georgia for the Atlanta Spring Classic I in 2012, where Alexis and Alyssia were also showing, and Cathy came along as well.
At the time Hayley's nerves were frayed. Her mother had been nervous about her becoming emotionally involved with someone else's fancy horse, and despite herself over the last year Hayley had grown very attached.
"My mom said, 'If they want to take him back, he's their horse,' " Hayley recalled. "I was really nervous. We saw them, and we immediately all formed a circle around Oliver, all giving him treats. We were all crying, and it was an incredible connection. No one had to say anything; you could feel Lawson was there."
The twins had bought jellybeans for Oliver (his favorite treat), and they cheered each other on. From that time on, the girls were fast friends. As a project for a video production class, Alyssia made a video to honor Lawson. She edited photos and videos of Lawson, Alyssia, Alexis and Hayley on Lawson's horses and overlaid "I Drive Your Truck," a Lee Brice song about a man coping with the loss of his brother.
"The cool thing about it is that all three girls are so much like Lawson," said Duffy. "They're not ones to hand off their horses. They're very hands-on and all about the animal."
Lawson remains a presence in the lives of those she touched. Live Oak Hounds planned to award her colors later that year, and the hunt granted them posthumously. The decorative buttons and Live Oak green fabric that would have been sewn on her jacket were buried with her, and the hunt dedicated that year's Opening Meet in her honor.
The twins have photos of Lawson plastered across their tack trunks, and her saddle still sits on a hook in the Grey Cedar Farm tack room. Lawson's trunk is still there too, with her bridles, spurs and a mirror with a mustache taped to it inside.
Lawson invented an encouraging phrase "Bones With Love"—BWL for short—which means "I love you down to the bones," and it has become a rallying cry among all their friends, along with her initials.
"I always thought, 'She's the person I want to be,' " said Alexis. "I love riding the naughty horses just like she did. Even today, I put my hair up like she does, I hold my wallet like she does. Everything I do, I remember learning from her."
"Every time I get on Tommy I think of Lawson," said Alyssia. "One of the first times I showed him, I went in the ring and heard 'Alyssia Martin riding Tommy for Lawson Mayfield,' and I burst out crying. After a while it started saying 'Cathy Mayfield' instead, and that still makes me emotional."
Cathy checks in with the three girls regularly, and the twins in particular consider her a second mother.
"It's bittersweet," said Cathy. "I'm usually thinking how proud I am of them, and I know Lawson is proud of them too. We're so lucky that this worked out how it has, to know that her horses haven't gone on to some situation where I have no idea how they'll be taken care of. It's beautiful to see how appreciative they are."