Top English show jumper Dougie Douglas made headlines when selling at the Goresbridge Supreme Sale of Show Jumpers auction (Ireland) on Nov. 12. While at the time, the buyer was only identified as "an anonymous U.S. rider" through Irish agent Barry O'Connor, we have confirmed that Dougie Douglas is all settled in at Katie Dinan's Wellington, Fla., farm and prepping for the 2016 Winter Equestrian Festival there.
Dougie Douglas, a 10-year-old Irish Sport Horse (Ard VDL Douglas—Neills Girl, High Roller) bred by John O'Brien of Ireland, was purchased by Holly Gillott and Graham Smith in 2009 as a 4-year-old through the Goresbridge sales as well.
Gillott, who has also evented, trained and competed the big chestnut to many 5- and 6-year-old jumper successes and then won the 7-year-old national championship at the prestigious 2012 Horse of the Year show.
Their first Nations Cup appearance for Great Britain was in 2014 at the Odense CSI (Denmark), where they jumped two clean rounds and helped the British team win. They went on to represent Great Britain on Nations Cup teams at Gijon (Spain), Lummen (Belgium), St. Gallen (Switzerland) and Rome.
After she entered him in the Goresbridge sale, Gillott told Horse & Hound, "If I am going to progress in show jumping, he has to be sold. He is still in his prime and worth more now than ever. It sounds like a cliché, but he is a horse of a lifetime—he's taken me to places you can only dream of."
Dinan, 22, is a senior at Harvard University (Mass.) this year. She has competed in three FEI World Cup Finals, placing 14th in 2014 and 16th in 2013 aboard Nougat du Vallet. She earned individual gold and team bronze at the 2011 FEI North American Young Riders Championships (Ky.).
We caught up with Dinan about the plans she and trainer Beat Mändli have for Dougie Douglas…
Chronicle: What drew you to this horse in particular?
Dinan: We had admired him for a long time. We saw him at a few shows in Europe last summer. We'd always seen that he was a very competitive horse and he had great results with Holly Gillott.
We noticed he was going into an auction last month and that piqued our interest. So we went for it and it was very exciting.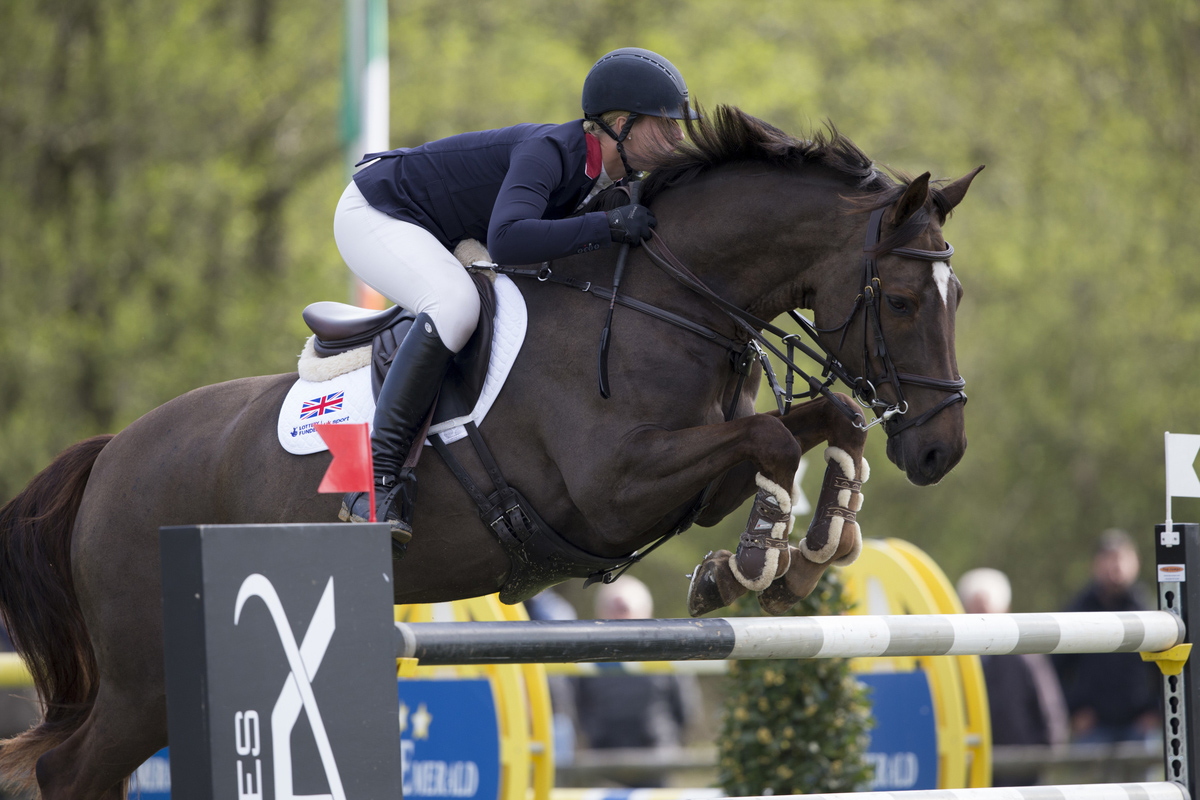 Holly Gillott competing Dougie Douglas. Photo by Dirk Caremans
Did you have a chance to try him at all?
I did not try him.
Was that nerve-wracking?
Yes and no. I think that sometimes trials can be deceiving anyway; trying a horse is no guarantee that once you get in the ring it'll work. I think you also have less of a risk with a horse that's older and has experience at that level.
We have a good idea of what he can do. He was ridden by a woman, which I think is reassuring too because she's a similar type to me.
We took a little bit of a chance of course, but he's in Florida now and I rode him the first time over Thanksgiving. He felt really good, so we'll start showing in January and see how it goes.
What's he like to ride?
He is 10, and he rides a little bit hot. He's a little bit strong to the jumps, but he has a really good attitude and he's very brave. He's a horse that I think has been to a lot of different places and jumped in a lot of classes, which I think is great.
He seems to go a little bit his way, with his head up and a forward momentum. I've always liked horses that carried their own rhythm, so I hope we get along well.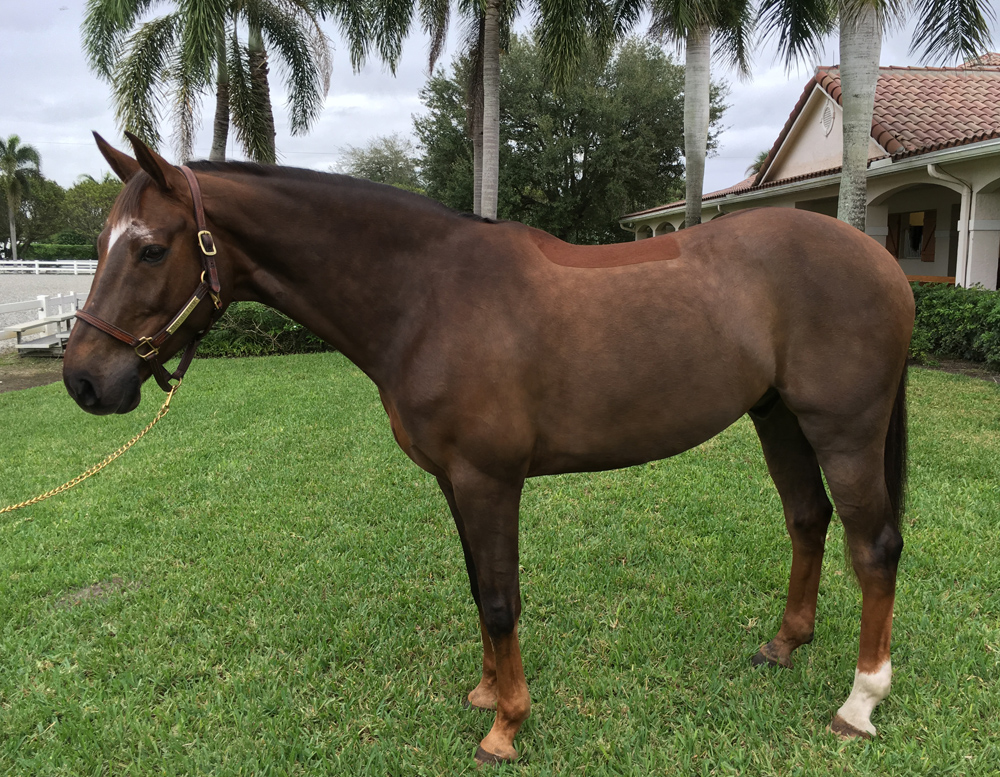 Dougie Douglas in his new Wellington, Fla., home. Photo courtesy of Katie Dinan
Are you aiming for the 2016 Rio Olympic Games with him?
Not necessarily. I'll have to see what happens in Florida and try to develop our relationship, but also with the aim of being competitive.
I'm hoping that Nougat du Vallet will be back competing in Florida and I also have Amaretto d'Arco, so I think with that group I'll have a really good team of horses that have experience.
What's been going on with Nougat du Vallet?
He had a small injury in Febuary. We really took our time bringing him back and we'll make sure he's really ready to go. He's so special and important to me that I wanted to make sure that he was given as much time as he needed.
He jumped in a small class at the Holiday & Horses show [Fla., in late November], and that was definitely the highlight of my Thanksgiving. I'm hoping that with some luck, he'll be back in action for WEF.
You're a senior at Harvard University this year. What's your schedule like?
Beat [Mändli] is in Florida with the horses now. I'll start showing in January, because I have exams at school for the next few weeks. I'm trying hard to balance everything, knowing it's my last year. It's a little bit of a down time for the horses, and then we'll start the first week of January.
I always think it's nice to start with a new horse at the beginning of the year, but it's also a great place to start with them in Florida, because you're not going back and forth to shows and everything's in the same place. There are so many different levels of classes you can do, so it gives you a great opportunity to get in the ring consistently.