Wellington, Fla. – Feb. 21
"He's had a lot of experience on big grass fields, so it was always my plan to jump him in [this class]. I couldn't have hoped for it to have gone better. He loved being out there."
Katie Dinan and her 11-year-old Irish Sport Horse gelding Dougie Douglas (ARD VDL Douglas – Neills Girl, High Roller) earned their first grand prix victory together as a team in the $50,000 WEF 6 Grand Prix Sunday afternoon on the derby field at the Palm Beach International Equestrian Center's Stadium. Dougie Douglas, imported just last fall, proved his affinity for the grass course by happily bounding along through two easy-looking clear rounds. Harrie Smolders and Aiyetoro were second, and Wilton Porter and longtime mount Patriot finished third.
"He's very brave," Dinan said of Dougie Douglas. "He's jumped in a lot of big grass arenas, so to ride a horse that has experience on grass obviously makes the job of the rider a little bit easier."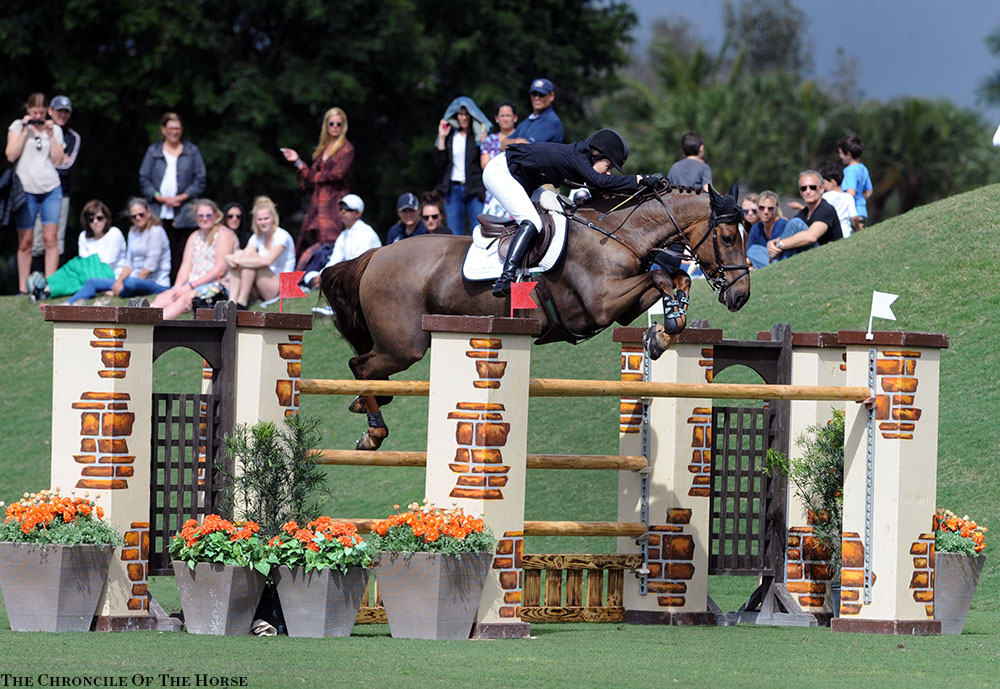 Katie Dinan and Dougie Douglas
Dinan purchased "Dougie" from English rider Holly Gillott at the Goresbridge Supreme Sale of Show Jumpers auction (Ireland) in November; the horse arrived in Florida at Dinan's Staysail Farm soon thereafter and has been acclimating to Dinan's program. The two began competing together in January and are building a strong partnership.
"I must say, [Gillott] did an unbelievable job producing him, because he's a joy to ride and seems to love show jumping as much as I do," Dinan said.
"So far, he's been great," she added. "I'm just going to keep learning about him. I feel lucky to have a horse like that who wants to do the job and really wants to please the rider and seems to enjoy doing it. Of course, I haven't had him for that long, and as we keep jumping – hopefully bigger classes – we'll have a lot of things to keep figuring out."
In a compact field of 20 competitors, only the top three jumped Richard Jeffery's course cleanly, continuing a weeklong stretch of limited clear efforts. Jeffery designed the courses throughout the week at the PBIEC Stadium, and in the WEF Challenge Cup, $130,000 CSI 3*** Grand Prix and the $50,000 WEF 6 Grand Prix, there were only 16 clear efforts from 134 total attempts.
On Sunday, while the class was not an official jumper derby as it was in years past, natural elements were incorporated, including a brush oxer, an open water, a white fence-like element and a tall hedge that caught many horses off-guard. Four riders did not complete the course; Josephina Nor Lantzman and Chello Z and Quentin Judge and HH Memphis both retired, while Kerry McCahill and Lacarolus were eliminated after two refusals at the first fence. Sarah Wayda and Faroukh were almost through the course until Wayda fell off after the combination at fences 12a and 12b.
But those with horses who had previous experiences competing in derbies or jumping on grass seemed to relish the change in scenery, while the hunters occupied the main International Ring across the street at WEF for WCHR Week.
"This class used to be a derby, and originally I was hoping it still was a derby, because I thought it would be a fun thing to do, but it was nice that they included the hedge jump and the water jump and the [fence] plank," Dinan said. "It made something a little different for the horses, and to diversify our winter a little bit is great."
Smolders was the first to navigate the course without fault, and he similarly sailed through the jump-off, stopping the timers in 41.772 seconds. But he then had a target on his back. Dinan rode the jump-off quickly and accurately, and she bested Smolders' time by more than two seconds (39.59 seconds). That put the pressure on Porter, but the 22-year-old, picking up the pace to catch Dinan, had a rail at the white fence-like element.
"There were only three in it, so I knew I was going to get a good ribbon no matter what," Dinan said. "It seemed like a good moment to try to be competitive. It was my first time trying to go fast with my horse, and he got really excited and really into. We had a lot of fun out there, and it was a really nice feeling."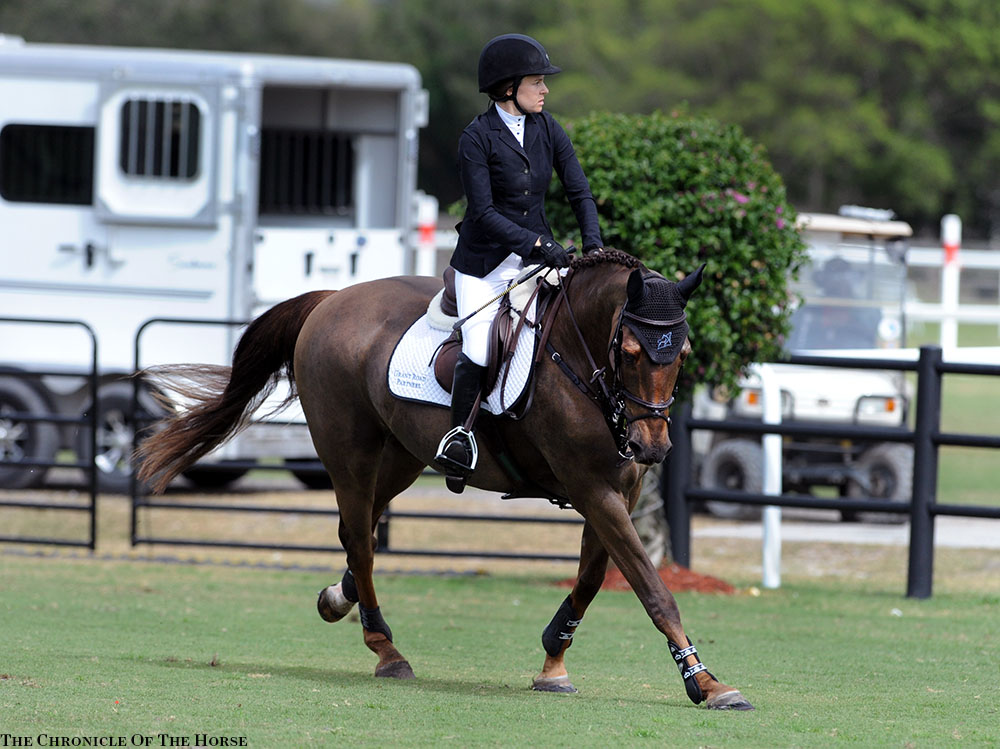 Dinan looks up at the scoreboard to check her jump-off time.
"This is the perfect class for Patriot, because these jumps impress him, and he's really fit right now," said Porter, who also finished third in Sunday morning's $25,000 Artisan Farms U25 Grand Prix with his other mount, Delinquent JX. "I let [Patriot] shift over those planks, and I think that's why I had it down. We were obviously trying to catch Katie's fast time, but overall I had a great day."
Dinan, a senior at Harvard University (Mass.) continues to juggle schoolwork and riding as she pursues a degree in regenerative biology. She is in her final semester; after she graduates, she will ride full-time.
"I'm trying to make the most of my last time at school, but I'm also looking forward to being able to ride more full-time afterwards," Dinan said. "I'm lucky to have a great team at the barn that's able to keep the horses going while I'm in and out. It'll be really nice come May when I'm not doing school and riding and just riding full-time."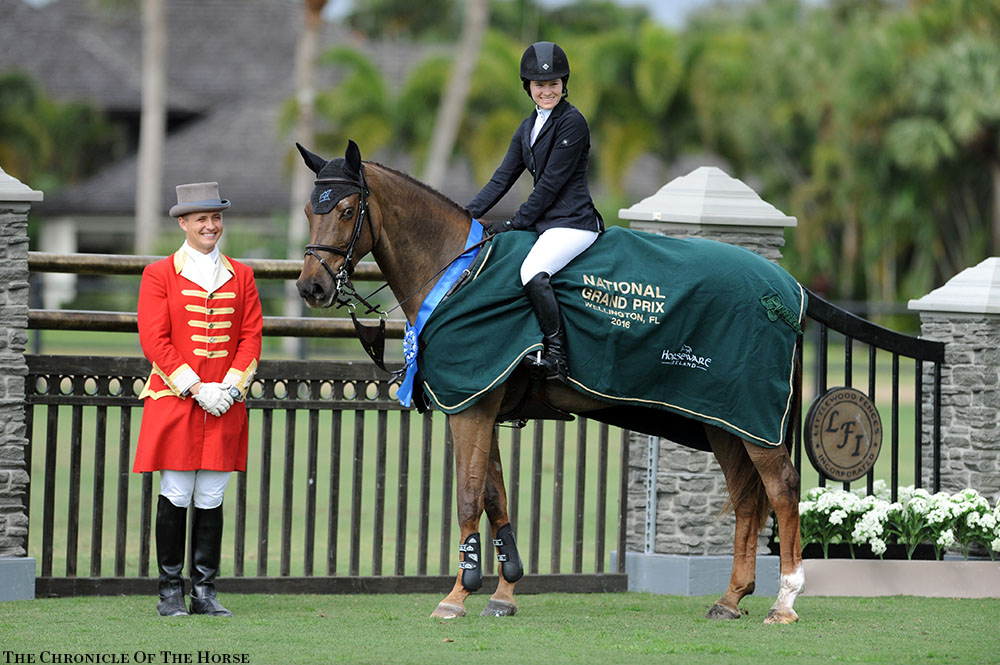 Katie Dinan and Dougie Douglas in their winner's presentation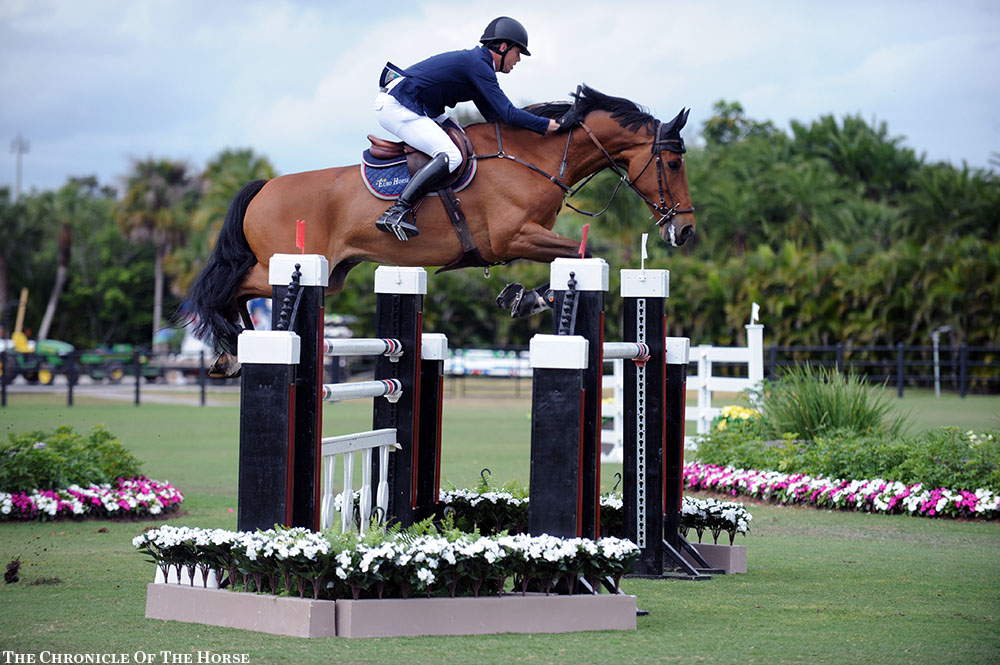 Runners-up Harrie Smolders and Aiyetoro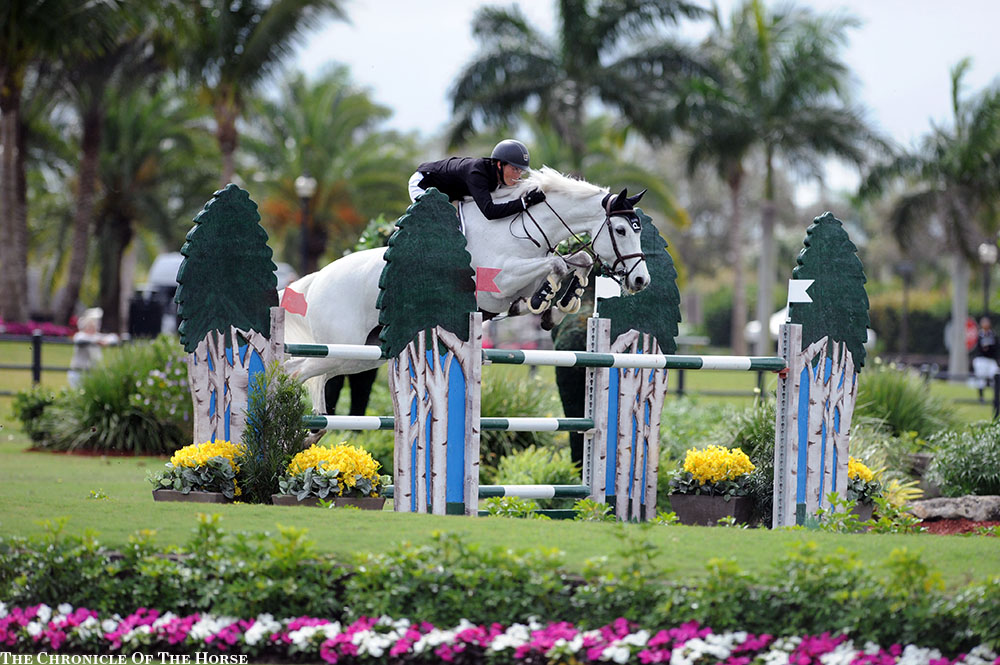 Wilton Porter and Patriot finished third.