Ears perked and knees hiked to his eyeballs, Big Shot effortlessly cleared each fence with Jenny Karazissis to claim the feature hunter class of the final week of the Desert Circuit in Thermal, California. As the elegant bay gamely tackled two rounds of the $100,000 West Coast Hunter Spectacular on March 19, he showed no sign that a year ago he was mystifying veterinarians with a baffling ongoing health problem.
Since they paired up in early 2017, Karazissis and Dulcie Lou Morris' Big Shot have made a habit of leading victory gallops. He topped the Stal Hendrix Green Futurity at HITS-On-The-Hudson (New York) in his first year transitioning from the dressage ring, and he earned the U.S. Equestrian Federation 3'6" Green Hunter, by Increment, Horse Of The Year award the next year. That's also the season that the Holsteiner (Lordanos—Ulana MCF, Corrado I) won two USHJA International Hunter Derbies and finished in the top 25 at the $256,640 Platinum Performance/USHJA International Hunter Derby Championship (Kentucky). Morris also started riding him to tricolors in the junior hunters that year, graduating into the amateur-owner divisions in 2020.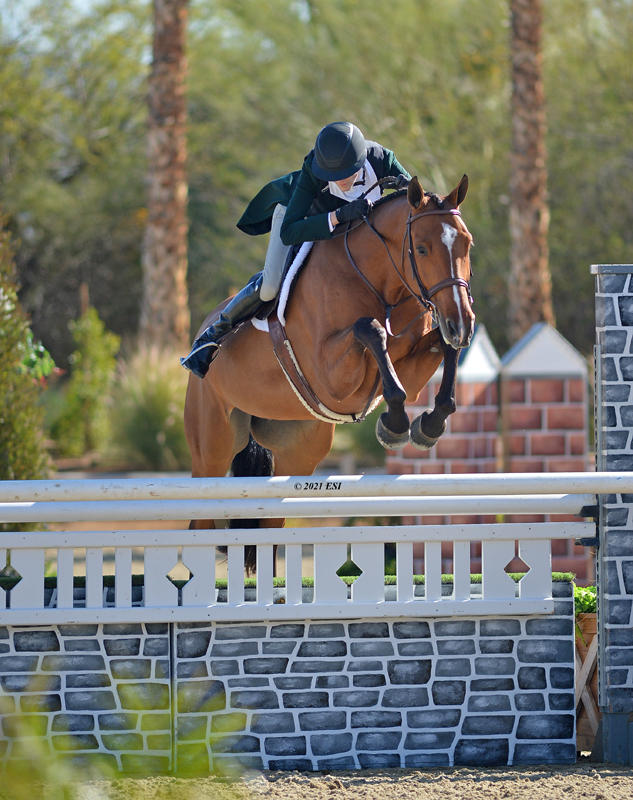 But throughout Big Shot's career, strange medical issues would crop up. One time, he wouldn't eat during the trip from the Karazissis family's Far West Farms base in Calabasas, California, to Thermal for the winter circuit. Jenny's husband, Kost Karazissis, who is the Far West Farms groundsman, took him straight to the hospital.
"He was there for three weeks with a fever, and he lost so much weight," recalled Morris. "He was shaking and sweating. We thought he might die. We thought he might have salmonella, but he was tested, and it wasn't that. They tested him for everything ever, and we never found out what it was. He got better, and we slowly brought him back.
"He ended up getting sick a couple of times, where he'd stop eating, and we would freak out," Morris continued. "We had an internal specialist look at him, but we never got a full picture. I think he's really sensitive to things. For example, when he went to Kentucky for [the USHJA International Derby Championship] he hates bugs, and he breaks out in hives easily."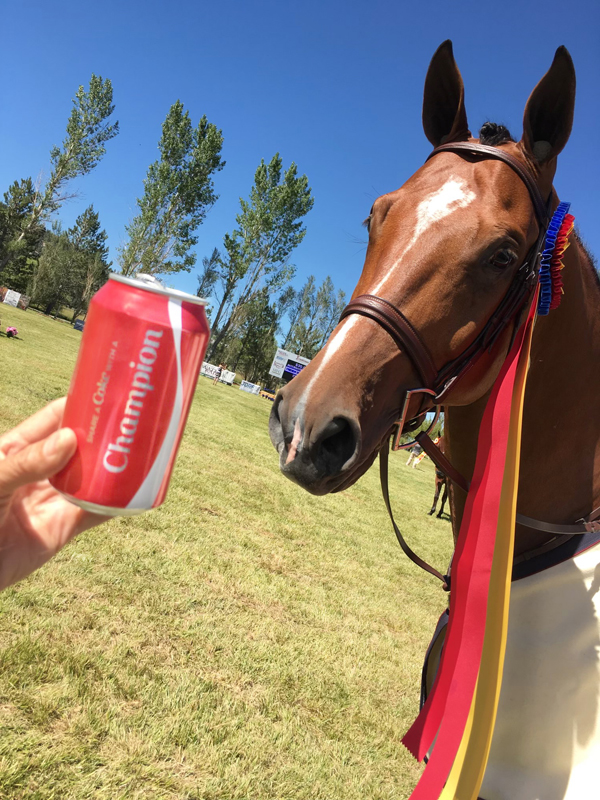 Morris said Big Shot's groom, Senobio Cruz, keeps a close eye on him, monitoring his temperature, checking to see if he's finished his food, and making sure he's feeling good.
In 2020, Big Shot and Jenny flew across the country to earn a fifth-placed finish at the WCHR Peter Wetherill Palm Beach Hunter Spectacular during the Winter Equestrian Festival (Florida). But when they got home, something seemed off.
"Dulcie was showing him, and he started to land in a cross-canter," said Jenny. "He wasn't unsound. We just had a hard time figuring it out."
They sent "Dude" for an extensive medical work-up, including an MRI, a bone scan and X-rays. The X-rays showed that Dude had lost significant bone density in both femurs, but no one was sure why.
The Far West Farms regular veterinarian, Christopher Smith, DVM, worked with Carter Judy, DVM, DACVS, of Alamo Pintado Equine Medical Center, and conferred with internal medicine specialist Tina Kemper DVM, DACVIM (LAIM).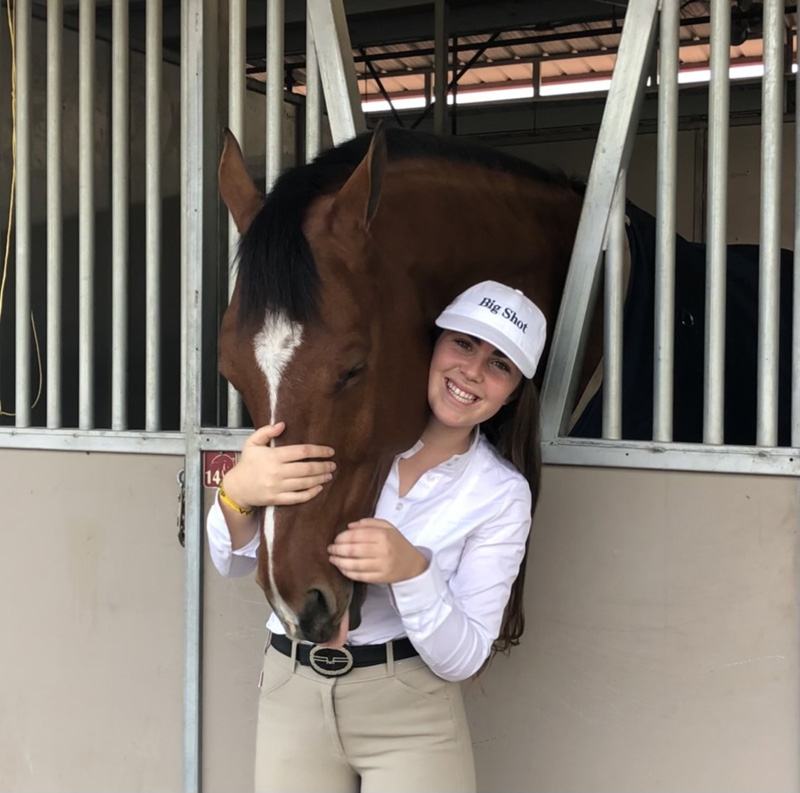 The team of specialists discovered that Dude's body wasn't absorbing calcium, which led to depletion of mineral from his bones. After consultation with equine nutritionist Olivia Martin, they added a bone supplement to Dude's meals and switched him to all alfalfa hay with no timothy and a low protein diet. At the veterinarians' suggestion, they also turned him out for additional hours so the sunlight would help his body make more Vitamin D, which helps with calcium absorption.
"For a hunter you're thinking, 'Oh my God, alfalfa,' " joked Jenny. "But he just blossomed immediately. So we continued to hack him and did little tiny cavaletti and gymnastic-type things. Finally the time came to re-X-ray him and see if it had improved. The vets were thrilled he had 40 percent bone density growth, so it was working."
Dude moved to nearby El Campeón Farms in Thousand Oaks, California, where Jenny and Kost's daughter, trainer Katrina Karazissis, is based. There the gelding could enjoy long days of turnout in their lush fields. Jenny drove over every day to ride him, often picking the brain of veteran barn manager and groom Tracey Edge, who worked for Hannah Selleck.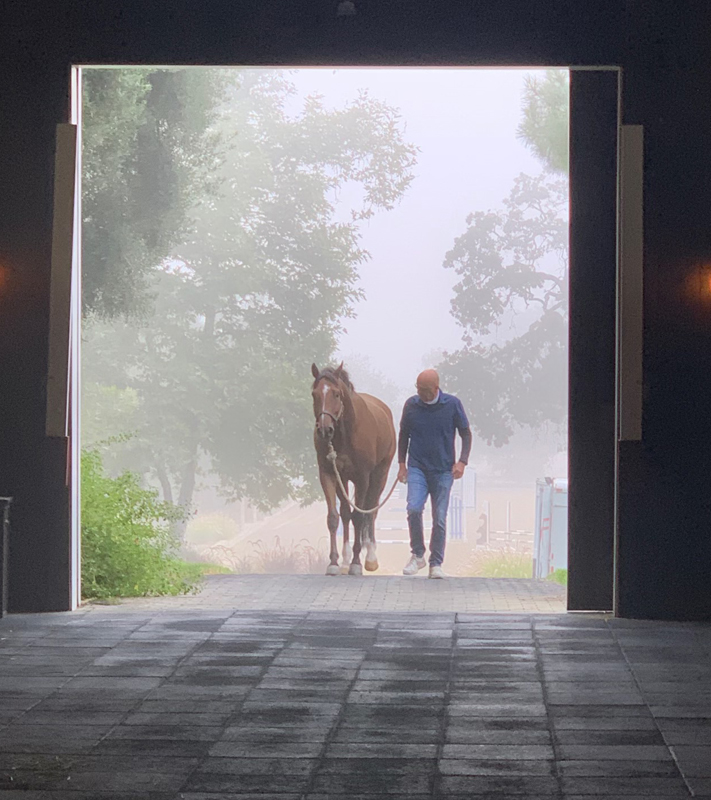 After taking a six-month break from the show ring and receiving the all-clear from his veterinary team, Dude reaffirmed his dominant position in the hunter world during the Desert Circuit VII (California), his third show back, when he won the $50,000 USHJA International Hunter Derby on March 12 in Thermal. Then he followed that up with victory in the biggest hunter class of the circuit in the $100,000 Spectacular.
"I'm so thankful," said Jenny. "I was obviously very concerned when the vets were like, 'I'm not sure why this is happening.' All these terrible things were going through my brain that it might continue to get worse, or he would never come back from it. Fortunately, he did. He's just an amazing horse."
---
Do you know a horse or rider who returned to the competition ring after what should have been a life-threatening or career-ending injury or illness? Email Kimberly at kloushin@coth.com with their story