If you're looking for Big Shot at a horse show, your best bet may be to stand near the winner's circle and keep an eye out for a handsome bay covered in ribbons. True to his name, Big Shot has been winning with top hunter rider Jenny Karazissis in the irons since his hunter debut in January 2017, where he was champion in the low hunters his first week of showing. Later that year he won the Stal Hendrix Green Futurity at HITS on the Hudson (New York) and placed 10th in the $500,000 Diamond Mills Hunter Prix.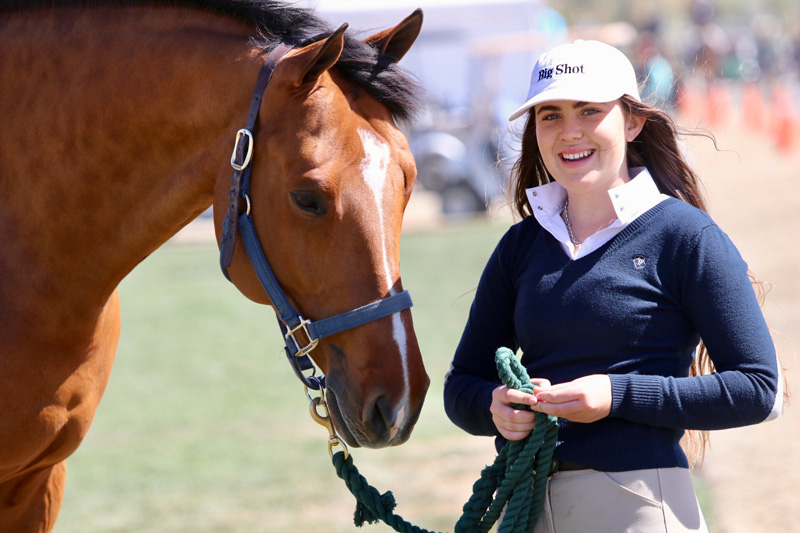 In 2018 Big Shot moved up to the 3'6" green hunter division and won enough classes and championships to be named the U.S. Equestrian Federation 3'6" Green Hunter Horse of the Year. He also began competing in USHJA International Hunter Derbies in 2018, earning reserve champion at the derby at Blenheim (California) in June, quickly followed by big wins in international derbies at Franktown Meadows (Nevada) and the Giant Steps Charity Horse Show (California). The 8-year-old gelding also does double duty in the junior hunter ring with owner Dulcie Lou Morris.
He's undoubtedly a big shot in the show ring, but behind the scenes he's just a simple dude always on the hunt for treats and human attention. We caught up with him and Morris for the inside scoop at HITS Coachella.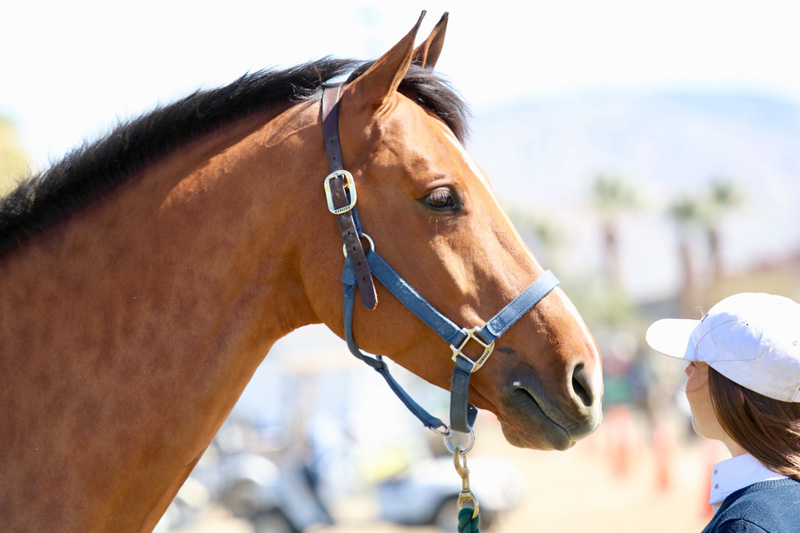 • The Holsteiner gelding by Lordanos out of Ulana MCF goes by "Dude." "His name was Lebowski, and I wanted to call him 'The Dude,' but that name was already taken by a horse Will Simpson was riding at the time," said Morris. "So it's just Dude."
Karazissis keeps a list of good show horse names, and she and Morris chose "Big Shot" together. "It just seemed to be a perfect fit for him," said Morris. With his impressive record and 17-hand stature, it seems like they made the right choice!
• Dude was originally imported from Germany to be a dressage horse, but when his owners realized he could jump, they sent him to Karazissis to try out at HITS Coachella. "He was so good right from the beginning," said Morris. "He was only 5 and very green to jumping, but Jenny saw his potential and thought he'd make a great junior hunter for me. We could just tell he was special."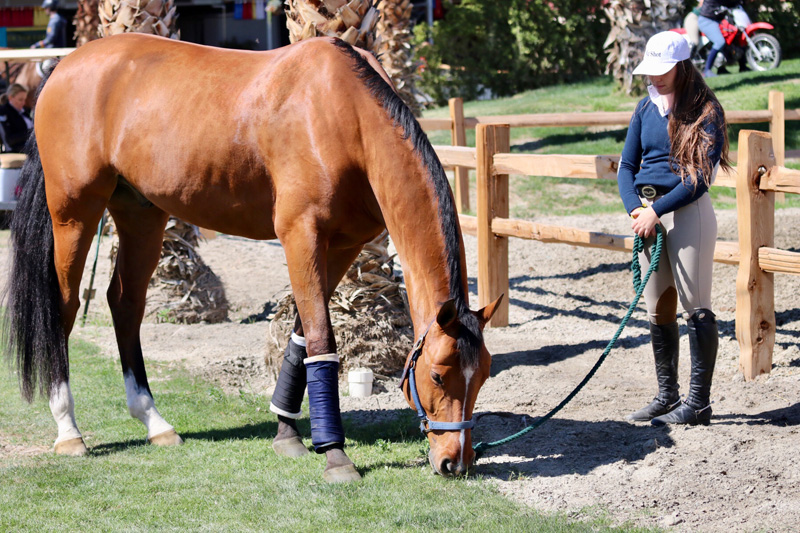 • Morris purchased him shortly after trying him and began sharing the ride with Karazissis. "Jenny and I are the only people who have ever jumped him, and the only distances he's ever missed are with me, since Jenny doesn't miss," said Morris with a laugh. "And he's such a good boy about it."
Morris has had considerable success aboard Dude, first in the children's hunter division and now in the junior hunter division. The pair won the 3'3" junior hunter championship as well as the junior hunter classic the week we met them at HITS Coachella.
• He's a straightforward ride, but he does not like to hit rails. "You just get him going, and once he settles into his rhythm the distances show up, and he's super sweet to ride," said Morris. "But he gets really upset and will kick out dramatically if he has a rail. It's the only bad thing he does, but I don't mind it because it shows he cares about his job and doesn't want to rub the fences."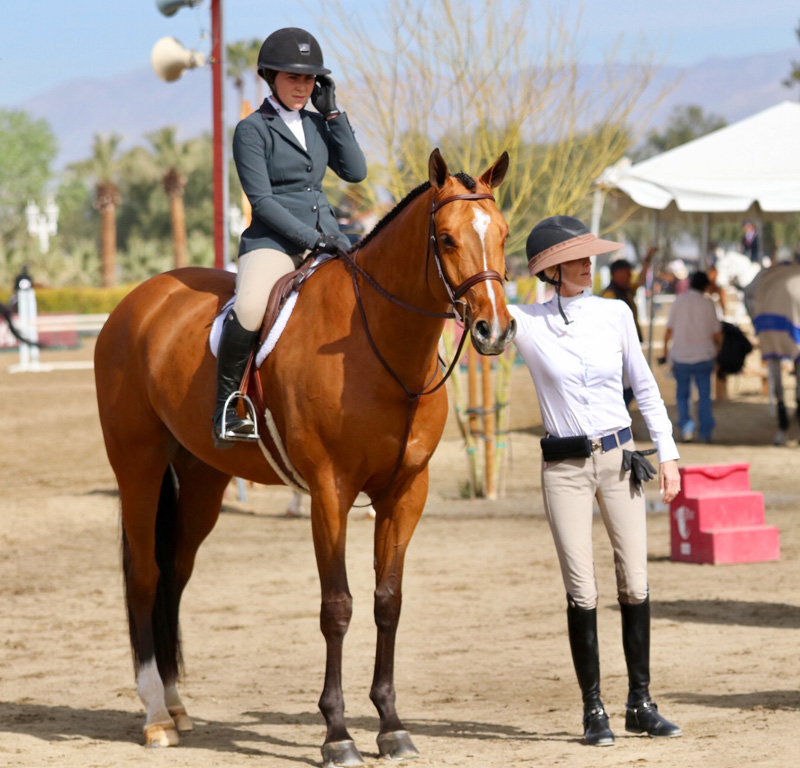 • Many show hunters are known to be lazy, but not Big Shot. "He has so much energy," said Morris. "He's always high, and you have to ride him for a while for him to calm down. He's just in such great shape, and he's still a baby."
• Dude is a real people horse. At home he has a stall close to all the action, and he loves getting attention. "While I'm getting ready he'll rummage through my tack trunk," said Morris. "He just wants to be involved. He's more of a big pet than anything else."
• One thing Big Shot doesn't love? Standing still and posing for photos. He'd rather be doing something more interesting, like walking, grazing or checking out the competition. He also has a history of shying away from the winner's circle, but after enough wins, now he'll go in for a photo as long as you make it quick.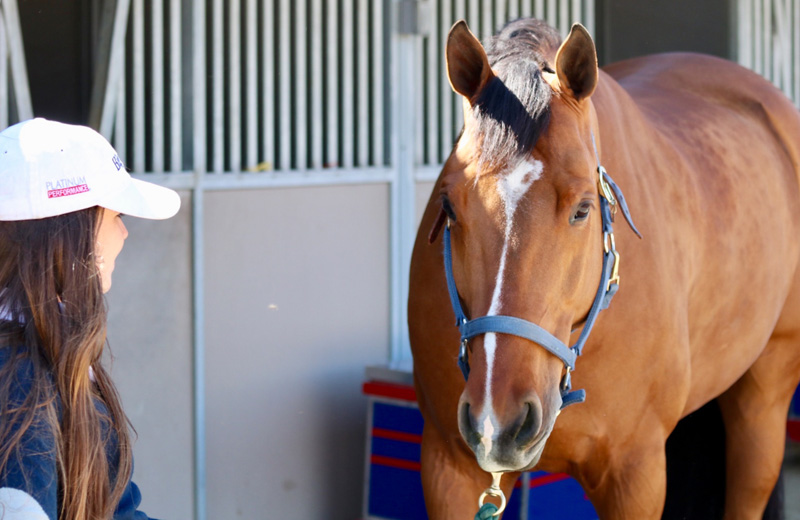 • Food is very important to him—maybe a little too important! "Jenny gives all the horses mints after their rounds, but Dude got way too excited about it and would act like he was going to bite her hand off," said Morris. "He's better now, but for a while she was actually afraid to give him a mint. He was like a shark."
• Big Shot started 2019 off with a big bang, winning several 3'9" green hunter championships at HITS Coachella and taking home the overall circuit championship. "He's got so much ahead of him; it's just really exciting," said Morris.
Be sure to check out the March 25 & April 1 print edition of the Chronicle! It's our annual Horse Show Issue, and it's packed with photos and features on the 2018 USEF Horse of the Year winners, plus much more.