Saugerties, N.Y.—Sept. 9
Jenny Karazissis's initial plan for Big Shot was simple—campaign him at HITS Thermal (Calif.) as a sales prospect. The execution though came out a shade differently.
After Buffy and Rick Oas tested the jumping wheels on the former dressage horse, they contacted Karazissis, knowing that his talent leaned more to snappy hunter knees than pirouettes. With an owner wanting to sell the 6-year-old Holsteiner gelding (Lordanos—Ulana MCF), it seemed natural that Karazissis would take him to Thermal, sell him and continue the horse industry's circle of life. But then "Dude" (inspired by his former registered name Lebowski) proved too hard to let go completely.
"I brought him to Thermal and he was just fantastic—champion the first time out," said Karazissis, of Calabasas, Calif. "So I got panicky because I knew he was going to sell quickly. So I called [someone in my barn] and I said, 'Would you be interested in buying this horse as an investment for your daughter. He's not ready yet but…" and they said 'Yes.' "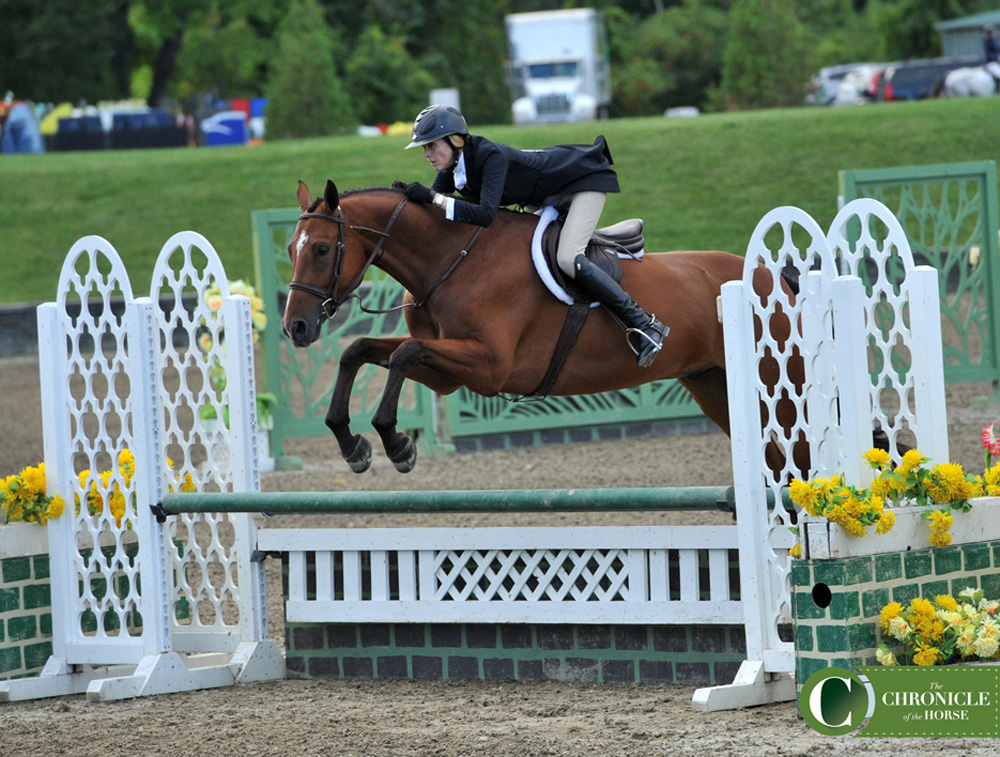 While fulfilling her promise to sell, but in a way that she didn't involve goodbyes, Karazissis embraced the year to compete the bay gelding in the 3'3″ green hunters.
"He's got a great brain," said Karazissis. "He's very curious and brave. He's just got all the qualities you want in a hunter."
Dude proved her right by taking home the top prize in the Stal Hendrix Green Hunter Futurity at HITS-On-The-Hudson's championship week. After the judges scored the 25 returning youngsters in the third round of the class, Karazissis sat in second behind Samantha Schaefer and Trademark. But with a pristine final round against the top four competitors, Karazissis swept up an 89 score and the blue ribbon.
"Starting off you just kind of want to give him an idea and not scare the horse," she said of working with her large future hunter star. "But he did the 3′ the first week [at Thermal] and then I knew he was ready to move up to 3'3″ and he handled it just fine. I imagine he's going to be a really good [USHJA International Hunter Derby horse] as well.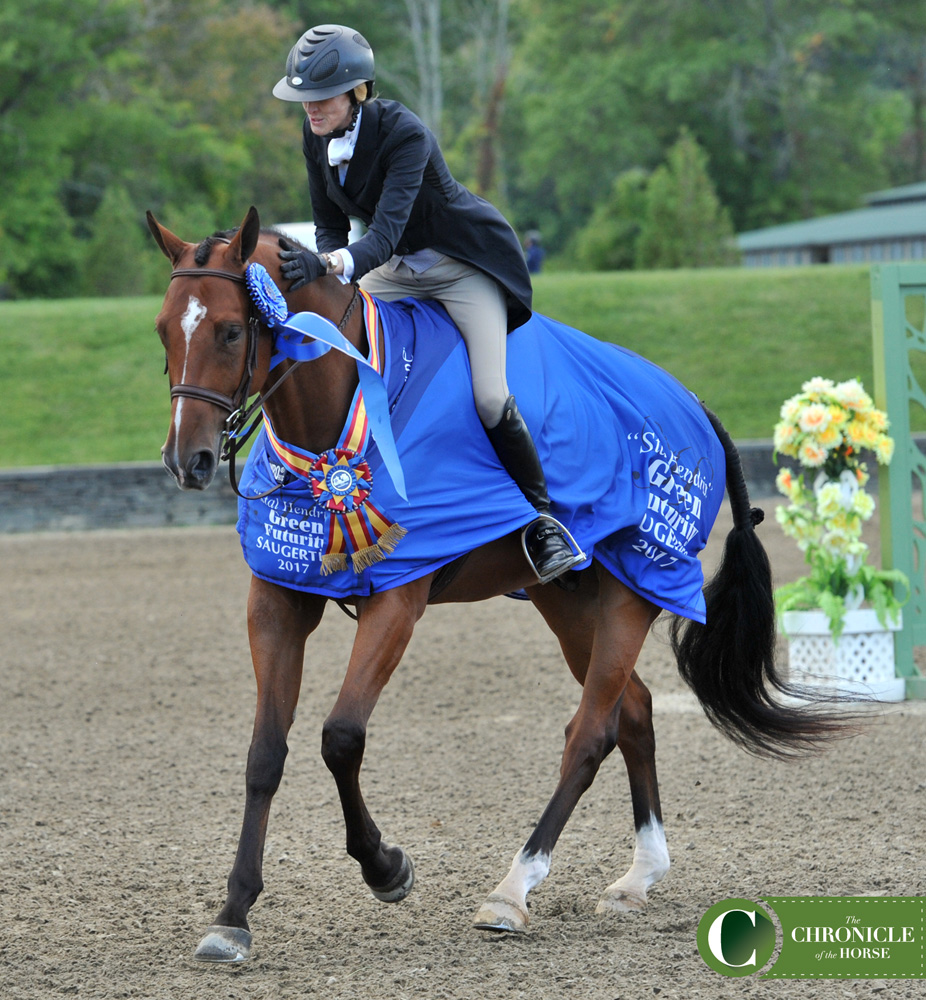 "It's just been so much fun," she continued. "We did go to Kentucky [for the USHJA Green Hunter Incentive] and he learned a lot there. He was a little green."
But with a few weeks staying on the East Coast at Glenview Stables, Dude has shown no "little baby green mistakes" in Saugerties, also standing in fifth overall in the Diamond Mills $500,000 Hunter Prix Final after the second round.
"I could not be more pleased," Karazissis said. "He's just very special."
Check back tomorrow for our coverage on the Platinum Performance $100,000 Hunter Prix Final, Diamond Mills $500,000 Hunter Prix Final, Black Barn $250,000 Junior/Amateur-Owner Jumper Prix and the Saugerties $1 Million Grand Prix. For more results, click here.