In honor of HH Azur and McLain Ward's victory Sunday in the Rolex Grand Prix 's-Hertogenbosch (the Netherlands), which puts the pair two-thirds of the way toward clinching a Rolex Grand Slam for winning three consecutive Rolex majors (they also won the Rolex Grand Prix of Geneva in December; Aachen in July is next), we are revisiting this article, originally published in 2017, about HH Azur's early years with her breeders and trainers in Belgium.
---
Just how did super-mare HH Azur find her way to McLain Ward? We found out from her breeder, Nathalie Beaufort of Belgium.
Ward and the amazing mare just won the Longines FEI World Cup Jumping Final (read all about it in the Chronicle's coverage). Earlier this year, in the Feb. 6 American Horses In Sport issue of The Chronicle of the Horse, we named her our Show Jumping Horse of the Year. And in the process of writing that article, we decided to find out a bit more about her, so we contacted Beaufort at her small family stud farm, Garden's Horses, in Pervijze, Belgium. Beaufort is married to Brazilian show jumper Pedro Nolasco, who gave HH Azur her start in the ring.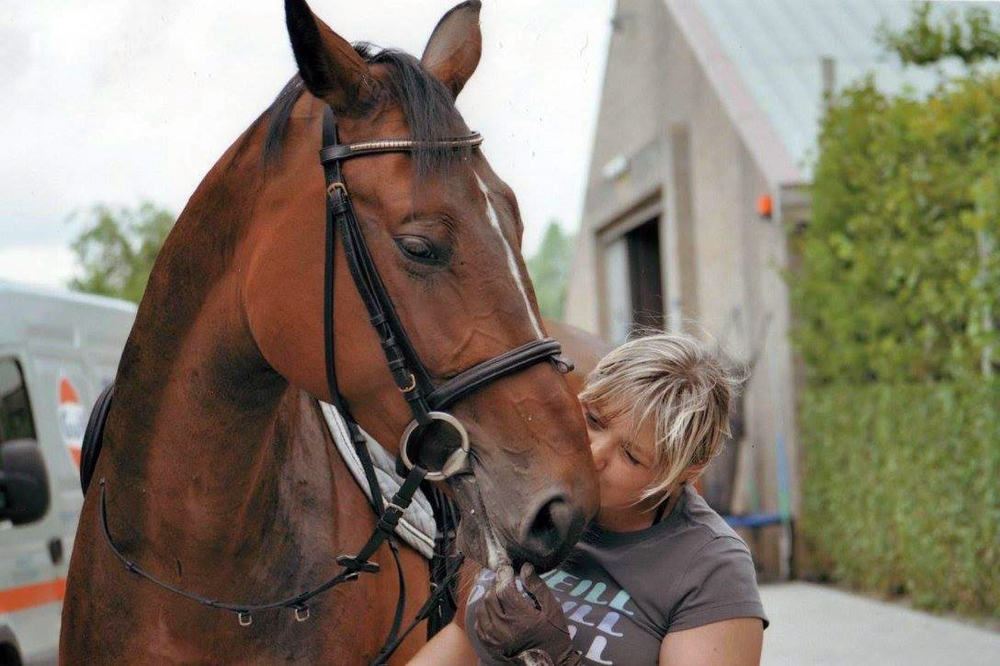 HH Azur's name was originally Azur Garden's Horses, and she was out of a mare Nolasco showed a bit, Sion van de Zuuthoeve. Her sire, Thunder van de Zuuthoeve, was an Argentinus son who stood at Zuuthoeve in Lier, Belgium. Thunder van de Zuuthoeve was a promising young performance stallion with rider Jan van Djick, but he sustained a severe tendon injury in 2008 at age 12. He was euthanized in 2015.
HH Azur was born in 2006 and showed with Nolasco up to the 1.35-meter level until 2013. Beaufort and Nolasco sold Azur to François Mathy in 2014, and Diego Perez Bilbao showed her for two months at the end of 2014 up to the 1.45-meter level. Double H Farm purchased a half-share in her with Mathy in Jaunary 2015, and Ward took over the ride, eventually ending up with team silver in the 2016 Rio Olympic Games.
Here's what Beaufort recalled of Azur's early days:
HH Azur was born from an embryo transfer. Her mom, a mare that Pedro rode for a few years and who achieved with him good performances at show jumping, was at first destined for dressage.
By sheer chance we chose, as father to our future foal, the stallion Thunder van de Zuuthoeve, son of Argentinus. This was because insemination with our first choice, Argentinus, wasn't possible. Thunder van de Zuuthoeve was available directly with fresh semen. At the time, he was not well known, but we thought he had many good qualities.
When Azur was born, she was already special, and her gallop as a filly attracted Pedro's attention. He said she had a unique gait, and that her balance and flexibility was out of the ordinary.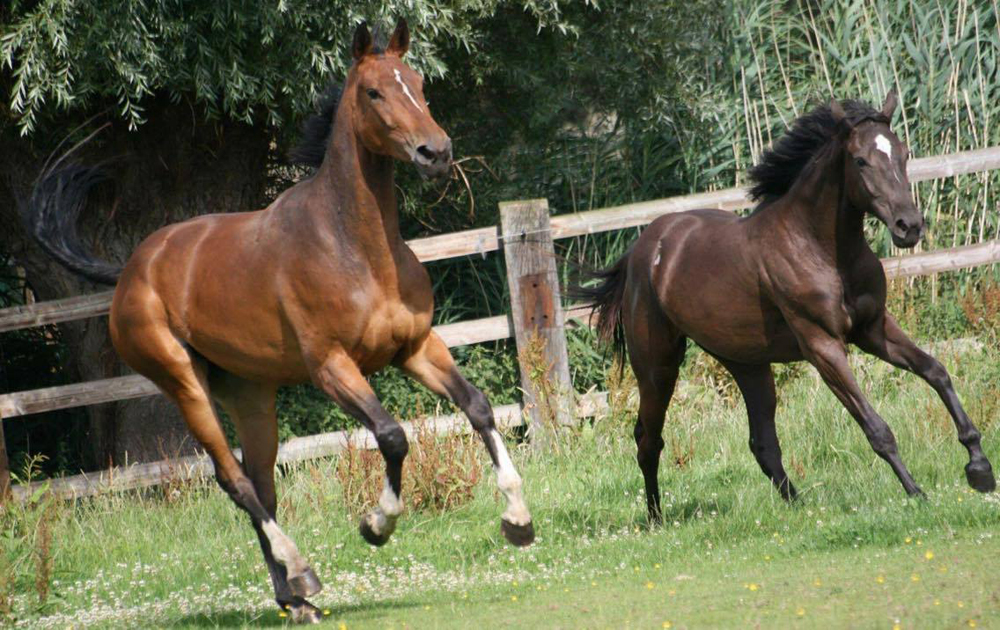 When she was a 3-year-old, we made the decision to break her in. What a phenomenon! Her capacity to understand what Pedro was asking her to do was completely incredible. That was when Pedro realized what an exceptional mare he had in front of him.
This was when he decided to set up a long-term program for her. His calculation was simple: Work Azur at age 4 with a calm and educational manner; at age 5 she would compete only in a few shows, no stressful circuit, just good tracks to give her some confidence and experience.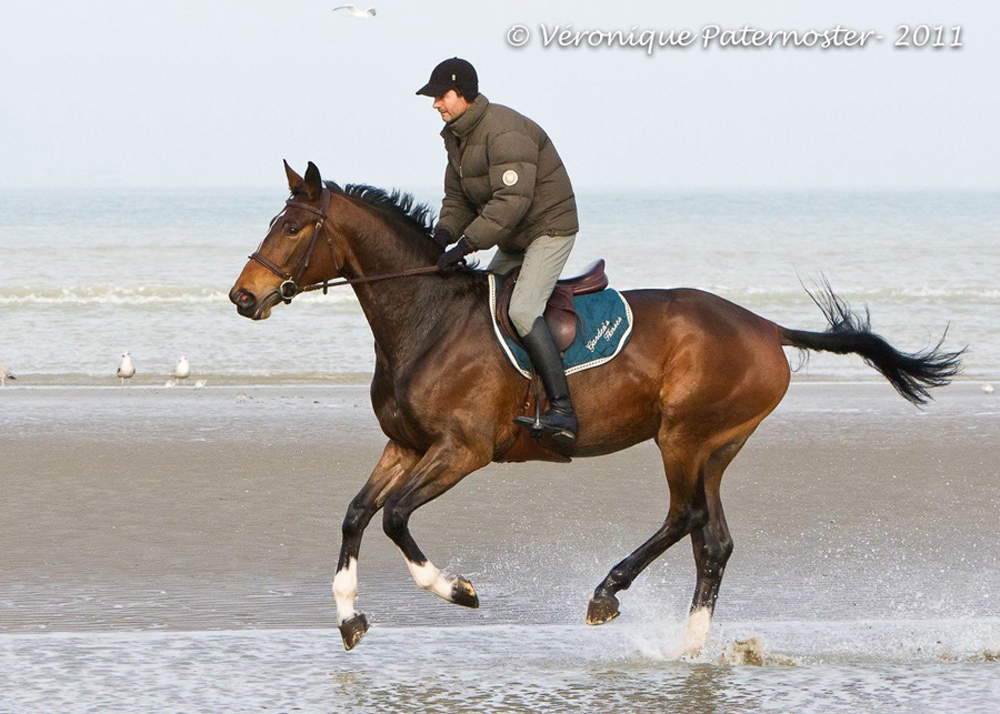 At age 6, she started competing in a few international shows, always focusing on quality tracks and not the prizes. For Pedro, the reward would come through the development and maturity Azur could achieve. Education was his priority—to keep her in good physical and mental form.
At age 7, she did a few national and international shows with Pedro. The more we advanced in our work, the more we were certain that Azur was unlike any other horse. Pedro had never had a mare like this. He was in total awe of her.
Nolasco and Azur competing at 1.40-meter in 2013:
Once she turned 8 years old, we were certain that in order for Azur to continue developing and achieving the excellence she was capable of, she would need an infrastructure with the financial means we could not provide. That is when we came to the hard decision of selling her.
Today, she is our pride. Our princess became a queen through the riding excellence of her rider. She will always be, no matter what, our daughter, our mare. We are proud of our grand dame.