McLain Ward is choosy about where he takes his 16-year-old star HH Azur these days. He saves her for the biggest shows, and when she does set a hoof into the arena, the pair always play to win.
In Sunday's $1.28 million Rolex Grand Prix CSI5* at CHI Geneva (Switzerland), Ward and "Annie" were one of 13 pairs from the 40 starters to make it to the jump-off over Swiss designer Gérard Lachat's first-round track. Other top names going through to the second round included Ben Maher (Great Britain), Daniel Deusser and Andre Thieme (Germany), Shane Sweetnam (Ireland) and 2019 and 2021 back-to-back winner and hometown hero Martin Fuchs (Switzerland).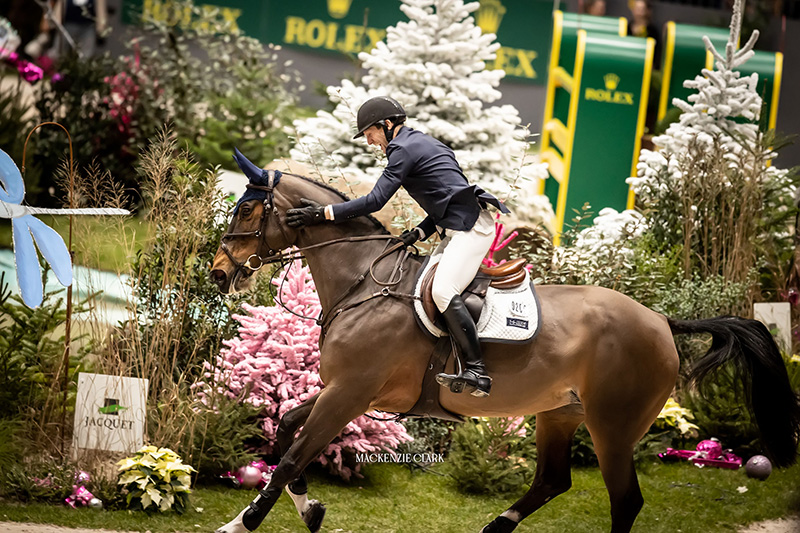 Deusser, who was chasing his third win at a major of the Rolex Grand Slam of Show Jumping this year, jumped in the middle of the field to produce a clean, quick effort of 42.58 seconds with Scuderia 1918 Tobago Z. But it wasn't fast enough.
U.S.-based Sweetnam, the eventual third-place finisher aboard James Kann Cruz, was cheered on by his entire team to a time of 40.48 seconds. Then the stands started to rumble as Fuchs, who formally retired his 2019 winner Clooney 51 in a ceremony before the class started, entered the arena on his 2021 winner Leone Jei, like gladiators in Roman times. "Allez!" the Swiss shouted to the gray horse as he jumped around to produce the first sub-40-second time of the day, 39.77 seconds.
After that, only two riders remained. Daniel Bluman dropped a rail at the double, leaving only Ward and HH Azur between Fuchs and a three-peat at CHI Geneva.
Ward and the Belgian Sport Horse mare (Thunder VD Zuuthoeve—Sion VD Zuuthoeve, Sir Lui VD Zuuthoeve) managed to shave more than a second off Fuchs' time, stopping the clocks in 38.43 seconds.
The victory was very emotional for the American, who came to Geneva for the first time 30 years ago.
"This is something very special for me. François Mathy, who discovered HH Azur and is [one of her owners] was here to witness this success; he is like a father to me," Ward said, adding as he looked to the sky, "and I also think of mine watching me from up there.
"I am very touched," he continued. "Geneva is one of the tournaments I dreamed of as a child, and now I could finally prevail here. A big 'merci' to the best audience in the world."
Ward is the third U.S. rider to win the prestigious Rolex Grand Prix at CHI Geneva in its 31-year history, following in the hoofprints of Katie Monahan Prudent and Belladonna (1997) and Kent Farrington and Gazelle (2017).
Calling Annie "a true queen," Ward thanked the mare and shared his post-show plans:
"Now I will enjoy my well-deserved holiday and celebrate Christmas with my two daughters with the family."
Watch Ward's winning jump-off round, courtesy of USEF Network:
Click here for complete results.