McLain Ward is two-thirds of the way to winning the Rolex Grand Slam of Show Jumping after topping the Rolex Grand Prix 's-Hertogenbosch Sunday. He rode HH Azur, the same horse with whom he won the Rolex Grand Prix of Geneva in December.
From a field of 35 starters Ward and "Annie" qualified for a 16-horse jump-off over Louis Konickx's course at the Dutch Masters that included the four top-ranked riders in the world—himself (No. 4), Julien Epaillard of France (No. 3), Martin Fuchs of Switzerland (No. 2) and Henrik von Eckermann of Sweden (No. 1).
Reigning world champions von Eckermann and King Edward set the standard for the jump-off with a fast clear in a time of 38.52 seconds, only to see Epaillard and Donatello D'Auge quickly better them by 0.46 seconds.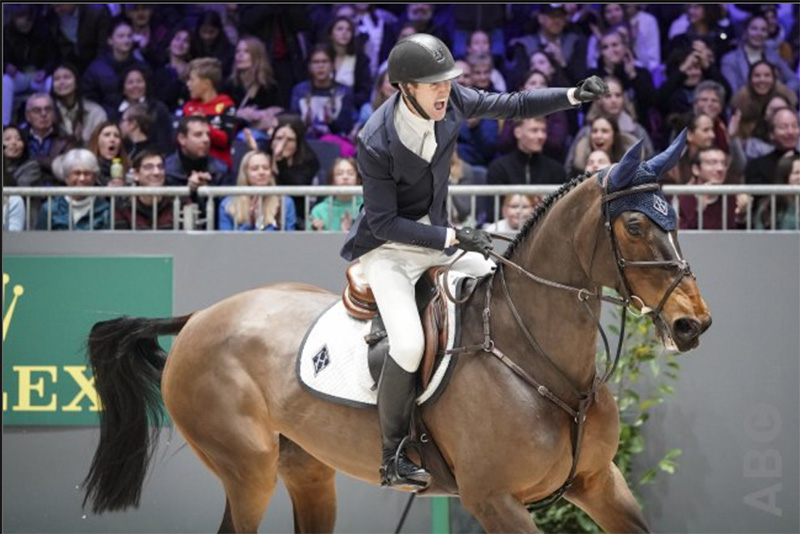 Ward, with eyes on him as the singular "live" Rolex Grand Slam contender in the field, turned in the first sub-38 round of the day, stopping the clocks at 37.86 seconds. But going fourth in the jump-off meant waiting for a dozen more horses to see if that time would hold.
It did.
Only France's Simon Delestre could beat his pace, finishing 0.08 seconds faster, but he brought down the final Rolex oxer to fall to 10th place overall.
"I don't think it has quite sunk in yet," Ward said after the win. "It was lot of stress having to watch the remaining 12 riders in the jump-off. The level here is so high, and I think later tonight I will realize what we have achieved."
"I am so proud of my team and my horse—and a little proud of myself," he added.
Any rider who wins three of the four Grand Slam major grand prix competitions—Aachen (Germany), Spruce Meadows (Canada), CHI Geneva (Switzerland) and 's-Hertogenbosch (the Netherlands)—consecutively will earn a 1 million euro bonus on top of the show's prize money. Ward is now one competition away from that prize, should he also win the Rolex Grand Prix of Aachen on July 2.
He confirmed Sunday that he will aim Annie toward Aachen this summer while sharing his admiration for the 17-year-old Belgian Sport Horse (Thunder VD Zuuthoeve—Sion VD Zuuthoeve, Sir Lui VD Zuuthoeve), who he owns with Double H Farm.
"She is smarter than everybody else and is truly a queen," he said. "I think she understands what is happening and really rises to the moment. She loves her job and the partnership that we have created is truly so special. We will now aim her for CHIO Aachen to try and win the Rolex Grand Slam of Show Jumping."
Click here for full results.
Watch Ward and Annie's winning jump-off round, courtesy of ClipMyHorse.TV: