Wayne, Ill.—Aug. 24
Endel Ots experienced every horse owner's worst nightmare when Lucky Strike had an accident in the trailer on the way to the Pan American Games (Peru) at the end of July.
Ots, 34, was set to make his U.S. team championship debut, and in an instant, the opportunity he'd been working towards for years was gone.
His first thought was toward "Lucky," his partner of six years. Thankfully the 9-year-old Hanoverian gelding (Lord Laurie—Heidi, His Highness) only sustained superficial wounds that required some stitches when the butt bar in the shipper's trailer failed, but it still meant he wouldn't be traveling to Peru.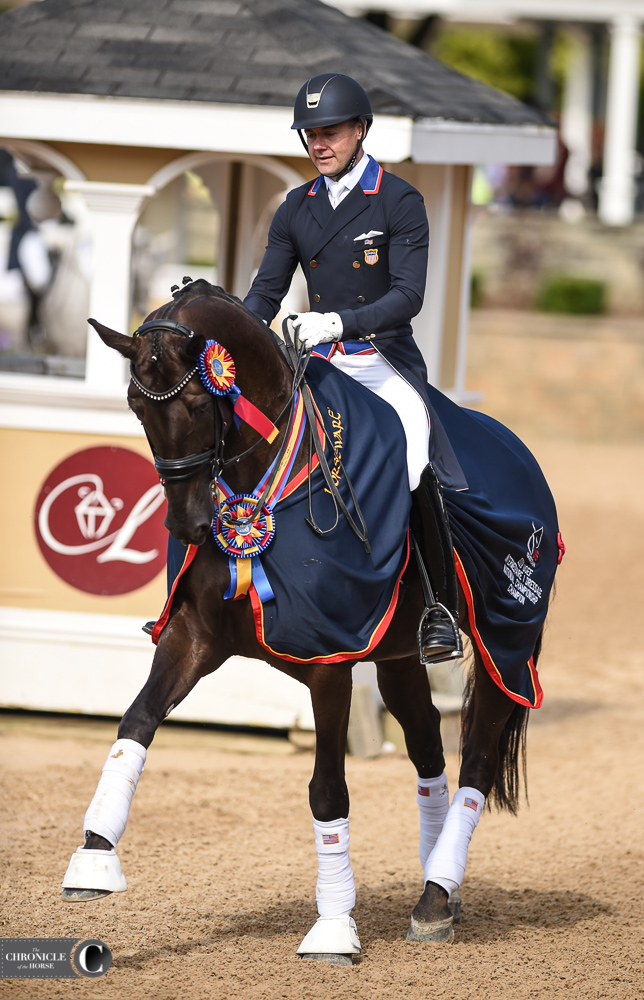 After two weeks of rest and then a slow build-up back into work, Ots felt Lucky was fit enough for Plan B—to make the trip to the U.S. Dressage Festival Of Champions—and they brought home the Intermediaire I championship today after winning the freestyle (74.81 percent). Ots and Lucky won the Developing Prix St. Georges championship last year and have worked their way through the young horse ranks together.
"It's been wonderful; a great way to end the year," said Ots, Wellington, Florida. "It was going super well and had the little setback, so it just really means a lot. My dad [Max Ots] lives close by, and to have him come here and be able to see it, it's been a wonderful journey from the beginning until now and moving forward. To come here for the 4-year-olds and 5-year-olds and 6-year-olds and the developing [Prix St. Georges]; it's just wonderful. A dream come true."
Watch Endel's winning freestyle via USEF Network.
Endel's freestyle was "Mad Men" themed with some Frank Sinatra sprinkled in.
"I named the horse after the Lucky Strike cigarettes from the 'Mad Men' TV show," he said. "I've ridden it a couple of times. It was a good ride. I was just trying to keep everything nice and clean and easy. With all the stuff happening I haven't really been able to focus on the freestyle. I wanted to revamp it a little bit before Pan Ams, but I thought I really wanted the focus for the Pan Ams to be on the Prix St. Georges and the [Intermediaire I] and try to help go for the team medal."
Endel's been through a rollercoaster of emotions since losing his chance at the Pan Ams, but he said he just tries to look ahead to the next goal with tunnel vision.
"I'm pretty good at setting a boundary of, 'OK, I'm going to feel really sorry for myself for a little bit of time,' but then I like to really focus on goals and really kind of focus on what's the next step and where to go," he said. "It helps me to not look backwards. Right when it happened, I wanted to make sure he was OK, and there was nothing serious, just superficial things. I was very thankful with that. I felt pretty bad for 24 hours, then I was like, 'OK, now back to work.' I love Lamplight, and I love coming here and seeing my friends from all over. It's really just a great experience and so fun."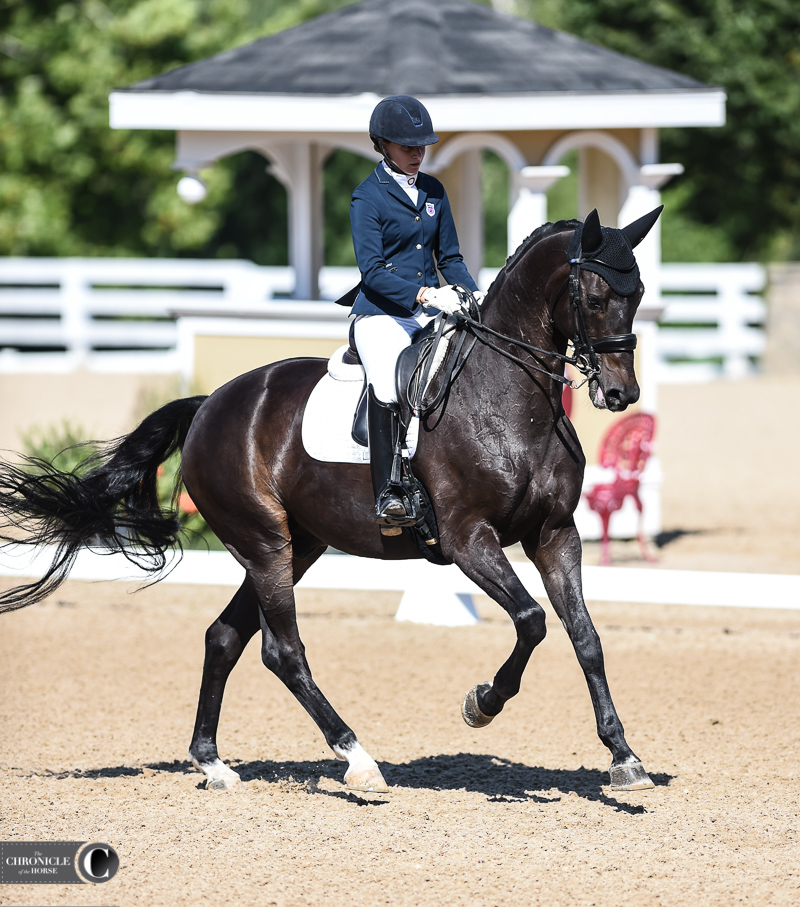 Jori Dupell has competed in the pony division at the Festival Of Champions, but this year she moved up to the junior division and swept it with Fiderprinz 2, winning both the team (69.94 percent) and individual (72.05 percent) tests for the overall win.
Dupell's coming off of a team gold medal at the North American Youth Championships (New York). "It's really rewarding to work so hard all season with the horse and continue progressing all season, and then coming here and having a personal best was just truly amazing," she said. "For me it was the best he's ever gone in that test. He went down the centerline, and he halted and was like, 'This is fine. We can do this.' And I was like, 'Awesome!' He was just really with me the entire time. I can't really fault him for anything. If there were any issues, they were probably mine."
Dupell, 18, Wilsonville, Oregon, is aging out of the juniors, so she'll look ahead to the young rider division with the 10-year-old Oldenburg gelding (Fidertanz 2—Pamina, Prinz Oldenburg), who she's been riding for a year and a half.
"He's really, really special, but he has his own opinions," she said. "If I don't ask how he wants to be asked, then rightfully so he says, 'No.' Today he just kept saying, 'Yes,' and I'm so happy with him."
Watch Dupell's test via USEF Network.
Miss any of our coverage? Click here.
For full results, click here.
For the schedule, click here.
USEF is live streaming the event, and tests are available on-demand here.
We'll have much more from the Lamplight Equestrian Center in our Sept. 23 print edition!

2019 Festival Of Champions - Saturday
Lindsay Berreth / Aug 24, 2019 5:32 pm