Lucky Strike will work for candy—any kind of candy. With a penchant for peppermints, "Lucky" also longs for licorice, but breath mints are a sought-after treat too. Not only does the 9-year-old Hanoverian gelding (Lord Laurie—Heidi, His Highness) owned by Max Ots and ridden by his son, Endel Ots, have a sweet tooth, he likes his groceries in any form. In fact, his love of food is one of the reasons he enjoys horse shows.
"He has more food there and always gains weight at a show," said Endel with a laugh.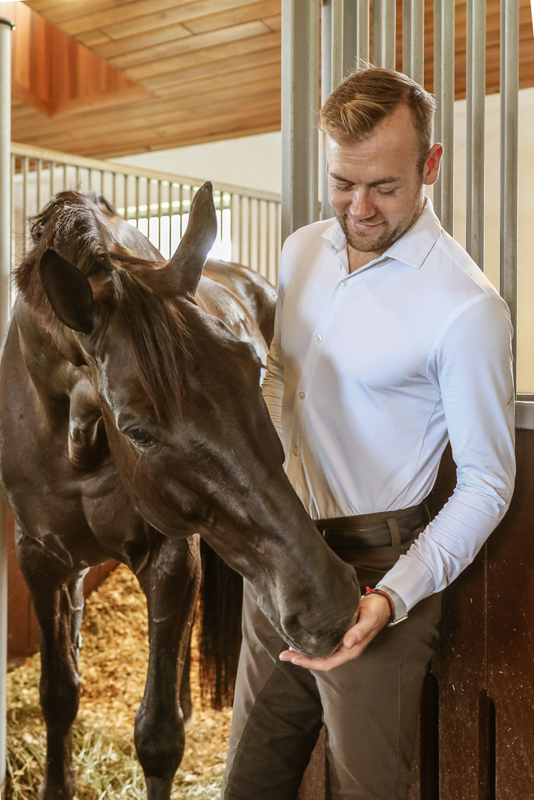 He found Lucky in a small barn in Belgium as a 3-year-old while looking for horses for clients. Endel was hoping to try horses at the barn, but it was a holiday, and the owners had gone to Berlin for a vacation. Endel texted them, and they said they would be returning in three hours, so he pulled his car to the side of the road, closed his eyes, and slept until the owners returned.
"I looked at a couple of horses, and then I saw Lucky, and I thought, 'OK, that's interesting,' " Endel said. "I got on him, rode him for five minutes, and I really liked him. He was very easy to ride—very straightforward. I liked his personality; I liked who he was."
Then, they suddenly lost power in the barn, and when Endel dismounted, it was pitch black.
"He didn't care," Endel said. "He didn't panic or anything."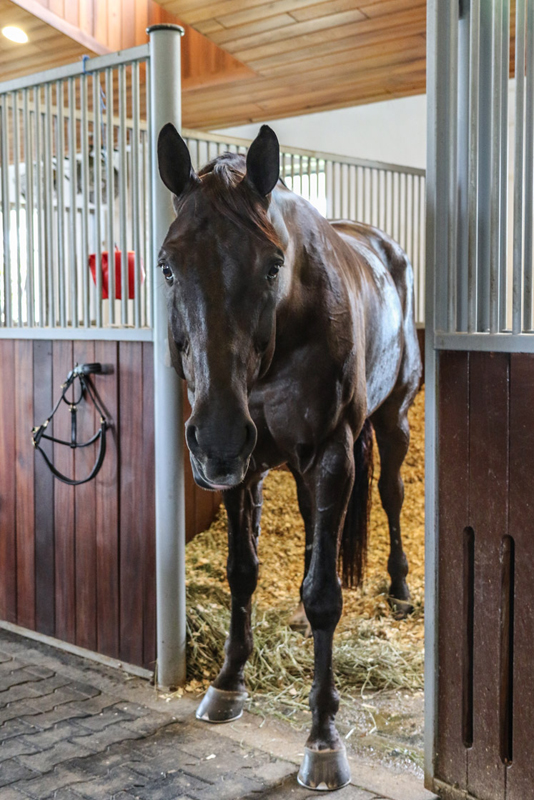 Aside from his horse's sensibility, Endel appreciates his rideability and trainability. We went behind the stall door in Wellington, Florida, to learn more about Lucky's abilities as a top dressage horse.
• He's a workaholic, and Endel has to limit his training time.
"The best thing about him is he really likes his work," he said. "Lucky likes his job. I would say he gives so much and tries so hard that I have to make sure that I don't go as much as wants to. He always wants to do a little bit more, and I have to end all the riding a little bit earlier."
With his solid work ethic, Lucky and his rider are poised to qualify for the short list for the Pan American Games to be held in Lima, Peru, this July, posting CDI scores in the mid-to-low 70s in the Prix St. Georges and Intermediaire I. The gelding excelled in the 5- and 6-year-old young horse classes in Wellington with scores of 87+, and he has competed in Germany and the Netherlands with impressive placings.
"He's gone to two world breeding championships and three national championships," Endel said. "It's his first year at CDI small tour. We went to Omaha [Nebraska] for the [2017 FEI] World Cup Final where we were invited to ride in the Isabell [Werth] Symposium. He's got a lot of miles underneath him. He's a good horse, and he really likes his job, and we try to make it as happy as we can for him."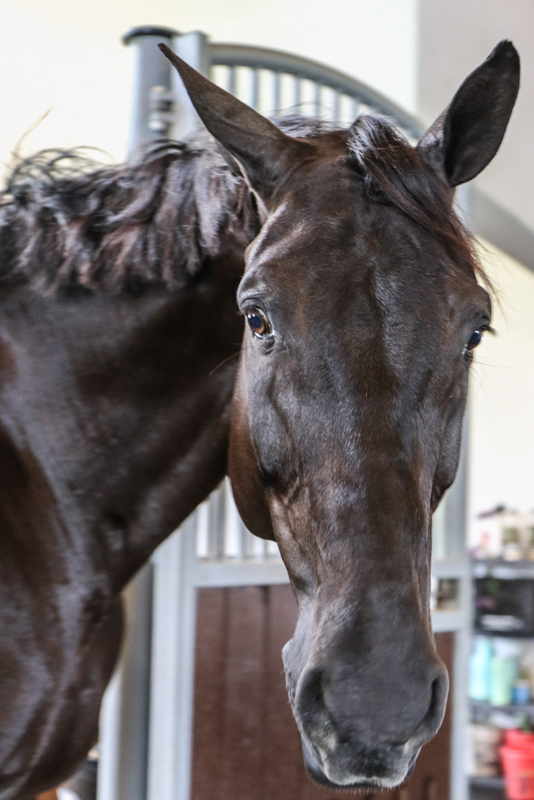 • He's goofy.
"He's quite a character," his groom of four years, Angela van den Brink, said. "He has a big personality. He's like a goofball. He likes to play around a little bit, He's not mean; he's super-friendly. He does this jump every once in a while, sometimes when he's hand-walking. He just jumps up in the air when playing around. It's not spooky, just goofy. He gets a little rambunctious, but he's very aware of people."
The airs above the ground occur when he's being hand-walked or at the CDI jogs, but never under saddle.
"It doesn't really bother me," Endel said of his airtime antics at the jogs. "But everybody else gets all freaked out. So then I have to be a bit stern with him."
• He's a socialite who loves other horses, kids and going to shows.
"He likes shows more than at home even though there's turn-out, and he gets hand walked," Endel said. "I think it's because there's so much more stuff going on and more stimulation. He likes seeing all the different worlds, different people and different everything."
Endel said he loves kids and puts his neck around them to give them a hug. He's also fond of giving his rider hugs.
• Lucky's a great traveler.
When Endel moved horses to the Atlanta area as a hurricane was threatening South Florida, Lucky took it in stride when the 10-hour trip stretched into 27 hours because of the traffic heading north to escape the storm.
"He's a young horse but very mature," van den Brink said. "I guess he's seen a lot."
Once, when they were stuck in the horse trailer in heavy traffic, his groom opened the trailer door with the chain in place, and the two of them looked out at the world. While the traffic and trailer were at a standstill, she jumped out to get some grass by the side of the road, and Lucky was content to wait and, of course, to eat.
Bets are off if the indulgent groom also slipped him a few peppermints.