Wayne, Ill.—Aug. 25
Emily Miles was almost in tears as she spoke about Sole Mio, the "spunky" chestnut Hanoverian stallion (Stanford—Donna-Rafaela, Donnerschwee) that carried her to the top of the Markel/USEF Young Horse 4-Year-Old Dressage National Championship.
"Mio is the second horse that I've felt is my heart horse," Miles said. "I love riding him, and he brings out this pride in me. He's a little feisty and punkish. There's so much scope there; if he can make it to where he can package that scope and bring it out he's going to be un-freaking-believable. I know we as riders, horses, owners, trainers work all year long, and it comes down to a blink in time, and then we all just hope to get home safe. It means so much, everyone has worked really hard to get here."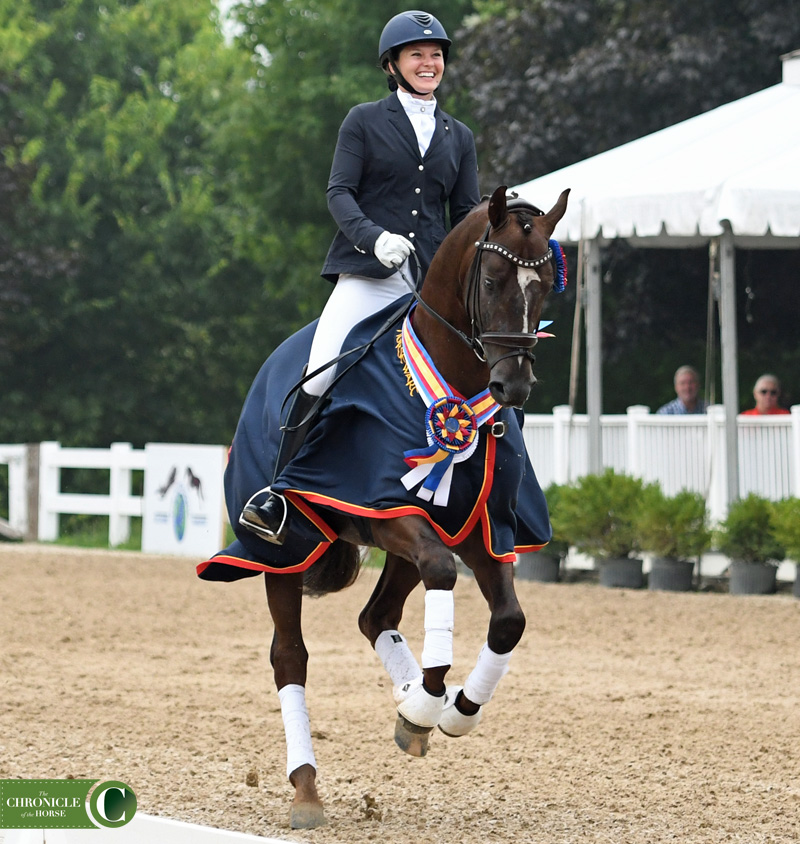 Miles scored an 84.20 percent in the preliminary test with a trot the judges called "gravity defying" and followed that performance with an 86.60 percent to finish on a total score of 85.76 percent. Miles said she had different strategies for each day, and her sympathetic riding paid off.
"I didn't ask for a super exuberant test today because Mio was definitely tired," she said. "But I think the judges recognized the quality of his natural gaits. I was just proud of him; this experience is a lot for a 4-year-old, but he came out and was like, 'OK, Emily, you're crazy, but here we go!' "
Mio will have a few weeks of light work following his triumphant return home to Paola, Kansas. Miles' goals are to continue to develop his strength and suppleness to maintain his foundation of quality gaits, and she hopes to show Mio again in the 5-year-old test next year.
Watch their test, courtesy of USEF Network:
Last year, Michael Bragdell and SenSation HW (Sunday—Donata) placed fifth and seventh in the USEF 4-Year-Old championship tests. This year they improved those placings to second (87.00%) and first (87.20%), which was enough to earn them the USEF 5-Year-Old national title.
"He came to me last year a little late to get ready for the 4-year-old championships," said Bragdell, regarding Carol McPhee's black Hanoverian gelding. "I didn't really feel like I had the horse I wanted for a championship, but I felt he had a chance, and I was really happy with how he went, even though we had a lot of things to work on. This year has solidified the training behind him, and he's grown so much. Every week he surprises me and finds another gear. I thought I had a fabulous trot coming in, but we really kicked it up a notch here. He really tries for me; I just love how he puts his heart out for me every day."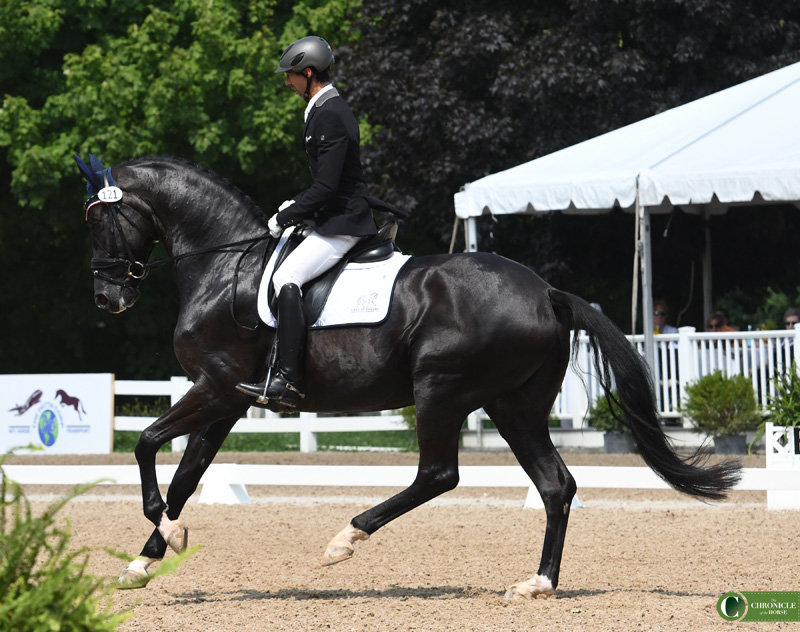 Bragdell, 45, of Colora, Maryland, and second-place finisher Alice Tarjan both scored a 10 on their trot in the preliminary  test, so Bragdell focused on maintaining that and improving the walk to secure the points he needed to edge Tarjan for the win.
Watch Bragdell's test via USEF Network.
Endel Ots and Lucky Strike (Lord Laurie—Heidi, His Highness) have been all over the world. Ots found him in Belgium five years ago, and they've crossed the Atlantic a few more times to contest the FEI/WBSFH World Breeding Dressage Championships. He credited their long partnership with helping them win a decisive victory in the Developing Prix St. Georges division. They scored a 72.79 percent on their first test and 73.57 percent on Saturday.
"It's a lot of fun; he's such a big horse, so it takes a little time for him to get stronger, and he still needs to develop more and get even stronger," said Ots, 33, Wellington, Florida. "But it's nice because I have such a good relationship with him. I kind of know how he thinks, so I don't have to school through a bunch of movements at a show; I just focus on what's difficult for me."
Ots' father, Max Ots, bought "Lucky," when Endel found him in Belgium but didn't have the money to buy him, as he had just started out on his own as a trainer.
"I called my dad and said, 'I don't have any money, but if you can get the horse I'll pay for everything afterwards, you'll never have to pay a cent. I know it's a lot, but if you can do this I think he's something really special,' " Endel said.
The 8-year-old Hanoverian gelding will have some time off, then Endel wants to start working at the Intermediaire I level and eventually get a freestyle together inspired by one of Endel's favorite TV shows, "Mad Men." Lucky got his name from a reference on the show.
Watch Ots' test via USEF Network.
For full results, click here.
For more coverage from the weekend, click here.
USEF Network is live streaming the competition each day.
For more from the U.S. Dressage of Festival of Champions and the Markel/USEF Young and Developing Horse Dressage National Championships check out the Sept. 24 print edition of The Chronicle of the Horse.
2018 Festival Of Champions - Saturday Dunham Ring
Lindsay Berreth / Aug 26, 2018 9:21 am