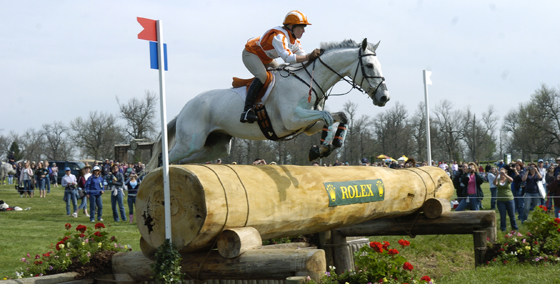 Click on the button above to watch our live coverage and analysis with help from Eventing Nation. The link will pop up in a new window. Please make sure your pop-up blocker is turned off in your browser.

Sunday: Fox-Pitt Secures The Rolex Kentucky Title
Listen To An Interview With Oliver Townend About His Fall
Sunday: Third Horse Inspection Puts 37 Foward To Show Jump
Good Prognosis For Oliver Townend
Saturday: William Fox-Pitt Maintains His Lead After Cross-Country
Oliver Townend Transported To Hospital After Fall
Listen To Interviews With Capt. Mark Phillips And Michael Etherington-Smith
Walk The Cross-Country Course With James C. Wofford
Friday: Fox-Pitt Takes The Top Spot In The Afternoon
Friday: Springer Ties For The Lead In The Morning
Thursday: Mandiba Leads After First Half Of Dressage
Thursday: Courageous Comet Leads At The End Of The Morning
Watch the streaming video at UniversalSports.com
Wednesday: All 53 Starters Pass Initial Jog

Between Rounds: David O'Connor
Breaking News: Dutton Will Run Woodburn At Rolex Kentucky
Breaking News: Townend And Fox-Pitt Won't Let A Volcano Stop Them From Getting To Kentucky
Excited about Rolex Kentucky this year? Check out last year's coverage!
Do you have favorite photos you've taken while visiting (or riding) at Rolex Kentucky? Email them along with any identification information you have and your name to coree@chronofhorse.com, and we'll put together a photo gallery and post it on the website.