Think you can't win at one of the country's biggest shows with a Thoroughbred? Think an amateur with a full-time job who does all her own care at the show and has put most of the training into her horse can't possibly have the winner in her trailer?
Think again.
When Dana Nifosi's horse Knob Creek jumped to the Thoroughbred Future Hunter and co-grand Future Hunter championships at the Capital Challenge Horse Show (Md.) on Oct. 1, Nifosi was standing at the in-gate with towel and brush in hand, cheering and clapping for her horse, whose purchase price was less than that of most of the saddles in the ring at Capital Challenge.
Jocelyn Martin rode the flashy chestnut to the tricolor for Nifosi, but she just met them at the show. Nifosi has done the lion's share of training on Knob Creek, 7, especially since regular trainer and rider Katie Huber has been out of action with a broken hip.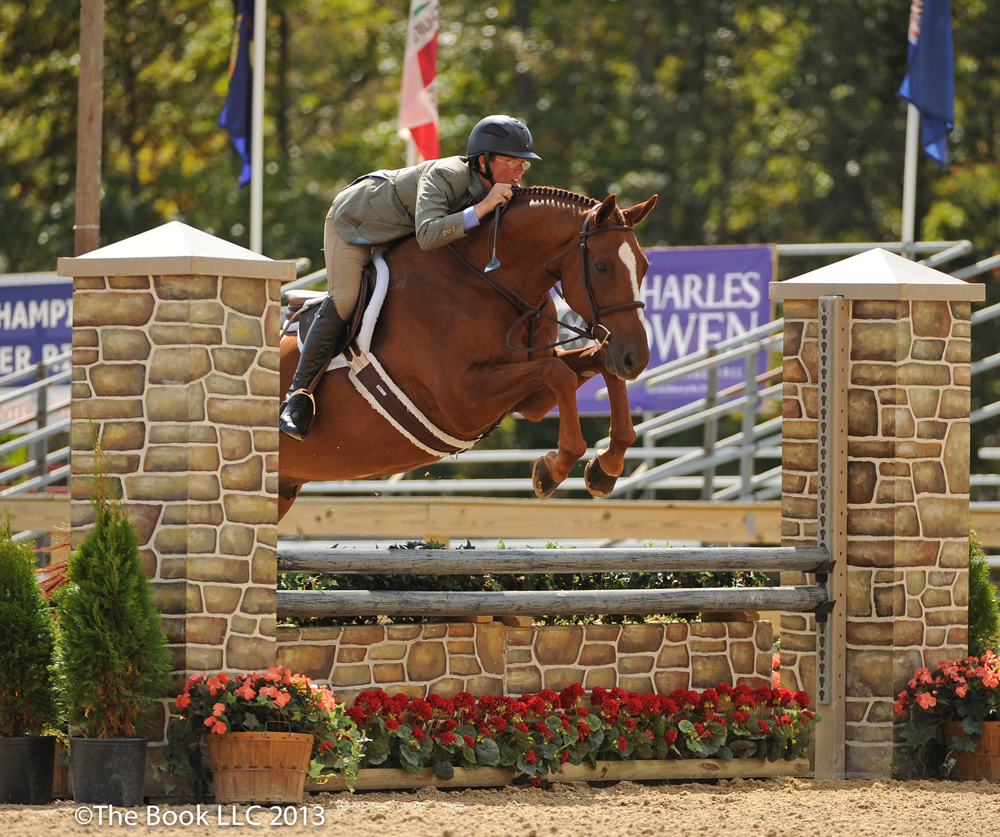 Dana Nifosi's Knob Creek jumped to the Thoroughbred
Future Hunter and co-grand Future Hunter
championships with Jocelyn Martin riding
at the Capital Challenge.
Photo by The Book LLC
"I put all of his early flatwork on and started to teach him how to jump. When he was getting farther along, Katie started riding him," Nifosi said. "We'd do double duty with him. Since Katie's been out of commission, he's been stuck with me at home all summer. Jocelyn meets us at the horse shows and I keep her posted on what we're doing with him.
"I haven't shown him more than a couple of times so far because I wanted him to get really confident and comfortable at doing the three-foot with someone who's not going to make mistakes, as I inevitably will. I'm going to start showing him next year," Nifosi continued.
In fact, this was just Knob Creek's eighth show outing of the year. Nifosi, from Alexandria, Va., doesn't go to Florida for the winter and keeps her show calendar at bare-bones level. "The reality is that given my job and my budget, I don't show a whole lot," she said. "We're so fortunate around here that within an hour's drive we've got lots of good shows. It's a better location than most to work full-time and be a semi-do-it-yourselfer and still get to show a little bit."
Nifosi, 49, works in Washington, D.C., as Deputy Chief Counsel at the Federal Transit Administration, overseeing an office of 30 staff. On a typical day, she gets off work by 7 p.m., so she's designated Tuesdays and Thursdays as barn days. Those days, she swings a leg over "Nelson" by about 8 p.m. "I might be able to squeeze in a third day during the week, but my husband doesn't really enjoy eating at 10 every night. We have an arrangement that it's OK two nights a week, but I try not to push it beyond that," said Nifosi, whose husband is supportive but non-horsey. She also rides on the weekends.
Nifosi chose Capital Challenge as a season finale for Nelson. "We wanted to have one last good show and thought that it would suit him," she said. Nelson usually shows in the regular 3' pre-green division, but Nifosi decided to take advantage of the Thoroughbred section at Capital Challenge. Nelson almost foiled her plans, though, when he developed an abscess the week before.
"[The week before the show] I went out after work every night and soaked his foot and hand-grazed him. We got him to the farrier on Friday and he thought he could make him comfortable enough to show and he did," Nifosi said.
Nifosi used precious vacation time to be able to groom for Nelson herself at Capital Challenge on Sept. 31 and Oct. 1, looking to make the week affordable. In an ironic twist, the government shutdown on Oct. 7 turned her paid vacation days into an unpaid stint without a known end. "The reality was that Monday before the shutdown was a terrible day for me to be out of the office," she said. "When I wasn't grooming him, I was on the phone and my email all day dealing with last-minute stuff. When I tucked him in for the night, I stayed up working until I got my furlough notice at 2 a.m."
It's just been recently that Nifosi has been back at the show ring after a five-year break. In fact, Nelson's original purpose in life when Nifosi bought him as a 3-year-old in 2009 was to be a companion horse for her retired amateur mount, Trademark.
Nifosi, who had grown up riding in New Jersey and showed as a junior with Hunterdon, hung up her saddle while she was in college and law school. Once she was settled in a law career, she started leasing a horse from Huber and showing again. She fell in love with that horse, an off-the-track Thoroughbred named Trademark, and bought him for just $3,000. Huber showed him successfully in the green conformation division and Nifosi went from the adult amateur ranks to the amateur-owner division.
But Trademark developed a degenerative eye condition and by the age of 12, didn't feel comfortable jumping anymore. In 2000, she retired him and found him a small private farm to live in turn out. "He was rideable until he was 21, so I took him on trail rides and did flat work. I learned to enjoy him in a different way," she said.
Her step back from the show ring with Trademark's retirement coincided with a diagnosis of breast cancer for Nifosi, so the slower pace suited her. She also got married. "When I was done with my treatment, I really had to focus on work again for a while. His retirement was good timing from a personal perspective," she said. "Quite frankly, he really helped me through it all. While I was going through treatment, he was like your classic Thoroughbred—fire-breathing, wouldn't stand to get on—and the whole time I was going through chemo he was like a trail pony or a short-stirrup horse. Then the minute the chemo drugs were out of my system, he went back to normal." This year is Nifosi's 10-year anniversary of her remission. She had to say goodbye to her old friend last year; he was 24.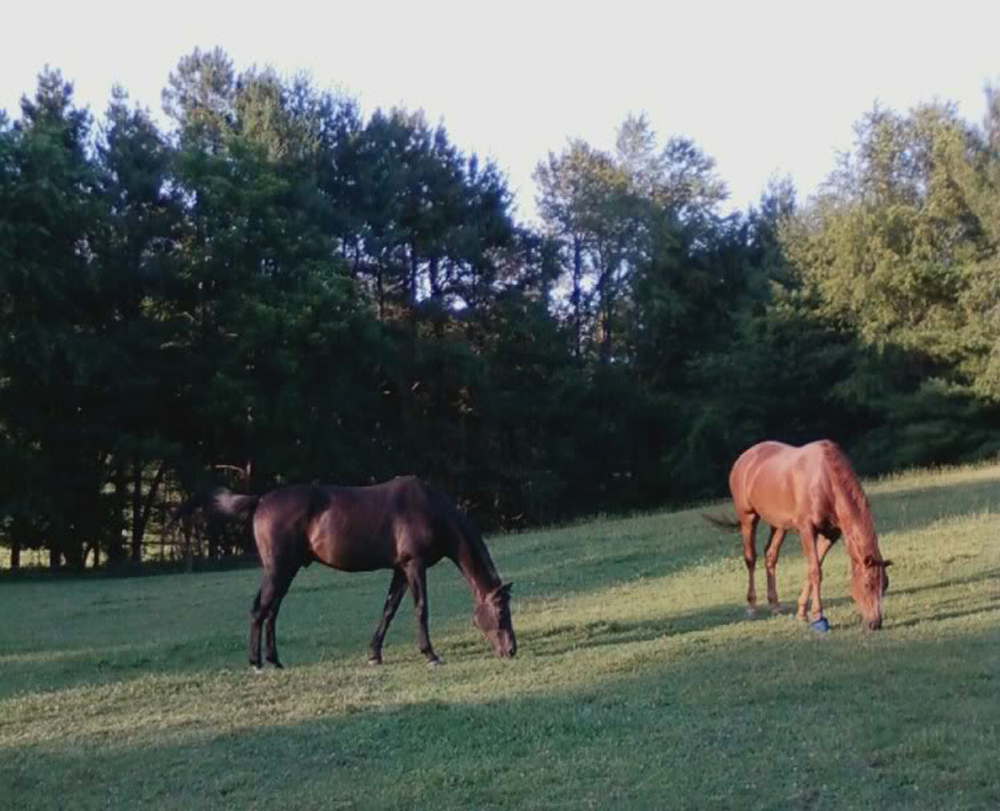 Knob Creek's first job was as a pasture buddy for
Nifosi's retired horse Trademark (left).
In Trademark's later years, he lost his pasture-mate, so Nifosi was on the hunt for a cheap horse to keep her old friend company. Huber's mother, Sharon, has a connection with a Thoroughbred breeder for the track in West Virginia and had brought Nelson to Katie's as a prospect.
"I figured if I had to pay to feed one, I might as well have one I could ride," she said. "He was only 3 but he had the right temperament—even at that age he was sweet and smart. I could see on the lunge line he had a great canter. He was very inexpensive, so I figured if he turned into something, great. If not, he'd be a fun project for me to work with."
Nelson (Run Softly—Sic Em Sis, Saint Ballado) hadn't ever made it to the track, though he was Jockey Club-registered under the name Niellson. "Apparently when all the yearlings were turned out in the field and they'd all start running in a group, he'd be out there eating grass. So, they didn't even think he'd want to run," Nifosi said.
Nifosi started putting flatwork on the green-broke chestnut gelding, but their progress kept getting put on hold by minor injuries. Nelson wasn't just lazy; he was also accident-prone. "He's had a number of freakish injuries. I don't want to list them because it would sound like we kept him on the side of the highway in barbed wire," Nifosi said.
The most significant was a hairline fracture from a kick in turn out last year that required three months of stall rest. "He tolerates stall rest so well that he came out of that just fine," she said. "I've spent so much time with this horse nursing him and hand-grazing him."
Nifosi values not only Nelson's lovely movement and classic jump, but also his extremely friendly nature. "If he could come in the house and curl up on the couch and watch TV, he would. For someone like me, that's the most important thing. It's a relief from work and everything else. I just want to go out and enjoy my horse," she said.
And at Capital Challenge, she did nothing but enjoy him. "I spend all the time and money I have on this, so to watch him be competitive is awesome to see," she said. "I was like 'Wow, I've got a nice horse! Who knew!'"