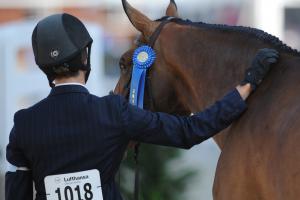 The Thoroughbred isn't totally gone from the hunter/jumper world! There are plenty of them out there winning and making their owners immeasurably happy.
The Olympic silver medalist is really enjoying showing this lovely Thoroughbred in the hunter divisions.

Traded off the track for an unpaid vet bill, Sterling has started to win money in his new jumper career, too.

Cathleen Driscoll turned this giveaway off-the-track Throroughbred into a winner in the adult amateur jumpers.
Melissa Woodson and Spring Heeled Jack have the same verve for life and bring that to the jumper ring.

This off-the-track Thoroughbred hunter has helped people connect from Indiana to Colorado.

He might have a tattoo instead of a brand, but West End can do the job, carrying Aelin Hill to her first Pessoa/USEF Medal Finals appearance.

This amateur rider and breast cancer-survivor found time to develop her Thoroughbred into a winner at Capital Challenge around her full-time job.
From emaciated rescue to winning at the Marshall and Sterling Finals, Love And Honor got lucky.