Kalispell, Mont.—July 23
With two rails in hand, it seemed that Cornelia Dorr had a gold medal in the bag on her experienced partner Louis M this afternoon in the Adequan/FEI North American Junior and Young Rider Championships.
Then she had three.
And with that, Area III's Will Zuschlag and RF Southern Command moved ahead to take home individual honors. But Dorr wasn't too disappointed. She went home with individual silver on Louis M and individual bronze on Sir Patico MH.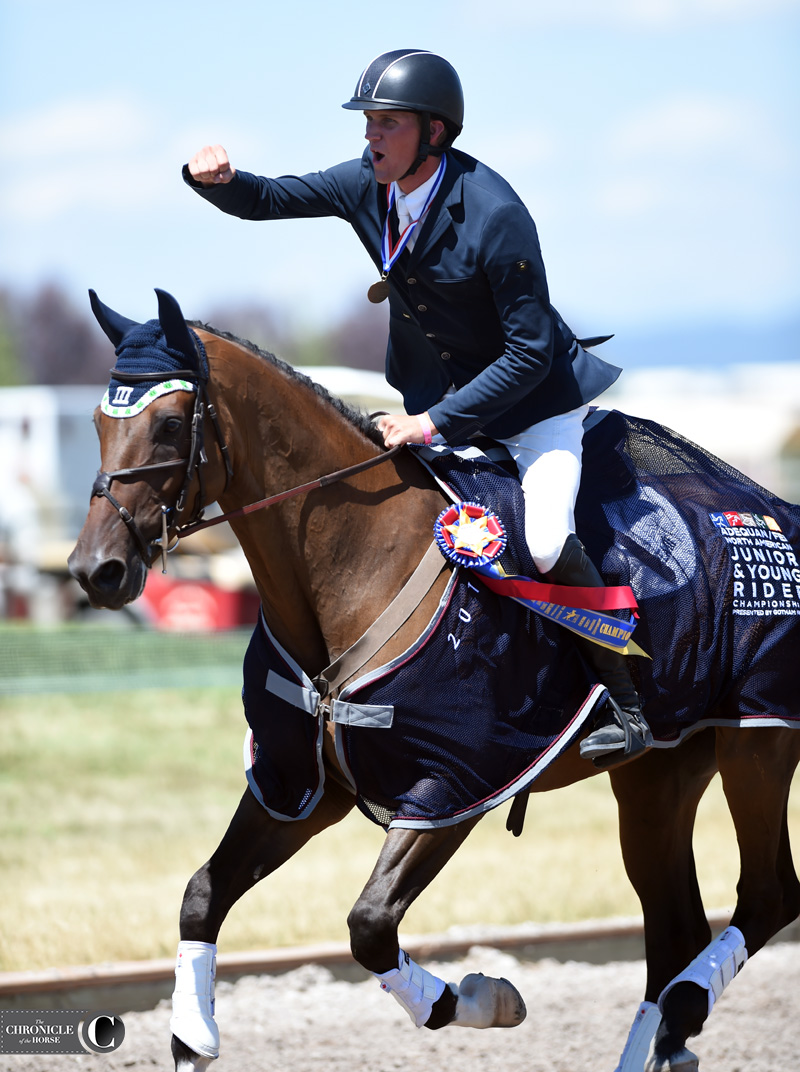 She also helped the combined team (which also included Lily Geelan on Luksor and Melanie Rousseau on Sullivan) from Area I and IV to team gold ahead of Area VII (215.8) and Canada (245.5).
"[Sir Patico MH] has the biggest heart of any horse I'll probably ever sit on. He tries his heart out for me every day," she said. "With Louis, unfortunately I let him down. Two rails were definitely my inexperience showing through. I had two proper misses. At least I can go away knowing that was me. I'm very happy for Will."
"We've competed against each other, but it's never been in this order. I always look up and, oh, she beat me again. Oh, again! And again!" said Zuschlag.
The 19-year-old just did his first preliminary last year, but he and "Soco" have come together since he got the ride nearly two years ago.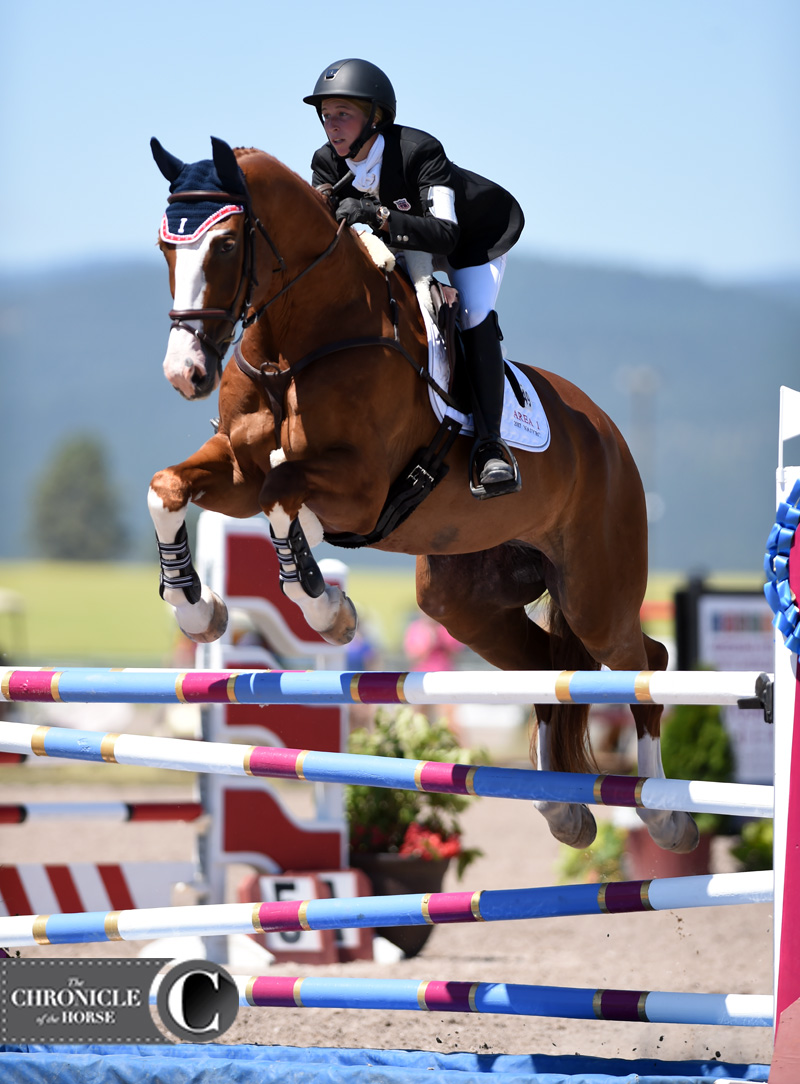 A double-clear cross-country round yesterday kept them in second place overnight, but they knocked a rail early on course today, making Zuschlag think it was over.
"I came zinging around that turn, and I saw nothing, and I was like, alright, I'll just go a little further, and still nothing and went a little further and never saw anything, so I was like, 'Well, I guess we'll just jump now.' He was like, 'No, we're gonna wait,' and so I had a good old fashioned miss!" he said. "I landed from that and was just livid. I was made at myself. I took that and said, 'Alright that 's the past, I've still got another rail before she catches me.'
"I came out of the ring and was talking to the guy at the in-gate. He said, 'Good job,' and I said, 'Wasn't good enough. She got me.' One of the grooms came running over and jumped on me, and I was like, 'Whoa!' It was definitely a lot of fun," he added.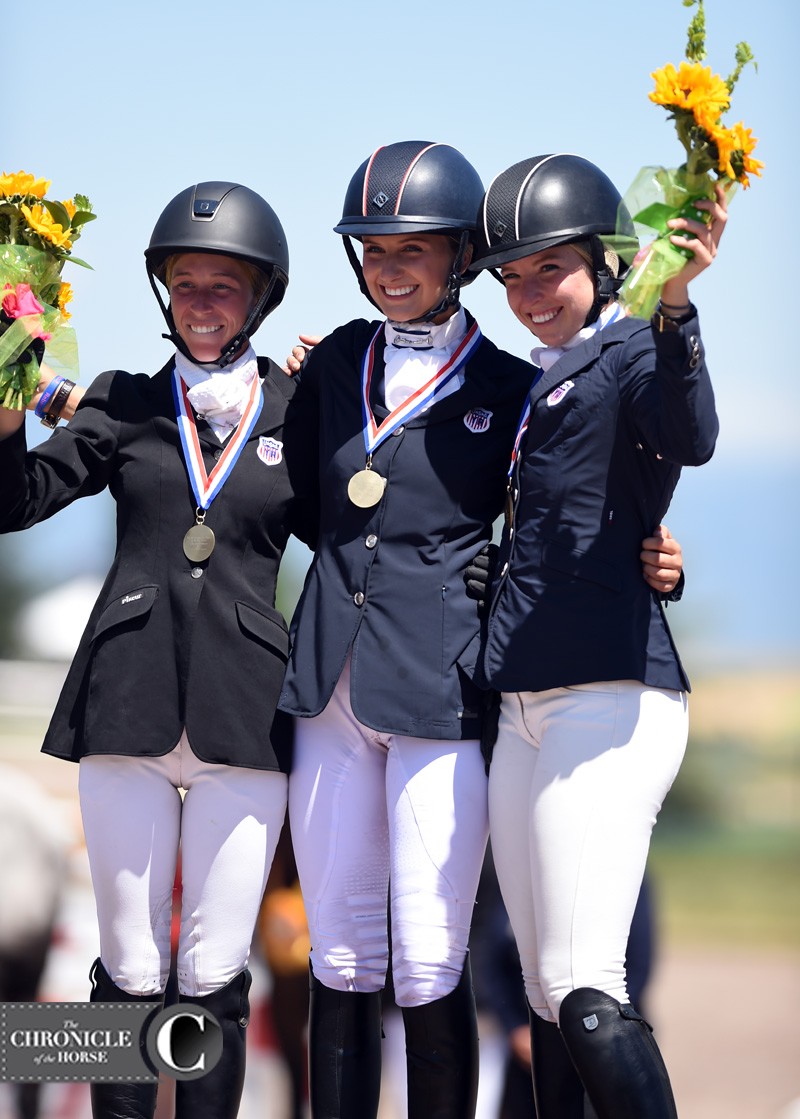 Area I and IV was in a unique situation because they didn't have a chef d'equipe or coach until Geelan's mother Mary Beth and Rousseau's mother Jennifer stepped in.
"I cannot thank them enough," said Geelan. "They have done everything and beyond for us. It's just so awesome that they could do this for us. My mom's been so organized. She was just thrown into a whirlwind of things, and she's just dealt with everything."
The other challenge for Lily and Melanie, who ride for Area IV, was getting to events. "We have a huge area and not a lot of events, so it's been a challenge getting out there and getting everything done, but I think Area IV is starting to step up," said Melanie.
Lily competed in the CCI* last year in Colorado. She stressed the importance of local events that allowed them to fundraise.
"Seeing that last year I was just so excited to get back this year and be even more competitive," she said. "Honestly, Area IV doesn't have much to offer but we do have the Schweiss family that run Roebke's Run [in Minnesota.] They provide the most top notch facility with the best everything for all of the riders. They were really accommodating and offered a qualifier for this, which is awesome. I am so thankful."
For full scores, click here.
Follow along with COTH this weekend at coth.com as we bring you all the news you need to know and tons of gorgeous photos from Rebecca Farm and the NAJYRC! We'll have a full report in the August 7 print edition of the Chronicle.