Young riders take the features at this California show.
Young riders dominated the Memorial Day Classic Horse Show, May 22-26 at the Los Angeles Equestrian Center in Burbank, Calif.
On Sunday night, Samantha Harrison, 15, took her Triple Lutz to the win in the $15,000 ASG Software Solutions USHJA International Hunter Derby. And on Monday afternoon, amateur Katherine Bardis, 20, won the $25,000 Memorial Day Classic Grand Prix.
In the international hunter derby, many of the horses, in fact, were not hunters at all, and that was the case with the winner. Triple Lutz, 6, spends most of his time in equitation classes. To prepare for the derby, Harrison didn't show him in any hunter divisions. Instead, she took him in the high junior/amateur-owner jumpers.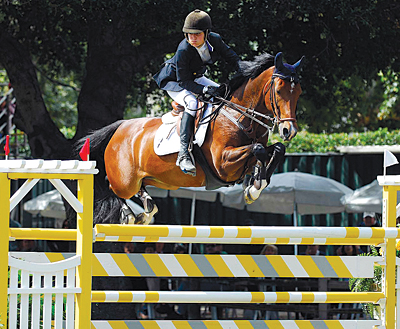 "He's so good," said an ecstatic Harrison, who rides at Karen Healey Stables. "Karen found him for me over in Europe, and I want to thank her. He's the best."
Chris Collman's creative course asked the riders to jump out of the arena over the low adobe brick wall into the schooling area, take two fences, and then jump back in.
"It was very exciting, especially jumping in and out of the ring," said Harrison, who lives in Westlake Village, Calif.
"That was almost heart-stopping and so much fun."
Some of the horses did not react well to the fences outside the arena, but Harrison, despite her horse's greenness, was not concerned. "I knew that he doesn't spook at a lot of things," she said. "I
trusted him. I just mainly steered and kept my leg on."
Collman loved the opportunity to expand the arena and had special jumps built that fit over the low wall. "For the handy round, being able to actually jump out of the ring, and the way they built the jump on the arena wall to be able to jump back into the ring, added another dimension to the class," he said.
Bardis' victory in the grand prix was her first ever, and she was over the moon about it. "I've been second a bunch, which is a little frustrating," said Bardis, who began showing in grand prix events in 2006. "It's nice to finally win."
Bardis, a junior at Loyola-Marymount University in Los Angeles, had a difficult task ahead of her in the jump-off. Kasey Ament, a young professional from Los Angeles, had turned in a blazing round. Bardis, going last, knew she would have to be fast and lucky to earn the win.
Bardis, who trains with Richard Spooner and Chris Pratt, had been instructed to jump the left side of the option at fence 2. Bardis did not see her distance, however, and chose the right side, thus taking a different track from the three riders who had preceded her. Pariska 2 jumped the big liverpool brilliantly, and Bardis wheeled back to the difficult one-stride combination. She took a relatively cautious line to the double, which had been the downfall of several riders in the first round.
"I have to be a little cautious in the beginning because she's so strong," Bardis said. "If I'm really going for it in the beginning, then I won't have any control in the end."
The treacherous double safely behind her, she turned the mare loose. "After the combination I knew that I could go for it, pedal to the metal," Bardis said.
The next jump was a wide oxer right by the in-gate. Bardis got her gallop going and never touched the reins. "I didn't know if she'd jump it or not, but you've got to go for it to win," she said.
She blasted across the finish 2 seconds faster than second best.
She didn't know it at the time, but she was almost kept out of the jump-off by a freak occurrence in the first round. Pariska 2 swung a little wide at the finish line and stepped on one leg of the tripod holding the timer. It bent but did not break. Had the tripod fallen over, it would have been 4 faults, and she would have been watching the jump-off from the sidelines.
Boris Is Best
Theo Boris kept the youth theme going. The 14-year-old from Culver City, Calif., won the low junior/amateur-owner jumper classic, guiding his Santor to the win.
"We were trying to qualify for the 1.30-meter team for West Coast Active Riders, and this was going to be my last horse show before we went to Spruce Meadows [Alta.]," said Boris. "I'm just happy that we got around well. That's good practice for up there."
Boris also teamed up with amateur Amy Brubaker and his trainer, Laura Van Meter, to win the equitation challenge. "It was fun for once to ride on a team, because it's such an individual sport," Boris said.
Boris and Brubaker received fat-tire beach cruiser bicycles for their efforts.
Van Meter had to settle for a free trip to Hawaii.
McKenna Skelton, 10, dominated two divisions with her large pony Balthazar. Skelton, who rides at Elvenstar, won four out of five classes in the green ponies and all the blue ribbons in the children's hunter ponies. Skelton, who lives in Westlake Village, Calif., found Balthazar in Kansas. The Belgian pony was the first Skelton tried, and she needed to look no further.
"We just clicked together," she said. "We had this certain connection like it was meant to be."
Balthazar, 8, belies his green status in the ring. "There's not much to do; you just sit there and he takes care of you," said Skelton.
Ponies are notorious for their independence of mind, and Balthazar is no exception to that rule. "He can be a pain sometimes," Skelton said, "but in the end he's a perfect pony. He's everything you wish for."
Olivia Esse, 14, doesn't miss the ponies. "They were a lot of fun, but horses are easier to deal with," she said.
Esse, who recently began training with Richard Spooner and Chris Pratt, rode the Oscany Inc., entry By Design to the championship in the large junior, 15 and under, hunters.
"We got her two years ago right when I was starting the junior hunters," said Esse. "She was just really sweet, really nice and easy."
Esse is just starting out in the jumpers and is enjoying the new discipline. "It's a lot of fun because Richard knows so much about horses and how they work," she said.
The Perfect Life
Tammy Chipko lives her version of the perfect life. She owns a 20-acre horse facility in Hidden Valley, Calif., and gets to be with her horses all day long.
"I'm very hands-on," she said. "It works great for me, because I get to monitor my horses 24/7 and go down and check them at night. I'm very, very fortunate."
There are three barns on the property. One is leased to trainer Mark Bone, one to Chipko's own trainer, Karen Healey, and the third houses Chipko's own stock. At Memorial Day, she was champion in the amateur-owner hunter, 36 and over, with All That, and won the amateur classic to boot. She was also second in the classic with Amnesty.
"I bought him as a 5-year-old as a jumper prospect," Chipko said of Amnesty. "He was a little overimpressed, so we did him in the equitation for a year. Last year at HITS Thermal, just for nothing better
to do, I put him in the working hunters, and he was fabulous. He's been a hunter ever since."
Nicole Kane, Newport Beach, Calif., was champion in the amateur-owner, 18-35, hunters with her Aspen, and reserve with North Shore.
Aspen, 16, is Kane's go-to horse, her steady veteran. "He just keeps rolling along," said Kane.
North Shore is a lot greener and takes a bit more work. "It started out a little rough in the beginning because he's super green," said Kane, who trains with Mary Gatti and Patrick Spanton, "but it's starting to come together, and he's becoming the horse we thought he would be."
Kane, 20, hopes to turn professional in the near future. "I want to spend another year in the amateurs, and then after that we'll see what happens," said Kane.

Matt Hinton