Lexington, Ky.—April 29
Five riders headed out of the start box for their first four-star cross-country rounds on Saturday at the Rolex Kentucky CCI****, and four of them—Madeline Backus, Savannah "Woodge" Fulton, Holly Jacks-Smither and Caroline Martin—crossed the finish line as newly minted cross-country completers.
(Fernhill Fortitude and Jenny Caras retired on course after two stops.)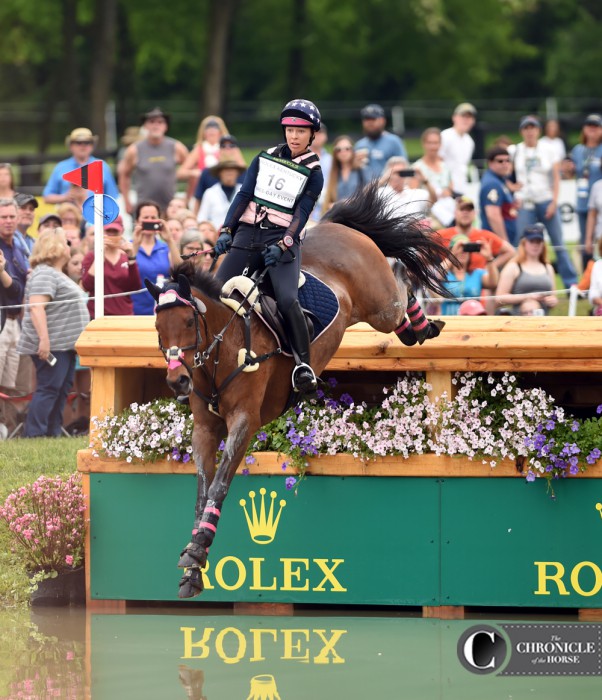 Madeline Backus knows her horse PS Arianna about as well as any rider could—the 20-year-old rider has competed the mare for over a decade, first swinging a leg over her when she was 9, and the mare was 5. It makes completing Saturday's tricky cross-country course all the more special for the Pony Club graduate. (You can read the Chronicle's story on her here).  
"I can't say enough about her. She's incredible. She kept jumping even when our line wasn't right," Backus said. "I made some green mistakes at this level, but she just has a heart of gold and kept jumping, so I can't say enough about her. She's fantastic."
After scoring 59.5 penalties in the dressage, Backus and "Ari" logged a clear jumping cross-country trip to sit in 20th place going into Sunday's show jumping round.
"It's pretty amazing in the lanes," Backus said. "I mostly ride in tunnel vision, but sometimes in the lanes just galloping you can hear the crowd, and that's definitely not something I would get at any other event."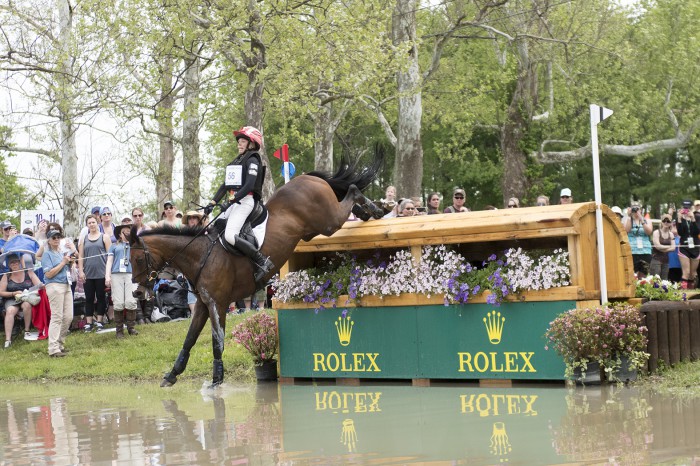 Savannah "Woodge" Fulton was decked out in the signature red and yellow of her mentor Buck Davidson when she headed out of the start box on Captain Jack, a previous ride of Davidson's. Fulton's family runs a farm in Finksburg, Md., where she first met Davidson as a child when he would come to teach clinics. (You can read the Chronicle's profile on Fulton here).
"Every time he came for a clinic, he would bring me a present, and when I was 11 he brought me his helmet cover," said Fulton, 22.  "I've had the same cover ever since, and it's a really beaten up; you can barely tell its red and yellow.
"It was funny, before I rode with Buck I was at an event somewhere, and I was in the warm-up ring with the helmet cover, and Bruce saw me and told Buck, 'There's some stinking kid here wearing our colors! What the hell?' " Fulton said with a big laugh. "And Buck was like, 'Dad, it's OK. I gave it to her.' "
Fulton scored 66.2 penalties in the dressage and after her cross-country round with 32.8 time penalties is sitting in 29th place.
"He was fantastic. He was just phenomenal," Fulton said. "There were parts of it that were way scrappy, I almost took out part of the crowd, and I was like, 'I'm sorry! I'm sorry!' But he was great, and he finished just as happy as he started, and he's kicking and biting everyone who's sponging him now [in the vet box], and that's him at his best, so I'm really excited."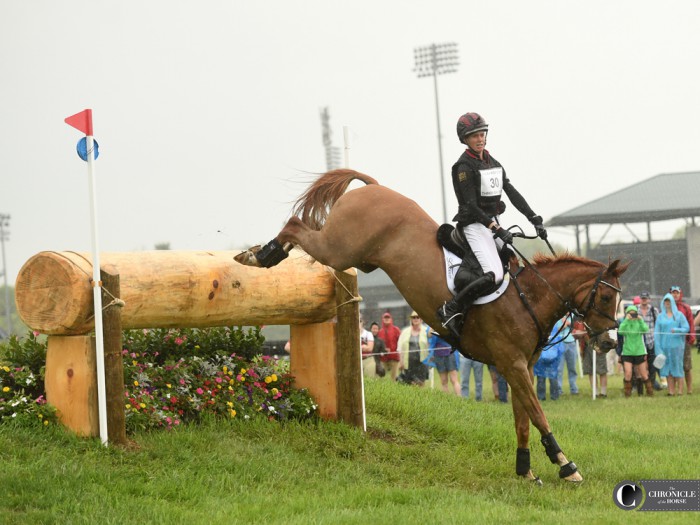 Caroline Martin and Spring Easy picked up two runouts on course but still completed and are in 33rd place heading into Sunday's show jumping.
"I should have taken a tug and ridden more balanced, but that was totally my fault, not the horse's," Martin said. "He was pretty easy to ride all the way around; the mistakes were just my mistakes.  I got a bit too aggressive."
Martin was remarkably calm after coming off course for someone who just jumped one of the trickiest cross-country tracks in the world, and she chalks it up to her attitude toward eventing in general.
"I like the sport. I love going cross-country, that's my favorite phase, so I'm excited to go to Jersey Fresh next weekend and take a really green horse to its first two-star and another to its first three-star. I'm not really so worried about the level that I'm at," Martin said. "It just depends more on the horse and that day."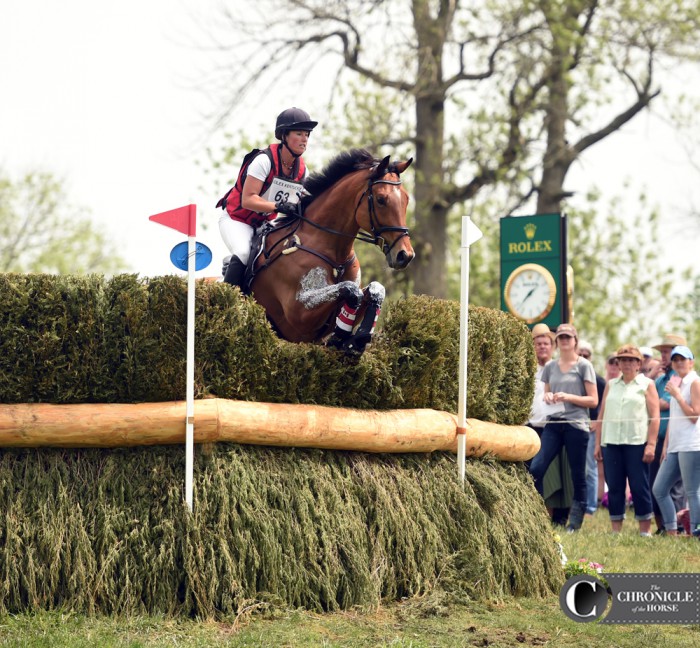 Holly Jacks-Smither went into cross-country on a 57.7 and made it through the course despite a bit of a equipment malfunction.  
"I've never had a problem holding my reins on that horse, he's not a strong horse, and I jumped into the first water, and I slipped them, and I went to pick them up, and my hands went right through them," Jacks-Smither said.
When her grip got no better throughout the course, Jacks-Smither decided to take her gloves off after the Head Of The Lake.
"I stuck them in my pocket hoping it would be better, but it wasn't!" Jacks-Smither said with a laugh.
She ended up taking all of the long route options with More Inspiration and coming home with 20 jumping and time penalties.
"You kick yourself now because you want to be competitive, but it's our first four-star, and he's amazing, and I didn't want to make him do something he can't do," Jacks-Smither said. "I think you always wish you didn't take them later on, but he came home sound and happy, and he carried me around. I didn't help him, and that horse owes me nothing."
Jacks-Smither is sitting 30th going into show jumping.