Madeline Backus and P.S. Arianna have traveled from beginner novice to advanced, and from Colorado to the East Coast, and their journeys have landed them at their first CCI*** this weekend at the Jersey Fresh International.
A graduate A Pony Clubber, Backus, 20, has lived and competed for much of her life in Colorado. Backus' mother, Laura, operates Pendragon Stud Equestrian Center in Larkspur, Colo., where she breeds Trakehner-Thoroughbreds crosses for careers in eventing and dressage.
Madeline grew up on the back of a horse and helping out at the family farm. She rode one of their homebreds, P.S. King Of Hearts, to the junior training title at the 2013 Nutrena/U.S. Eventing Association American Eventing Championships (Texas), and took on P.S. Arianna, or "Ari," as a green horse.
"[P.S. King Of Hearts] was one of the first horses I did all the work on. He was such a cool little horse. I had a lot of fun with him," she said. "Unfortunately all of our homebreds are about 15.1 and under, so they're a little small for me, but they're great horses."
The farm's farrier, Dennis Ackermann, bred Ari, a 15-year-old Anglo-Trakehner mare (Ibsen—Amazing Raven, Amazing Prospect), and Madeline has known her since the mare was a foal.
Laura started Ari, and Madeline took over the ride when she was 9, after the mare had a couple of years under saddle. While Madeline is tall and Ari is just 15.2 hands, they turned out to be a good match.
The pair were ninth at the Adequan/FEI North American Junior and Young Rider Championships (Ky.) in 2011 and completed the CCI* there again in 2014.
In 2013, Madeline spent a summer working for Missy Ransehousen at her Blue Hill Farm in Pennsylvania, and after finishing high school the following year, returned again to be a full-time working student.
"There's always more to learn, and I love learning, so I'm just taking it all in," she said.
Madeline has enjoyed learning about every aspect of training horses, and appreciates the skills she learned as a member of the Hunter Hill Pony Club (Colo.). In addition to riding at rallies in dressage, show jumping and tetrathlon during her time in Pony Club, Madeline has also earned her U.S. Dressage Federation bronze medal. She earned her Pony Club A rating last year.
"I think Pony Club is a wonderful program, and I think it gave me an advantage because I was able to learn so much from such an early age about so many different things, from horse management to even sportsmanship and team skills," she said.
She's enjoyed her partnership with Ari, who can be a little tough in dressage, but has taught her along their journey to the upper levels.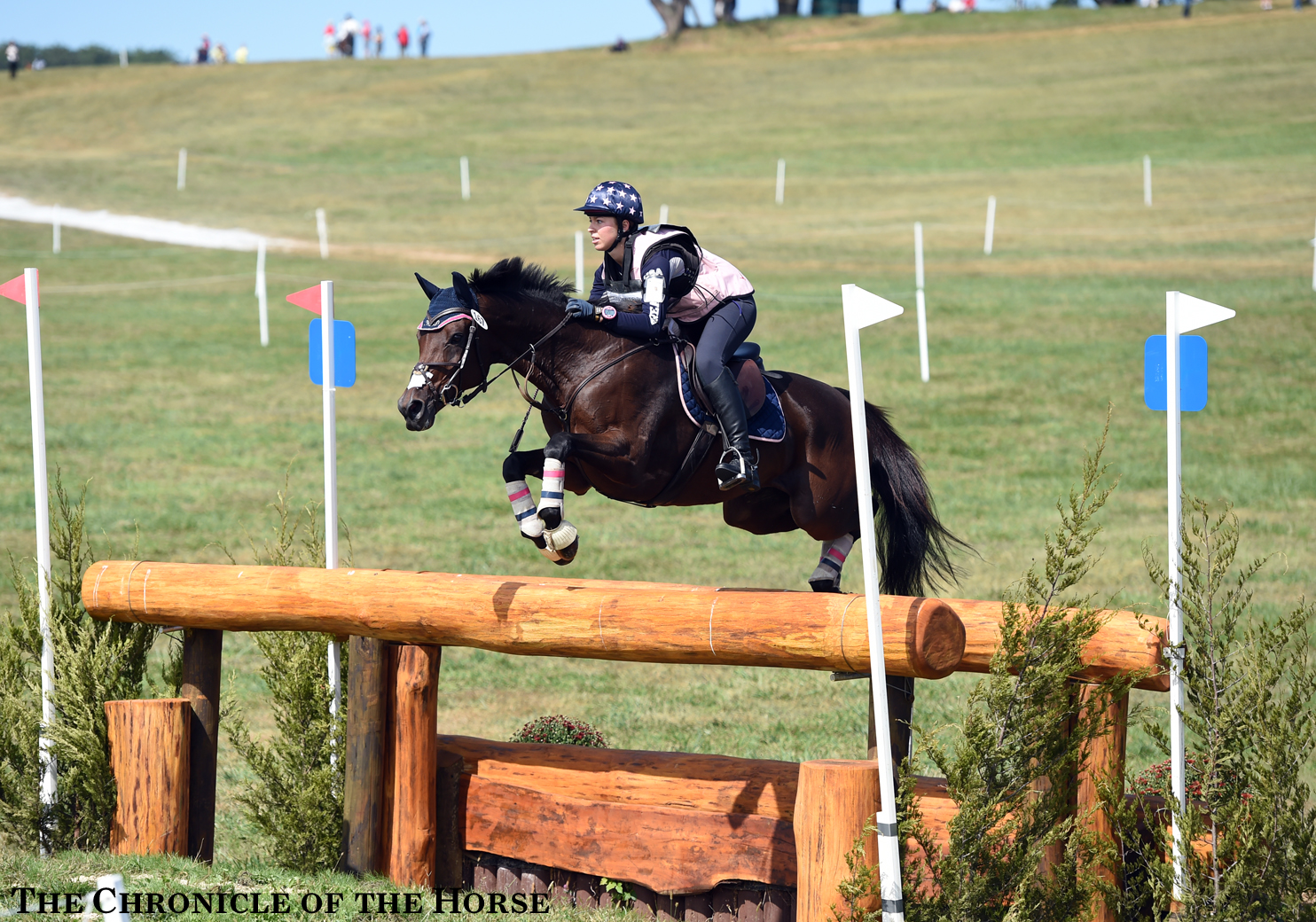 Madeline Backus and P.S. Arianna. Photo by Lindsay Berreth
"It's been an incredible journey," she said. "She's fantastic. She's a little difficult in the dressage, but I think it's more so at the upper levels. It's funny now because as we've gotten up through the levels she's become a different horse because of her fitness level. I'm learning a lot about her as we go."
Madeline and Ari moved up to advanced last summer at the Horse Park of New Jersey Horse Trials, so it's fitting they're returning there to tackle their first CCI***.
She admitted she's nervous, but is confident in their abilities, and is hoping for a solid qualifying run this weekend.
"We've had some tense moments in dressage [this season,] which doesn't help our score, but she just knows cross-country is next and gets really excited! It's been good. We're still new at the level, and just learning everything. Cross-country, she's awesome jumping, and I've made a few mistakes that have caused run-outs here and there, but that's just part of me learning," she said.
"I've learned so much. It's incredible how much a horse can teach you, and continue to teach you every day. I wouldn't think she's an easy ride, so I've learned a lot as far as riding really well. She's very much a mare, so some days are very different than others! Some days I feel like I'm riding several different horses in one. But she's a really cool horse."
The Chronicle will be on site at the Jersey Fresh International this weekend! Check back at www.coth.com for daily reports and photos with all the action from Jersey Fresh. You can also follow along with us on Facebook, Instagram and Twitter.