The next horse sport I tried in my series of new equine adventures has a special place in my heart as an off-the-track Thoroughbred owner. I got to go to Diana and Michael Cooney's Carousel Stables in Berryville, Va., and breeze a race horse!
I have been madly in love with Thoroughbreds ever since I got my first horse eight years ago, Lucky, a then 4-year-old OTTB with staunch objections to speeds faster than a canter. He's sired by 1997 Kentucky Derby winner Silver Charm, a massive 17-hand-plus steal gray stallion who lost the Triple Crown by a nose in the Belmont to a horse named Touch Gold (oh, the irony!). I'm sure whoever bred dear Lucky was a bit disappointed when he was born short, bay and very, very fond of slower speeds, but all those characteristics suited me just fine for the hunter ring.
I assumed I would be pretty awesome at breezing race horses, subscribing to the spectacularly flawed logic that if I had been showing a Thoroughbred for eight years, that's almost a decade of experience riding Thoroughbreds, right?
I ran this line of thinking by my trainer, and she took the opportunity to remind me of a few key differences between riding Lucky and breezing an actual race horse—one of them can reach speeds of 40 miles an hour and race for over a mile, and the other only grumpily agrees to hand gallop a single fence.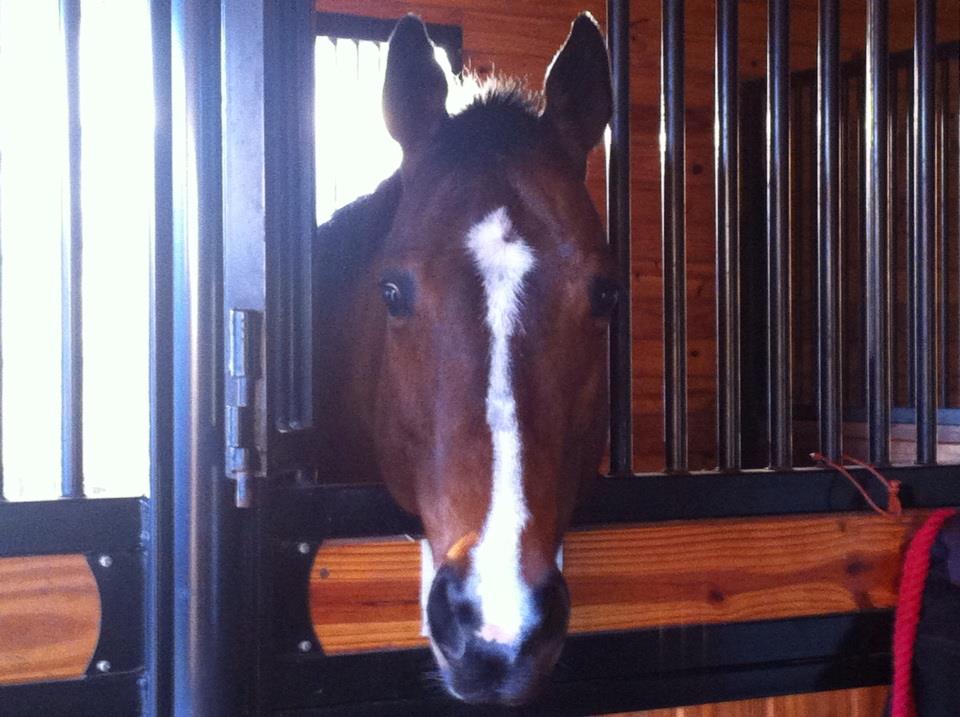 Oh, racing, you mean that thing where a tiny man sits on your back and shouts at you to go faster while other horses kick dirt in your face? Have you SEEN how cute this face is? I'll pass. (Lucky's thoughts on his past life.)

So maybe I was overestimating how useful my OTTB owner experience would be—no matter. What I lacked in practice I would make up for in theatrical race horse viewing! I am an avid movie watcher—I think I've seen Secretariat, Dreamer and Seabiscuit about 50 times each, so I know the drill: You make your stirrups really short, you dramatically pump your arms back and forth and say, "You ready boy? YA!" to go faster, and you carry your crop upside down. There's nothing to it!
Armed with my copious race horse movie knowledge, I walked into the barn at Carousel Stables to meet my mount. His name is King Bling, and before Diana got him to use as a lead pony and training partner at her farm, he raced 48 times and made $200,935 dollars on the track.
I was told "Bling" and I would be "giving a lead" on the track to a couple of unraced 2-year-old fillies. That meant I would gallop in front of them and give them an older and more experienced horse to follow down the track, but when heard through my very competitive ears, it sounded a lot like, "You are going to race two other unproven race horses. You're on the favorite. Go get 'em, tiger."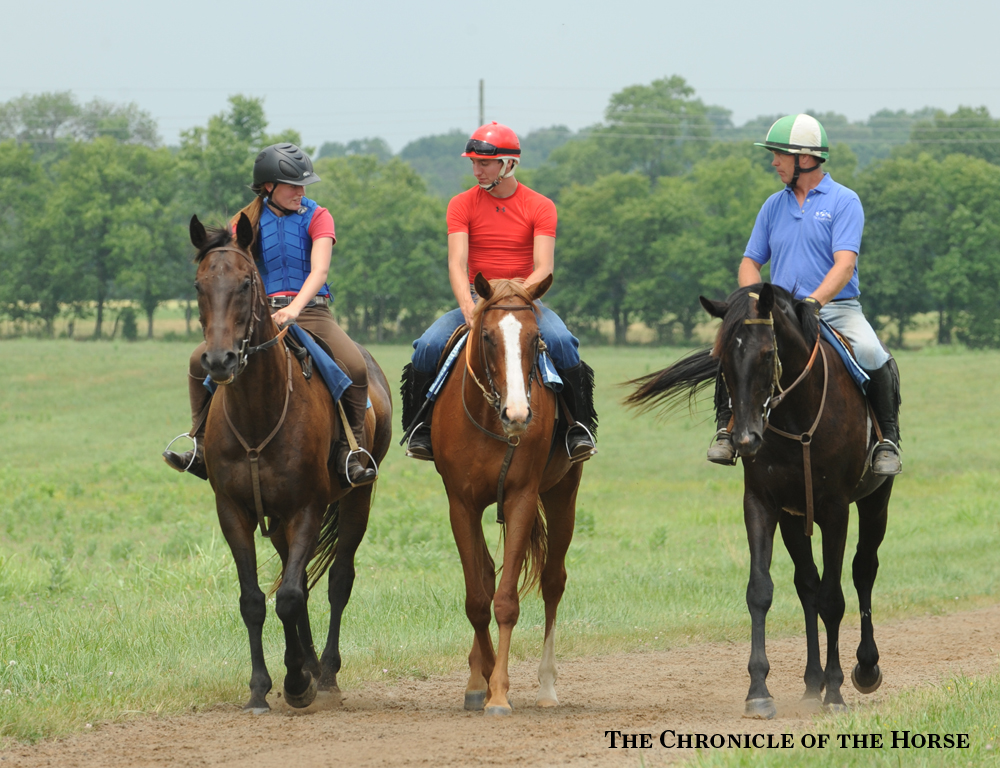 So how awkward is it going to be when I totally cream you guys in my first race (breeze) ever?

Jockeys Austin Reynolds and Michael Cooney would be my competition, aboard the fillies Saroca and Alivia. Michael explained to me how the race (breeze) would work when we got out on the track, and he said once we started galloping to listen for him yelling "slower," so I wouldn't get too far ahead of the 2-year-olds (sounds like trickery to win the race, because he knows I'm on the faster horse, but I'll play along).
We trotted down a long side of the track and picked up a gallop at the first turn. Bling bounded away at hearty clip, and I couldn't tell you if Michael or Austin yelled any directions to me during the rest of the gallop. Between the wind whistling through my helmet and the adrenaline kick from speeding across the ground on a race horse, I wasn't listening to anything but my heart thumping around my chest like a rabbit foot, probably yelling, "We never agreed to go this fast! Your cardiac system requests you slow down at ONCE!"
But I couldn't slow down—I was winning! I glanced over my shoulder a few times to see if the guys were yelling anything, and once I realized I couldn't hear a thing I just faced forward and enjoyed the ride.
The guys had told me before we started that sometimes a race horse will "take a hold of you" when you start going really fast, grabbing the bit and pulling against you. We had been galloping at a fair clip around the far turn of the track and down the long side, and Bling still felt very responsive and attentive, definitely not pulling.
That changed when we turned for the homestretch, and all I could see in my head were images of Seabiscuit slow motion galloping across the wire in the Santa Anita, Secretariet all alone in the home stretch at the Belmont, a zebra zooming past all comers in Racing Stripes—basically, I went Hollywood on Austin and Michael, gave Bling a cluck and a squeeze, and held on for dear life.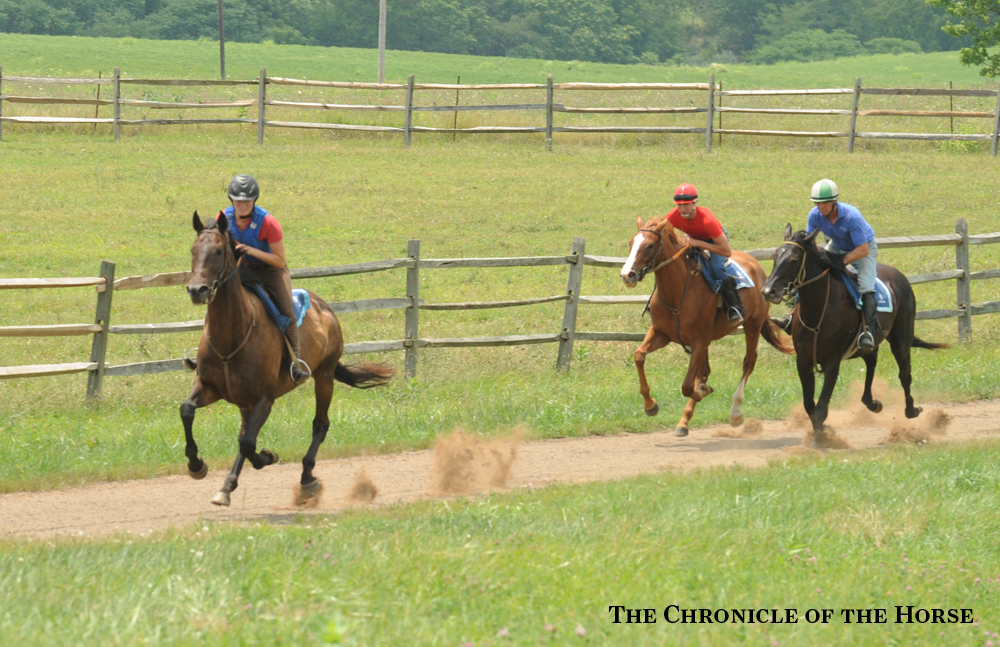 This is pre-home stretch take-off. As you can see, the boys are closing their lead, so I had to step on it.
Bling, knowing how badly I wanted to win my first start (breeze) as a jockey, galloped forward with gusto. We flew down the homestretch and passed the designated finishing mark before I realized he had indeed "taken ahold of me," and stopping was going to be an issue. Pulling was making him go faster, doing nothing was making him go faster, and whoaing seemed to be lost on him.
I finally succeeded in pulling his head to the outside and slowing him down enough that he got the idea—the race (breeze) was over, we had won (completed it), and it was time to go to the winner's circle (wash rack).
Needless to say, I am now fielding multiple offers from top race horse owners begging me to ride their horses (I have a perfect race record), so if you don't hear from me for a while, I'm probably out race—breezing!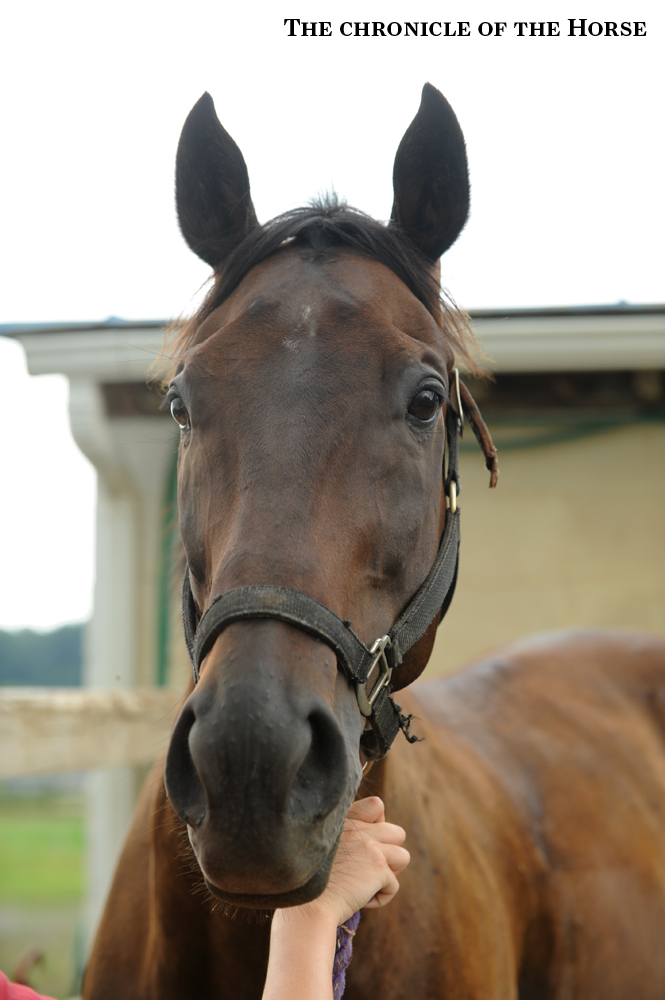 Thank you so much to Diana and Michael Cooney for letting me come out to ride this handsome devil, King Bling!

Our intrepid summer intern has been trying out all kinds of equestrian disciplines! Check out her other adventures…
Hunter/Jumper Intern Goes Cross-Country
Hunter/Jumper Intern Flips Out Over Vaulting
Hunter/Jumper Intern Heads To The Polo Fields
The Hunter/Jumper Intern Takes A Trip To Dressage Land
Ann Glavan is an editorial intern for The Chronicle of the Horse. Originally from Cedar Rapids, Iowa, Ann grew up competing at A circuit shows in the hunter and equitation divisions, first on her pony Is A Belle and more recently on her horse Happy Go Lucky. Ann interned for Phelps Media Group during the 2014 FTI Winter Equestrian Festival before joining the Chronicle team for the summer. She currently attends the University of Missouri and is studying journalism and economics.