Lexington, Ky.—Aug. 14
Liza Boyd may have had a sense of déjà vu during today's medium pony hunter championship presentation. A few decades ago during her first trip to USEF Pony Finals she won her division on Tickled Pink, and this year, when her daughter Elle Boyd made her Pony Finals debut, she took home the tricolor as well.
Elle piloted Baroness of Locheil to the division title for Betsee Parker after nailing today's over fences round. She edged out Olivia Sweetnam and On Your Mark for the championship.
Emma Dyson and large pony D'Artagnan won the overall grand pony hunter championship, with Erin Morera and Nominee—also a large— claiming the reserve grand pony hunter championship.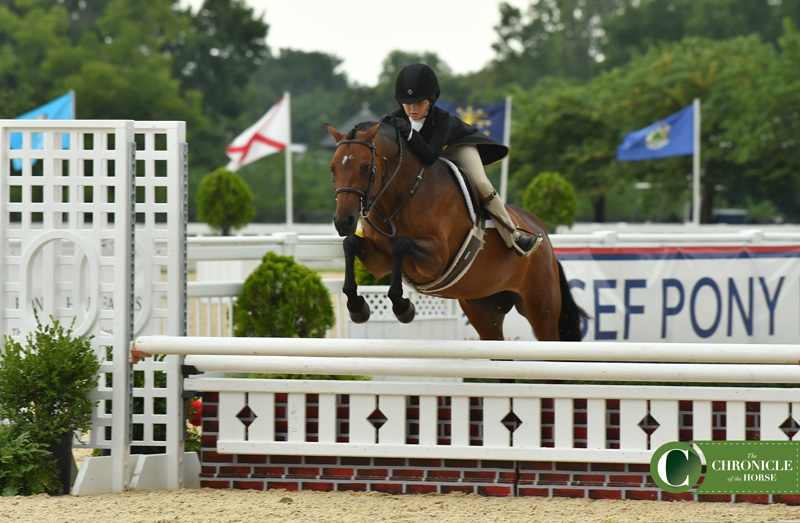 Baroness of Locheil won the grand green title at Pony Finals two years ago with Elle's good friend Maddie Tosh up.
"Maddie gave me a lot of advice and she helps me a lot," said Elle, 11. "She just gave me all the tips that she had when she was showing her."
Elle, Camden, South Carolina, just started riding the 9-year-old Welsh Pony cross (Maple Side Mr. Magic—Champlain's Good As Gold) at the start of this season.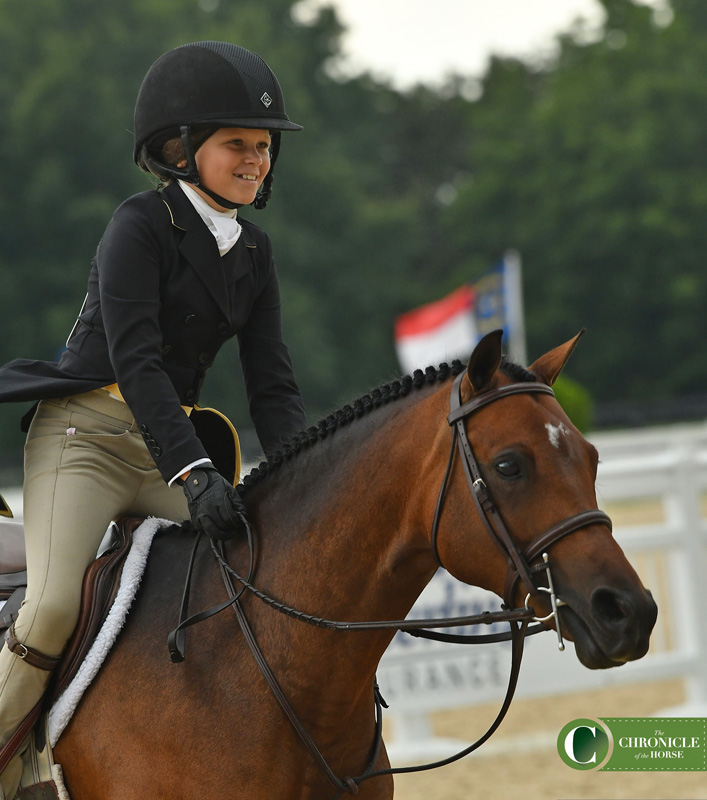 "She's just so smooth and gentle and kind," said Elle.
"When I went in for the over fences I just wanted to get a good solid round," she added. "I was trying to be extra careful in the last line not to get too fast or too slow."
Elle trains with Liza and her grandfather Jack Towell. Towell admitted they've been through some ups and downs.
"Everything's not what you see today," said Towell. "You've got to learn and do it. It hasn't been easy. That pony was used to nobody but a good-riding, bigger kid and it took a while, but Dr. Betsee Parker was great. Hunt Tosh and his wife [Mandy Tosh] and his daughter [Maddie] were great on giving us advice. She stuck with it."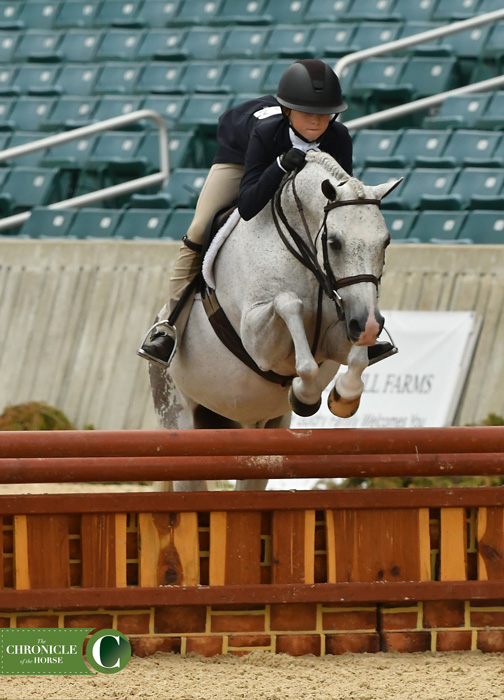 The Towell-Boyd clan is staying in Kentucky for next week's Platinum Performance USHJA Green Hunter Incentive Championships and Platinum Performance USHJA International Hunter Derby Championship, and Liza admitted that Pony Finals was the harder week.
"Next week is fun and exciting," she said. "I think it's when I'm in the ring I feel like I have control as I'm doing it. When you're watching, now I see why Jack gets so stressed. It's [more] stressful watching your kid ride than actually doing yourself."
Liza said since Elle has started competing she now understands how her father feels when he trains her on her top derby mounts, like three-time Derby Championships winner Brunello.
"I'm like oh my God, I'm turning into Jack," she said. "I'm jumping up and down in the same in-gate that he jumped up and down at for Brunello. The apple doesn't fall far from the tree."
Day-Long Delay Doesn't Stop Maddie Tosh And Brixton
One of the first people to congratulate Elle was Maddie Tosh, who was grinning wide after winning her own large green pony hunter championship earlier in the day aboard Brixton. That division was supposed to jump yesterday, but midway through the class storms surrounded into the Kentucky Horse Park. After an hour delay, with no end to the thunder and lightning in sight, management called off competition for the remainder of the day.
Maddie left the show feeling disappointed as Brixton had schooled beautifully in the morning and seemed on his game, but today she and Parker's 11-year-old German Riding Pony (Charivari—Vorr) nailed the over fences round to go to the top of the division, claiming the grand green hunter championship along the way.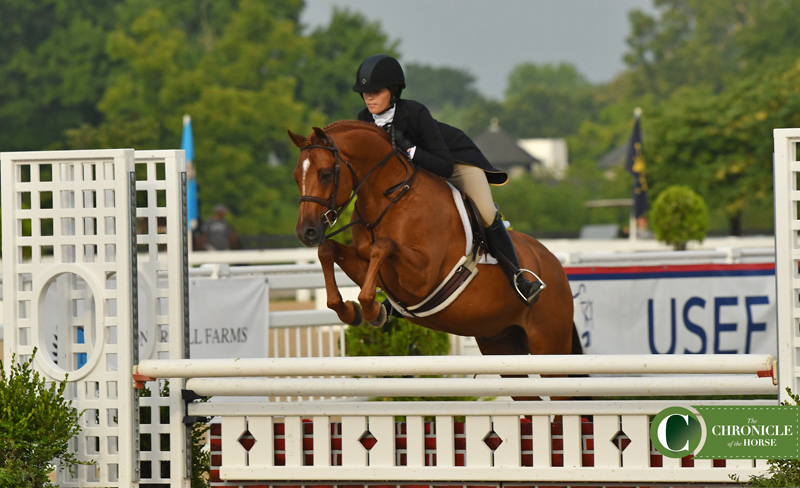 Take 3 LLC's Goldmark and Olivia Sweetnam topped the over fences class to claim the large green hunter reserve championship and the reserve grand green championship.
"[The delay] was obviously a little bit of a bummer but it worked out because he was great today," said Tosh, Milton, Georgia.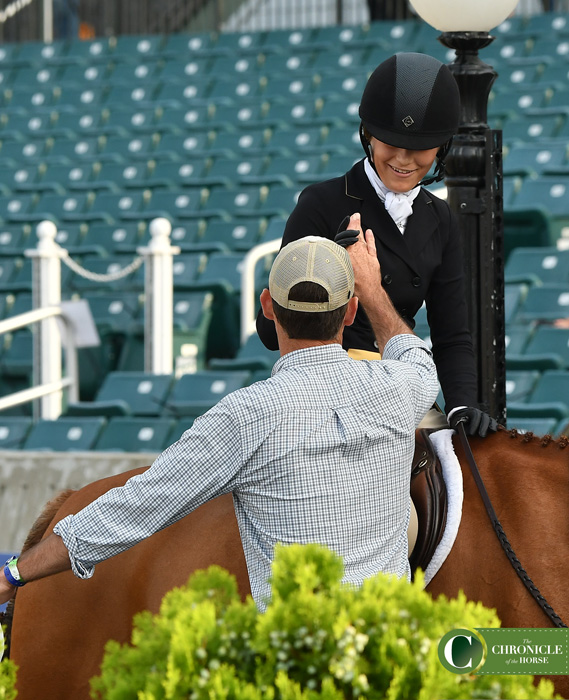 Scott Stewart and Ken Berkley imported Brixton, and Parker bought him last spring when Tosh started riding him.
"He's been so good," she said. "It's been really fun watching him grow up a little bit. He's come such a long way in the last year.
"[At the beginning] he was just really green," she continued. "He was really wiggly, and he wouldn't really pay attention. It's been really rewarding watching him come up and be to able to win something like this has been a lot of fun."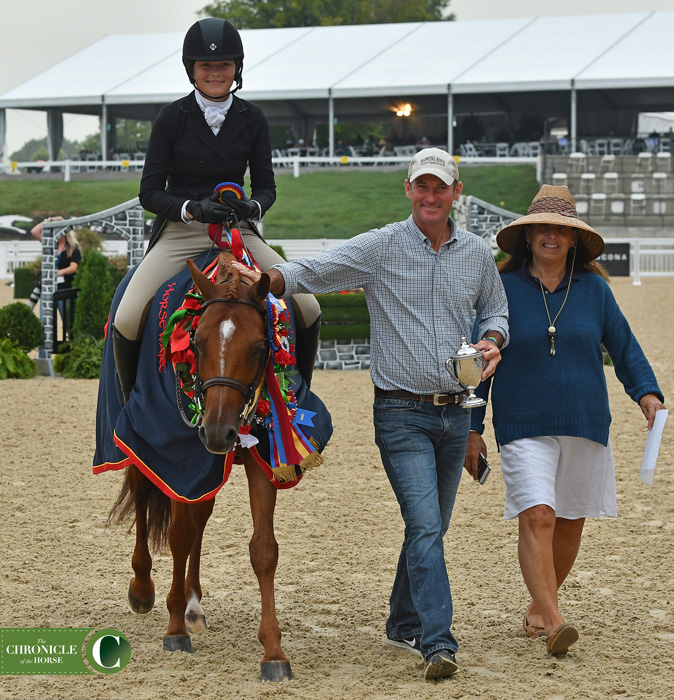 Tosh, 15, came back on top before the jumping round, and nailed her trip to claim the red ribbon.
"I have my pressure cooker here," said her father and trainer Hunt Tosh, gesturing at Maddie. "She's great. We were joking about coming back last today and obviously it's nerve wracking a little bit for me being the dad more than anything else. But she's unbelievable under that pressure."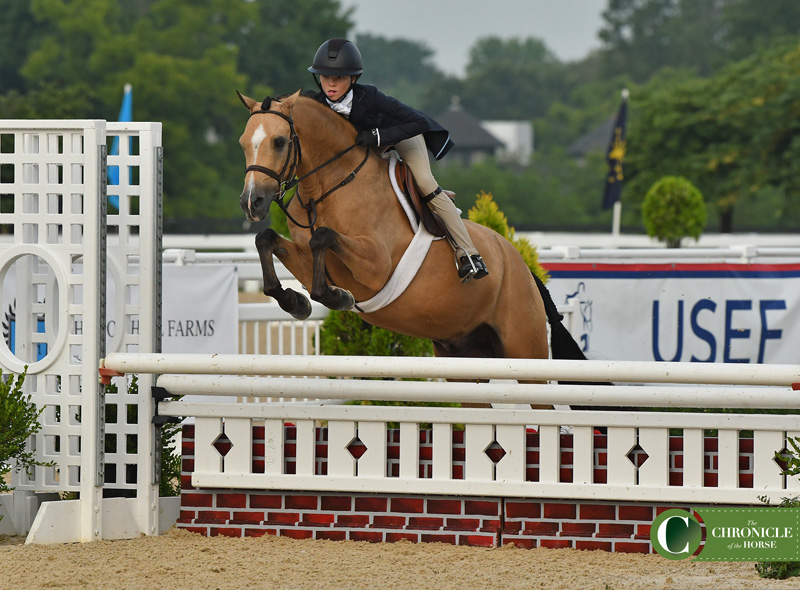 Maddie considers herself lucky to be able to train with her father.
"It's a lot of fun," she said. "We do fight on occasion. But I really wouldn't want it any other way. I know no one's going to try harder for me than he is."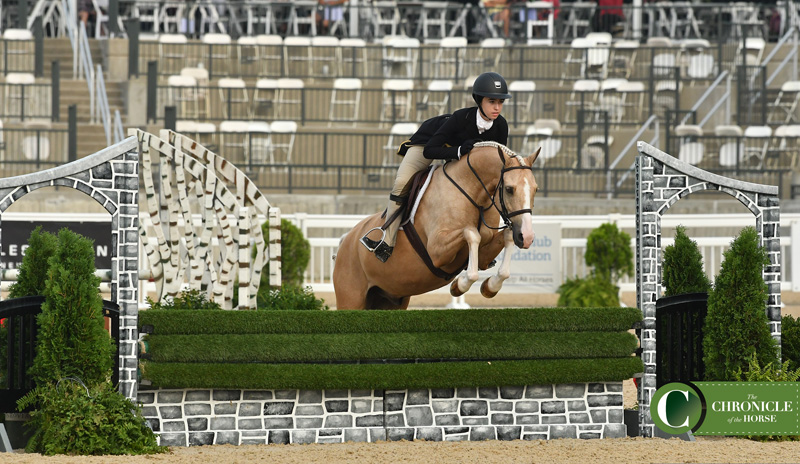 See More Blue Lives Up To His Name With Hayley Hewitt
Hayley Hewitt had her own delay to deal with at Pony Finals—a year-long one. She and See More Blue reluctantly scratched out of last year's event shortly before it was cancelled due to their own COVID risk calculus, and she was super excited for the chance to show against her peers this time around in the 2020 large green pony division.
"When they finally said there was going to be a 2020 [green] division this year we were super excited so that we weren't going to waste his green year," said Hewitt, 14.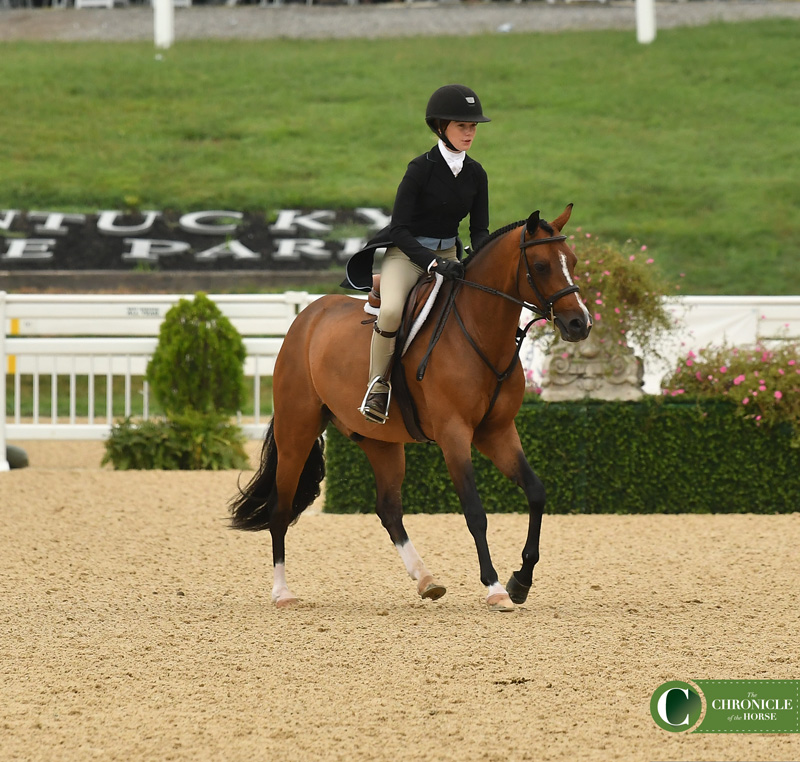 Hewitt made the most of that opportunity, riding to the top of the 2020 large green division to take the championship back to New Canaan, Connecticut, for Basset Equine LLC. Vivian Golden and GC Ponies' Duncans Mill Mac Dougal took the reserve title.
Wednesday's 2020 small green pony champion, Pepsi, took the 2020 grand green championship.
Hewitt has been riding the 8-year-old warmblood of unrecorded breeding since the end of 2019.
"He loves treats; he loves his job; he's an amazing pony," she said. "I love him so much and he's such a joy to have in the barn.
"He's super comfortable," she continued. "He's so much fun. You can really tell that he enjoys what he's doing. He's pretty lazy so you really have to get him going to make sure he's in front of you."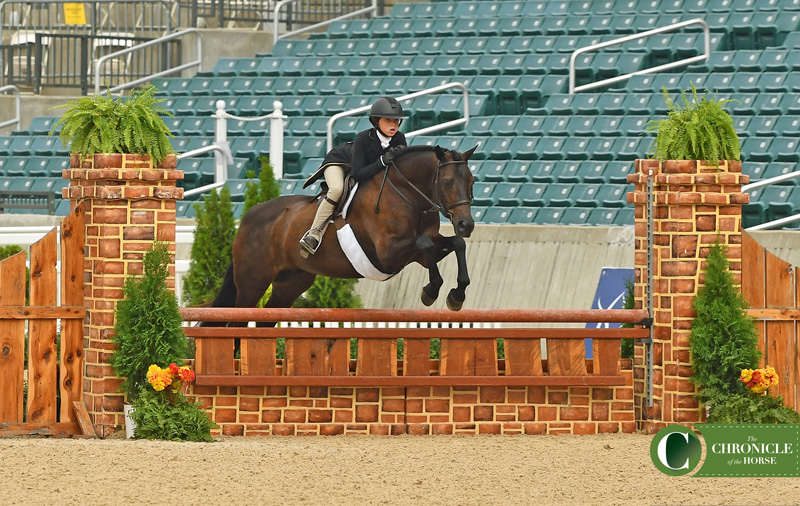 She and trainer Chance Arakelian made a careful plan before going in for their jumping round.
"We had a real plan for this course as far as what leads we wanted to land on and how we were going to do the lines," said Arakelian. "It needed to be a real execution with the timing and all, and Hayley just absolutely nailed it. She's unbelievable to work with. She tries really, really hard. She's really naturally focused and very easy to train."
Hewitt and Arakelian just started working together recently.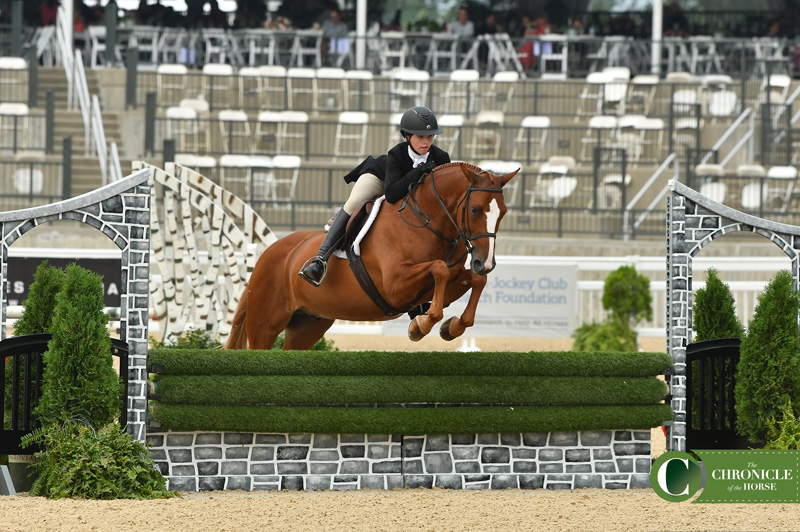 "Probably a month ago was the first time I saw him jump," he said. "I've kind of just been getting a feel for what his things are that he needs work on, so it was kind of a last-minute, pulling-together type situation."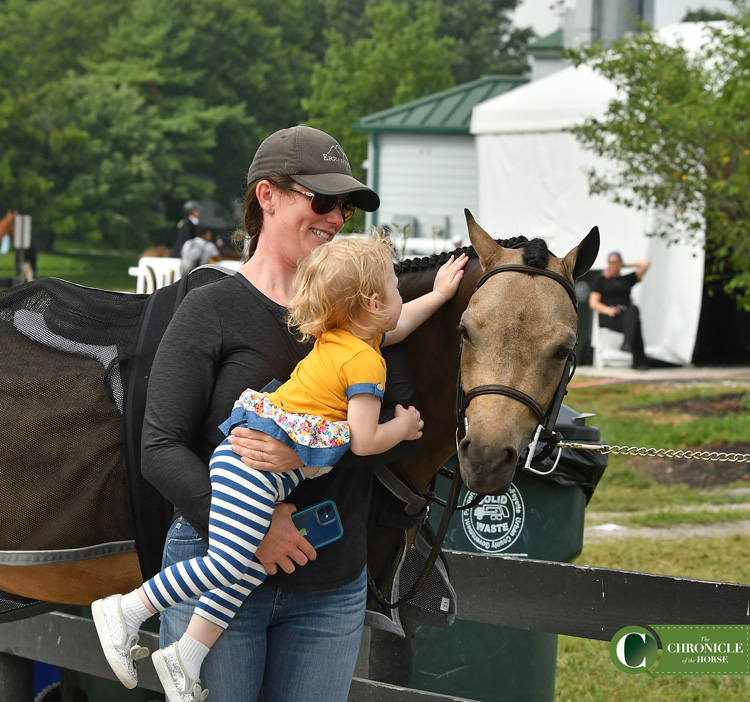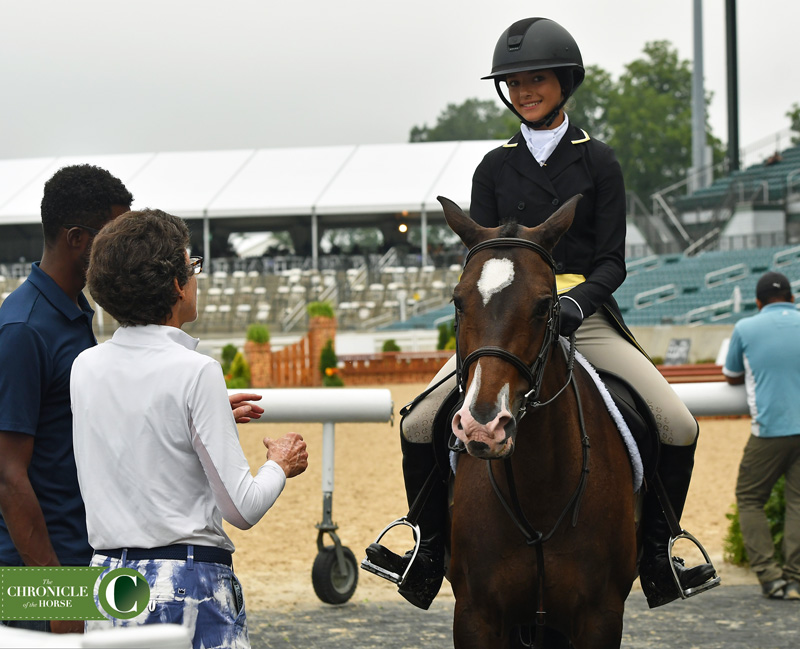 Want more Pony Finals? We've got stories about special competitors here. You can find results at Shownet.biz. Plus make sure you're following The Chronicle of the Horse on social media @chronofhorse.