She rides The King's Spirit to a win in the event's first CCI***.
Sharon White had a lot on her mind on the weekend of June 13-16.
Her mother Carol was at Duke University (N.C.) undergoing a biopsy of a brain tumor, and Sharon wanted to be by her side. Instead, she traveled to Canada to compete in the first CCI*** held in Bromont, Que., and she kept her focus to win the competition riding Peter and Susan Barry's mare The King's Spirit. She also placed sixth in the CCI** riding Toni Massey's Fortunate Son.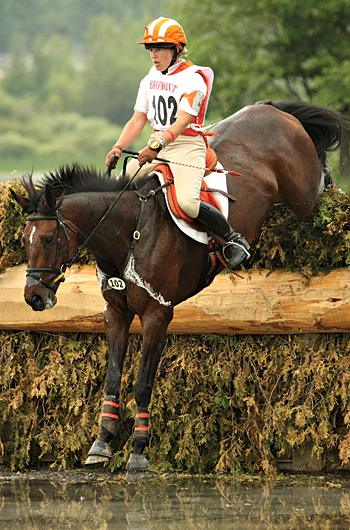 "I've been eventing for a long time, but this is my first three-star win," said White, 34, Summit Point, W.Va. "This definitely is for my mom."
There was more good news from North Carolina: Carol's tumor, which is terminal, (it's the same type of cancer affecting Senator Ted Kennedy) had not gotten worse at this point.
White has faced her own share of hardship: she shattered her pelvis in a fall in 2005, but with consistent physical training and holistic care she manages to stay in the game. She has been riding The King's Spirit, a 10-year-old, English Thoroughbred mare by Rock King out of a Welton mare that the Barrys imported as a 3-year-old, since the mare was 4. This was their second time at this level: last year the pair completed the CCI*** at Fair Hill (Md.).
"She's so wonderful; she's like my good friend," White said. "She's so genuine, she goes cross-country in a rubber snaffle. She's a very typey Thoroughbred. She got tired, but she was there for me on the cross-country."
Bromont's mountainous terrain always plays a big factor in the cross-country. "[Course designer] Derek [di Grazia] was smart about using a lot of downhills near the end so the horses got to catch their breath," White said.
Only six horses were entered in the CCI*** and Todd Sandler Challenge, a small field that organizers hope will grow. They poured funding into the new cross-country course, including laying extensive drainage throughout the fields to alleviate boggy footing and leveling out some of the terracing in the old farmland.

Close Calls
Australian rider Boyd Martin, 28, West Grove, Pa., had a relaxed and accurate dressage test riding Anne Hennessey's Benwald to take the early lead in the three-star, but the big gelding was overwhelmed by the cross-country and stopped at the fourth fence on course.
"He's a fairly new horse to me. Our first competition was at The Fork [N.C.] in April, and we got a rough start. At our first event we had a run out; at our second event I jumped the wrong jump. More recently we placed second in the advanced at MCTA [Md.]. He's a much different style horse to what I've ridden. He tends to get strong and wild in the jumping, so I put him in a snaffle and let him go, and he settles down on his own."
After the stop on cross-country Martin just nursed the gelding around the course, racking up nearly a full minute's worth of time faults that placed him at the back of the pack. "I just wanted him to jump the rest well; there was no need to overexert him," he said.
With six rails down in show jumping Martin stayed in sixth place.
Waylon Roberts, 19, Port Perry, Ont., riding Paleface, was second after dressage and jumped clear around cross-country but had an uncharacteristic eight rails down in the show jumping to finish fourth, a heartbreaking finish for a rider who is also competitive in show jumping competition. It was made worse by the fact that in April Paleface was spun at the Sunday morning horse inspection at Rolex Kentucky, his first four-star competition, after a brilliant cross-country round. However, Roberts has plenty of opportunities in front of him, and he hopes to complete Rolex Kentucky next spring.
California rider Andrea Baxter, 25, based at her family's Twin Rivers Ranch in Paso Robles, made up for a string of bad luck by finishing second on Estrella, followed by Sarah Cousins on Tsunami. Cousins also finished fifth riding The Robber Baron.
Baxter has spent the past month training out of Buck Davidson's barn after Estrella developed an udder infection the morning of cross-country at the Jersey Fresh CCI*** (N.J.). The infection took a week to clear up, and rather than waste the trip across the country, Baxter decided to give Bromont a shot.
"I traveled out here with my friends, and Hawley Bennett hooked me up with Buck," she said. "I was left without a truck or trailer to work off my board at Buck's and try to stay afloat."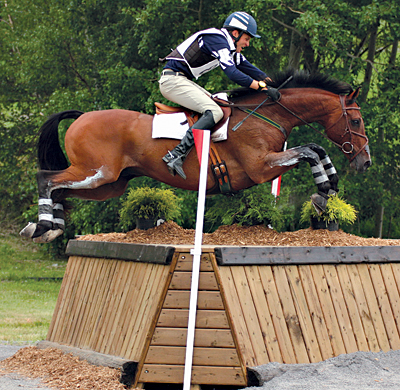 Baxter has decided to stay on the East Coast and compete in the Fair Hill CCI*** in October. She will base herself at a friend's barn in Middleburg, Va., for the summer. Last year she flew Estrella out for Fair Hill, but the day before she was supposed to join her horse she fell off her mother's preliminary horse at home and broke her arm, so she hired Bonnie Mosser to ride Estrella in the dressage and then shipped the mare home.
"Third time's a charm!" she said with a laugh.

Galileo VI Shoots For The Stars
The three-star may not have gone so well for Boyd Martin, but he made up for it by winning the CCI** riding Galileo VI, a Trakehner gelding usually ridden by Martin's employer, Phillip Dutton. He led from start to finish in the division of 17 entries to win with 47.9 penalties, a full 10 points ahead of his childhood friend Ryan Wood, who moved to the United States from Australia to work for Bruce Davidson.
"Galileo is a good quality horse with a lot of jumping ability," said Martin. "He gallops well for a Trakehner. On cross-country my directions from Phillip were to go easy for the first third of the course, so I did. He got more and more excited as he went on. I could feel that he's pretty green."
Martin will ride Galileo for the summer with the goal of qualifying him for a three-star, while Dutton focuses on his Olympic potential horses.
It was not an easy victory for Galileo, however. Things looked downright grim when he started showing signs of colic on Saturday night and took several hours to turn around.
"Dr. Christiana Ober was here and was confident that he wasn't in immediate danger, so we walked him and gave him fluids until 1:30 a.m. when he started to improve," said Martin. "If there was a war tomorrow I'd want her in my trenches—she really hung in there. A lot of people would have medicated and withdrawn him, but she hung in there and gave him fluids. He was fresh as a daisy this morning. I was rooted this morning but not as much as my groom Beth, who was up all night with him."
Wood added 8.4 cross-country time penalties and jumped clear with 1 time fault on show jumping to move up to second riding Wynella Wolverine.
Bromont marked Wood's return to FEI competition after he fell on cross-country in Ocala, Fla., in February and had to be airlifted to the hospital with multiple serious injuries, mainly to his face. Put back together again, with a titanium eye socket, a healed broken knee, and apparently unwavering confidence, Wood is hungry for success.
"It's a good feeling to be back in the winning circle, and if I had to be beat by someone I'm glad it was my buddy Boyd," he said. "The cross-country course here encouraged you to ride positive, and the horse and I gained confidence as we went around."
Following stadium jumping he said, "It shows the horses' fitness on a day like today because yesterday took so much out of them. For the ones that jumped clear it was a reflection of their fitness program."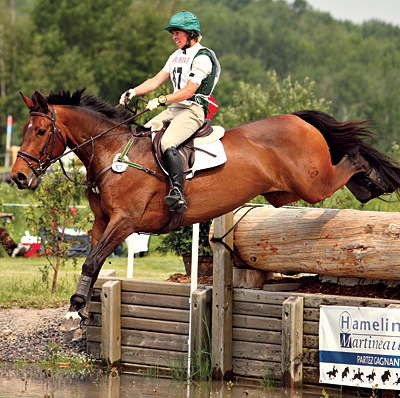 Martin was excited for his friend. "Woodsie basically stared death in the eyes a couple of months ago after a traumatic fall that would have retired most riders and sent them running home to mum," he said. "I consider him the Lance Armstrong of eventing—he's healed physically and mentally, and it's a credit to his character. He's an inspiration."
Parkin Her Lexus In The Lead
Leading the CCI* from start to finish proved to Nicole Parkin, Hockley Valley, Ont., that Lexus is ready to move up to intermediate. The elegant, 8-year-old, Hanoverian mare, owned by Nique Henry, also won the CIC* at Poplar Place (Ga.) in March.
Parkin has been riding Lexus for three years and spent the winter in Florida working with Peter Gray.
"That helped a lot; he's been super supportive," she said. She also works with John MacPherson in dressage.
"I'm so lucky to have Nique as an owner," added Parkin. "She's very supportive, and she leaves the decisions up to me."
Parkin was concerned that the hilly terrain would take a lot out of Lexus since she is a warmblood, but she needn't have worried. "She ran really well," she said. "I wasn't too bold out of the box so that I would have some horse left. I had a couple time faults, but better safe than sorry. She didn't look at a thing, so we are definitely ready to upgrade!"
The event was subdued by one serious accident. Task Master and Ashlynne Bugg of Canada fell at fence 16 on the cross-country phase of the CIC**.
Task Master cantered away from the fence but later developed stiffness after being caught and while being examined in the veterinary box. He was transported to the hospital at the Faculté de Médecine Vétérinaire of the University of Montreal.
Later in hospital, he died due to a pelvic fracture and internal blood loss. Bugg suffered a broken wrist, and she was released from the hospital that day.
Amber Heintzberger