When Murray Kessler closed out his final U.S. Equestrian Federation Annual Meeting, held virtually Jan. 13-17, as president of the federation, he looked back on the challenges and accomplishments of his four-year term.
Of the eight issues he'd hoped to address, some were easy to check off the list. After introducing a low-cost fan membership, which was and is still often offered for free, USEF membership grew from about 80,000 to more than 180,000. This helped increase revenues, in the form of membership fees, which were up 23% in the last four years, but also via things such as additional horse recordings, sponsorship revenue and advertising sales.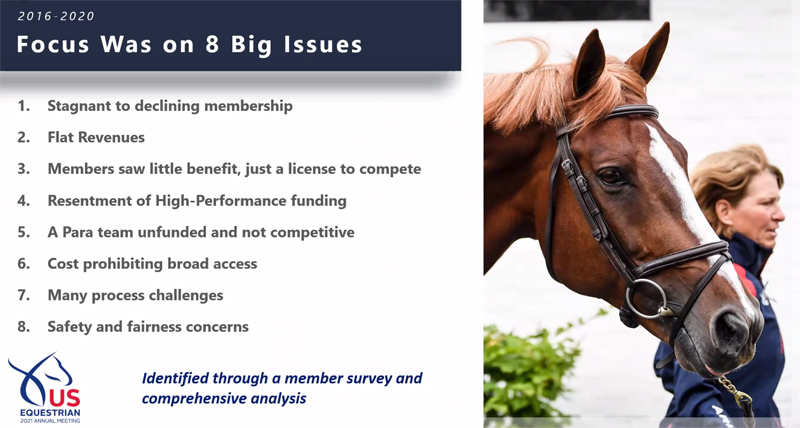 Kessler wanted the U.S. para-dressage team to become competitive internationally. After hiring world-class para coach Michel Assouline, building a pipeline and increasing the funding to the para team, by the end of 2020, the U.S. had the World No. 1 ranked para-dressage athlete, Roxanne Trunnell, and the No. 1 ranked para-dressage team.
Process challenges were addressed, from streamlining committees and restructuring rule changes, to adding transparency to the licensed official training program, to moving the USEF staff into a new building in Lexington, Kentucky, which led to $200,000 a year in savings.
But other, less tangible, goals were harder to count as missions accomplished.
USEF leadership knew members resented the number of USEF dollars used to support high performance athletes. Kessler pushed for athletes to give back in the form of educational videos, and discipline leaders made strides in creating better pathways from junior hopefuls to international success, with the idea that these achievements would inspire the next generation and build more membership.
In recent budgets, the U.S. Equestrian Team Foundation and the U.S. Olympic and Paralympic Committee have provided about 18 percent of the USEF's revenues each year, which covers 75-80 percent of the funding for the high performance programs.
"The other 20 percent that goes toward those, a lot of that is sponsorship driven, and they come in because of the results of those teams," said new USEF President Tom O'Mara, who had been the federation's secretary and treasurer before taking on his new role. "It's kind of a standalone self-funded situation."
Yet the perception remains that too many of the USEF's dollars go to too few.
"USEF continues raking in more than $9 million of our membership fees every year and makes exactly zero effort to lower the cost of competing in this sport for any of us—instead, spending that money on flying Nations Cup horses owned by billionaires around the world," wrote amateur competitor and former Chronicle staff member Ann Glavan in a scathing Facebook post on Nov. 11 that was shared more than 6,000 times.
Similarly, USEF leadership knew that members felt there was little benefit to buying a membership beyond the ability to compete. "They literally thought of it as a fishing license," said Kessler. "They understood we provided the rules, but they saw no added value benefits to the organization, just that they had to be a member in order to compete."
Things like expanded member perks discounts, a reinstated print magazine, new educational videos, equestrian competition coverage on USEF Network and a health insurance plan for members did create incentives to join beyond competing.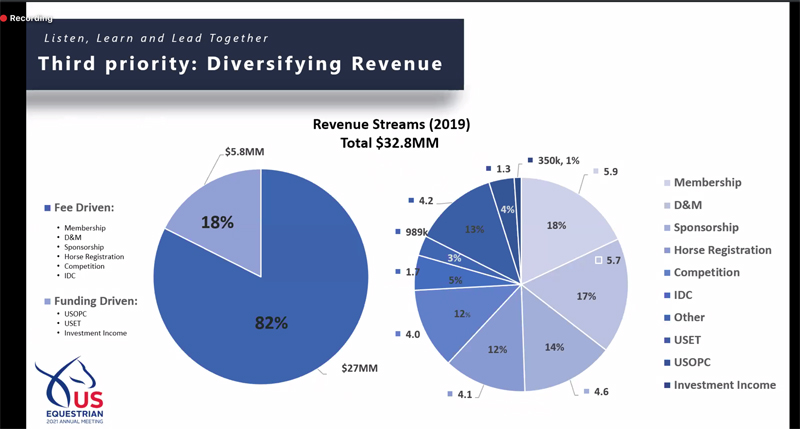 But O'Mara acknowledged that almost all the USEF revenue that doesn't come from the USOPC or USET Foundation is directly related to competition. He counted six revenue streams, and five of those correlate to the number of events, classes, rounds and participants.
"We did this analysis right before COVID. When COVID occurred, we learned the hard lesson that this is exactly what's going on," said O'Mara, as USEF's revenues were down 25 percent in 2020. "One of the six isn't directly tied to the number of people going into a ring, although it is secondarily, because they're sponsors, and they want people to go into the ring and support our sport."
And when it comes to the sixth point on Kessler's list—cost prohibiting broad access—the events of 2020 brought home that USEF has a ways to go on fixing this issue.
"It still is a challenge," said Kessler. "It's an expensive sport. We had to find ways to allow people more access to our sport. I think we did an OK job here. I'd like it to be better. It's better than people think, but not good enough for where I think it needs to be."
He pointed to the fan memberships offering access and education for a low price; "Competition Lite," a way for organizers to run shows and classes under USEF rules but without all the requirements of a USEF-sanctioned show; and updates to the mileage rule that make it easier for new competitions to get show dates.
Yet two of the most debated issues in 2020 in the equestrian community centered on access and inclusion. After the death of George Floyd in May, junior rider Sophie Gochman published a passionate op-ed on coth.com entitled, "Breaking The Silence Surrounding White Privilege In The Horse World." "For too long, the horse show world has chosen to ignore the extreme social injustice embedded in American policy and tradition," she wrote.
Black equestrians and other equestrians of color began sharing their experiences, describing how difficult it can be to participate in a sport where no one looks like you, regardless of your financial ability to do so.
As USEF leadership was working to respond with a Diversity, Equity and Inclusion Action Plan, other access dilemmas made the headlines, such as the organizers of the new World Equestrian Center facility in Ocala, Florida, choosing to eschew USEF altogether when they weren't given enough sanctioned competition dates, and amateurs protesting that their voices weren't being included in affiliate governance.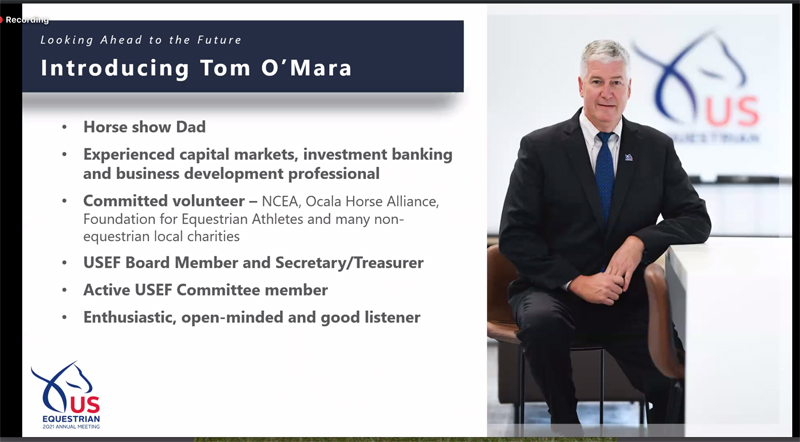 "We have a strong foundation. We need to build on this by focusing on a few priorities," said O'Mara as he introduced himself as the new president. "Now is the time to ensure that our actions support our members and their horses. Second, we need to explore opportunities to continue to grow membership and show results, and third, we need to increase our sustainability by diversifying our revenue streams."
So what are the next steps ?
For O'Mara, gathering feedback is a priority. "Member feedback can't just be based around crisis situations," he said. "It really does need to be a continuous action. There have been avenues to do that, but we've heard loud and clear that it's not real clear what those avenues are. We need to make it easy for everyone to access and get their voice heard."
Feedback now has its own link under the "Compete" tab on the USEF website, and O'Mara is planning a variety of virtual and in-person conversations with membership so people can share their opinions. He also wants to send out membership surveys on a regular basis, and a Competitions Task Force is being repopulated to analyze feedback and make suggestions to the board of directors.
An Amateur Task Force is also in the works, and O'Mara hopes to create an associate membership for people who work in the industry but don't compete.
O'Mara also said USEF would be looking to partner and outsource in order to accomplish goals without spending more money. That effort has already begun with the Diversity, Equity and Inclusion Action Plan, which came about through collaboration of working groups of "thought leaders" from within and outside the USEF.
Part of the plan includes a more inclusive "I Am US Equestrian" marketing campaign, and DEI training, which will be rolled out first for board members, then licensed officials. USEF leadership hope to offer DEI training to members on a voluntary basis starting in June.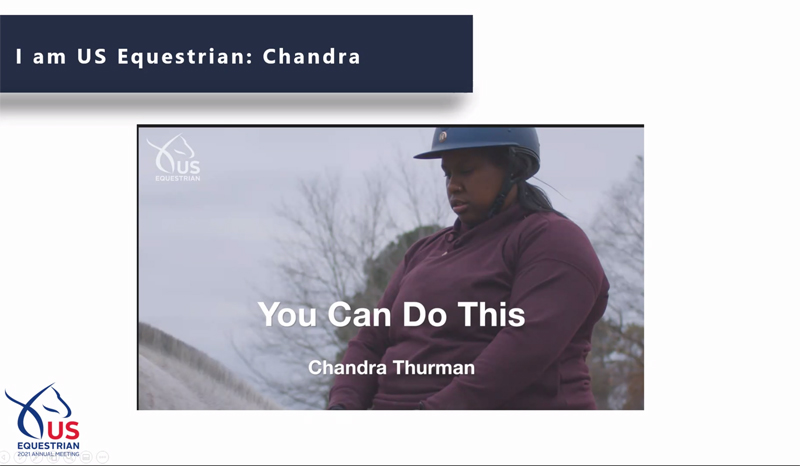 The plan also includes working with already existing entities to create "a network of USEF Community Outreach Organizations, riding centers and other equine focused groups that provide equestrian-based learning for under-represented and under-served communities."
Charter organizations will include Detroit Horse Power, Saddle Up And Read, PURA, Operation Wild Horse, EHI Equestrian & Therapeutic Center, and Concrete To Show Jumping.
Vicki Lowell, USEF chief marketing and content officer, also asked the board for $50,000 in 2022 to start a USEF DEI Opportunity Fund. The purpose of the fund would be to offer grants to some of the outreach organizations, and the hope is to raise money through sponsorship and donations, similar to the USEF's Disaster Relief Fund.
"There are an awful lot of places working to bring people into our sport from all walks of life," said O'Mara. "There just wasn't awareness of it. What we realized as the federation, as the [national governing body] of sport, was that we can be a hub and pull together our resources. We connect with a lot of equestrians. If we can identify and pull it all together in one spot, we can be a resource where people can learn about these groups.
"Additionally, we'd like to be able to set up this grant mechanism to help them with their programs," he added. "We need to put our money where our mouth is."
The board voted unanimously to place $50,000 in the fund for 2022, with two members abstaining, Lisa Gorretta and Nancy Harvey.
You can watch all of the 2021 USEF Annual Meeting on the USEF Network.