Omaha, Neb.—April 1  
There's not much Isabell Werth hasn't won, but you'd never know it watching her in the prize-giving for the FEI World Cup Dressage Final.
Werth started an impromptu party in the middle of the ring. Handed a bottle of champagne, she popped the cork and took a few swigs, then took the bottle around to her horse, Weihegold OLD, and groom, Steffi Wigard, giving Wigard a few sips before moving on to the second-placed Verdades and his groom, sharing the celebration.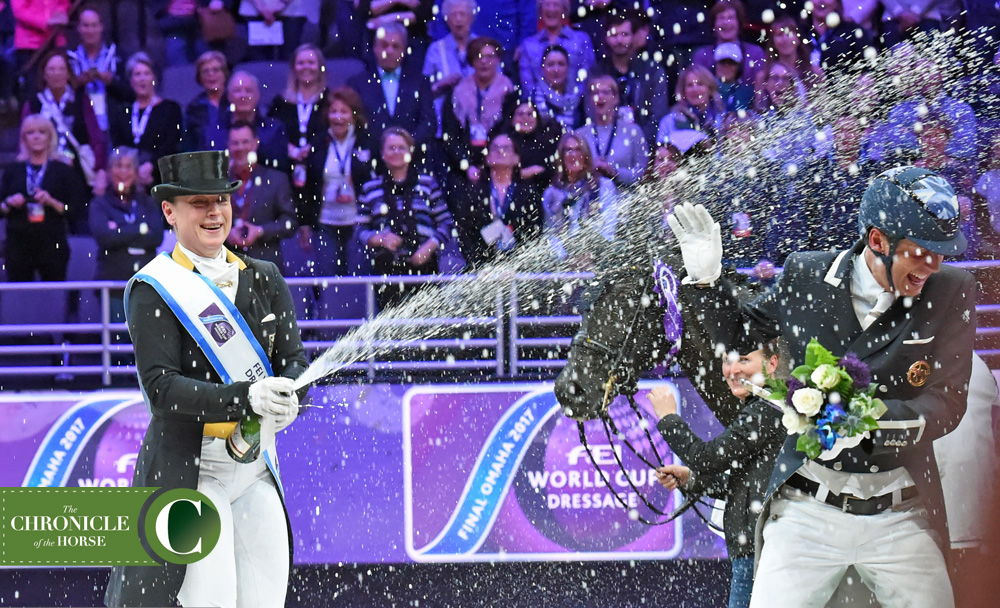 Werth won her first World Cup Final 25 years ago, in 1992 aboard Fabienne. Her last World Cup title came in 2007 in Las Vegas with Warum Nicht FRH. But for Werth, winning never gets routine. "I take away a lot of fun, a lot of really great feeling," she said. "It's special to win after 10 years again. It's great to come back with really different types of top horses. I'm very happy and satisfied. I know how it is to be downstairs, and I am very happy to be upstairs today."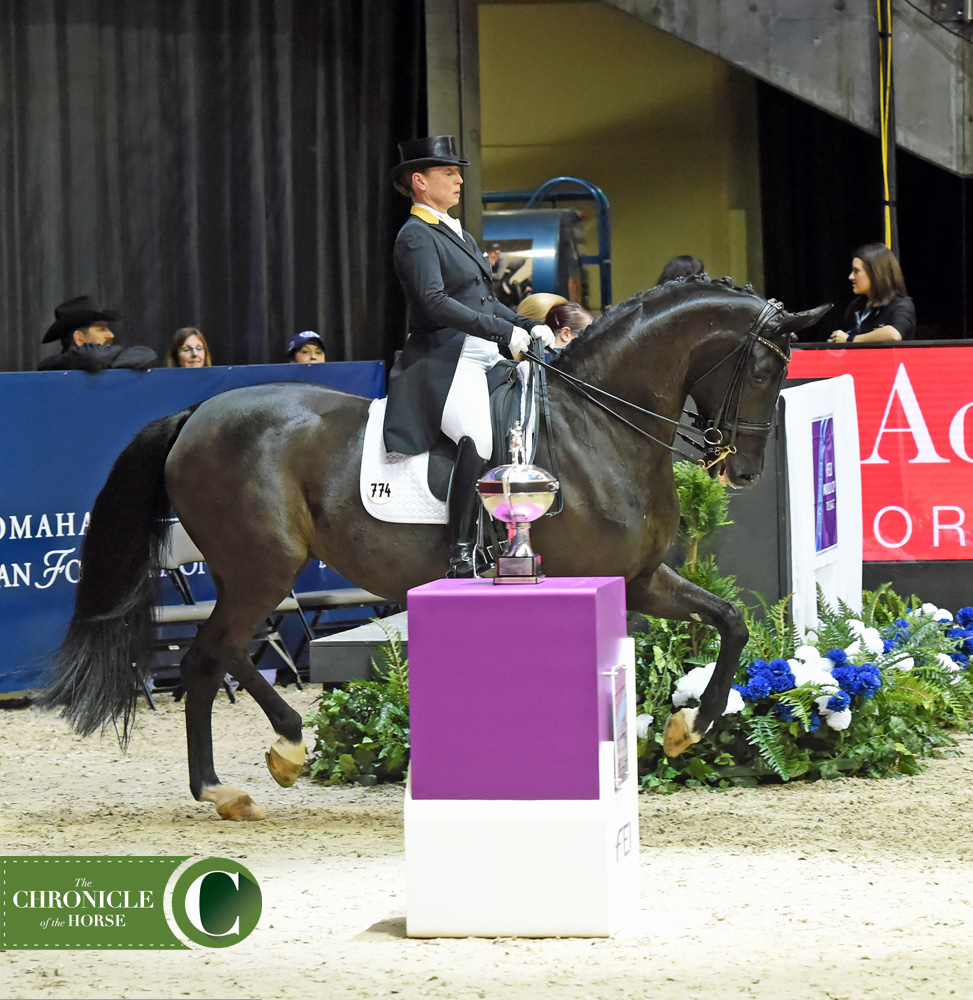 Werth's happiness was exuberant, but it paled in comparison to her groom, Steffi Wigard's, joy. As Wigard held Weihegold OLD during the awards, she was openly crying and couldn't stop patting and kissing the black mare.
"She's a fantastic groom, and she has a fantastic relationship with all our horses. She's so responsible and great with the horses wherever she is—on a trip or at home. I have my fingers crossed we can keep her!" Werth said of Wigard.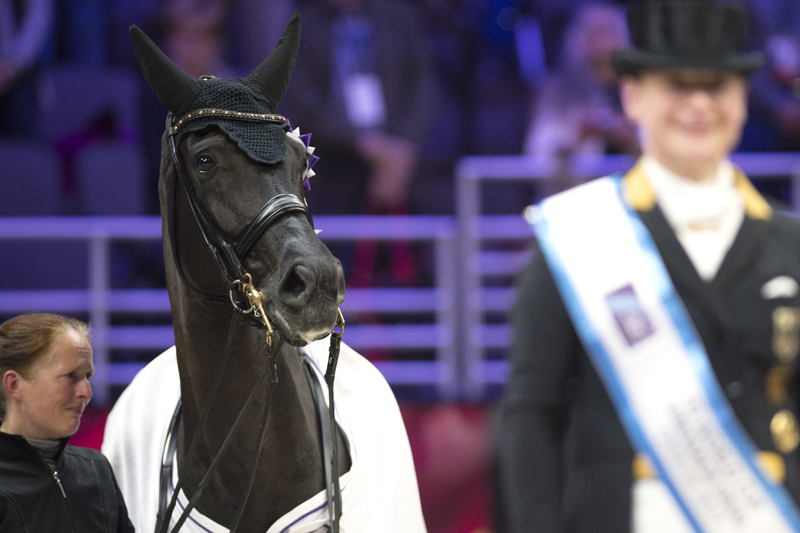 Werth's score of 90.70 percent outpaced the U.S. sweetheart Laura Graves by more than 5 points; Graves claimed second on Verdades with 85.30 percent, a new personal best for her.
But the 8,578 fans watching from the seats could tell Werth was on it this afternoon—as she went to turn up her final centerline, the usually stern Werth broke out in a huge smile. "I felt really confident," she said. "Today I felt it was our day. Weihegold felt just fantastic. She was very relaxed. With her, to go to the end with this music, it's piaffe/passage and you can really celebrate her. I was really enjoying the ride and it was fun. I was happy to go down the last centerline because I know how good she can be there."
As Werth rode, Graves watched anxiously. She'd already laid down a test she was very happy with, and there was nothing left to do but watch Werth ride. "I think I didn't even realize how badly I wanted to win," she said. "I'm very competitive, and I know I said [after the Grand Prix] that I was going to give Isabell a run for her money, but when I saw Isabell's technical score go so high and they cut to a shot of the World Cup trophy, I just thought 'Oh, I want that so badly.'
"So to be honest, I was a little disappointed to come in second, but coming second to Isabell, who is No. 1 in the world and has done this on so many horses, still feels a lot like winning. You don't have to win first place to have that feeling," Graves continued. "That was super special—I won't forget it for sure," she said.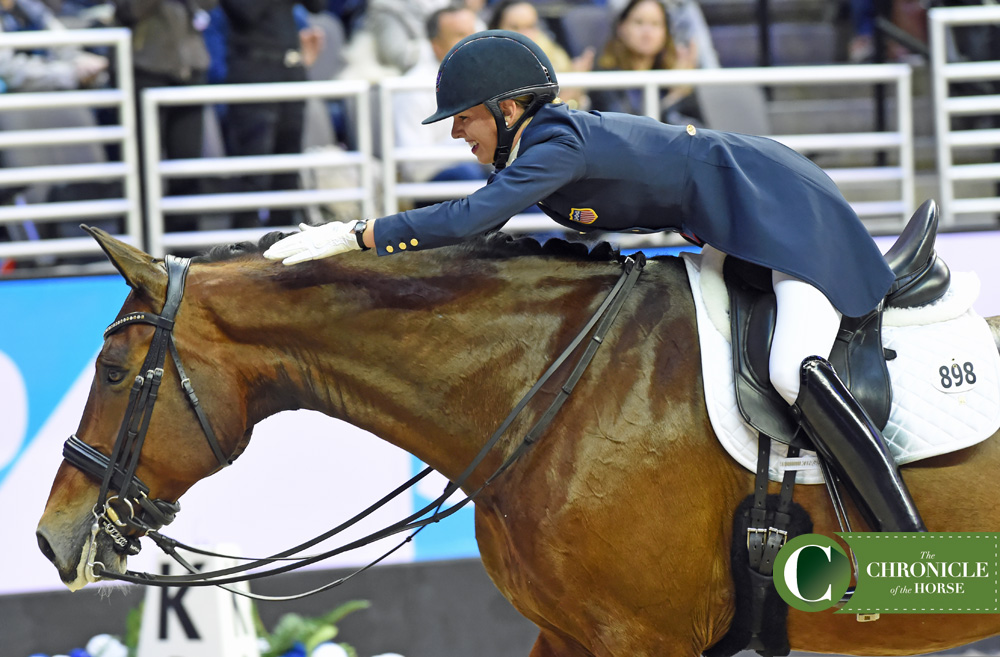 Graves made every attempt to ramp up her scores, adding some more difficult choreography with "Diddy" her World Cup preparation. "We changed my final centerline a few times this year, it is otherwise the same choreography we had in Rio," she said.
"With the World Cup, which is completely based on a freestyle, we've been focusing on it all season. We wanted a little surprise for people today, so we put in a piaffe fan. We have this great new freestyle floor plan creator, so we can see the level of difficulty and we can tweak things to see how to get more points."
Graves and Diddy turned up the last centerline, did a piaffe fan, then transitioned to passage and then right to extended trot down toward C. "Knowing who I was going to be up against, I knew I had to try a piaffe fan. It was my first time doing one in the ring! And then at the last minute, we threw in that extended trot toward the judges to the final salute. The crowd really seemed to enjoy it," she said. "At the end of my ride, I was super excited. I couldn't even hear my music when we broke into my extended trot, so I had to just guess on the final halt. Knowing that the crowd approves, especially in your home country, is amazing.
"I knew coming out that the judges would hopefully reward it, but I also knew that [Isabell and Carl Hester] still had to go, so I would have to cross my fingers to hold onto any rank. Luckily we did, and I'm sitting here next to Isabell and Carl."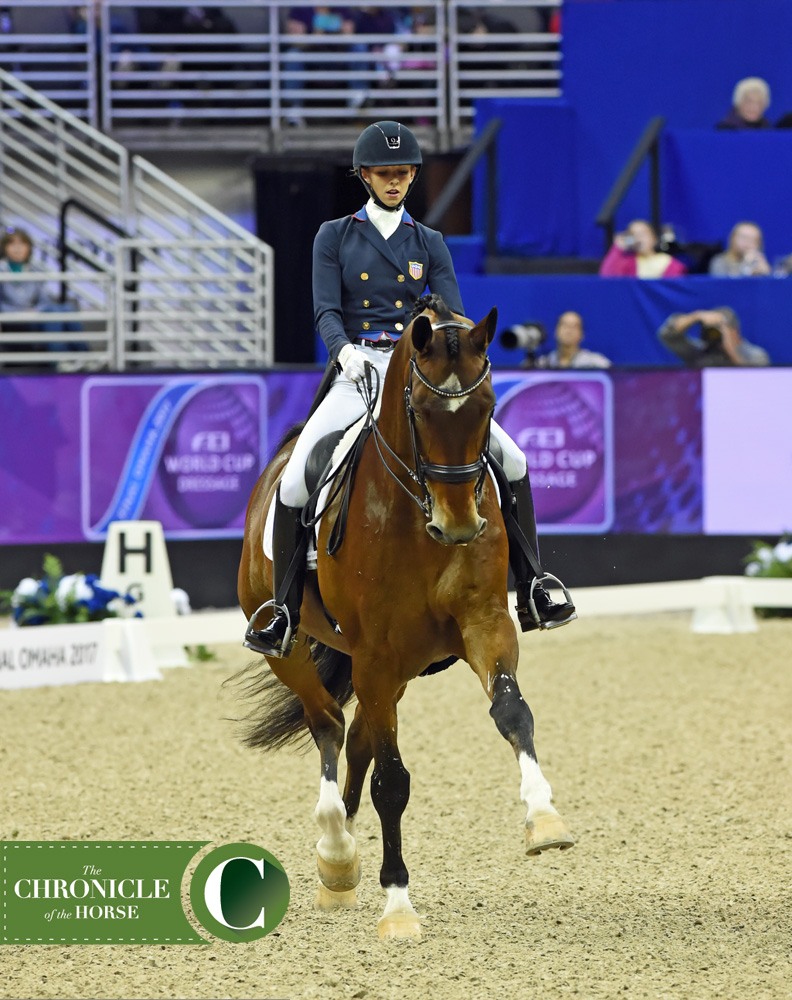 Hester placed third to Werth and Graves and was thrilled with Nip Tuck's week. "I find it unbelievable that he just never makes mistakes," he said. "He didn't just do a clean test; every beat in the music he was hitting the marks. He just felt the nicest. He was relaxed and rideable and regardless of the result, I think, 'How could I possibly be disappointed that my horse went his absolute best?'"
Graves' U.S. compatriot Kasey Perry-Glass was also very pleased with Goerklintgaards Dublet's performance, which put them into seventh in the freestyle (77.06%). "It was a lot more fluid than my Grand Prix. I felt like he was a lot more together and really focusing on my aids and what I wanted him to do. I loved that piaffe/passage, it's so fun to ride, especially in such a big atmosphere. He gets a little more pumped up," she said. "He's brilliant as it is, but it just makes it that much better for him. I'm finding that out!"
This week was a learning experience for both Perry-Glass and Dublet, as their first World Cup Final experience in just the horse's second year at Grand Prix. Perry-Glass was surprised at how reactive Dublet was to the electric atmosphere. "I need to work on keeping his attention a little bit more," she said. "He gets distracted in a big environment and I'm not used to that because at home he just walks along on a long rein and nothing really bothers him. A lot of the noise started to bother him, but I used the sound-muffling ear bonnet and it helps a lot.
"I learned that he is ready to compete with the big horses and riders, and he wants to do it. It's just a matter of getting that talent out of him in a positive way," Perry-Glass said.
Fellow U.S. rider Steffen Peters has many World Cup Finals under his belt, including the win in 2009 with Ravel, but this was the first experience for Rosamunde, just 10. He placed in the middle of the pack in ninth with a 75.87 percent, but was happy with how the mare dealt with the challenges. "It was a great freestyle for Rosie, she tried extremely hard," he said. "Clearly the first piaffe was much better than in the Grand Prix. She walked better today and the changes were more collected and a bit more controlled. She had great trot half-passes and I'm super pleased with her. For a young Grand Prix horse playing with the big boys and girls, this was awesome.
"I was hoping the judges would score it a little bit better, but she didn't get a great score in the Grand Prix, and it's very difficult to go up from the Grand Prix to the freestyle. It's the Grand Prix that we really have to polish; the freestyle is really working well for her," Peters said.
Peters had a bit of a surprise in the final trot work of his test, bringing out Ravel's old Sympathy For The Devil music for Rosamunde. "I had nice entrance music, and I liked the canter music, but I wasn't too crazy about Rosie's original trot music," he said. "I kept brainstorming and I eventually thought, 'I'm just going to use Ravel's old music.' It always brings out incredible memories and it works great for her too."
See full results from the FEI World Cup Final freestyle.
The Chronicle will have live blogs of competition sessions, Twitter updates, photo galleries, stories about each day's competition, and so much more on www.coth.com. Don't miss a thing—we'll have everything you need to know. Also make sure to follow along on the Chronicle's social media outlets: Facebook, Twitter and Instagram.
2017 FEI World Cup Dressage Final Freestyle
Kimberly Loushin / Apr 1, 2017 8:24 pm