Big Shot demonstrated on Friday, Jan. 28, why he was named 2021 National Horse of the Year by the U.S. Equestrian Federation, starting off the new year by adding to his string of victories with a win in the $15,000 Butet USHJA International Hunter Derby Hunt & Go at Desert International Horse Park (California) under Jenny Karazissis.
They were one of 22 pairs to take on Ken Krome's track, in which athletes piloted their mounts through a classic hunter round—laid out for fences 1 through 8, including two high options and a two-stride line—then advanced straight into the handy portion over fences 9 through 15, which included two high option oxers, a trot jump, a bounce, a solid wall and several opportunities to turn tightly and open up the horses' strides for long gallops.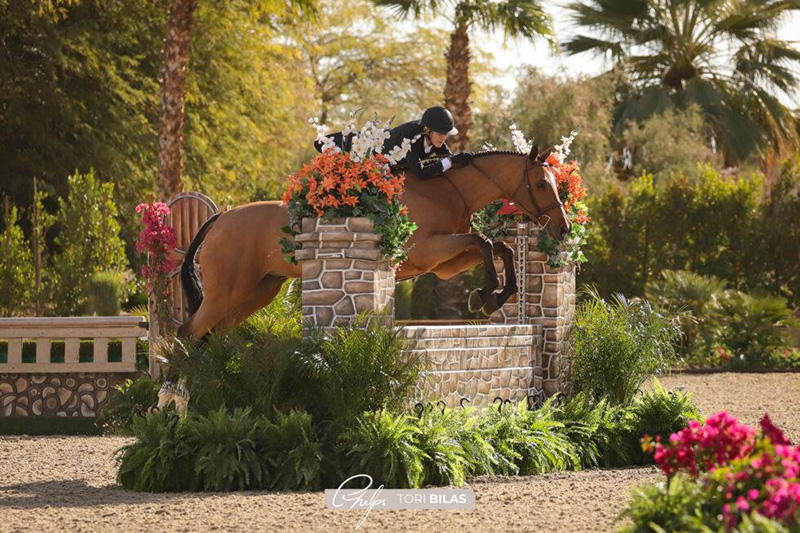 Karazissis and "Dude," owned Dulcie Lou Morris, turned in a stylish classic round over the first eight obstacles before switching into handy mode, taking all four high options and impressing the judges for an overall score of 355 to win the class.
"It's a lot of pressure [riding him] because he's so good; he's going to do what I ask him to do," Karazissis said. "And he felt very ready today. I go out there and think, 'Oh gosh, don't blow it.' I'm not concerned about whether he's going to do this or going to do that, I just find the jumps, show him the way, and he'll do it."
A partnership formed in 2017, Karazissis and the 11-year-old Holsteiner gelding (Lordanos—Ulana, Corrado) have impressive wins under their belt, topping the inaugural $100,000 USHJA WCHR West Coast Hunter Spectacular (California) in 2021. The gelding, formerly a dressage horse, has fought health battles throughout his hunter career, sidelining him for six months. In the past year since his return, he has won the $50,000 USHJA International Hunter Derby in March at DIHP, the $100,000 Hunter Spectacular, and earlier this month he was named the 2021 National Horse of the Year by the U.S. Equestrian Federation.
Watch the pair's winning round with commentary from Karazissis: