Omaha, Neb.—April 2
McLain Ward laughed as he watched the video of his last fence in the final round of the Longines FEI World Cup Jumping Final. As he landed off the last oxer, his hands got tangled a bit in the reins as he tried to gesture in joy.
"I was trying to do a fist bump but kind of lost it. I need to practice that," he said with a wry smile. Quick fist bumps are usually a rare window into Ward's emotions after big wins—they happen, but they're few and far between. Once he got his reins sorted out, he threw both hands in the air, punching the air in joy, then circled HH Azur waving to the crowd and giving the mare huge pats. There was no stoic façade left—it was pure bliss on show in the ring.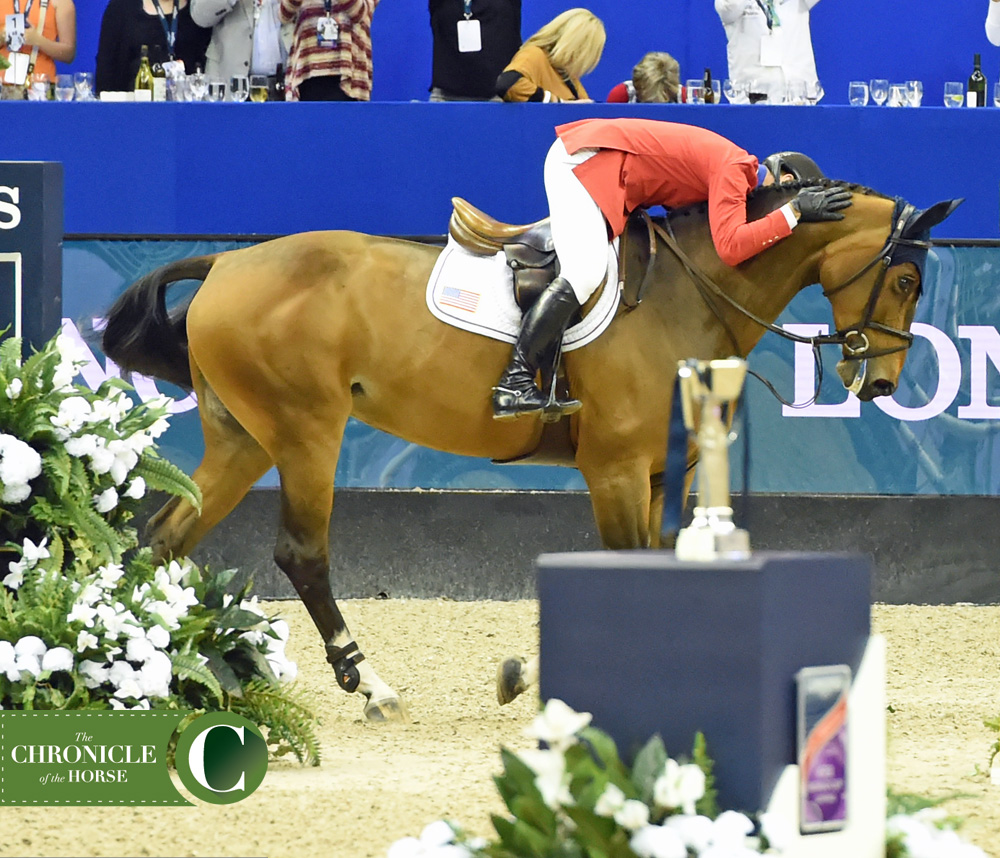 Ward's joy spilled over in the awards ceremony. He reached out to accept the trophy, gave it a quick kiss, then lofted it overhead with a jubilant smile. His smile, usually fleeting, spread over his face as he accepted the spoils of his victory, then playfully sprayed champagne over second-placed Romain Duguet and third-paced Henrik von Eckermann.
In true Ward fashion, though, he was quick to acknowledge that this win wasn't just his, but a reward for his team as well. He said that as he stood on the podium, "I think I was taking a moment to think about all the people who have helped me, the people who have influenced me. I've grown up in this business, so I was lucky to be exposed to many people who were willing to help me. So I tried to take a moment to reflect on that," he said. "My father used to say the podium is only the last little part at the top, the rest is underneath. I'm so grateful for the horses I have had and the people behind me. To pull one off for them was very, very important to me."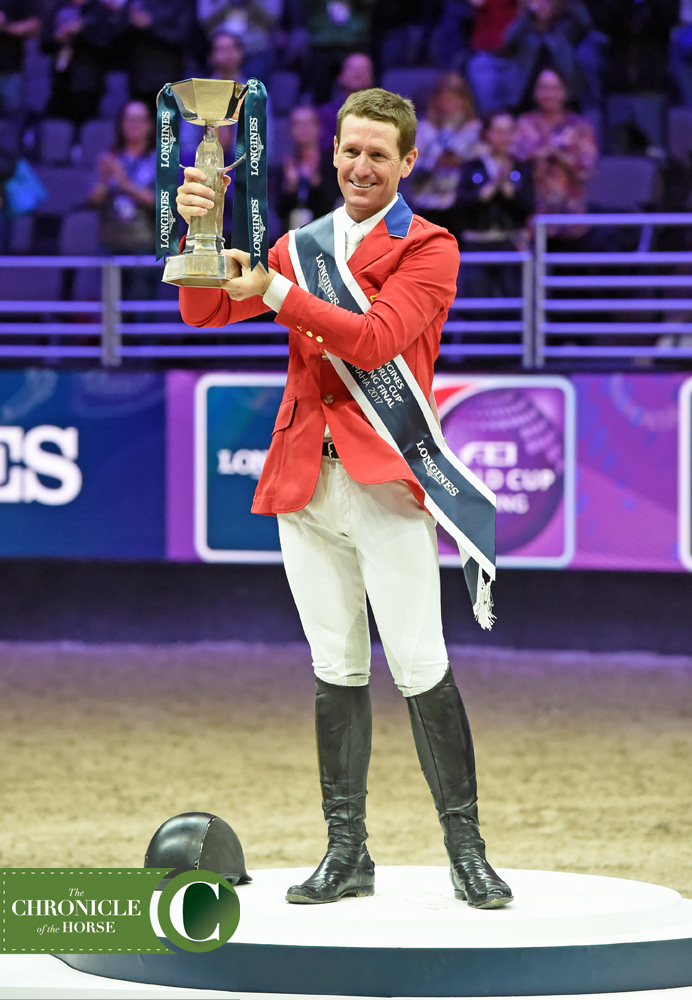 And then in the press conference, Ward choked up a bit as he mentioned his late father, Barney Ward. "I hope my dad can see this; he gave me a lot," he said.
This trophy, the FEI Longines World Cup Jumping Final trophy, is one Ward has coveted for many years. This is his 17th FEI World Cup Final, and Ward has come close in the years he's been chasing the title since his first Final in 1995. "I've been doing this a long time, 25 years jumping international grand prixs. I've felt close so many times, and then one way or another messed it up," he said. "I've been in this situation when I have cracked, I know how to do that, so I just took a deep breath and tried to ride my horse, and we had a little bit of luck."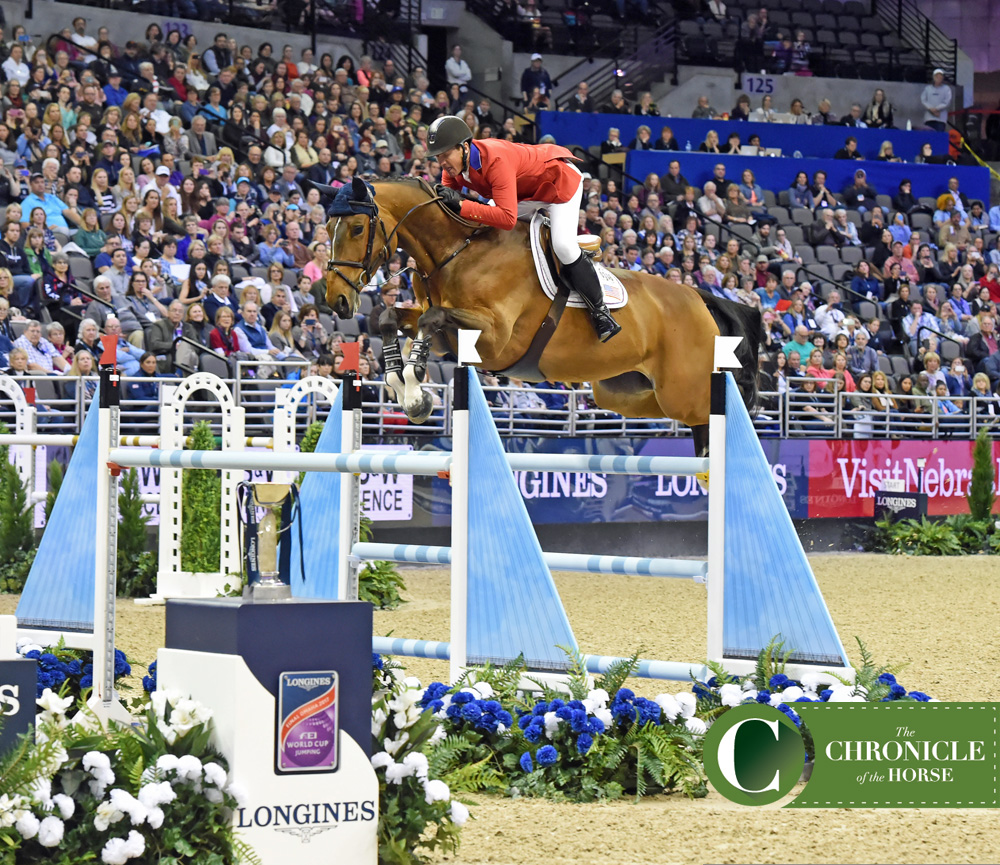 Ward and HH Azur were simply perfect all week. They won the speed leg on the first day, then topped a six-horse jump-off to claim victory in the second day's class as well. He came into the last day on a 0 score and then HH Azur never touched a rail over two big tracks to finish the week with a faultless score and ahead of the pack. "I thought I was running a little low on gas [in the final round], but she's such a brilliant mare—she really dug in deep, and I think she jumped the best the last round of the week. She tried her heart out. I'm so lucky to have her," Ward said.
It's not the first time Ward has jumped clean all week at an FEI World Cup Final. In 2009, he and his other legendary mare Sapphire didn't make a mistake in any round, but finished second to Meredith Michaels-Beerbaum on the great Shutterfly due to being second in the speed leg by fractions of a second.
Ward thought of that Final today. "I remember watching Meredith that day, and she was going into that last round on a clean score and then didn't have the best warm-up, but she went in the ring and really pulled it off. I tried to focus on doing that as well," he said.
Then in Geneva in 2010, Ward was in first going into the last day of the Final with Sapphire, and was disqualified from the competition after the mare was evaluated as having a positive hypersensitivity test.  The outcry of protest over the disqualification and a protest lodged by the U.S. Equestrian Federation resulted in an investigation that found that the disqualification was incorrect months later, but that World Cup win had already vanished.
Ward has been in the top 10 of the World Cup Final seven times, so this win was a long time coming. "I've been a fighter and a digger and a grinder my whole career. I try to never give up," he said. "My only game plan was to try and do best could all week. My focus was being day to day the best I could be. I think you have to go into these championships knowing you have to jump four clean rounds to win. I felt good [today]. I liked the course—it was, big but there were no tricks. I was pretty mellow all day. I just tried to ride the best I could."
Ward got a shiny new Longines watch for the win, and while he's known for giving the watches he wins away to his support staff, he'll have a new timepiece from now on. "Azur wins a lot, so [groom Kirsty Bond] has a lot of watches. So I think I'll keep this one," he said.
See final results of the Longines FEI World Cup Jumping Final.
The Chronicle had live blogs of competition sessions, photo galleries, and stories about each day's competition at the FEI World Cup Finals on www.coth.com. Also make sure to follow along on the Chronicle's social media outlets: Facebook, Twitter and Instagram.
2017 FEI Longines World Cup Final Day 3
Kimberly Loushin / Apr 3, 2017 11:25 am