Bridgehampton, N.Y.—Sept. 2
The 2017 Hampton Classic might not have been McLain Ward's most memorable year on record. He had ended up decorating his mount HH Callas' browband with a yellow ribbon as he came in third behind Daniel Bluman and Brianne Goutal in $300,000 Hampton Classic CSI**** Grand Prix. But to little Evangeline Wasser, then 10 years old, that year was crucial.
Her dad Jesse Nash had spoken to Ward in the press conference and asked him what he did to inspire young people. And Ward answered with a simple gesture—handing Wasser his Longines hat.
A year later, in the midst of the press conference after winning with his up-and-comer HH Gigi's Girl, Ward found Wasser sitting in the second row wearing his hat.
In a year's time since receiving it, Wasser started competing in the horse shows and had some of Ward's good fortune rub off. She won champion in her first two horse show competitions according to Nash. And with a year under his belt, what could Ward add to his initial hat-giving response?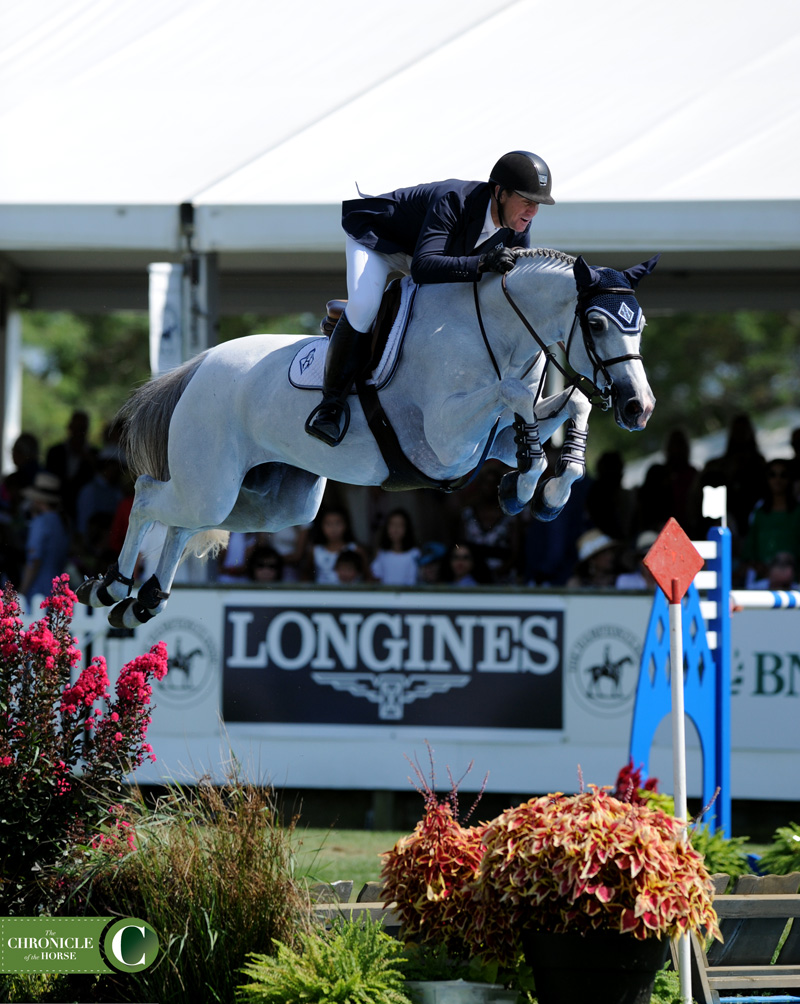 "For all of us, it is a journey. We're lucky enough to share this journey not only with the horses, which is obviously our partner but also the incredible group of people," said Ward. "Whether it be the press in this room, the organizers, the judges, the officials.
"It's really—it's a wonderful life," continued Ward. "I always say to young people: the Olympics, that's the goal, that's the cherry on top. That's the life. The journey there should be fulfilling, and I'm glad to hear [that Wasser is winning]. We just try to keep doing our job well—keep being a good ambassador for horse sports. You don't always have perfect moments, but you're going to get along and try harder."
And HH Gigi's Girl couldn't be more of a fitting mount to win on for that lesson. The 10-year-old Dutch Warmblood mare (Vingino—Zaline, Celano) came into Ward's life a year ago. Adding to his army of mares, "Gigi" was a bit more on the younger and green side. And while scope didn't limit her, she kept missing that blue ribbon.
"She's a spectacular jumper—beautiful style—but has been a little slow in developing because she was greener than I anticipated when I got her," said Ward. "But she's had some nice performances and a little bit what I say '4-fault-itus' this season. She's going really well [then] one down, one down, which I put to her greenness."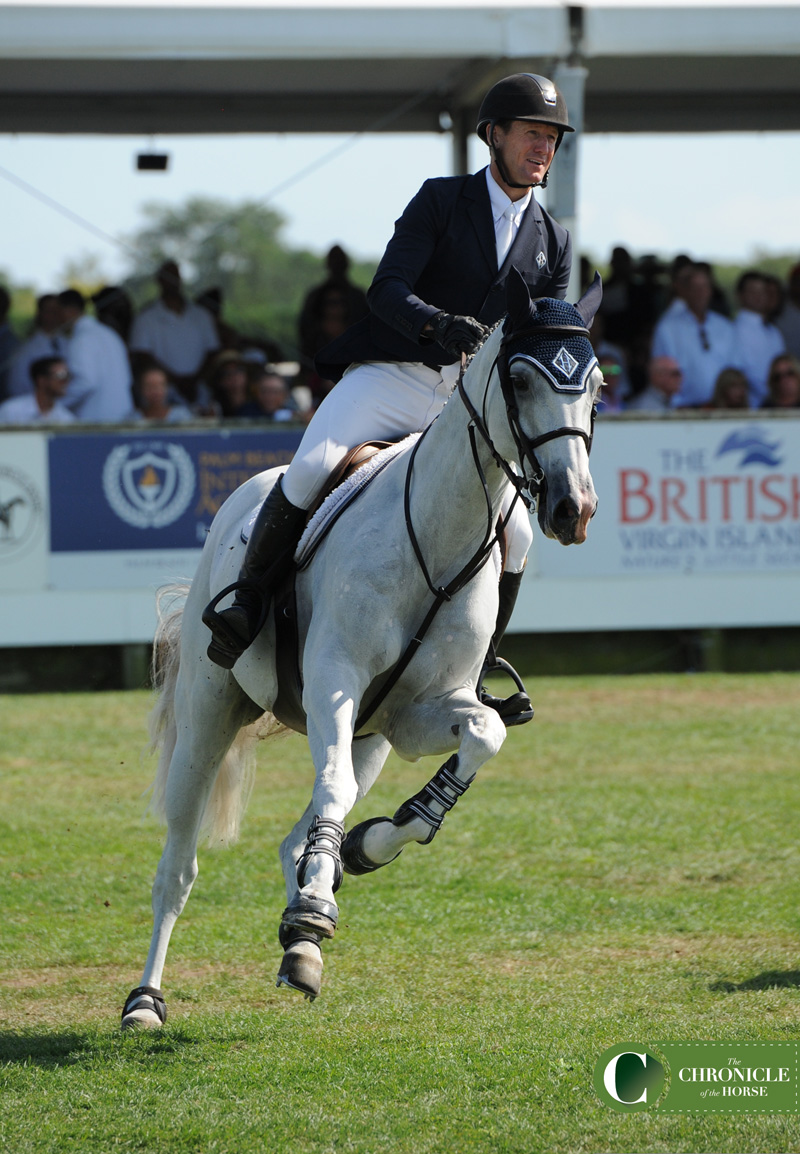 But then in July she finally got her blue at I Love New York in a jumper classic. Then coming into the Hampton Classic, she wasn't letting those rails feel a breeze over Michel Vaillancourt's track. In a field of 34, five returned to the jump-off with a triple combination knocking most of the original field out of contention.
"It may have rode a little slower than I expected to be honest with you," said Vallaincourt. "We've had a few little issues with the grass giving up at times. So I was a little bit aware of making a combination that was going to be delicate versus being very scopey.
"That was my aim for the day, to make sure that everybody had a sound trip and everybody came through all right. That's always our goal," he continued. "As course designers not only do we try to set a track that is pleasing to watch from the spectator point of view, [but] that's going to be well-built and challenging enough for the riders with the heights and the distances and the technicality of the course. But at the end of the day our biggest responsibility as course designers, and I take it upon myself to do that, is we want to insure the safety of the horses. And it was my main goal for the entire week that we do that, and I think that we accomplished that. And obviously the riders that made the jump-off today were very worthy of it because it's a huge event. It's a four-star competition. I was not going to let them get away with something too easy."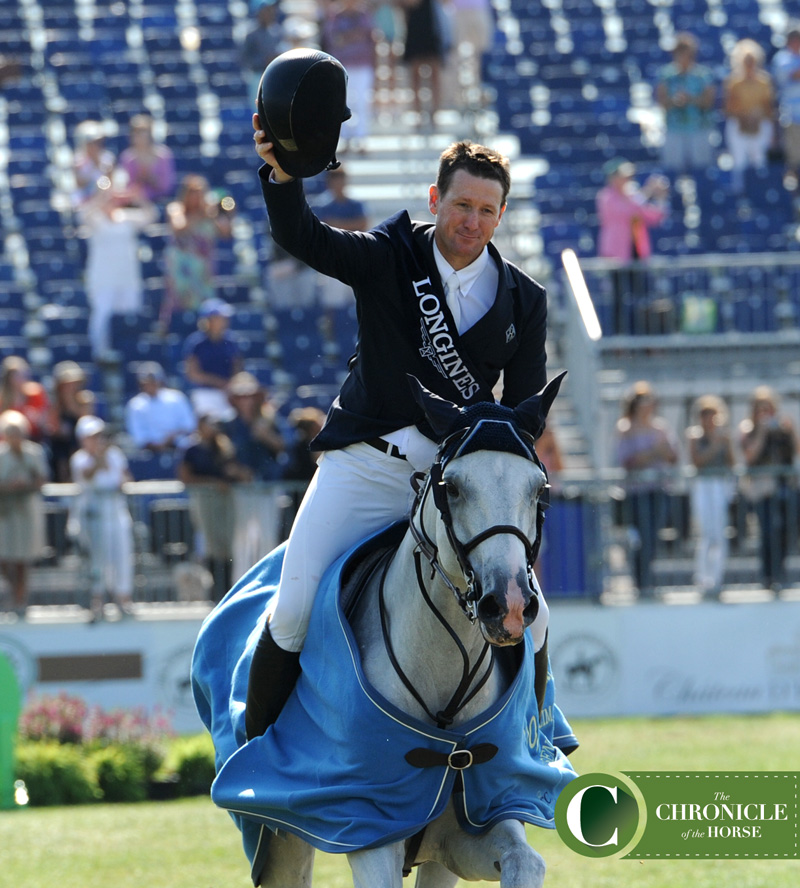 With a tight rollback in the jump-off, Ward bested Shane Sweetnam aboard Main Road by over a second and a half, with Lucy Davis taking third on Caracho.
This grand prix blue is Ward's seventh in the event, making him the winningest rider at the Hampton Classic. But those history books are something Ward only plans to think on after the irons are permanently run up and the crop put down.
"I think that's something you look back on in the end when it's said and maybe reflect on your career," said Ward. "I think in the middle of it I try not to—I appreciate the wins, and I appreciate the horses, and I appreciate the good parts, but I try not to focus on that too much. Try to focus on the goals ahead. That's for someone else to write."
The Chronicle will be on site bringing you all the gorgeous photos, great interviews and behind-the-scenes stories. Make sure to follow along at www.coth.com, as well as on Facebook, Twitter and Instagram @Chronofhorse. For more results, click here.